Probably, looking into the lens of a camera, at least once, you wondered, how to find the best men's pose for photography. Guys, regardless of age, are much less enthusiastic about photo shoots than women. You can see this even by looking at photos on social networks.
Quite often just find it difficult to plan men photoshoot poses for a photographer and, consequently, to tune in for a photo shoot. And if you are firmly established in the thought "I am unphotogenic," this is not the case. You just haven't finished reading the article, and so you don't know the rules and tricks that will help you look great in the photo. So how can you make the photo-taking process comfortable and easy and choose the best photo poses for men?
Best Men Poses: Top Tips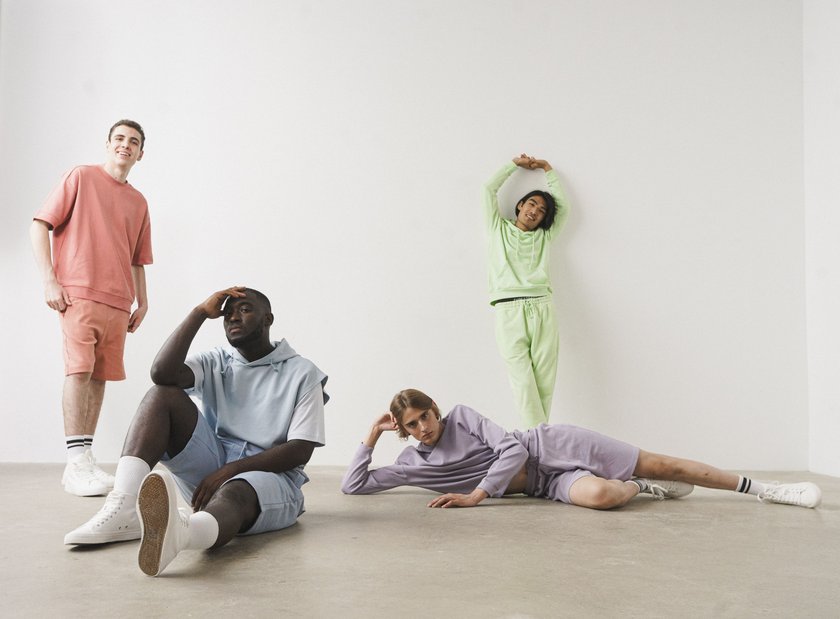 First of all, you need to prepare for the shooting:
When getting ready for the photo shoot, we advise you to choose a lot of clothes that you will take with you in order to make it easier to choose the right set that will blend in with the studio design as much as possible. Moreover, by choosing clothes you will set the tone for the whole shoot because the output of the photo is directly related to your appearance. It is desirable that the clothes are the most comfortable - you may loosen up and have a relaxed look. Also, you will be able to take any of the poses for a men's photoshoot, because the clothes will not hinder your movements;

Props and accessories. It's a good idea to think about props that will help reveal your character and inner world. Are you a musician? Feel free to bring your guitar. Are you into sports? Take a ball, a skateboard, or a racket. What else could be as relaxing as a favorite hobby? You can also organize a themed male photo shoot;

Hairstyle. Since men do not traditionally use makeup, pay attention to your hair. The hair should be washed and styled;

Don't hesitate to ask the photographer in advance about the future session, and discuss the best photo posing for men. He knows a lot about it, and will definitely give you some good advice.
During the photo session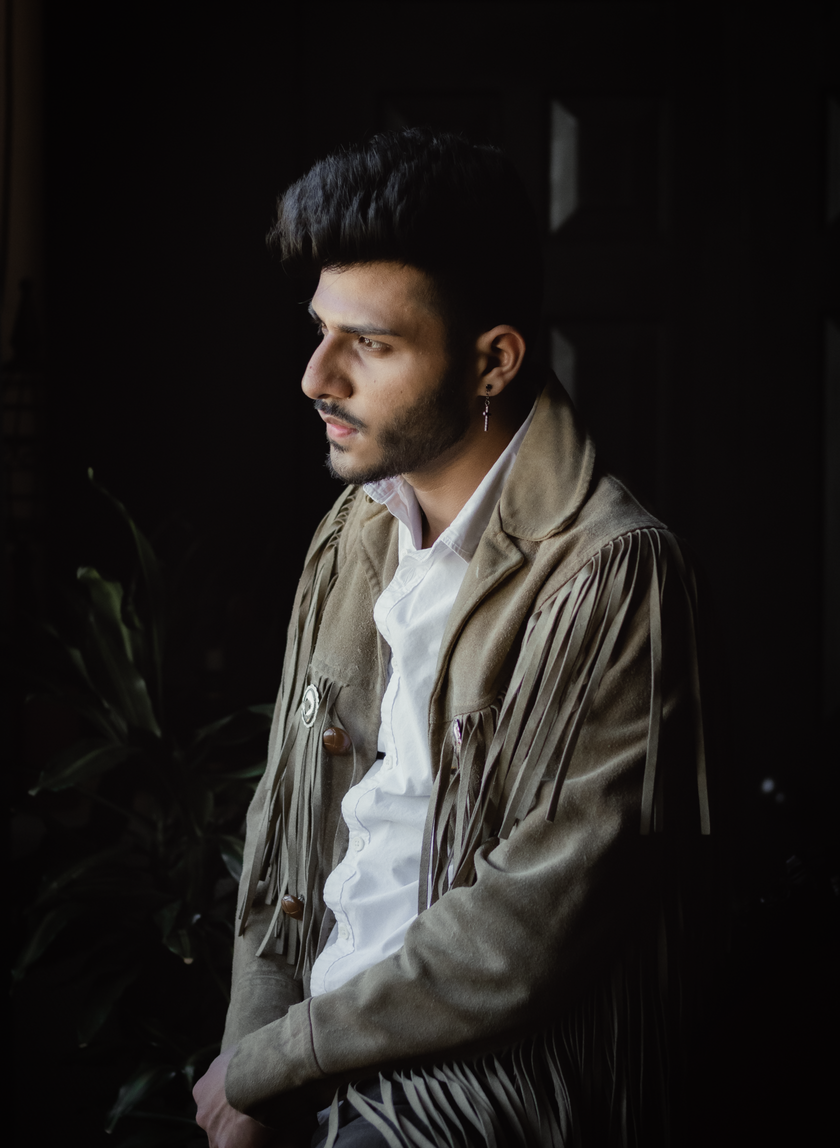 If you immediately start looking directly at the camera while creating ideal poses for man photography, you will definitely not be able to relax. On the contrary, your posture and gaze will give off tension. So, for starters, look past the lens - to the side, upwards, look at interior details if you're in a studio, or at floating clouds if you're shooting outdoors. Think of something pleasant: the upcoming vacation or the credit you've gotten, your partner's smile. In general, keep your mind occupied and don't think you're being filmed.
If you have noticed that you blink a lot when you look at a photo, ask the photographer to do it this way: you close your eyes and open them at the photographer's command.
How to pose properly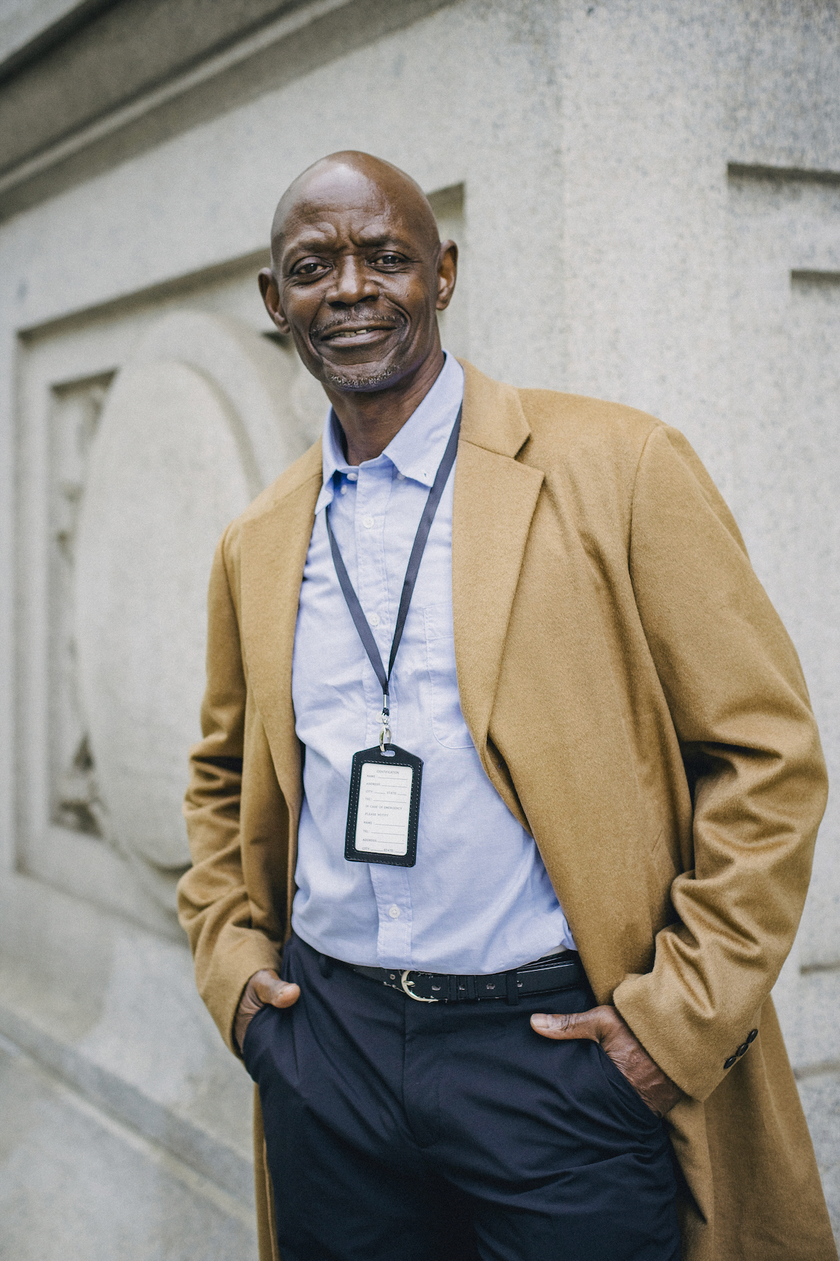 Photography of men can be hard or easy. It all depends on how you feel about it.. You don't have to be too fancy with the standing and sitting poses. The more natural the pose is, the more masculinity you will show. Some masculine rudeness in movements and gestures will look advantageous. Poses should not have smooth lines, only sharp angles!
To emphasize your muscles and broad shoulders, turn the front of the camera and turn your hips away from the lens. And you are ready for a male photoshoot. Regardless of whether you are standing or sitting, keep your back straight, never forgetting your posture. If you are an athlete, feel free to play with your muscles, and emphasize your relief. After all, you didn't lift iron in the gym for anything. Muscular guys are perfect for brutal man photography poses.
To make sure that all the pictures don't turn out monotonous, but rather lively and emotional, play with emotion. You can't do without the help of a photographer. He will ask the model to make laugh or think. Without live emotion, you don't get the perfect photography pose for a man. For a Hollywood smile, you can use this trick: turn away from the photographer, and at the moment of shooting (on the photographer's command) turn around to the camera and smile. Enjoy the process, and it will show in the men's poses for the photoshoot.
General tips
Do not cut off the limbs! The hands and feet in the photo should be fully visible.

Keep in mind that dark-colored shoes and socks visually "cut off" your legs, which does not look very aesthetically pleasing.

When photographing in the studio you cant create ideal men's photoshoot poses while hiding your hands and feet under the table, stool, behind the sofa, etc. Your limbs should be in motion, because if your hands are hanging in the air, for example, the photo will not look natural. Analyze your body position and think about what to do with your arms.

When

shooting a portrait

one of the standard photography poses for men is up to your waist, holding your arms with your arms bent around your chest. Under no circumstances should you put your hands down.
20 Best Male Poses for Your Photoshoot
Now let's move on to the standard male poses during a photo shoot. We'll tell you which ones you can use and which ones you should avoid.
1. Hands in pockets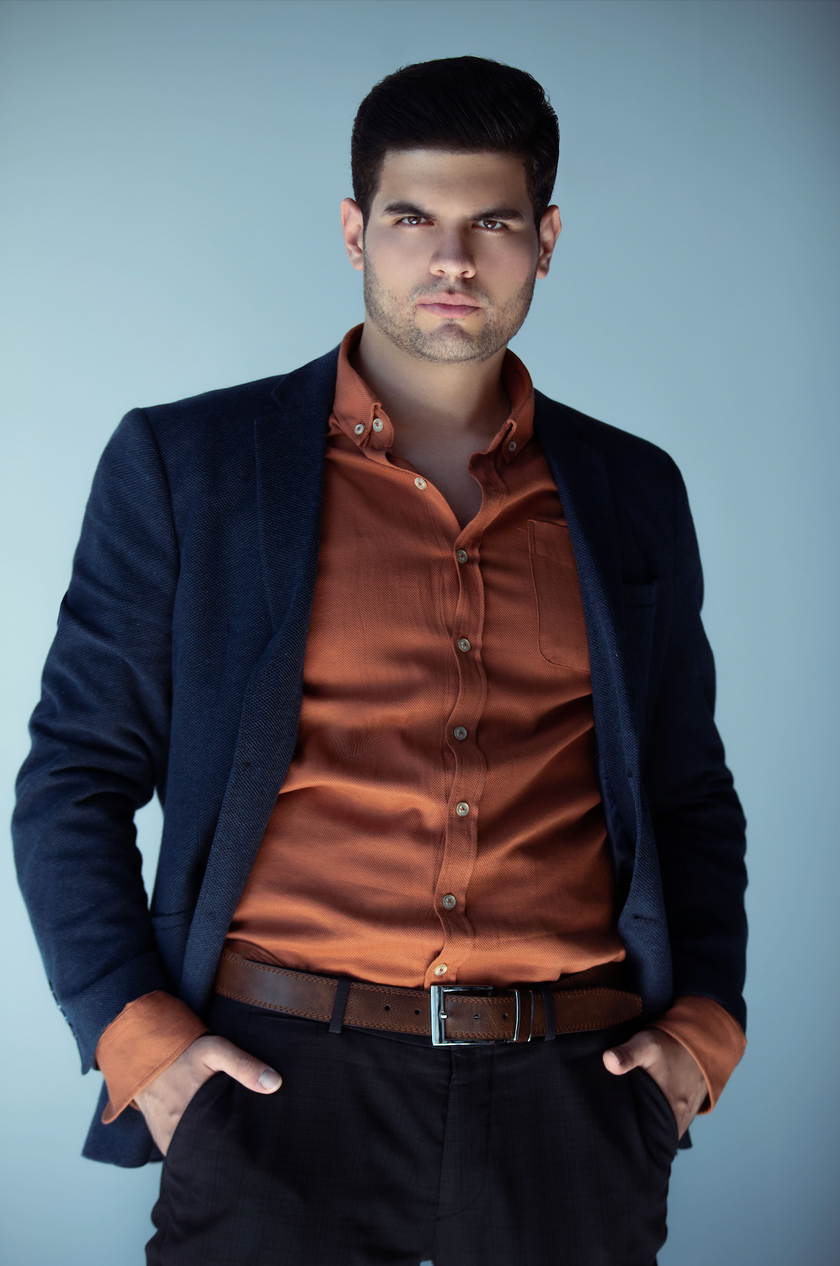 One of the most common picture poses for guys. The hardest part of taking a good picture is figuring out where to put your hands. In this case, the pockets seem like an incredibly appealing place in which to hide your suddenly unnecessary limbs. True, if you are accompanied by an overly serious face, everyone will think that danger is your middle name. Agree to half-measures: place one hand in the pocket, and still give the other a chance to be in the frame. This variant is one of the most common men's photo pose.
2. With an object behind your back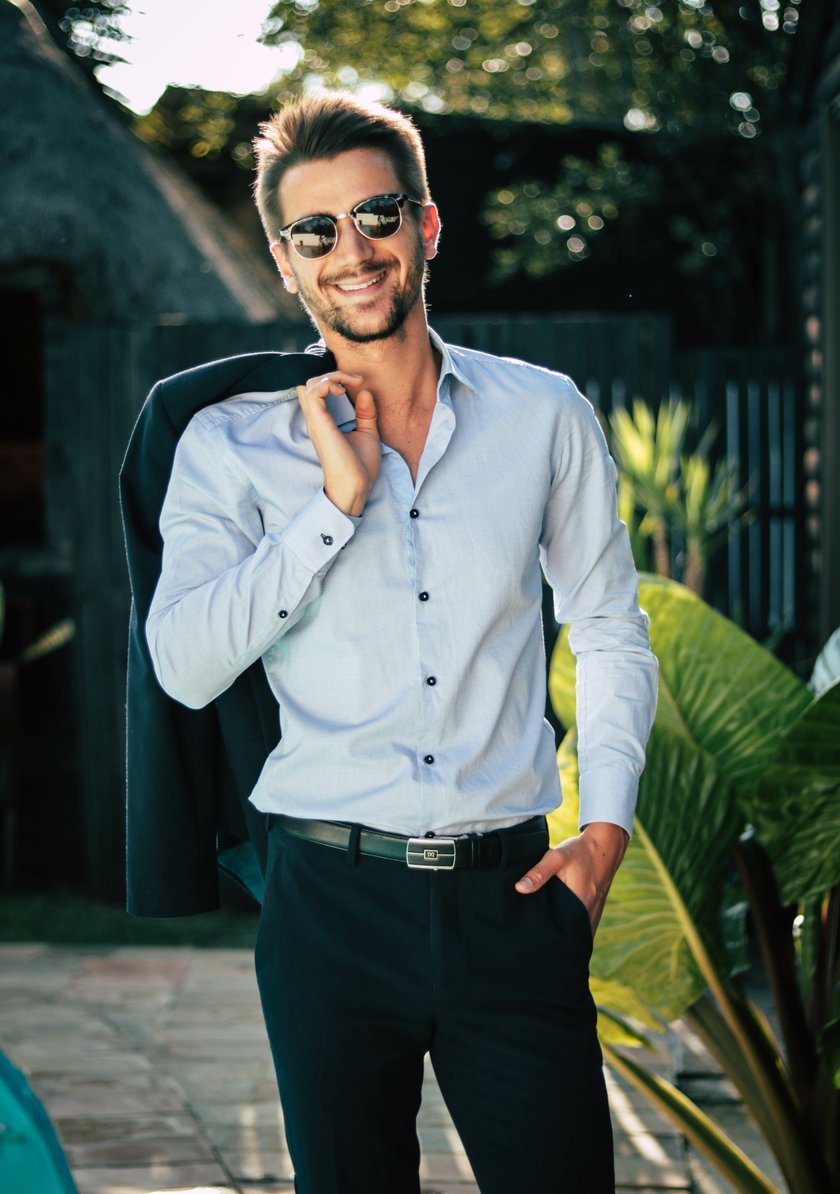 This pose also develops the previous one. It is enough just to throw some object over your shoulder: a jacket, a briefcase. The legs can be crossed, and the hand or thumb can be placed in the pocket.
3. Attention to the buttons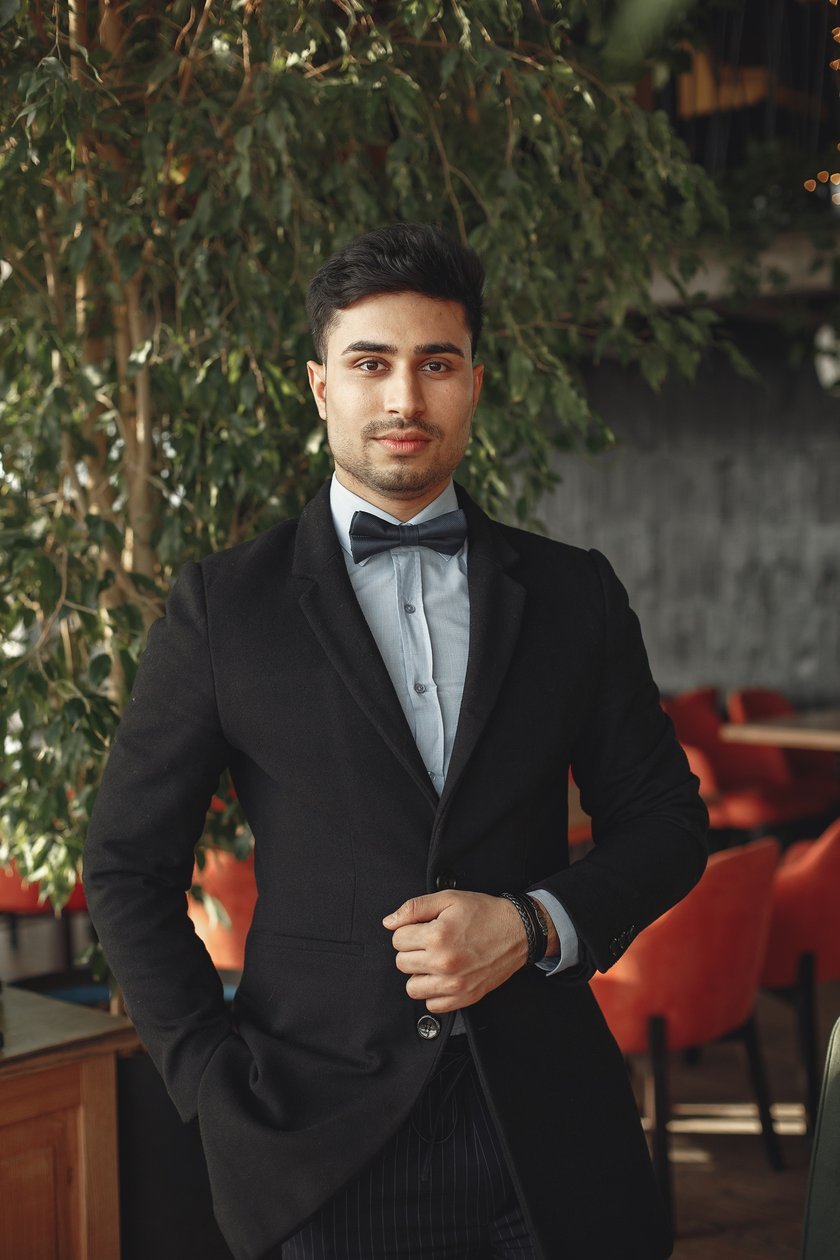 A very common men's photography pose that allows you to use at least one hand. This pose works only with single-breasted jackets (it's too far to reach for the button on a double-breasted jacket) and should not be abused: it can tear the button off, too. Remember also that the bent arm stretches the jacket's fabric so that it can seem as if you picked up a suit, not your size.
4. Emphasis on cufflinks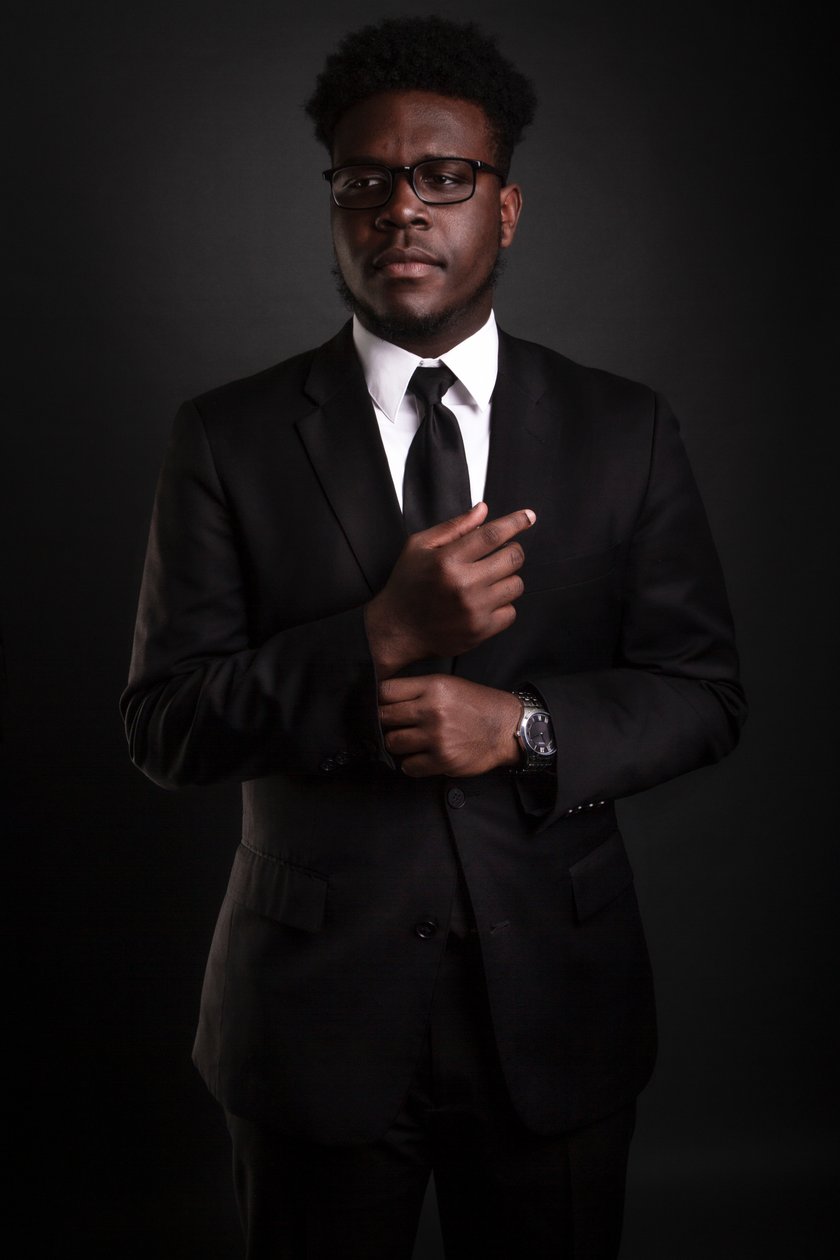 This variant of guy poses would not work for regular folks. But a hand reaching for cufflinks is a separate kind of foppery. We understand that you really want to show the world your watch, but it's so obvious that it smacks of bluster. There's no way we can believe that your cufflinks came undone at the exact moment that a photographer walked by. Forgivable for celebrity watch brand ambassadors, but inappropriate in all other cases.
5. Slightly backward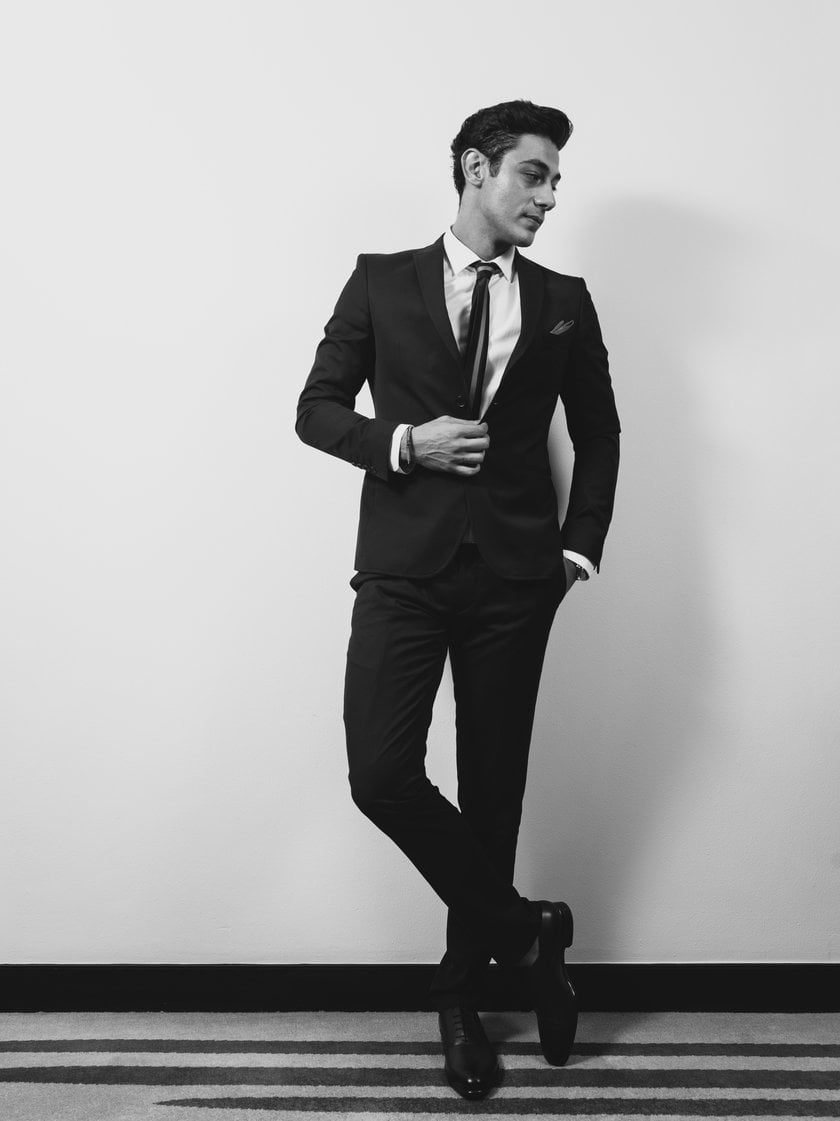 With the right level of training, it can be one of the best stylish photos poses for men. Place one foot slightly farther back than the other and shift your upper body to it. Relax your arms (one shoulder will naturally be slightly higher than the other) and lift your chin slightly. Done - we can already see the stream of likes on Instagram and approved poses for man photography. A possible mistake you might make is trying to stand up too straight. You're taking a picture, not showing off your military posture.
6. Standing with arms crossed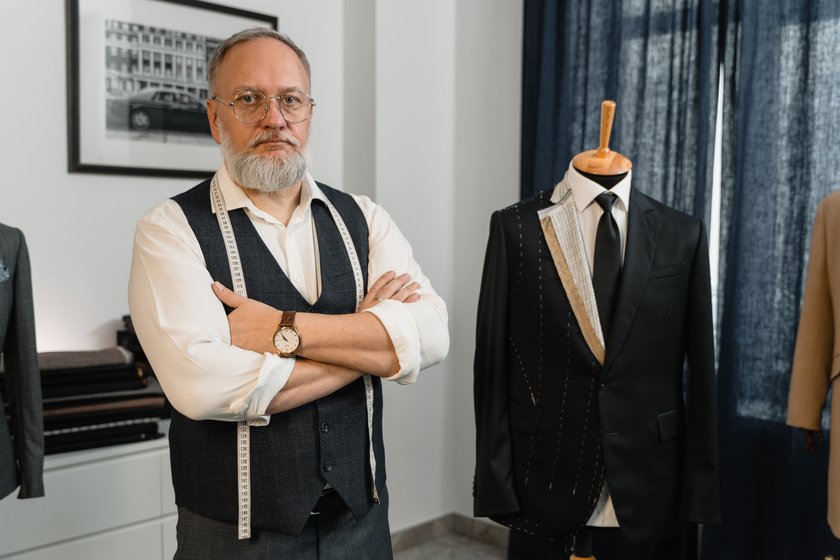 This is one of the simplest men's poses for a photoshoot, perfect for a portrait. Cross your arms over your chest, but pull your shoulders back slightly and pull your belly in - you can't forget about your posture. This cool photo pose for guys will give them confidence. For men this pose is quite natural, not coincidentally it is often chosen for amateur pictures.
7. Asymmetric pose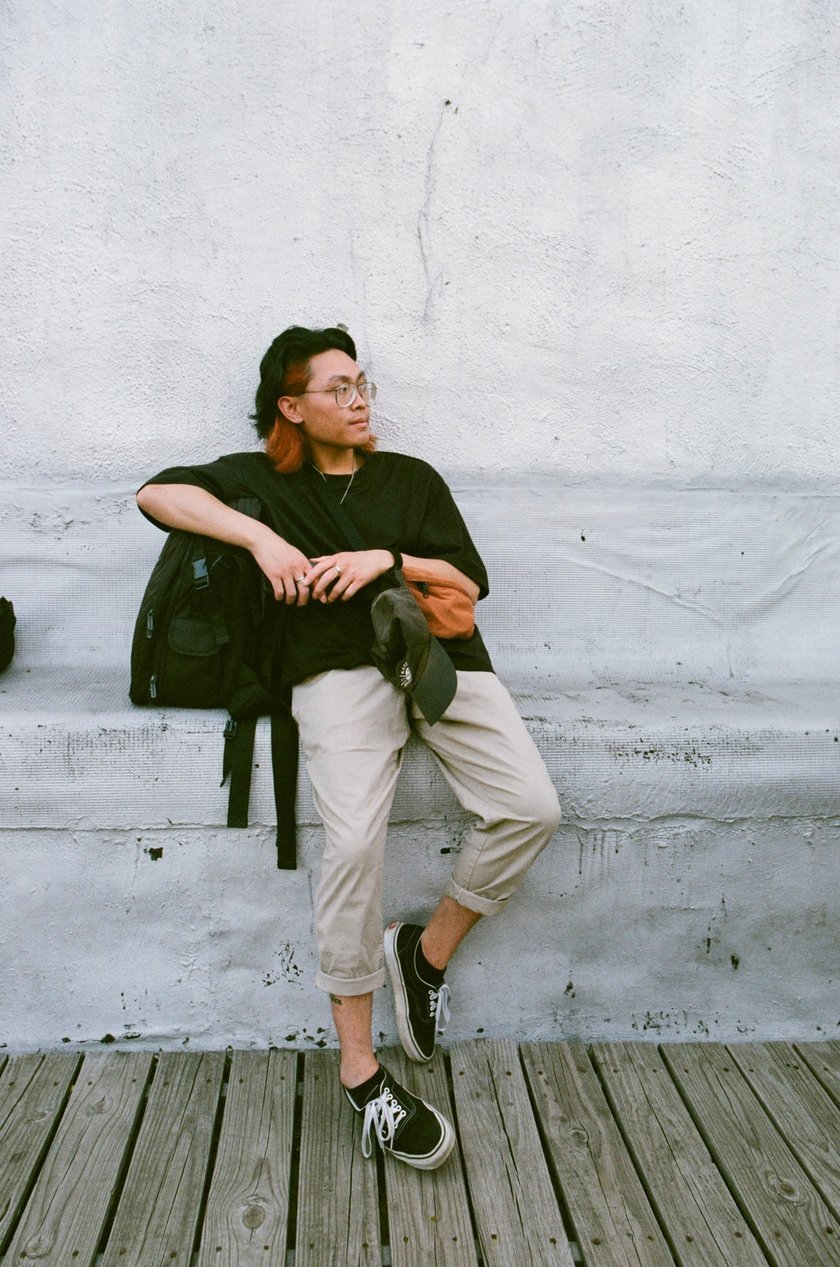 In this pose for man photography, your body weight should be placed on one leg. The second leg can be either set to the side or crossed over to the first. For a natural body position, you have to take a step as if you were taking a step, but you don't have to put the other leg. You don't have to stand right away from the camera, you can stand half-turned. Hands, too, can be given some freedom: to fold on the chest, hide in his pockets. The more natural would be photoshoot pose for men, the more lively photos.
8. Full-length leaning back against a wall
A man can lean with his back against a wall or vertical surface with his hands in his pockets. It's even more casual if the man's leg put his elbow on his knee and rests against the wall. You don't have to look into the lens, you can turn your head slightly sideways.
9. Leaning sideways against the wall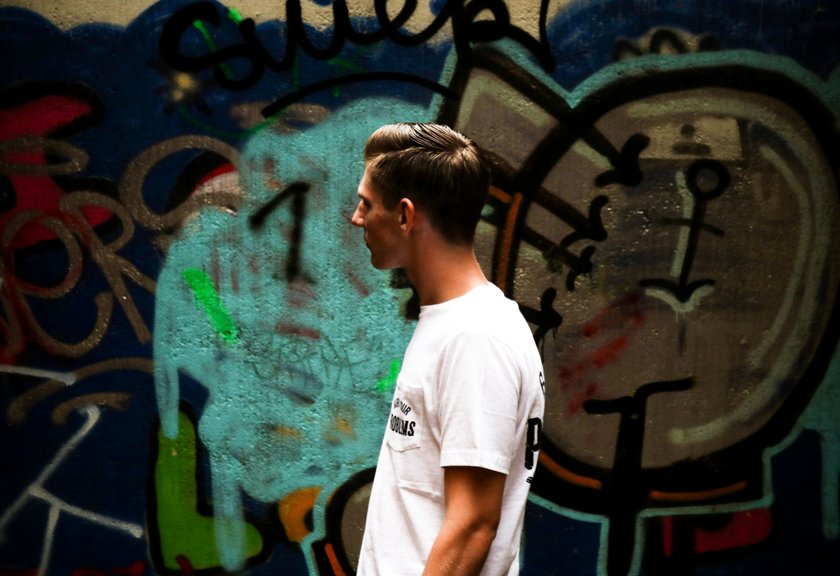 This pose for photography of the man is good for formal portraits as well as impromptu ones. Crossed legs emphasize a confident body position. The pose implies an outwardly relaxed and even slight carelessness. The head can be tilted slightly.
10. Sitting on the table with a relaxed look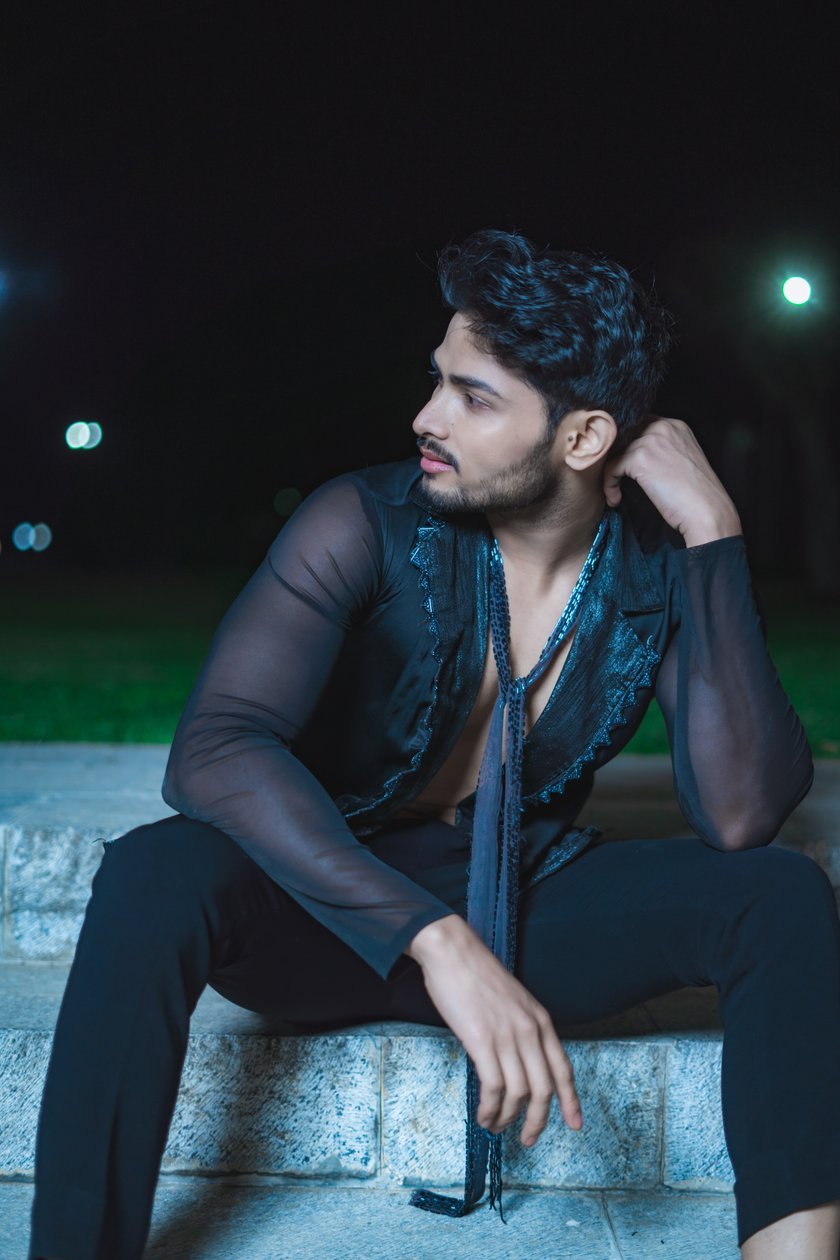 This one of the easiest male model photography poses may not be very consistent with the rules of etiquette, but no one is forcing you to climb on the table with your feet. It is enough just to sit down on its edge. In this free and relaxed pose, your hands should lie freely on your hips, you can fold them on your chest, rest them on the tabletop or tuck them into your pockets.
11. Sitting at the table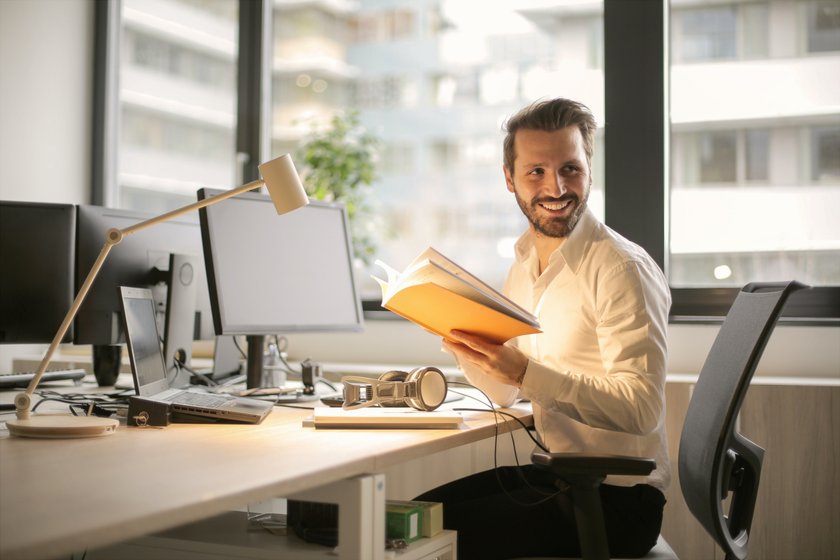 A fairly simple man photo pose of a person sitting at the table. The main thing is not to portray an exemplary and uptight schoolboy. And the occupation of the model can show the objects placed on the horizontal surface. It could be a laptop, a tablet, a book, or a cup. Allowed to slightly move forward or turn around in a half-turn. You can put your hands in front of you or touch one of them to your chin, to hold an object. It will give a naturalistic look to the shot.
12. Sitting at the table with the shoulder extended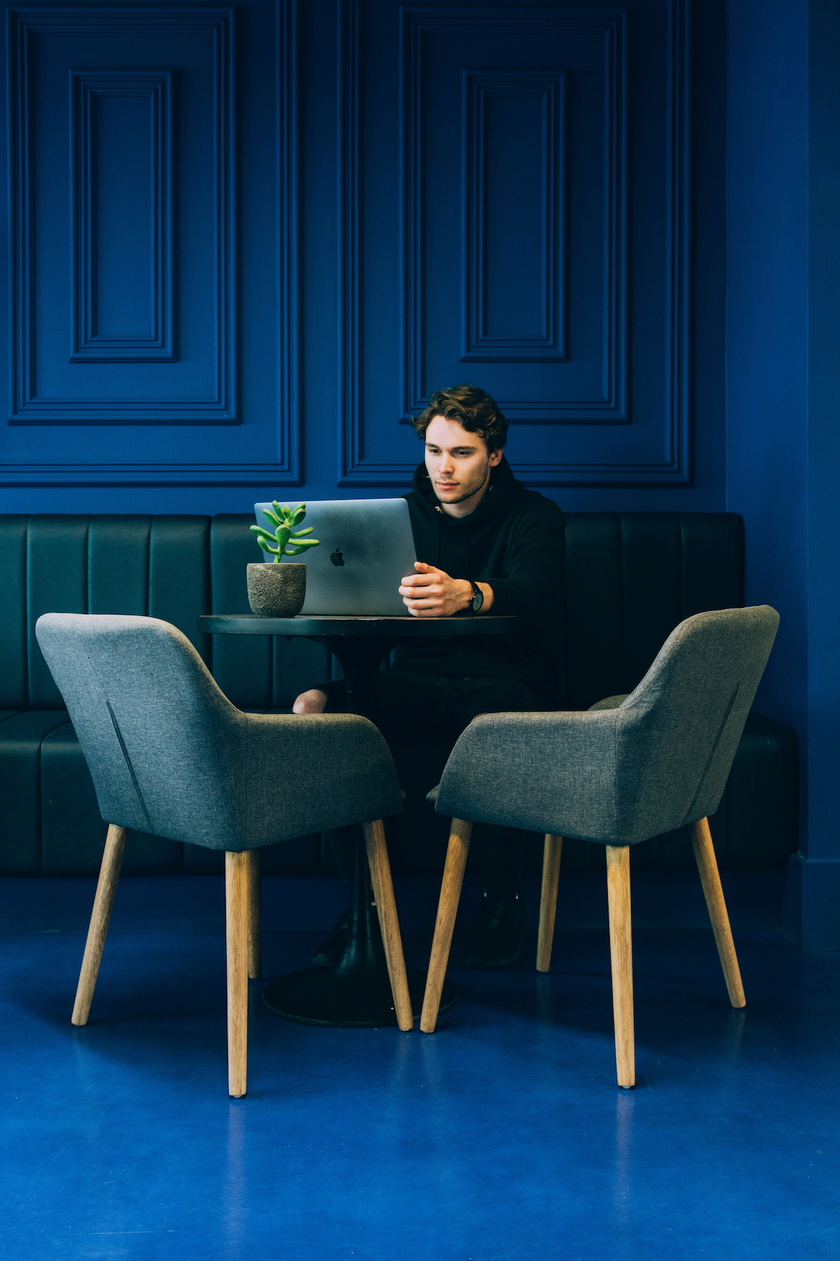 This is one of the best poses for men and is slightly different from the previous one. But it is well suited for business portraits, emphasizing the image of a wealthy and confident man.
13. Half-turned on a chair
This characteristic pose looks creative. But the chair the model is sitting on must be turned sideways or with its back to the camera lens.
14. Sitting in a comfortable chair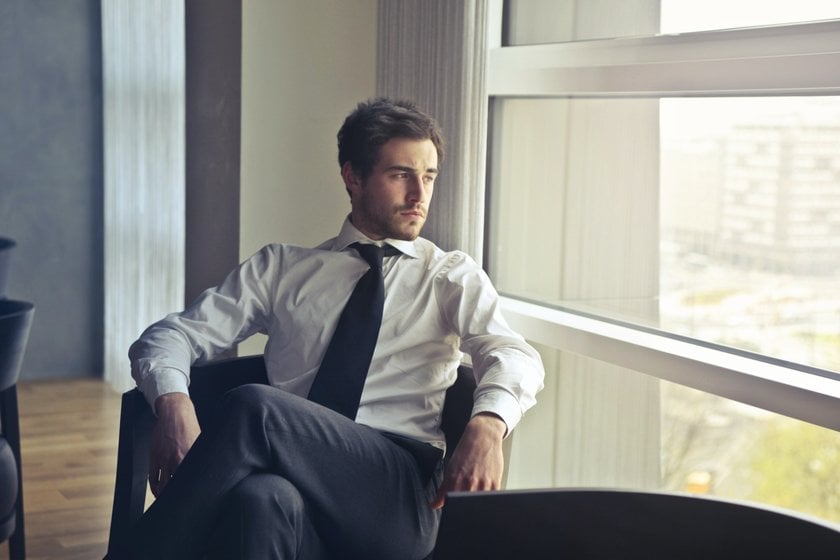 This dominant pose for a man's photo is good for corporate or formal portraits. You can put one foot on top of the other and your hand on your knee or armrest. But you should definitely not support the head. You can even avoid looking into the frame by turning your head slightly to the side.
15. Sitting on the ground without support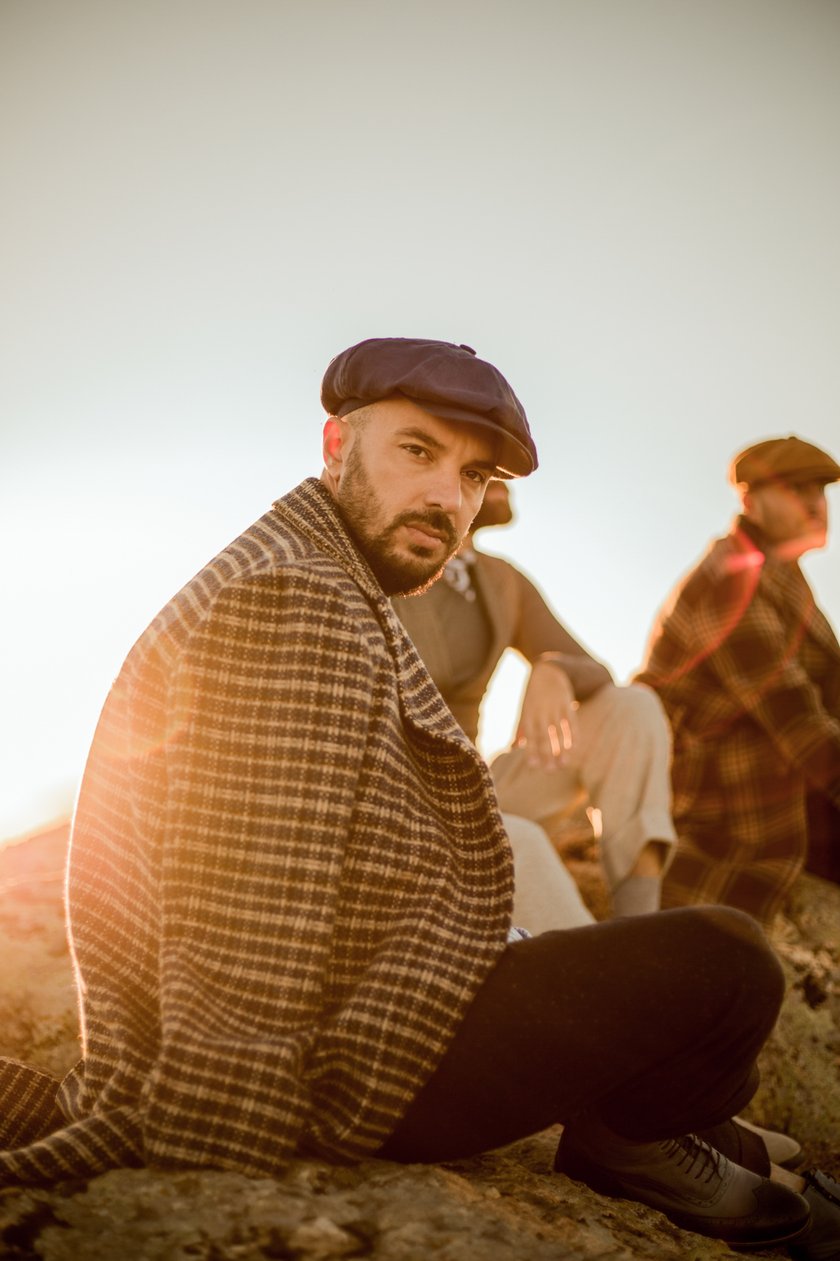 The simple and favorite poses for pictures of the male have many variations, taking into account the change of the shooting angle. In this pose, you have to lean forward slightly, squaring your shoulders. You can put your legs in front of you and put your hands on them, or you can cross your arms, leaving your hands in the center.
16. Directly at the camera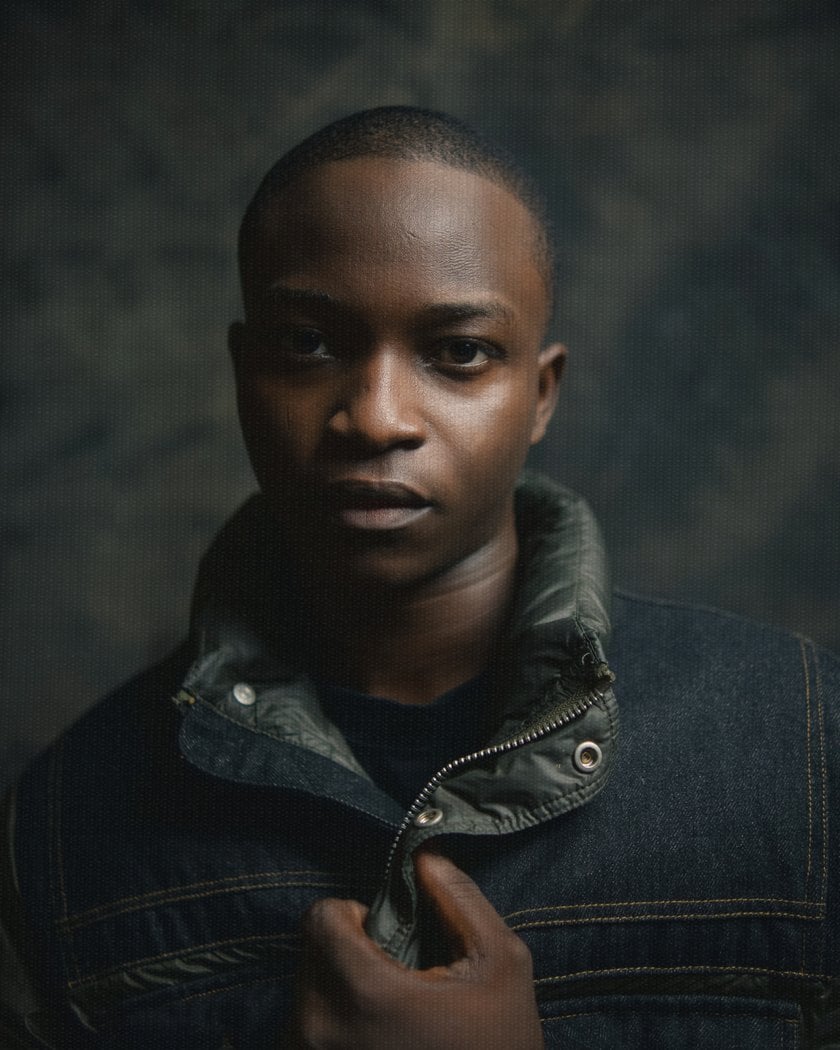 Don't be afraid to do this photoshoot poses for man the model's face close-up. Facial expression and the model's look are very important in this photo. Let the man be the main subject in the frame. You can take many pictures from different angles, show different emotions, turn his head or tilt it, and put his hands to his face. The pose could be anything because the emphasis is on the face. The main work is done by the photographer - he selects the angle and lighting.
17. Photo in military style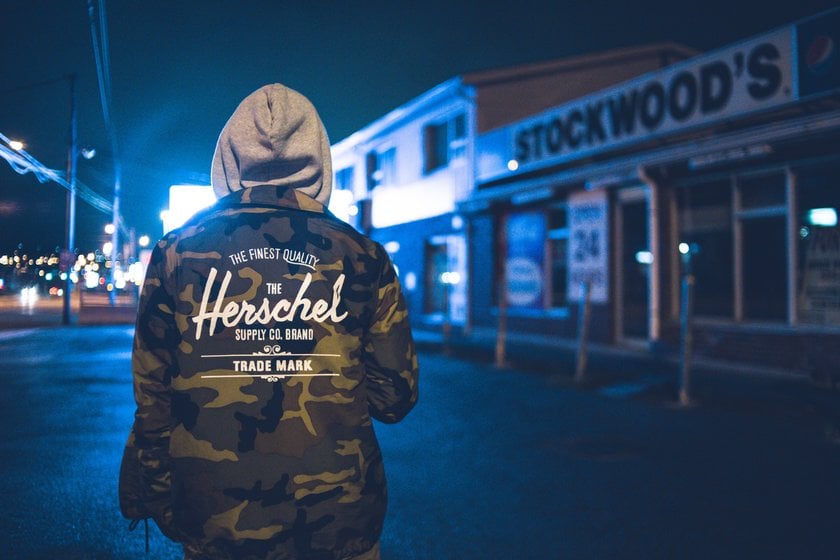 Ideal variation of men's photoshoot idea. The militaristic genre symbolizes shooting in military clothing, spectacularly complemented by weapons. Such a shoot is suitable for both individual and group shoots. Considering that men often feel more comfortable in the company of close friends, the latter option may be the most relevant.
18. Sporty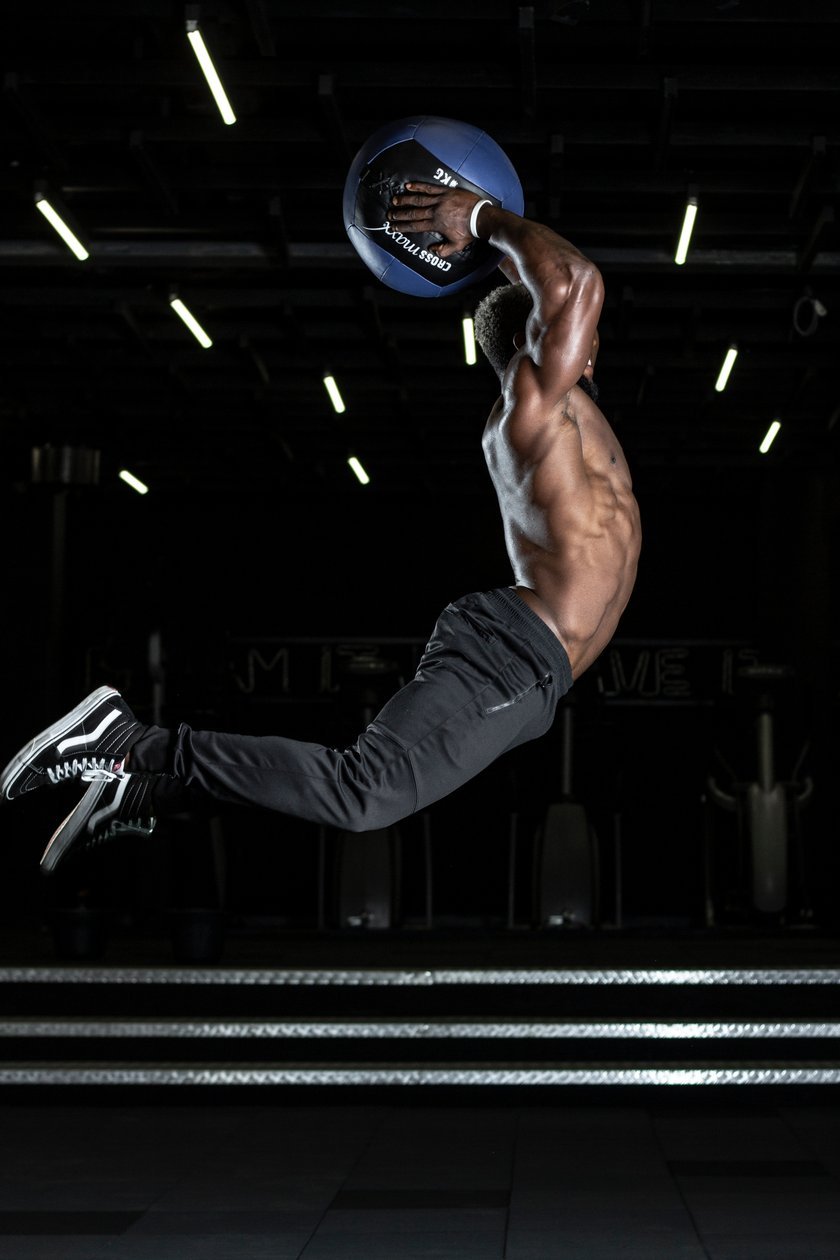 It is recommended to choose photography for men who regularly work great on their bodies and as a result, can boast a trim figure. A tight-fitting T-shirt, a baseball cap, and sneakers will complete the overall picture. A room in a gym, where the model can be shot on trainers or with sports equipment, is a good place for a photo. A city park or a country forest with a skateboard, roller skates, bicycle, and other active leisure things would be a perfect imaging location.
19. Brutal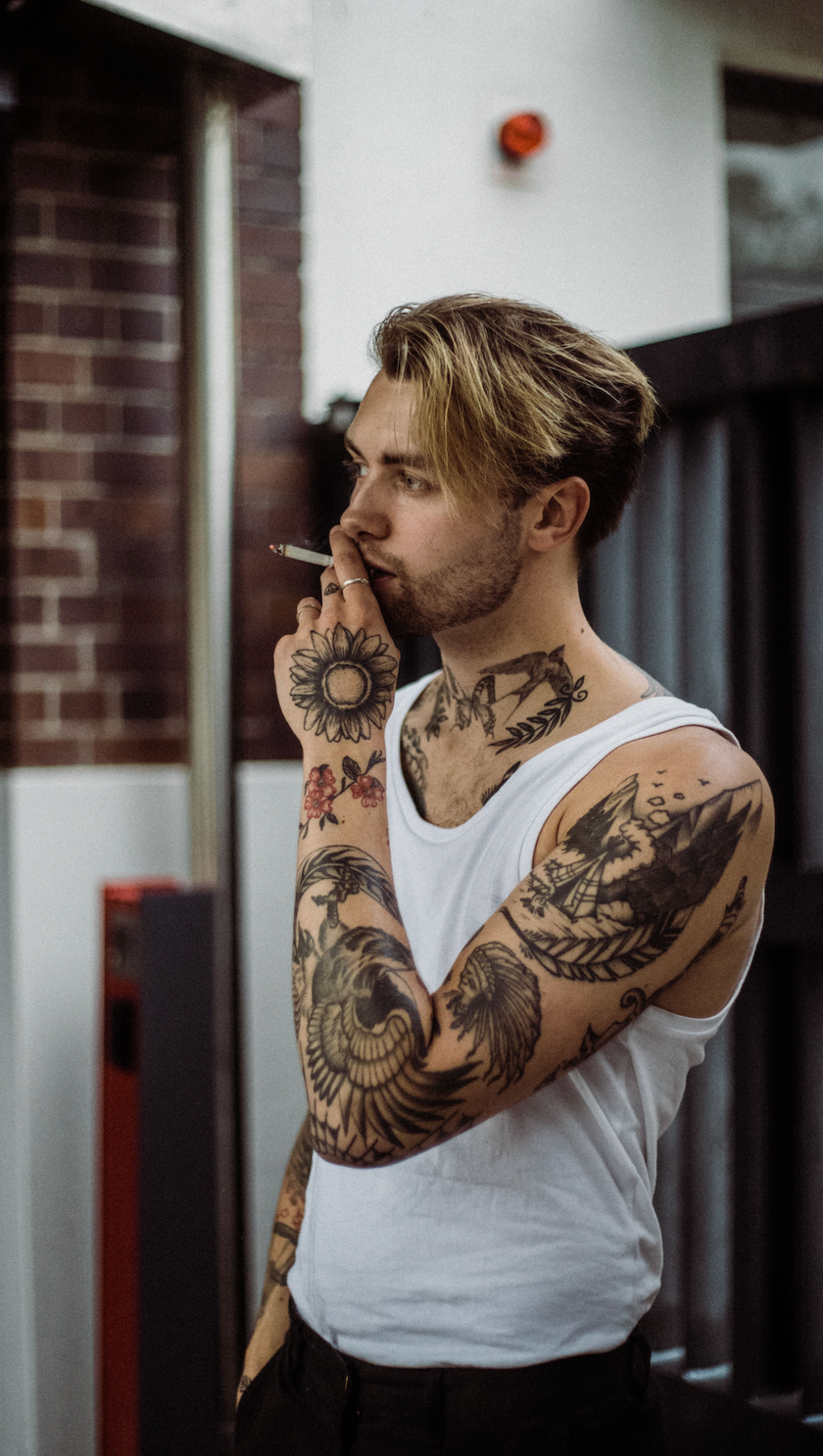 This image for male photography poses can spend additional inventory. Sloppy hair and light stubble, worn jeans and a T-shirt, a leather jacket and gloves - and here you have a very masculine image of the bad guy, which is so liked by women. Such tough good-looking guys can often be seen in advertising photos in glossy magazines. As a rule, the brutal characters are photographed in the interiors of nightclubs or lofts, on motorcycles, in abandoned buildings, or on rooftops. For more mystery, the model can wear dark glasses, and for the entourage take a bottle of alcohol in his hands, and you may try to experiment with body language.
20. Gangster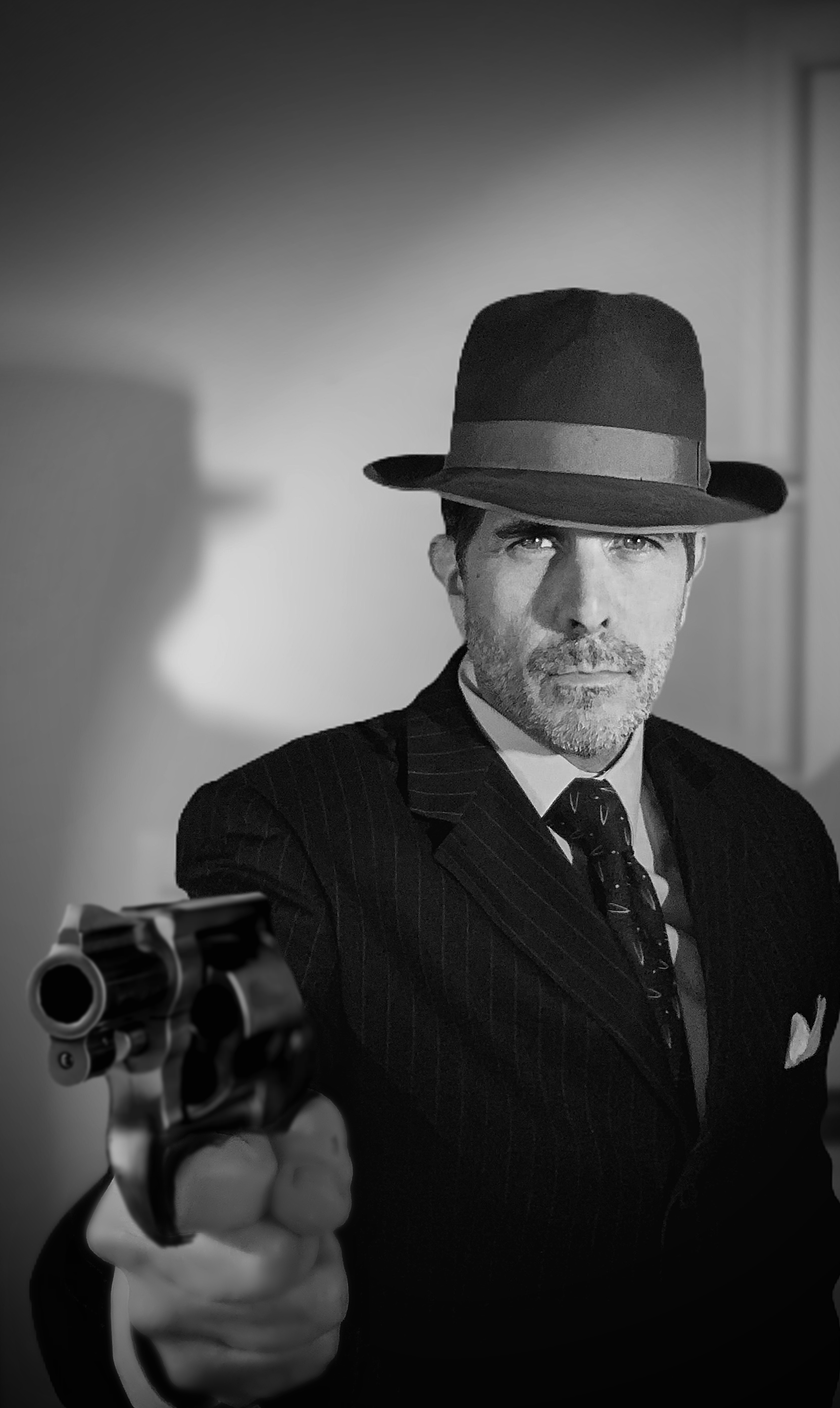 Another idea for good poses for pictures of guys. To appear in the photo in a defiant image of a mafia boss, you need a suit-double or triple, suspenders, a hat, and sharp-nosed shoes. Characteristic attributes of the style of "Al Capone" are cigars, canes, and holsters with revolvers. It is worth noting that in this case, the black-and-white decoration of ready-made photos looks great and advantageous (as in the original version of photos from the beginning of the last century). Pay attention to the details.
Even after you have chosen the best poses for pictures for males and got the most successful photo shoot, the resulting images can be improved. You can do this with the Luminar Neo app. It is a photo editor with an extensive toolkit that allows the most demanding user to achieve the desired photo quality. Another advantage of this program is the batch editing function, which allows you to apply the selected settings to many files at the same time. Another advantage of Luminar Neo is the small system requirements. It processes photos rather quickly, even on older computers.
In conclusion
Deep down, many men want to take part in professional photo shoot poses for men, but do not dare. However, it is worth it at least once to be in front of the lens of a professional photographer as all stereotypes collapse. You can try on any image that you like. Men's photo session in the countryside or in the studio allows you to get beautiful pictures for your portfolio, page on social networks, resume, or home collection. Among the huge variety of styles for male poses for pictures, you can choose the one that will characterize you.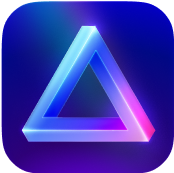 Advanced yet easy-to-use photo editor
view plans