If you have a sister, you will confirm that you have a particular type of relationship. And of course, the pictures of sisters should capture it well.
Today we are not going to talk about the usual photo sessions. The whole article is about how to capture a special moment in a relationship between sisters.
13 Best sister photoshoot ideas
We're sure you've already thought about how to capture the best moments of love with your sister. If not, of course, you can contact a photographer who will give you some ideas. We'll keep up with you and show you some great sister photo ideas that will help convey your warm relationship in the perfect way.
1. A photo of the sisters sitting next to each other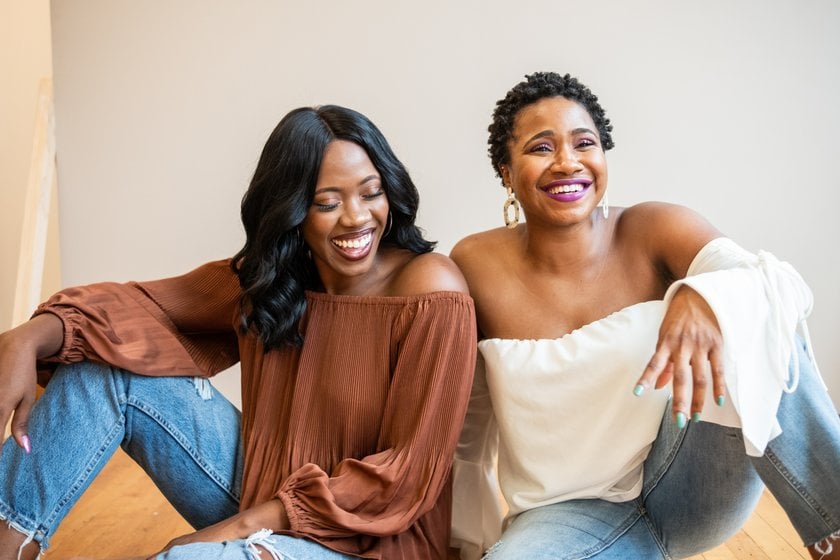 Some may say that this is trivial. Perhaps such pictures are indeed used very often, but this does not make them worse. Another plus is the versatility. This can be a great small and big sister photoshoot idea as well as an option for twins. Remember, in order to take a great picture, you need the models to feel calm and relaxed. This is the only way you can capture real moments of their love and communication.
2. Photo with the same outfit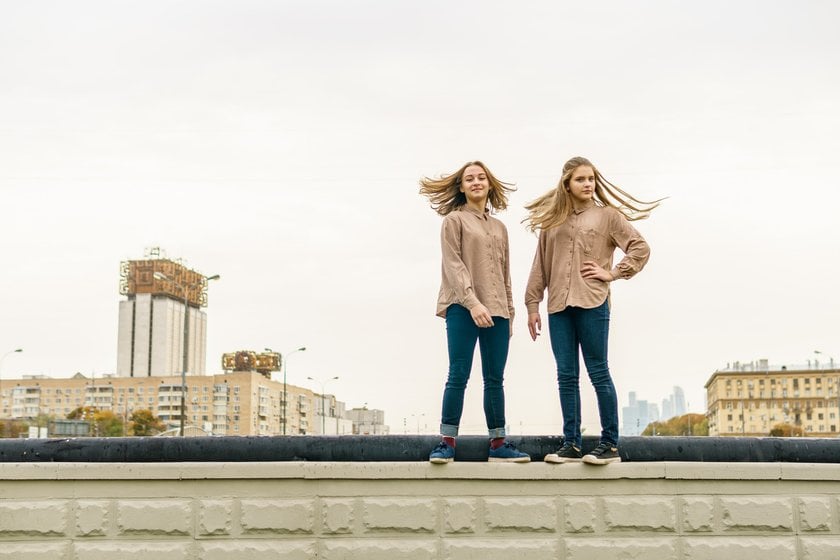 This is one of the most common sisters' photoshoot ideas. What can show your closeness more than matching outfits? Remember, there is no dress code here. Sisters can be dressed in dresses, jumpsuits, or suits. Another great option is matching T-shirts with funny slogans. These small and big sister photo ideas are sure to grab the attention of viewers!
3. Try mirroring the colors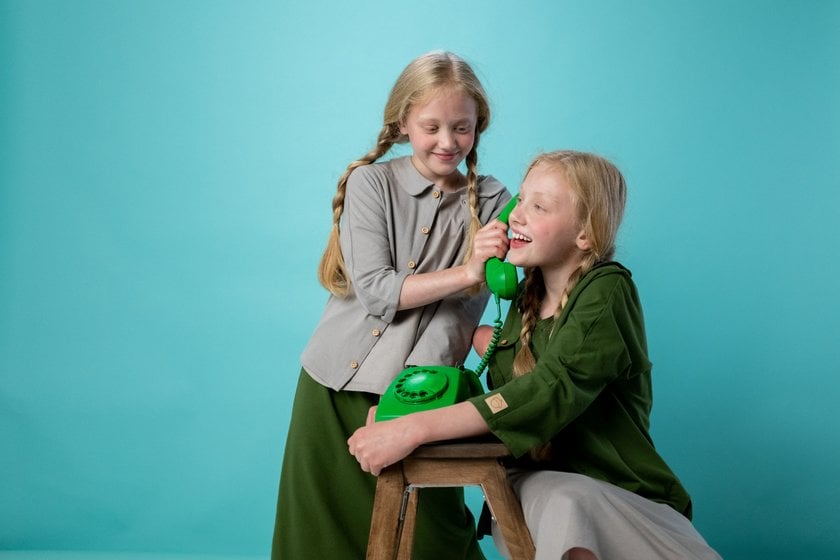 This option would be a nice alternative to the previous one. Its main trick is to have the colors mirrored on the clothes. For example, you can wear a green T-shirt and blue jeans, and your sister can wear green jeans and a blue T-shirt. Such a fabulous sister picture idea is easier to organize in a photo studio because you can choose a suitable backdrop.
4. The older sister helps the younger one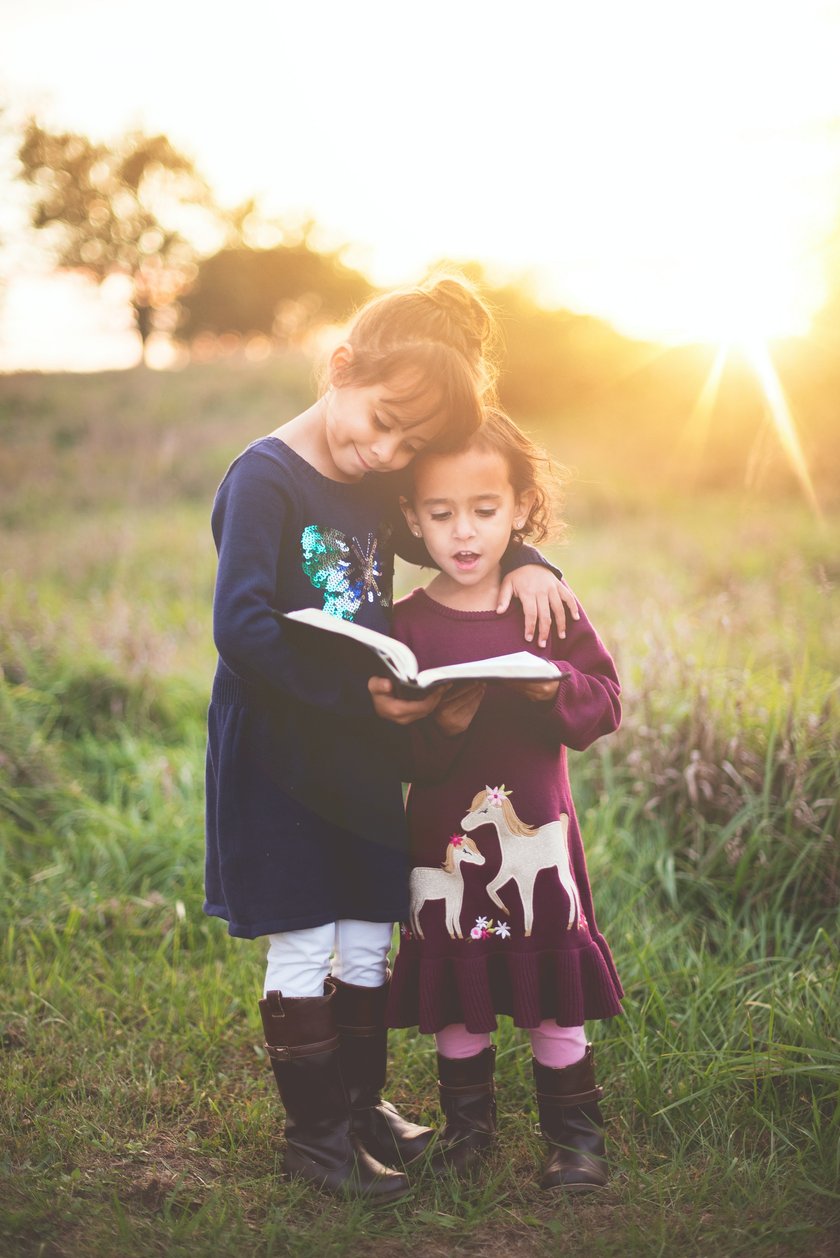 If you're looking for original big sister and little sister photo ideas, be sure to try this one! The idea is to take a picture of how the older sister takes care of the younger one. Here are some ideas:
help braid her hair;

serve a cup that stands tall;

lead along flower rows, holding her hand.
In fact, this is definitely one of the best ways to show how close the sisters are to each other.
5. The mirror picture of the twins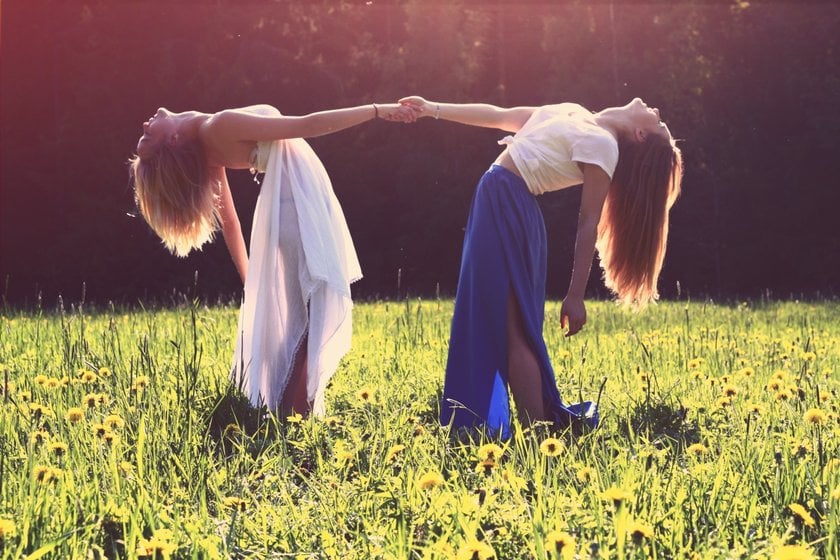 One of the best twin sister photoshoot ideas is to show their mirrored resemblance. This is always adorable because even though twins look almost identical, their facial expressions and gestures can be different. Try combining this with matching clothes and then ask them to recreate their usual movements. Believe me, the results will be amazing!
6. Take pictures of special moments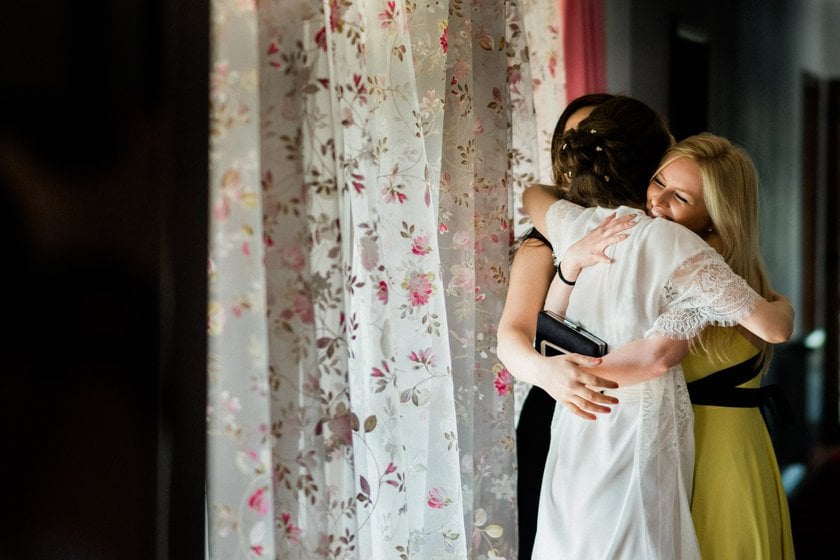 One of the best ideas is to capture the sisters' sincere hugs at some important event. It could be a birthday or a wedding, or the birth of a baby. Either way, one of your most important people will be present and hugging you.
7. Send secret messages
Sounds fun, doesn't it? However, it is one of the best sisters' poses! The point is that sisters have trusted each other since childhood, so a special bond is formed between them. Telling some secret in your ear is a great way to show the world how close you are.
8. Recreate happy childhood memories
Still wondering what pictures to take with your sister? Try to remember what you did as a child! Was it a magical time when you read together or played hide-and-seek? Try doing that now, too. You can even arrange a pajama party or go on a picnic and show your playful spirit. Believe me, it will not only be great sisters' photo shoots, but pleasant memories for years to come.
9. Take a picture of the baby and the older siblings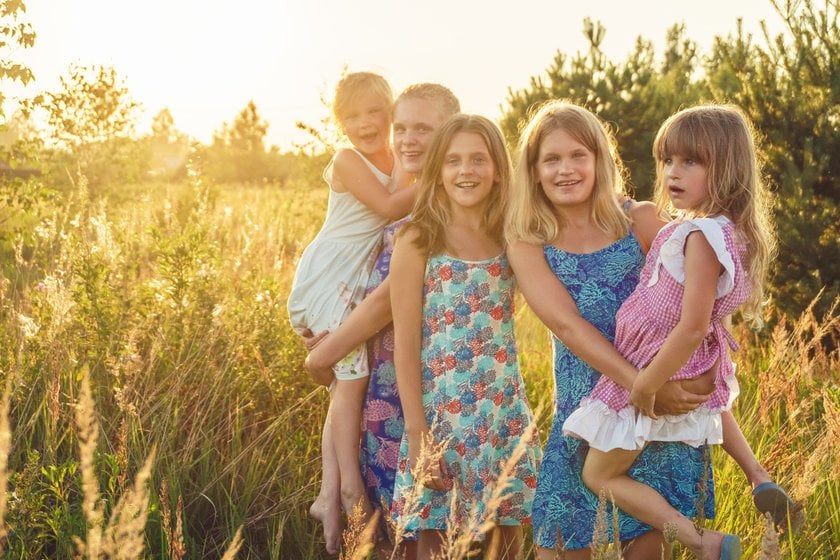 If you have more than one child in your family, you can photograph them all. Generally speaking, this is a very cute sister picture idea. It can be a photo with the little sister lying in the crib and the older sister standing next to her. She can also hold the baby in her arms. Such photos are especially good for close-ups because they show all the sincere emotions.
10. Photo from top to down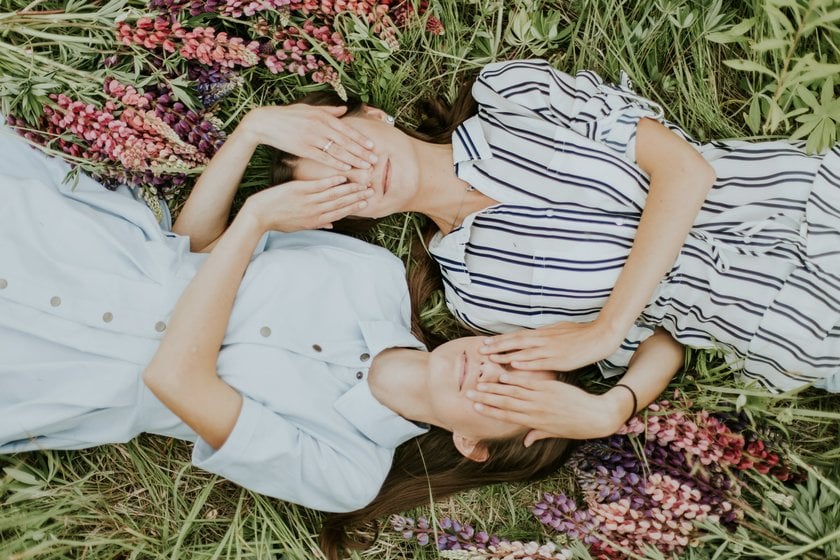 The top-down photo is unconventional and original. You don't need to shoot from the usual angles at all. One of the best cute sisters' poses for pictures is when the sisters lie facing one or the other way. The plus side is that you do not need special props to bring this idea to life. It could be a meadow or a flower farm where they will look as natural as possible.
11. Walk by hand or side by side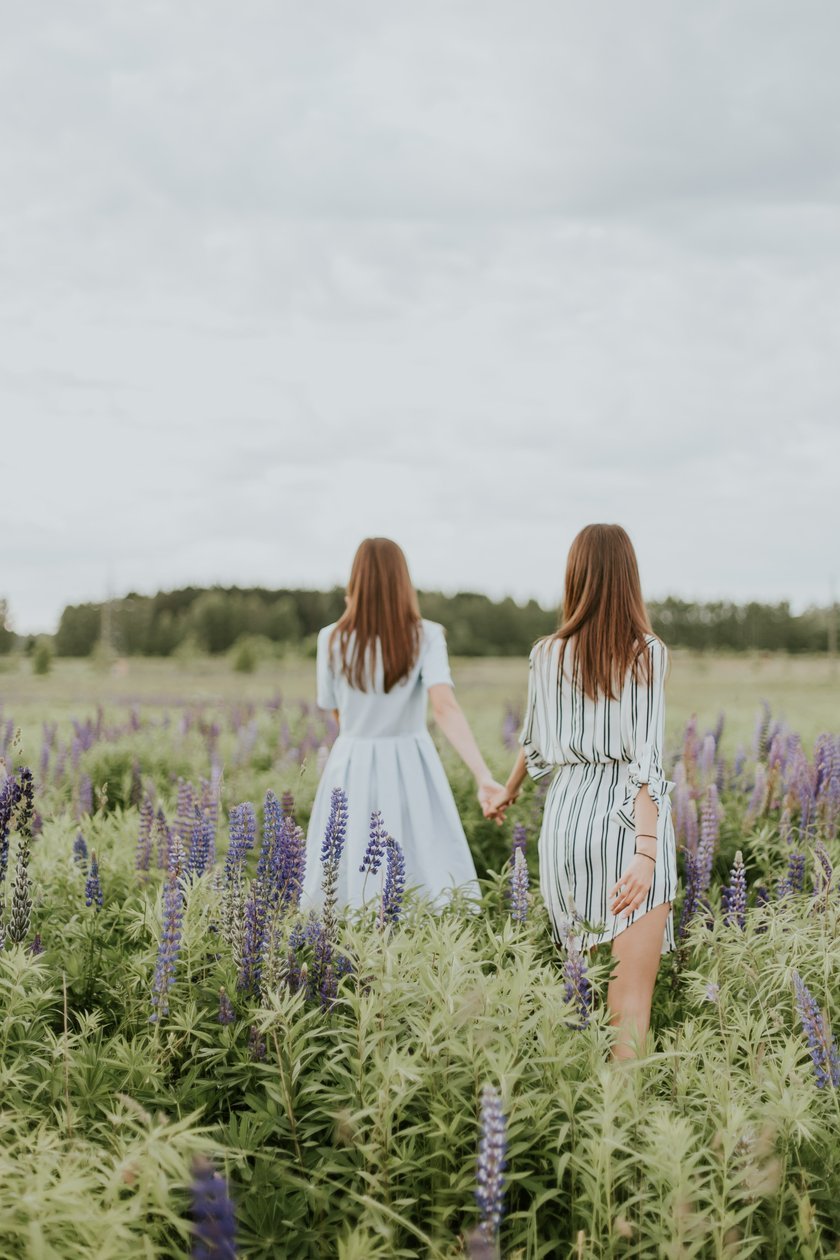 The sisters can walk away from or ahead of you. Do not disturb them with your presence. Then they will look candid and you can get maybe the best shots of your life. For the sisters themselves, such a picture can remain a treasure forever, because when they see it, they will remember one of the most heartwarming moments.
12. Shoulder to shoulder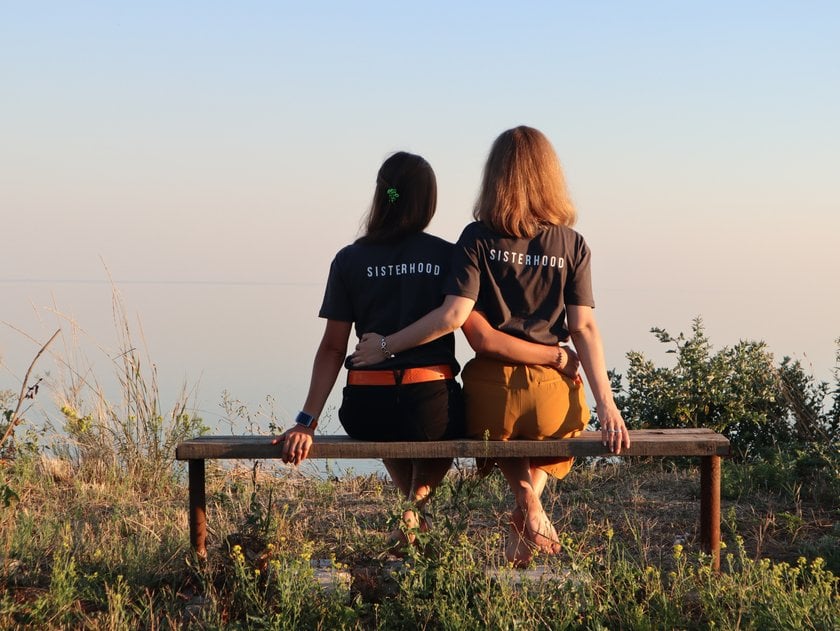 This is one of the best sister photo poses that will show how supportive they are of each other. At this time they can talk or just look in different directions. These photos not only look amazing. They can tell a real story of the sisters' lives.
13. Take a picture with a beloved pet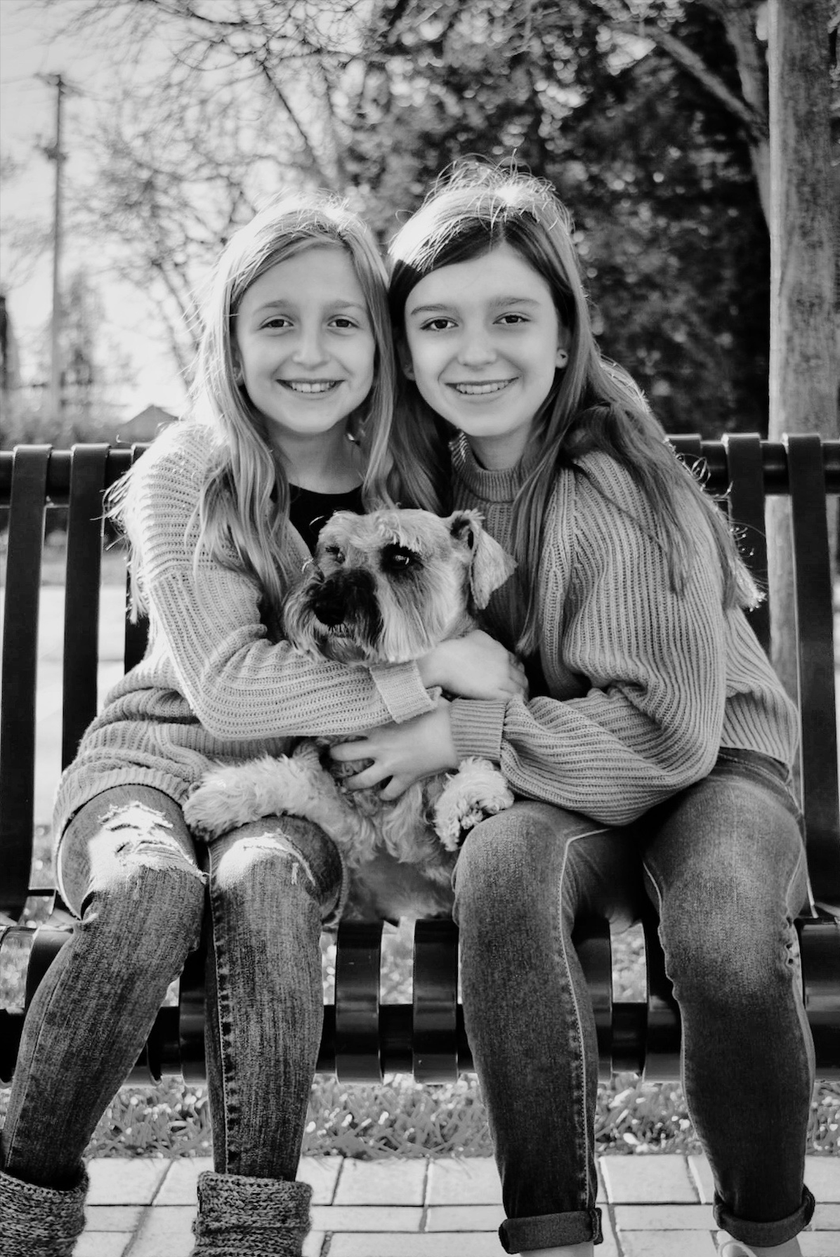 We believe that pets are real family members. Why not invite them into the shot? It will be one of the best sisters' photo shoot ideas no matter who they are: little girls or grown women. We are sure that they'll put smiles on their faces because taking photos with pets is just as enjoyable as looking at them.
What Should Sisters Wear for a Photoshoot? 4 Outfit Ideas
If you want to take not just a photo, but a themed photo, you should think about the outfit. We've come up with some ideas, and we're happy to share them!
1. The cowboy style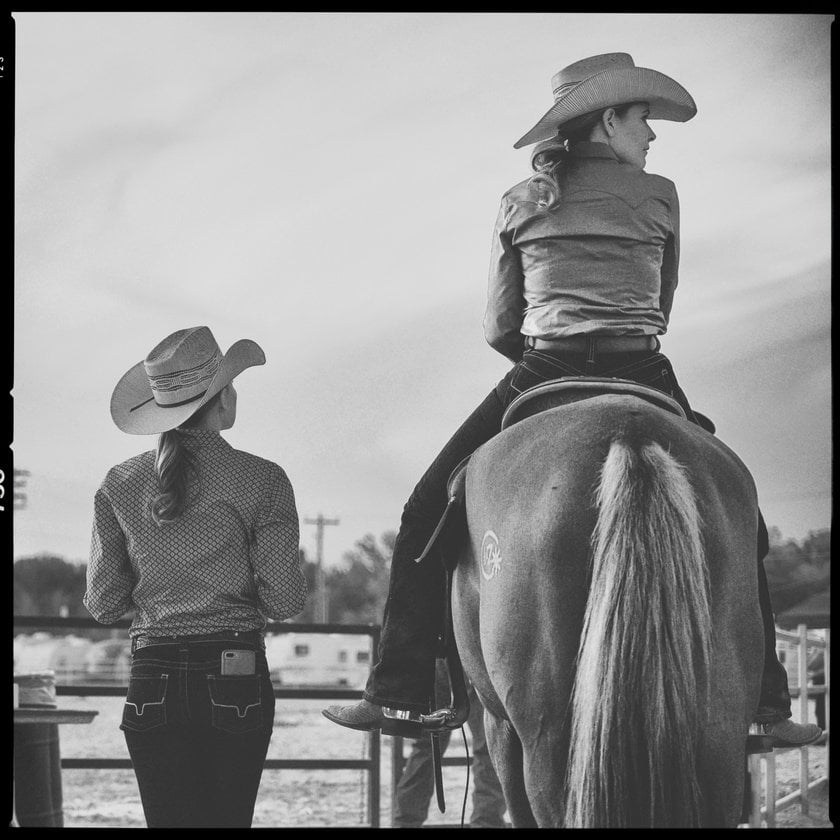 If you like to party and dance to country music, then this stylish idea is definitely for you! Pick up the boots, tie, and leather pants and we're sure you'll be impressed with the sisters' look. It's not at all necessary that both of them be cowboys, one can choose a cowgirl outfit.
2. Light dresses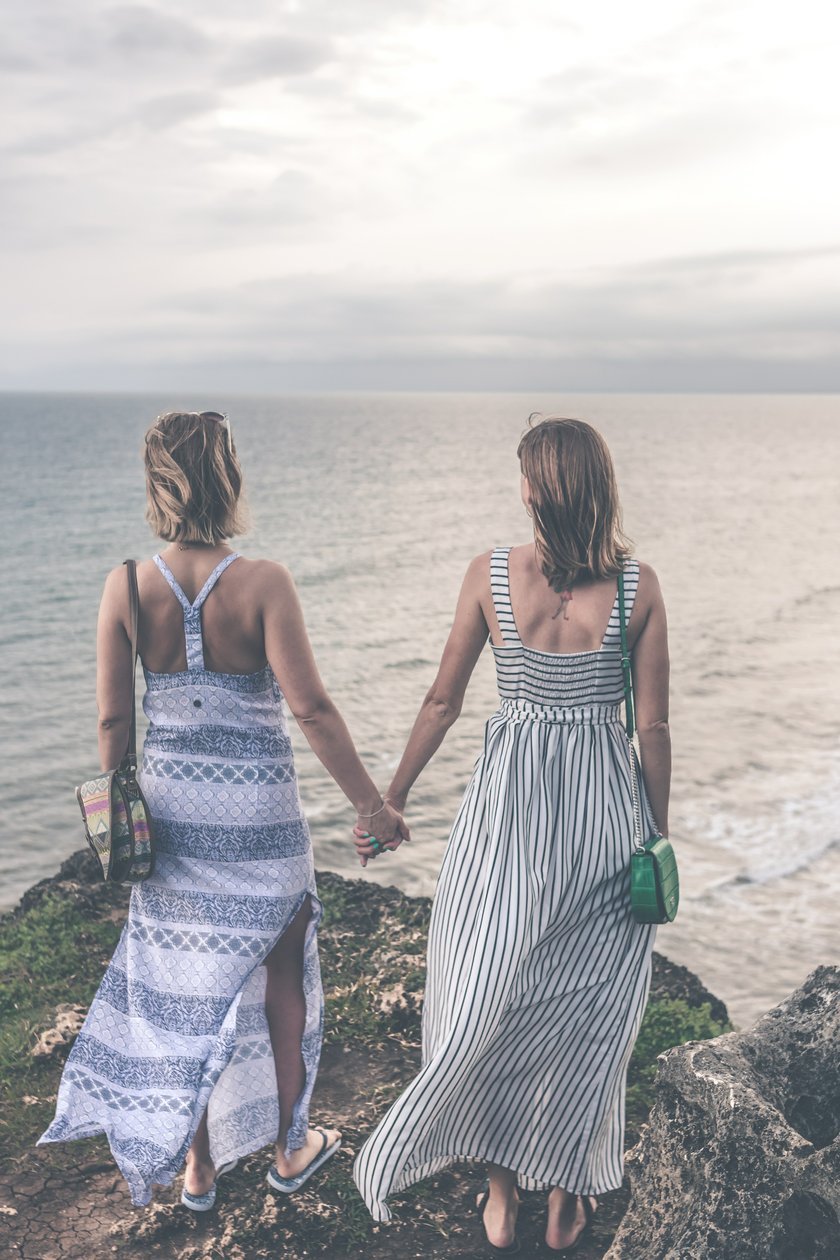 If you like natural beauty, why not take sister photos in a field of flowers? All you'll need are long, light-colored dresses and dreamy smiles. The sisters will feel like real nature goddesses and keep priceless memories of the wonderful day.
3. Contrasting colors
If sisters want to accentuate their look, why not choose contrast? It could be blue and orange or yellow and purple, for example. The perfect complement to such pictures would be bright makeup.
4. Fairy tale costumes or superhero clothes
This option would work for both little and adult sisters. Let them turn into Superman, Spider-Man, Rapunzel, or Cinderella for a while. Yes, you will have to look for outfits for such a photo shoot, but the result will be worth it.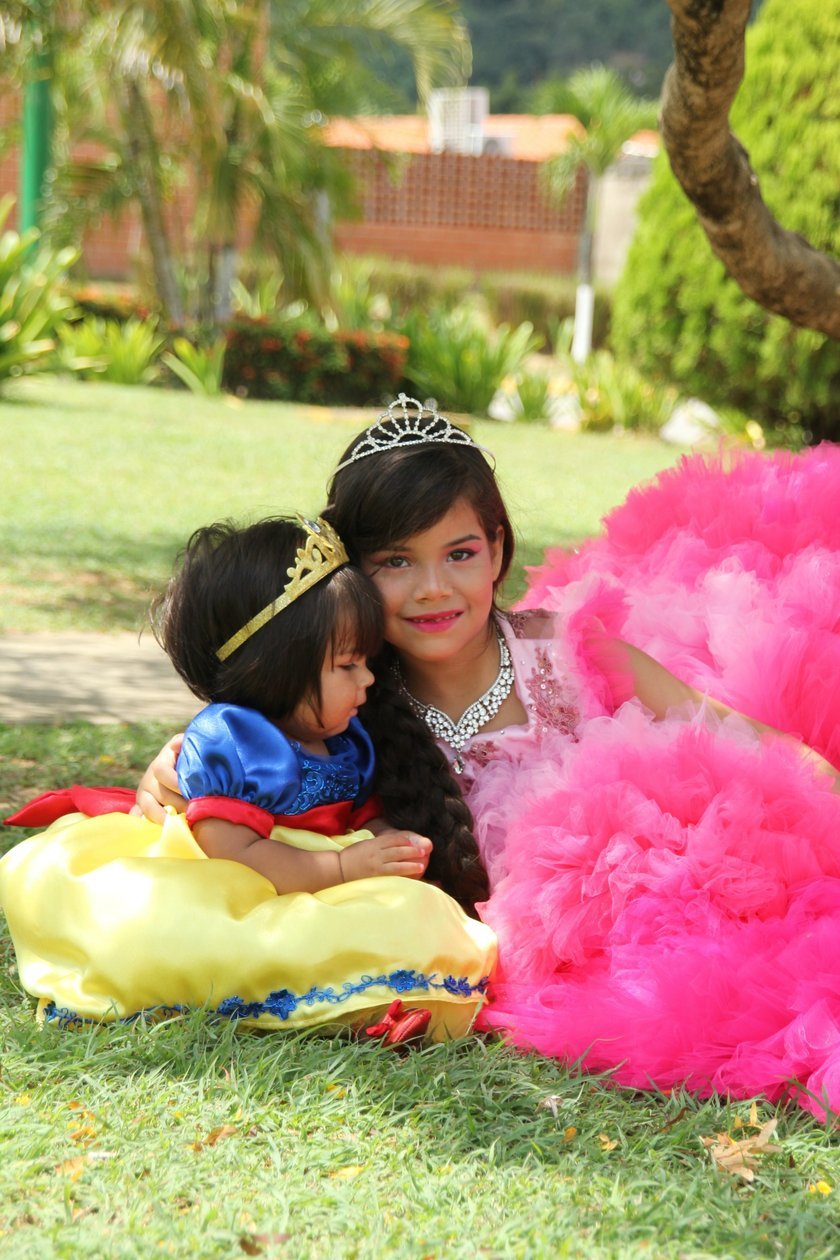 Tips to make perfect sisters photographs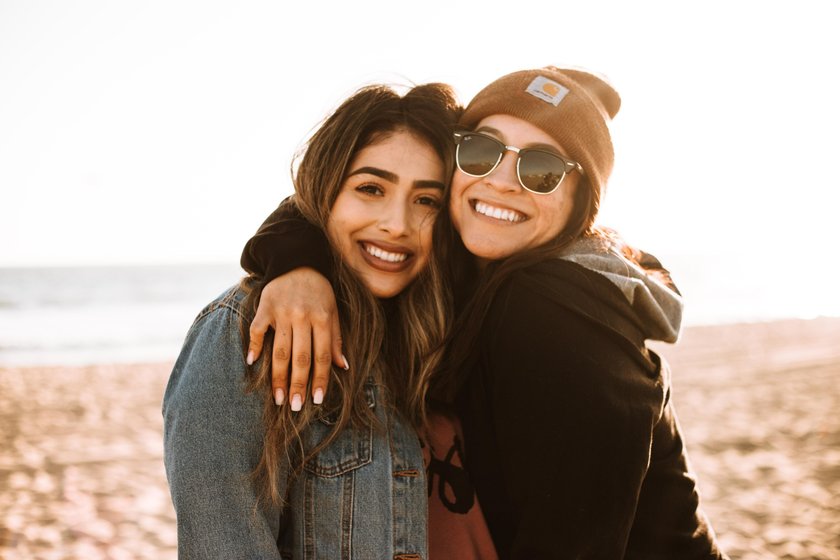 Here are some tips to help improve the photo shoot:
Make the sisters laugh. They will show their real emotions, and then the pictures will look much better than if they are shy.

Take

candid photos

. Try to find a moment when the sisters are not looking at you and take the picture.

Use props. It can bring even ordinary photos to life. Believe me, these details won't be superfluous at all.
Post-processing in Luminar Neo
Often even the best photos need editing. This does not mean that you have to change the picture completely, but it can always be improved. To do this, use Luminar Neo. This app is AI-powered, so it gives you simple tools to fix or improve any aspect of the image. It also has useful pro tools like Noiseless Extension and HDR Merge Extension. They allow you to make the quality of your photos incredible. Another plus is that Luminar Neo can easily be used by beginners, as it has a very user-friendly interface.
Closing thoughts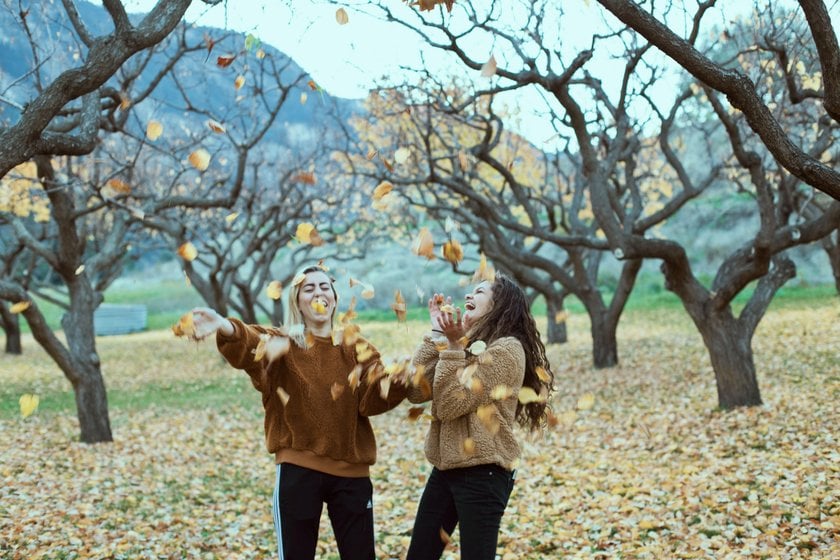 Even though the love between the sisters can be seen with the naked eye, sometimes it is difficult to capture all the emotions on camera. That's why finding the best sister picture ideas is not enough. In order to have the perfect photo shoot, you need to prepare carefully. Don't be afraid to try, and we are sure that you will become a true photography guru!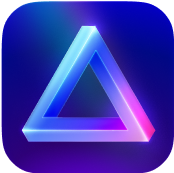 Advanced yet easy-to-use photo editor
view plans