We created some wonderful couple photoshoot ideas for creative photographers. Discover the essential couple poses for an ideal photo session and get the best ideas.
You can't be a photographer if you don't like people or don't like romantic photography. When it comes to couples photoshoots, you need to feel their mood and be able to arouse emotions and reveal the beautiful couple's faces. A photographer should keep in mind some unique couple photoshoot ideas, discover new cute poses, and help people express themselves in front of the camera aperture.
How can you take pictures of couples and pose them properly? Creating a photography couple photoshoot ideas may be more challenging than some photographers first think. When shooting individuals, you can follow basic posing rules to make the person look their best. While you still need to keep these rules in mind when photographing couples or groups, you also need to consider their interactions with each other. Creative couple photography ideas will help you.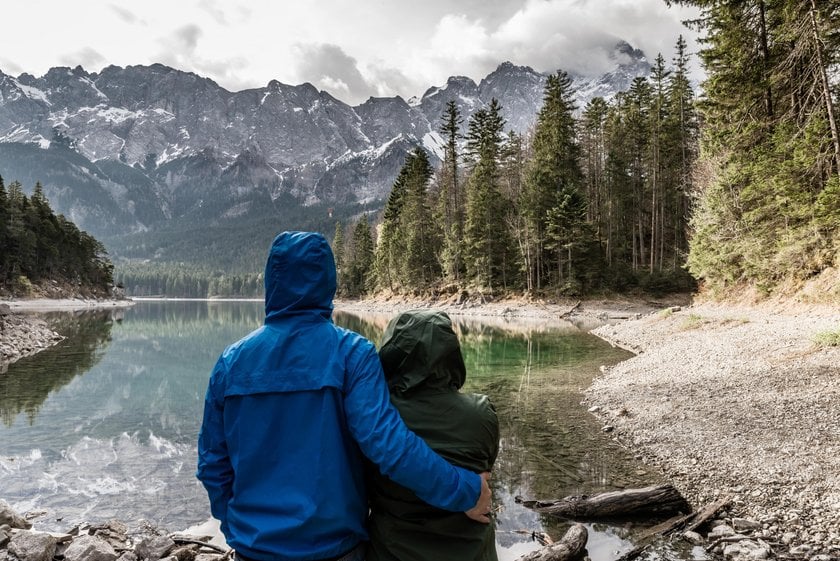 Let's explore some basic couple poses and creative couple photoshoot ideas to capture beautiful moments, then proceed with some ideas for Valentine's Day and wrap up with a few wedding photography tips.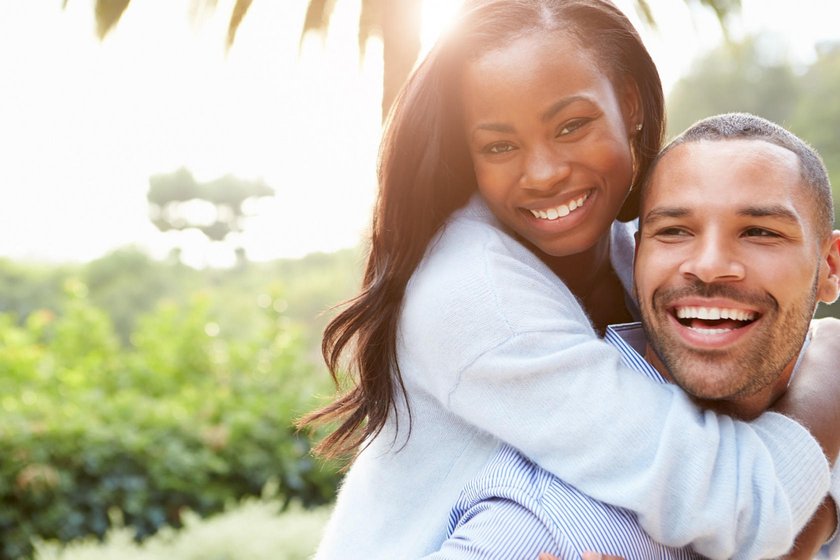 How to pose for a couples photoshoot: the best ideas
Getting the right poses is no easy task when you are searching for cute couple photo ideas. Hugs and holding hands always come first in intimate couple photo ideas. A romantic couple photo shoot involves physical contact between the characters. However, this is not the only trick photographers resort to for couple pics ideas. For example, sometimes it is enough to photograph the couple's intertwined hands or take pictures from the back. A kiss on the forehead also always looks spectacular, and most importantly, it is a symbol of a more adult and mature relationship than a regular kiss for a couples photoshoot.
If we are discussing intimate couple photoshoot ideas, you can shoot portraits as well as details, and you can even afford to photograph the couple full-length. In this regard, the genre does not provide any restrictions. What's important is that both people look harmonious. Here, the rules of composition will help you. You can photograph equally good full-length pairs of about the same height or of different sizes. Your task is to place them correctly in front of the camera.
Of course, the main thing when shooting a love story is to allow the couple to reveal themselves. It is a great way to create a beautiful picture. Then you will have the easiest task, in time to capture the right shots and get creative.
Kissing
The kiss is a quintessential part of the human relationship. It's a way a couple naturally interacts with each other and looks into each other's eyes. But it's not easy to catch that moment beautifully. However, there is a key to getting a perfect kiss photo if you're looking for a romantic photoshoot.
If you've ever seen people kiss, you've probably noticed that the process isn't actually attractive since it results in faces literally being smashed against each other. If you want to avoid the smashing of faces, ask your couple to kiss slower and pause for a few seconds before the actual kiss. The whole time this is happening, you should be shooting. It's also a great opportunity to get a good picture. By doing this, you capture the build-up and emotion leading up to the kiss while avoiding the smashing of faces.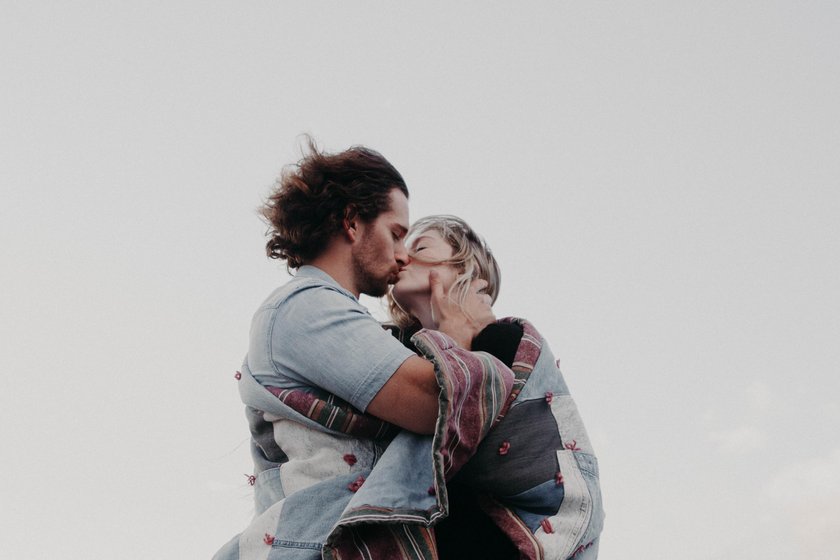 Couples vs. landscapes
One of the best places to shoot pictures of love and cute photoshoot ideas for couples is in the great outdoors. There are so many places that offer beautiful, natural backdrops for your Valentine's Day photos and couples' picture ideas. Don't be afraid of shooting a couple in the countryside, it is a great alternative to shooting noisy city scenes. Find a view-worthy landscape nearby or plan a small trip if you know an attractive place for a couple picture ideas. Captivating backgrounds are perfect for a romantic couples photo session.
In addition, you can fully benefit from your drone if you have one. Young couples try to make their images of love unique, trendy, and attention-grabbing. Drone photography will be helpful for that, it's one of the great couple photo ideas. Plus, when using a drone, you don't have to pick cute poses or make a couple laugh or pretend to be serious and romantic.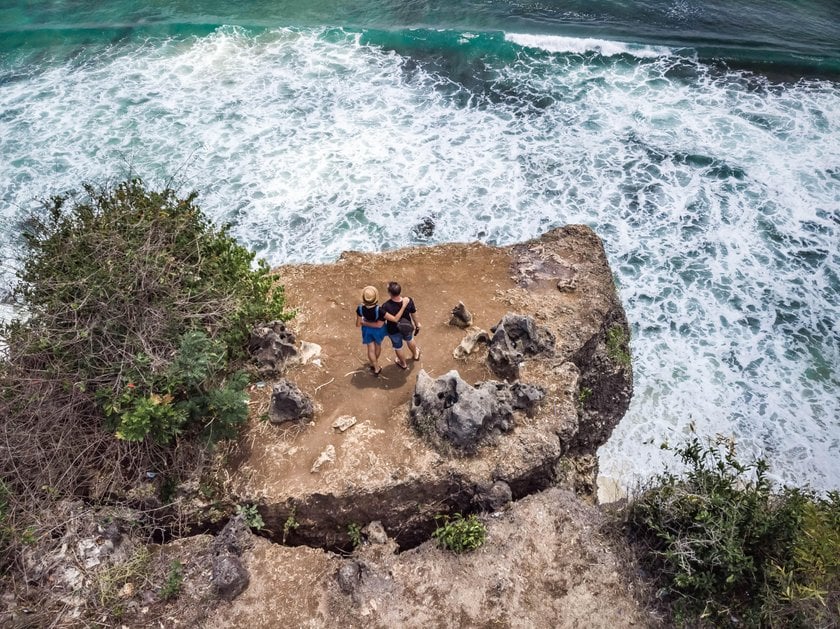 When it comes to shooting landscapes, post-processing is vital, don't forget it. With a cutting-edge photo color editor you'll easily bring out the beauty of your couples photographs. Luminar Neo boasts a ton of professional filters that will do the routine editing for you. For example, the new AI Sky Enhancer filter makes your sky beautiful automatically. Or maybe your romantic photos lack sunshine? No worries – the Sun Rays filter will add some sunny magic to your shot.
To make your editing even smoother, check out collections of Luminar Neo Looks and stylize your couples photos, change the foreground in one click. Explore various categories of Looks – Aerial, Portrait, Dramatic, Lifestyle – and choose what suits your picture ideas for couples and workflow best. Nothing compares with this ultimate photo editing software.


Cuddling
Whether facing each other or spooning for fun couple photoshoot ideas, getting cuddly is so important. Have couples wrap their arms around each other and pull each other close. If they're facing each other, they can cuddle up and rest their foreheads together or have the shorter of the two rest their head on the other's chest or shoulder. If one of them is facing away, have them cuddle up close and entangle their arms while the person in the back kisses the temple of the person in front. You can play around with this option and make one of the fun photoshoot ideas for couples.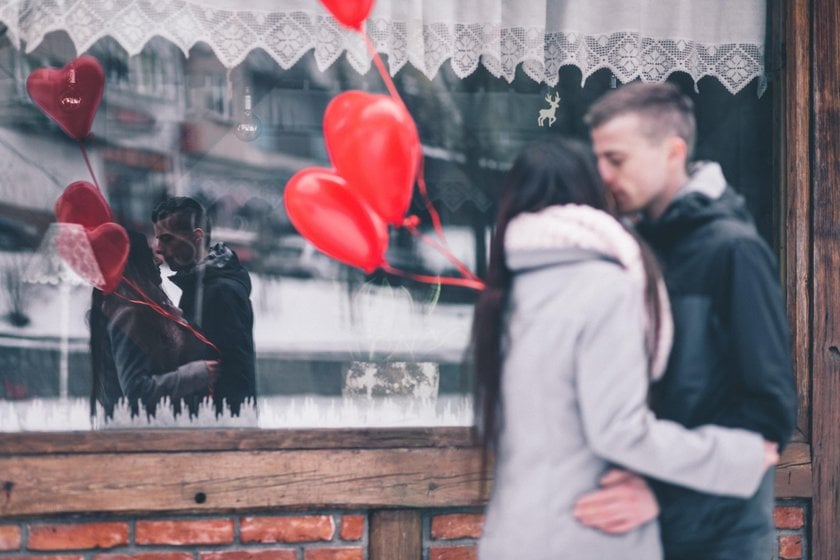 Whispering
This is such a useful tip for evoking emotions and natural interactions. While the couple is cuddling, ask one to whisper something into the other's ear. This is perfect because since it's a whisper and they know no one can hear, they're going to whisper something from the heart. Whether that's a declaration of love followed by a sweet facial expression or a dirty joke resulting in laughter, you're sure to get some great emotion.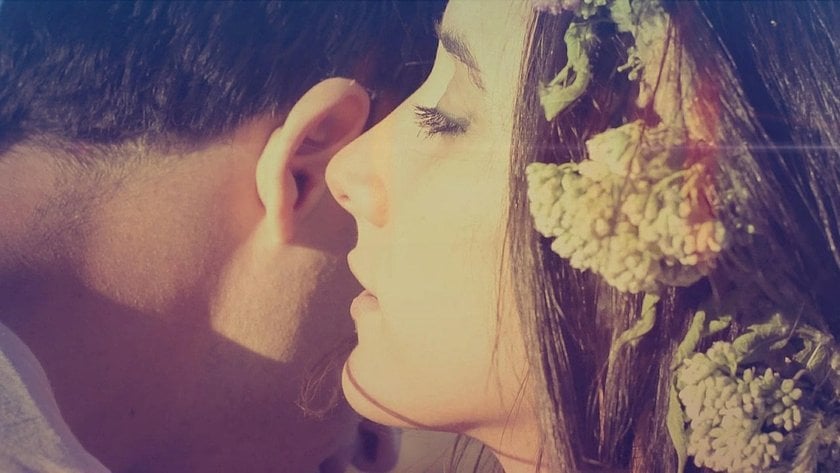 Walking
If you're looking for couples picture ideas, this is easy as one-two-three. Have the couple walk away from the camera while looking at each other or maybe holding hands. Let them discuss something, which sometimes leads to a natural interaction. You can also have the couple turn around and walk toward the camera, giving a different look to the same pose. Try to make them look at each other with special tenderness.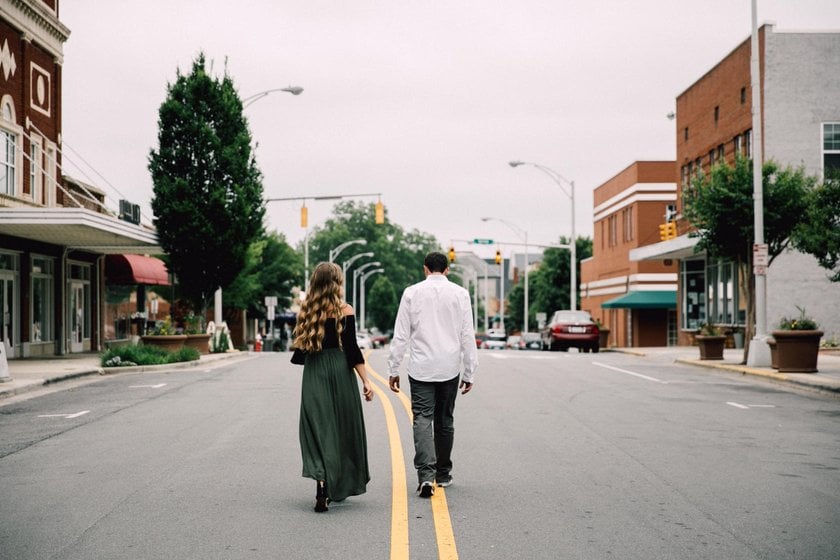 Pre-wedding
If you are shooting pre-wedding photos, special attention should be paid to engagement rings, because they are a symbol of engagement, and as an announcement of the happy event will be a great visual accompaniment. The couple can put their hands side by side, or hold hands, or you can just catch in the frame the process of putting the ring on the finger. The main thing is to make the shot harmonious and effective.
Creating a tense
If the couple is sitting next to each other, it is desirable that the partners interact, looking at each other or touching each other. This is one of the best couple photoshoot ideas at home or outdoors. By the way, the partner's looks may well create a tense, in the good sense of the word, the atmosphere in the photo. This technique is used by art photographers who are trying to convey a mood for cute couple photoshoot ideas. So the focus, of course, should be on the eyes.
If the couple is lying, for example, on the grass, you can put their heads to different sides and shoot from above. True, the photographer should be careful, because due to gravity and wide-angle lens the face in the lying position is deformed, and the model may look unlike herself.
Hobbies
If the couple is into favorite music, give them instruments, reading, give them books, and gaming, give them controllers. In their familiar environment and with familiar objects people, in any case, will behave more calmly and relaxed during the photo session. And if you put partners on the couch with the game in their hands, what is the probability that soon they will forget about you and you get the most natural pictures that perfectly convey the emotions they are experiencing? Moments like these make up their life together and open up their playful side.
Boudoir photos
Among popular photoshoot ideas is a boudoir photo session. The idea is that women can get a lot of pleasure from the process and make an exciting gift for a sweetheart at the same time. A hot and sexy album full of intimate pictures will be the icing on the cake for both on this special day.
Search for some examples of boudoir photos to nail female poses. And don't forget to make some black and white images of love – they look very romantic. Here you can see a few examples of Valentine's Day boudoir photoshoots.
General tips for shooting
You can choose several locations for this photoshoot. Locations for romantic poses and couples pics ideas are everywhere. Look for scenes with many large trees, near the water, or in a boat in the middle of a pond. When shooting outdoors, you'll have a lot of natural light for your cute couples photo ideas. However, you'll still need to use a flash to avert any harsh shadows on the couple's faces. Alternatively, you can go back to the studio and use soft lighting techniques for some of the couples photography ideas. Let the couple sit at a table, on a couch, or in an overstuffed chair together. Use a filter on either the light or the lens to add a delicate feel to the pictures of love.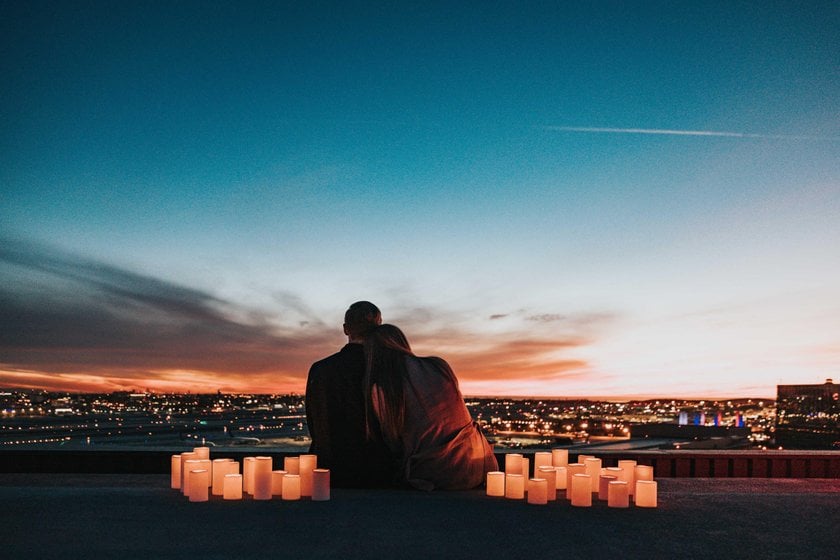 Focus on cute couple poses, and consider where you want your couple to be in relation to the background. Try to use the rule of thirds whenever possible for your couple photo ideas at home or outdoors. This means dividing the frame into thirds vertically and horizontally and adjusting the couple's location within these imaginary lines to create the best picture. Also, it's okay to use the bokeh effect. Let viewers focus on the couple, not the background. You can also shoot silhouettes.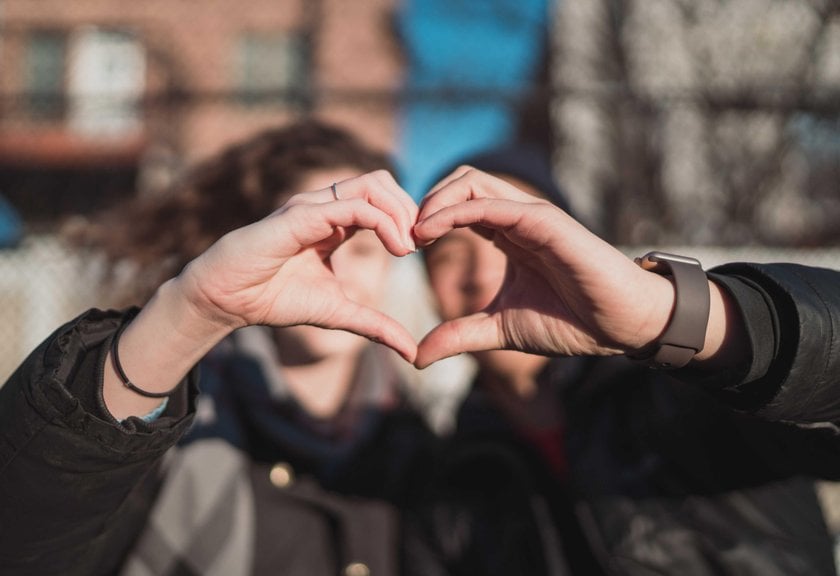 You can also shoot them unexpectedly, just let the couple relax and enjoy their time together. Allow the two to interact naturally while you're photographing cute picture ideas for couples. Be ready to capture any unexpected romantic moments including passionate gazes, hugging, holding hands, smiling, walking together, and kissing. Let them get as close to each other as they want.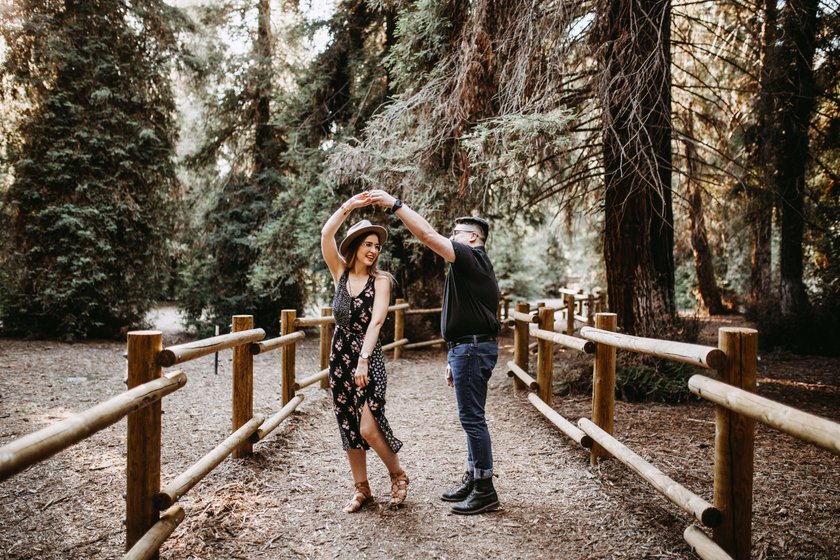 Don't forget to use props for your couples shoot ideas! The most popular and traditional prop is, of course, a red heart. A heart is an attractive and straightforward symbol that says "I love you." That's why most couples will gladly use hearts for their shots. Shopping malls are full of accessories, it's perfect for cute couple photo ideas. Find something special and original. A heap of red heart-shaped balloons, bouquets of roses, or cute kittens and puppies with bows will help to make cool pictures.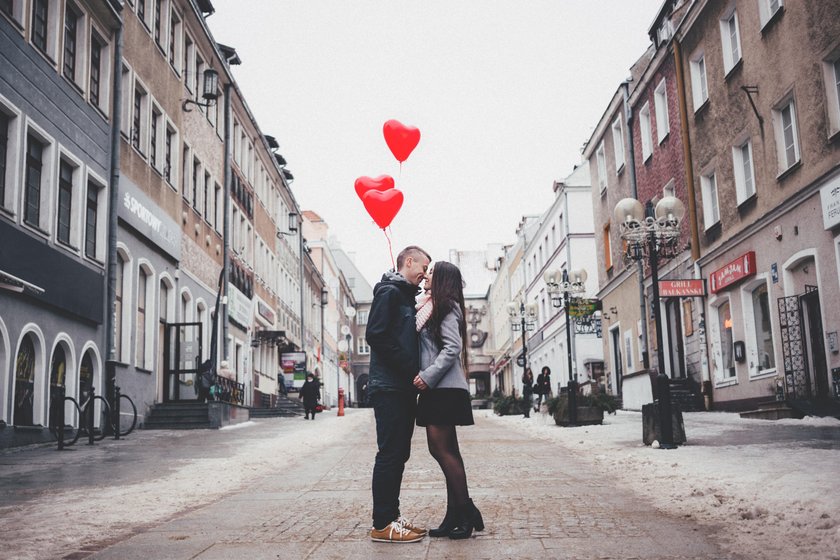 There are some more ideas:
Let them share a cocktail or a glass of wine with two straws for a funny couple's photo.

Let them dance in the city at night when the streets are wet and reflect the lights, making for a dreamy Valentine's photo.

Ask them to jump with their legs back while holding a bouquet of red heart-shaped balloons.

Hang little hearts or letters out to dry on a clothesline to add a bit of whimsy to a city or country scene.

Let them take pictures of each other with cell phones – people can invent far more cute poses than you think.
Tips on shooting wedding couples
Before shooting cute poses of wedding couples, you should know the dos and don'ts. Learning the basics will help you avoid common mistakes when creating cute photo ideas for couples.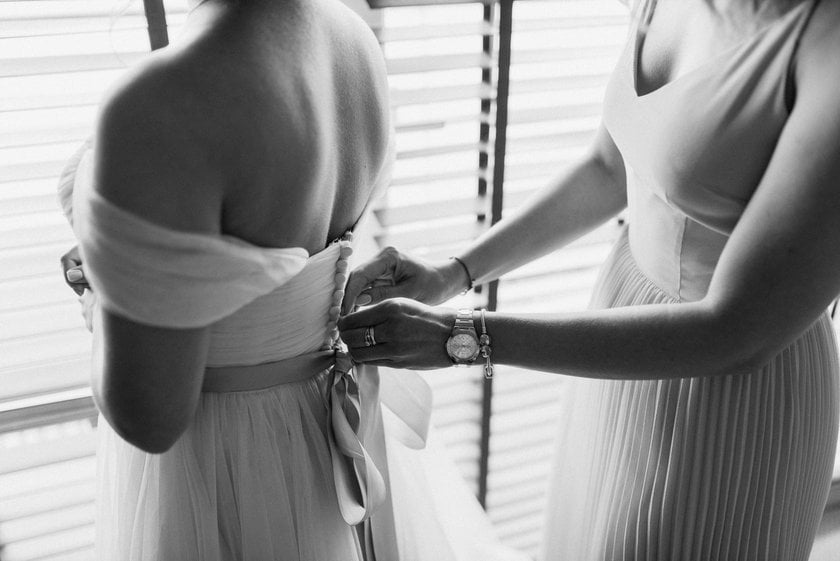 The first thing you should do prior to shooting your own wedding photography is to assist a professional wedding photographer.
Through this experience, you'll learn the essential techniques. Some of these techniques may not suit you, but there will be a lot for you to learn.
1. Prepare your gear and accessories
Check all your devices and make sure that they're working properly. If you lack something, borrow an extra camera, lens, or lights so that you're ready for unexpected situations. Always bring extra batteries and memory cards. If possible, back up your couple's images on a laptop in real time to prevent data loss.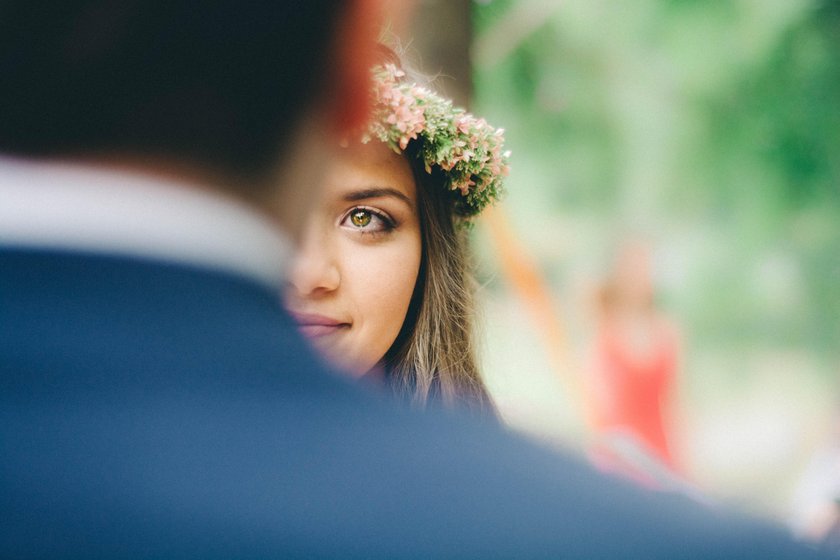 2. Prepare the list of shots
Prepare the list of shots. We recommended spending extra time on preparation. Before taking photos of the bride and groom in attractive locations, consider cute poses and something fun. Show the couple your shots list. Let them choose their favorite poses for their wedding album and add them to the plan.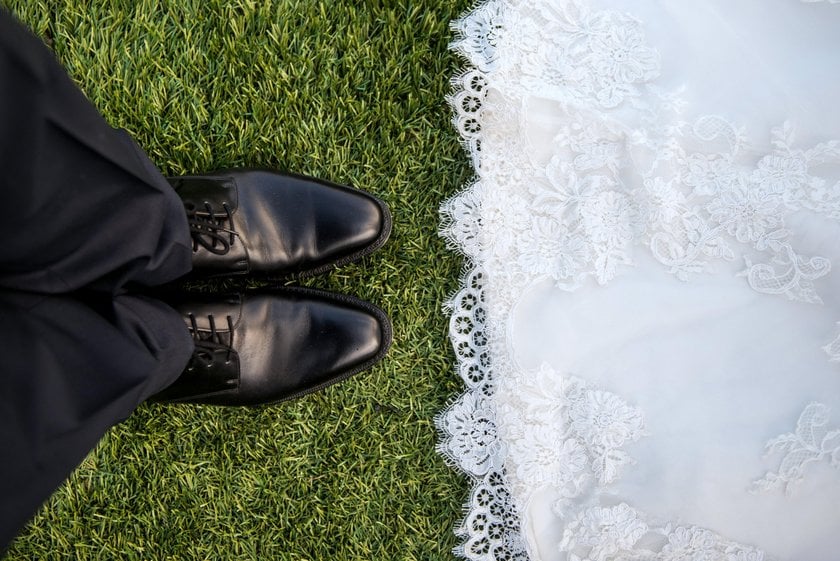 The couple may be meticulous while discussing your photoshoot ideas, so it's important to stay patient. Word of mouth advertising is crucial for growing your photography business, and a patient photographer is one they'll recommend and be back asking to shoot their family portraits.
3. Scout the location
On wedding day, things usually go crazy and hasty decisions are made. And depending on how seriously the couple takes their holiday schedule, you'd better be ready to act spontaneously. Perhaps they'll decide to postpone the group photos and you won't have time to look for the best spot to capture them. You'll be stuck choosing a location that's within view and will have to settle for something that's less than perfect.
To be ready, you can come earlier and investigate the wedding scene, looking for the best locations and visualizing where you would shoot the bride, the rings, the family, the friends, etc. You could even pay the venue a visit a few days or even weeks before the actual wedding to scout out the best spots. That way the wedding day should be hassle-free. You might even find yourself with some spare time to have a snack.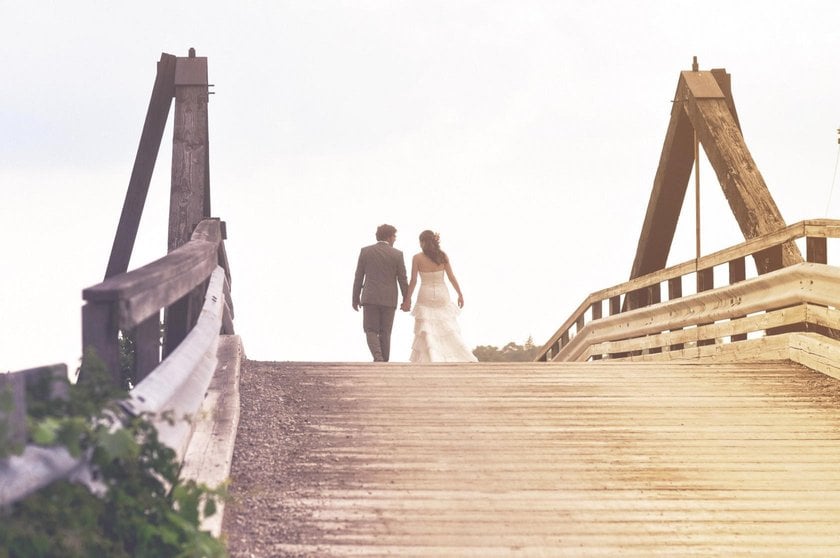 Editing couple photos
Don't forget that a lot of your photo ideas for couples depend on editing. You can use different filters and presets, retouch images and create true masterpieces. There are no limits to the scope of your creativity here. Of course, many people immediately think of Photoshop, but there are many other good alternatives. For example, you can boost details in your photos with AI Structure. Discover more amazing tools in the new Luminar Neo.

The bottom line
Take note of these tips for a successful couples photoshoot. Whether the photos are for engagement, Valentine's Day, or the big wedding day, you'll have a few tricks up your sleeve.
Let the couples experience fun, happiness, and excitement while working with you. It will have them coming back to you for their first family portrait and beyond.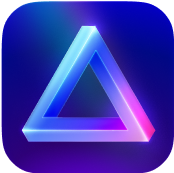 Advanced yet easy-to-use photo editor
view plans