Become an expert in sunset photography by following our comprehensive guide. So, how to take pictures of sunsets?
Sunset photography is a well-worn subject among professional and amateur photographers. Social media is flooded with beach sunset pictures. You can find sunset backgrounds anywhere a calming and soothing effect is desired: in interior design, advertising, tourism guides, spa resort brochures, and fashion magazines. While it may seem to be the perfect subject for photography, sunset is in reality a difficult subject, including sunset photography settings. Few people know that capturing a sunset background requires knowledge and practice and is time consuming. Sunset photography is harder than pointing a camera to the sun and pressing a button, and it's more creative than the cliché of a beautiful end of the day. An amazing subject isn't enough for an amazing photograph.
The Best Camera Settings For Sunsets
First of all, don't forget to use a tripod. To get successful sunset shots, it's also important to set up your camera properly. These helpful tips will help you be prepared. Here is a list of settings for sunset photography.
Aperture
You'll need maximum depth of field to capture the entire sunset scene. Choose a very narrow aperture. And don't be afraid to go overboard.
ISO
Select the lowest possible setting first so that the photo doesn't look grainy. As the sun sinks to the horizon, increase ISO a little at a time. Always use these sunset photo settings.
White Balance
Most modern cameras have excellent auto white balance settings but don't rely on them completely. Every sunset is unique, so adjust the settings manually each time.
RAW vs. JPEG
There are a few cases when it is better to use JPEG, but for shooting sunsets (and landscapes in general) it makes more sense to shoot in RAW format.
Focus
Some cameras have a hard time focusing on the setting sun because it doesn't provide a clear focal point. What are the best settings for sunset photography? If your photos turn out blurry, focus the camera manually. A focal length of 14 mm is a good starting point for getting a composed shot. Keep in mind that when the sun is in the frame you have to deal with high dynamic range.

Exposure
If you don't like the exposure, a quick way to fix it is to use exposure compensation. Also, try to use a slower shutter speed.
12 useful ideas for sunset photography
Sunset photography refers to photographing at sunset. In many of these photographs, the sun is the main subject of the composition, but this isn't always the case. Sunset images can have various subjects, and the sunset background can be an extra feature. Actually, many photographers recommend using the sunset for its golden light and impressive colors — but not as the only subject of the frame. How to take sunset pictures?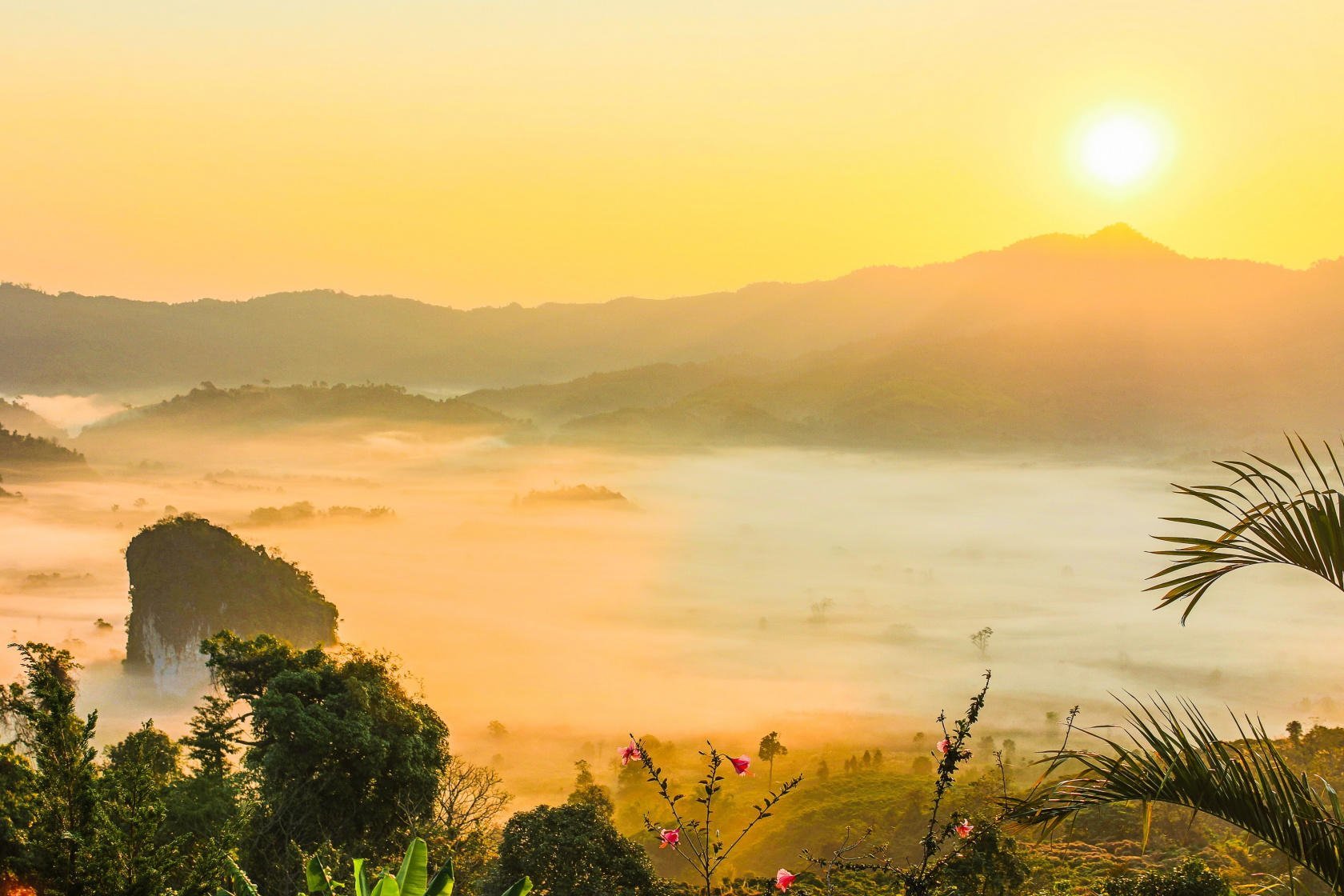 The quality of sunset photos depends on the weather conditions. For beautiful sunset pictures, you need the right amount of a certain type of clouds. The good news is that you can know within two to three hours before sunset if you'll be able to see a beautiful sky. If you see thin or puffy and scattered clouds, you're in luck. If you see heavy clouds all over the sky, cancel your sunset photo session. If you see a clear blue sky, you'll be able to see the sunset, but it won't be very dramatic and colorful.
You can do sunset photography in many ways. Here are some great ideas for using sunsets in your compositions with the right camera settings for a sunset photoshoot.
1. Sunset landscapes
Sunset landscapes are the most common type of sunset photography. Natural landscapes become even more beautiful under sunset colors. It's not necessary to photograph the sunset over the ocean. Use these nature sunset photography tips. You can choose to photograph mountains, deserts, snow-covered fields, autumn landscapes, or forests. Include the sunset sky, but also include a lot of the landscape. In sunset landscape photography for landscapes consider using the rule of thirds. Also pay attention to the horizon line when you are taking pictures of sunsets. Use a tripod and a bubble level to make sure the horizon is straight.
Sunset landscapes look perfectly photographed with wide-angle lenses and using a deep depth of field. You can use panorama mode when possible. Especially if you're photographing water, consider a slow shutter speed. With a depth of field, it gives a smooth effect and enhances the colors. Another beautiful effect is the starburst effect, achieved by shooting directly into the sun using a wide lens and narrow aperture settings (for example, f/11 or f/18).
2. Sunset over the ocean for wedding photography
A wedding photo session or a "trash the dress" photoshoot on the beach gives you the opportunity to combine portrait photography and storytelling with amazing sunset colors. How to shoot a sunset photograph? Focus on people and take several shots in the same position, using slightly different exposures. This technique is called bracketing, and it's a great way of getting the perfect exposure.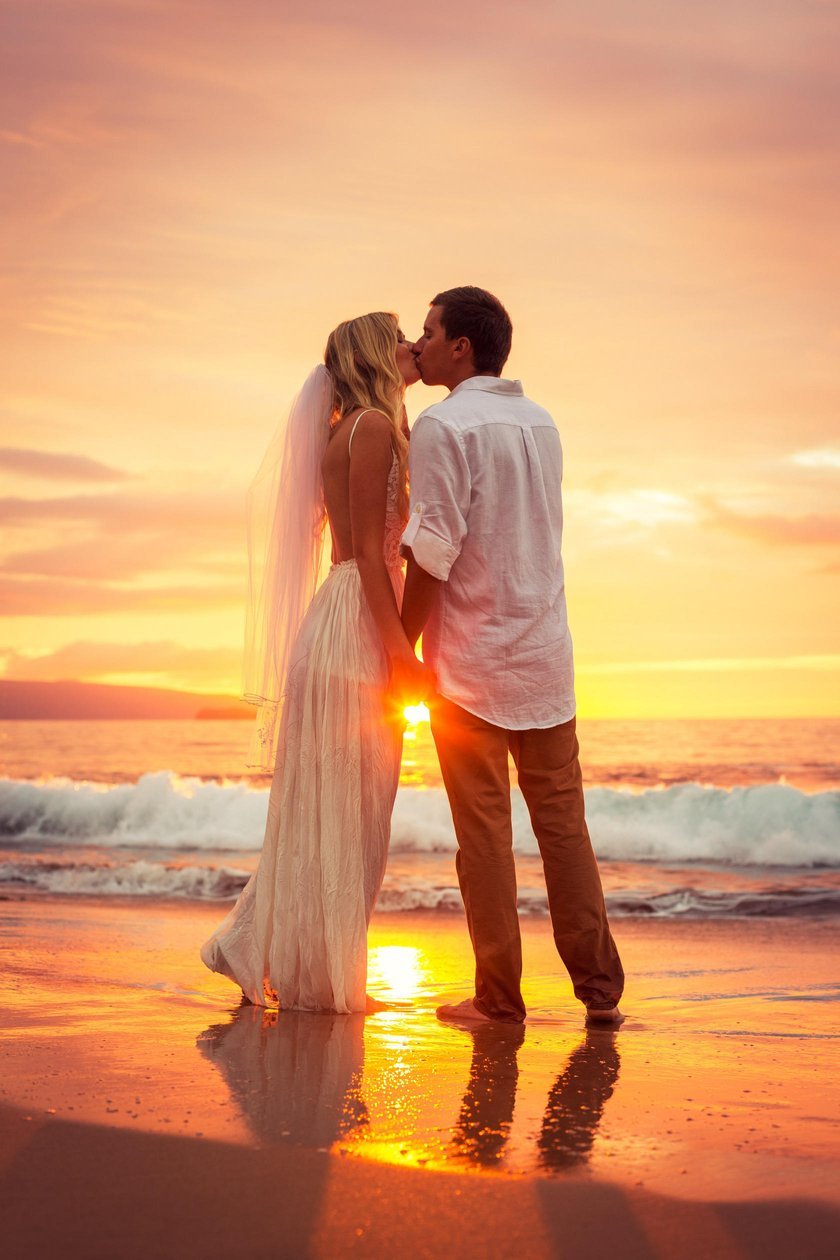 Use manual focus; don't let the camera take control. Also, avoid auto white balance, instead set the white balance to "shade" or "cloudy." Automatic settings don't work very well with sunset and sunrise images because they try to reduce the colors to normal values. Auto white balance can reduce color saturation. This is one of the best sunset photo tips.
Make sure people's faces receive enough light. Use a delicate flash or a reflector if you need it. A sunset background is great. Still, sometimes the sunset's subtle reflections on the water or on people's faces create a more artistic effect. So don't limit yourself to using only couple poses that allow for a sunset background.
3. Beach sunset pictures for family photography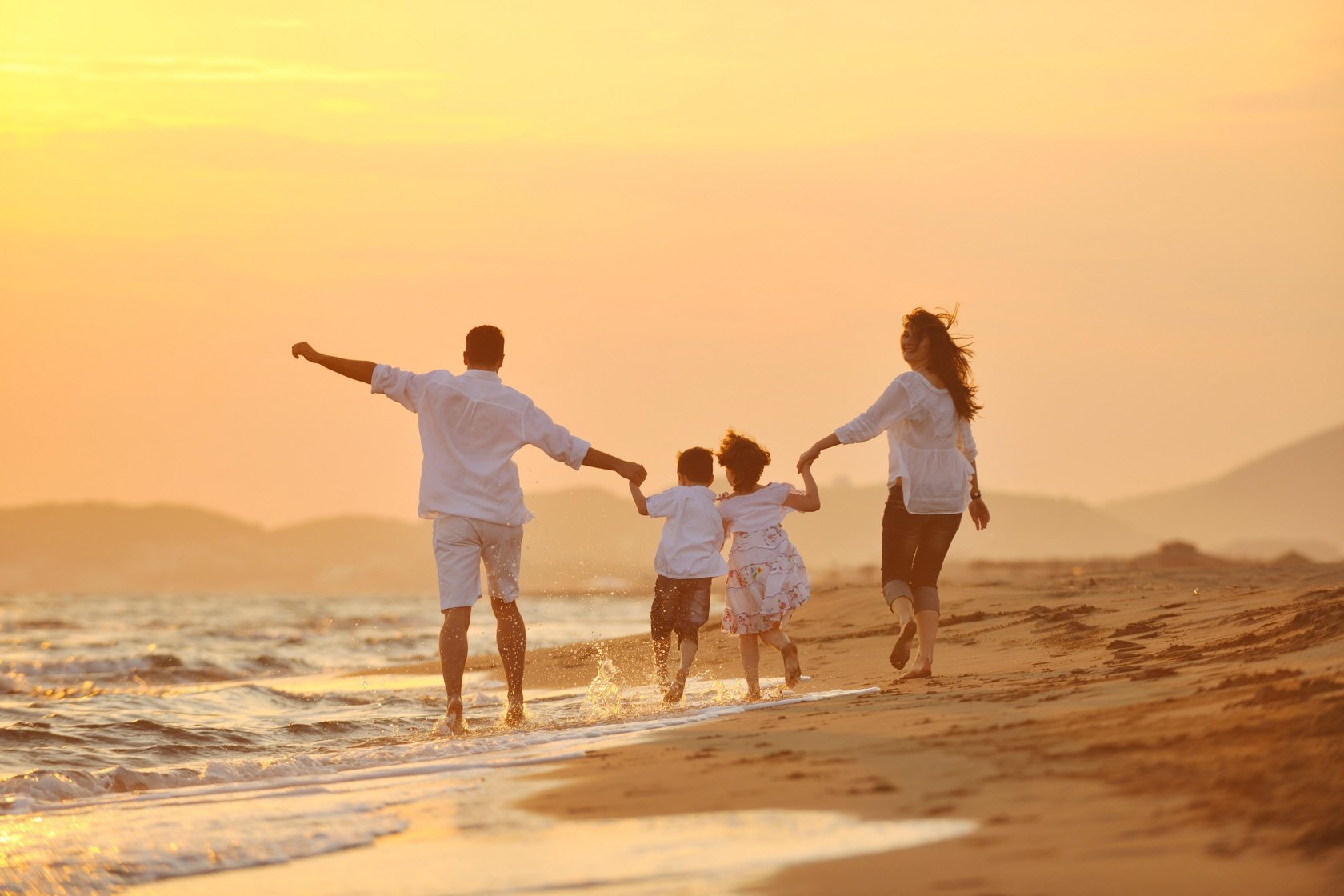 If you plan a family photoshoot on the beach, use the sunset light to suggest love, harmony, and health. In family photography, pictures of sunsets mean pictures featuring children playing on the beach or in the water, parents walking down the beach, or the entire family having a picnic under the sunset colors. You can imagine any scenario you like. Sunset backgrounds with the best setting for sunset photography are an additional feature to your family images. Here you can use a shallow depth of field and focus on people.
4. Sunset background for silhouettes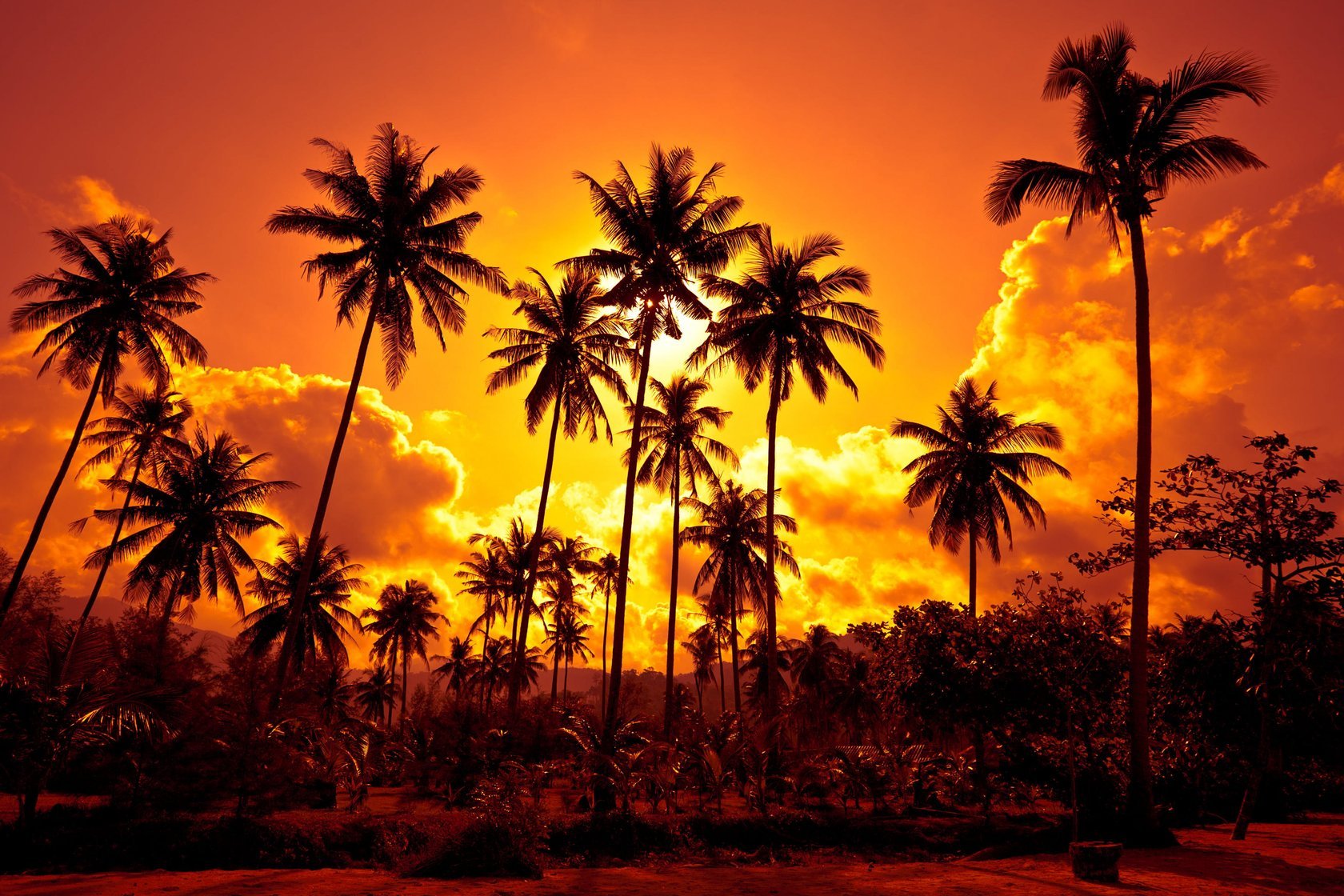 One of the most creative effects on a sunset background is photographing silhouettes. You just have to use the backlight offered by the sunset and a fast shutter speed. You can photograph silhouettes even after the sun goes below the horizon because the light will be available for at least an hour. Choose interesting shapes for silhouettes with the best camera settings for sunsets. People are the most popular option, but you can creatively use umbrellas, bottles, toys, or any other interestingly shaped object.
5. Sunset colors in flower photography
Photographing flowers at sunset has many benefits. The light is warm and glazes the petals with shades of gold. The light is also soft enough to allow you to use slower shutter speeds when you are taking photos at sunset. Sunsets are great backgrounds for flowers, enhancing their colors and textures.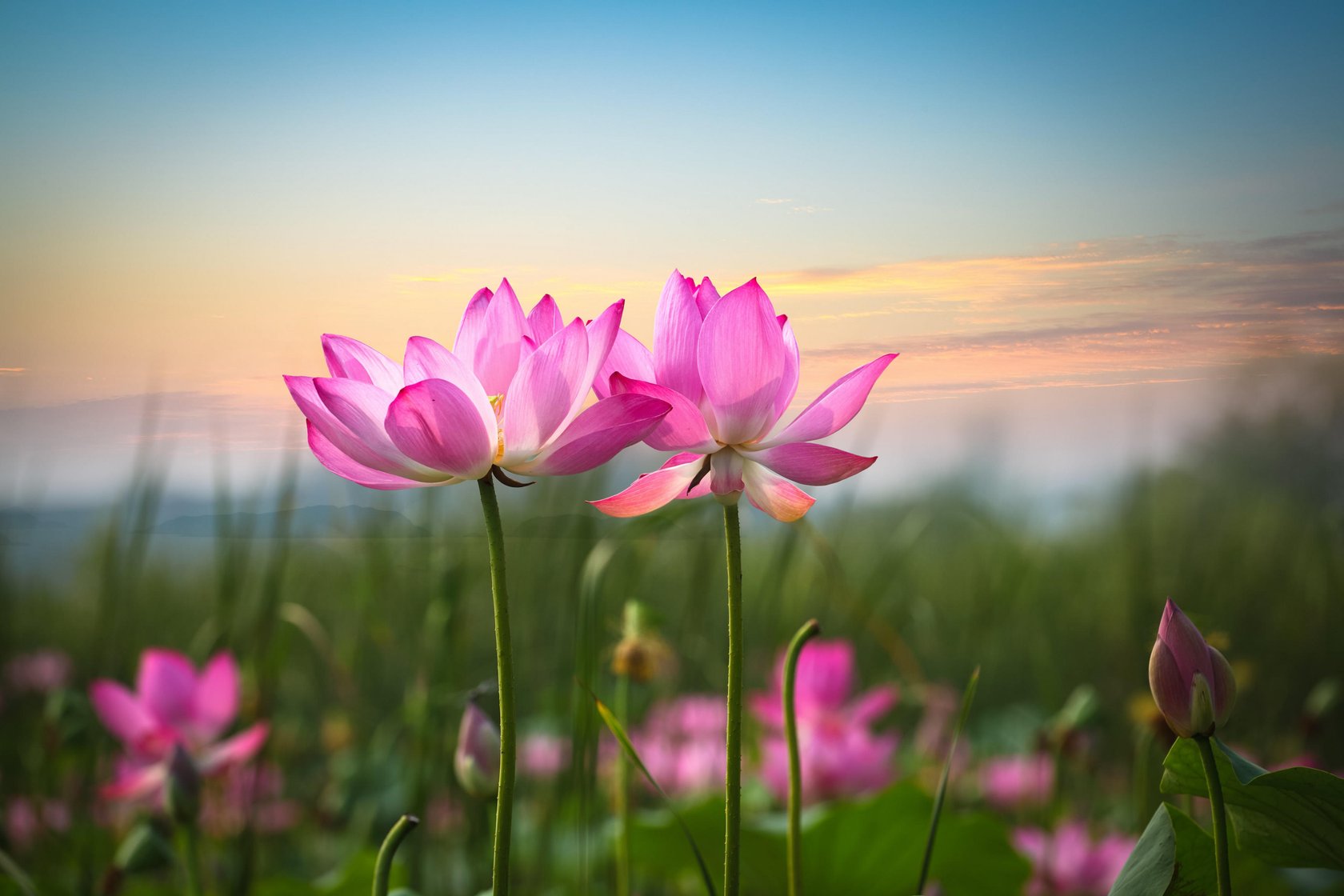 Use a shallow depth of field to put the flowers in focus. Avoid placing them in the center of the image, and consider using the rule of thirds. These two natural elements, flowers and sunset, complete each other.

6. Technicalities: equipment and software
The basic equipment for sunset photography includes a camera with a good dynamic range, a tripod, wide and telephoto lenses, and a graduated neutral density filter. Use the right DSLR settings for sunset. Based on your style and wishes, you can add a star filter and creative effect lenses. Due to the special sunset light, you may have problems using the camera's screen. Use a camera with an optical viewfinder or with a flip screen. To check the exposure, look at the histogram rather than analyze the resulting image. Also, avoid UV and polarizing filters because they can give unwanted flare and reduce color intensity.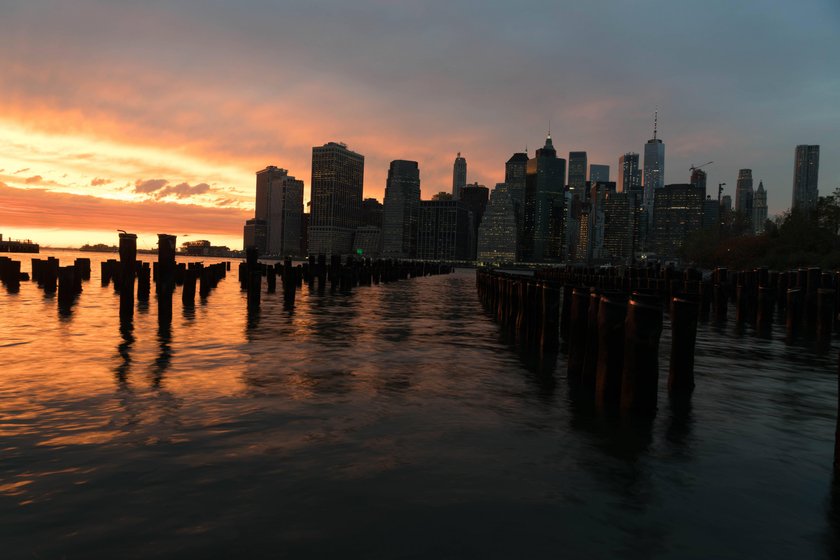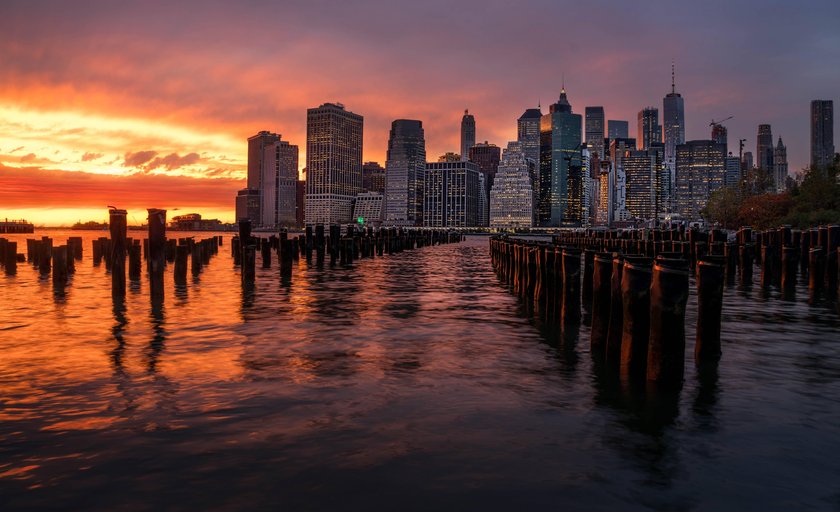 Photo by Serge Ramelli
Capture your photographs in RAW because it gives you enough space to edit in post-processing. Speaking of image editing, capture your sunset image as naturally as possible. The DSLR sunset settings also affect a lot. You'll have plenty of opportunities to add drama using photo editing software like Luminar Neo.
One of the most common mistakes that compromise pictures of sunsets is the excessive use of post-processing effects. Sunset colors are amazing just the way they are. Don't use extreme orange or red shades, a surreal glow, or unnatural contrast. One of the major advantages of Luminar Neo is its subtlety. There are, of course, sunset photos that call for dramatic effects, but most are famous for their natural beauty.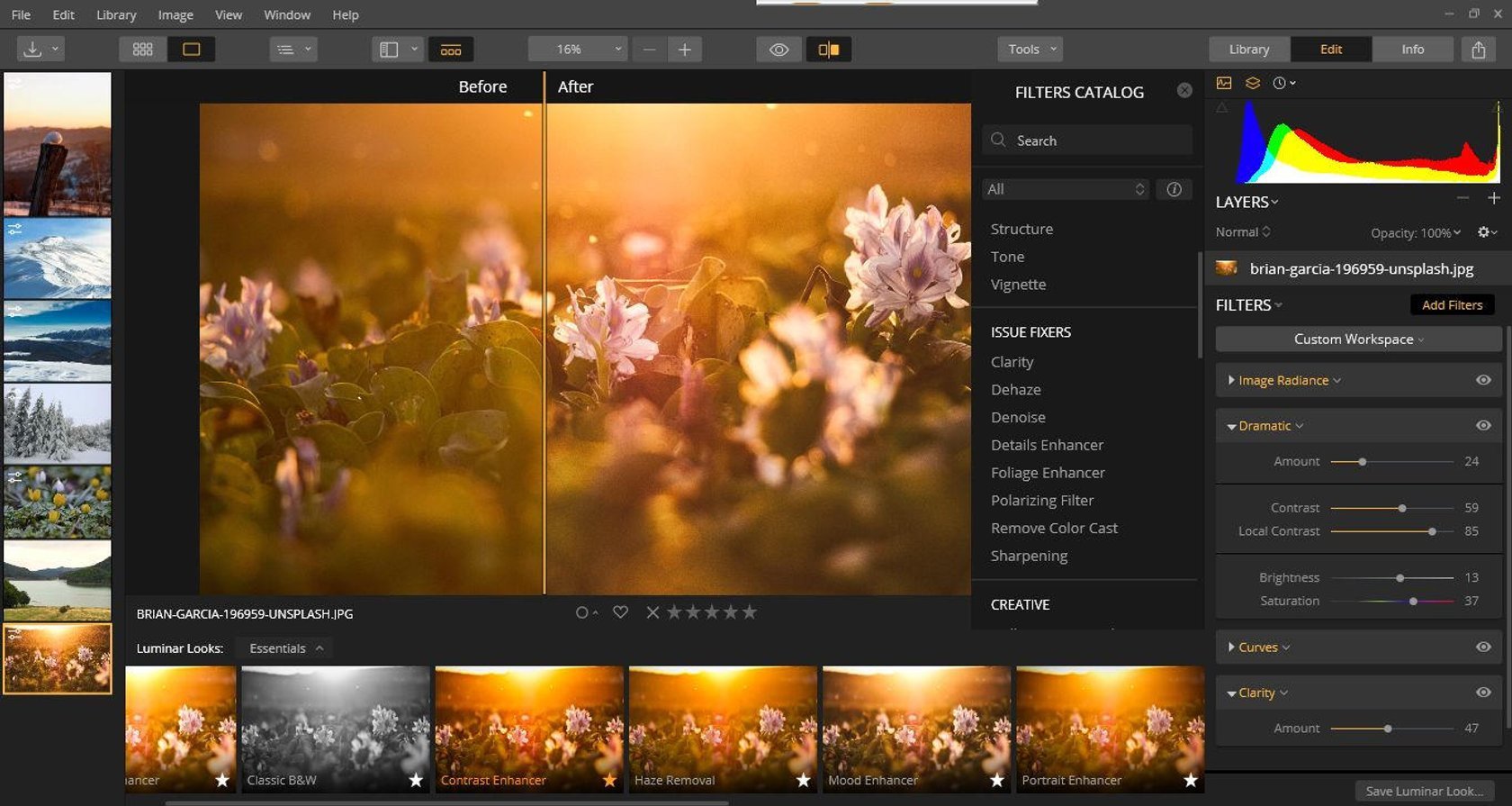 Photo by Brian Garcia
When it comes down to personal editing, lower images with a sunset background can be improved using the efficient tools in Luminar Neo. This is one of the great tips for sunset photography. These tools are easy to use and realistic, and the Before/After button allows you to see exactly what changes they make. Tools like Smart contrast, Blacks&Whites, Color and Structure AI help you correct any errors in exposure, sharpness, and contrast. For enhancing texture, you can use a different layer and experiment with different textures. You can even change the general mood of a picture using the Mood tool. If you don't want to think too much about editing, use the amazing Accent AI slider, which makes all your small adjustments in a second.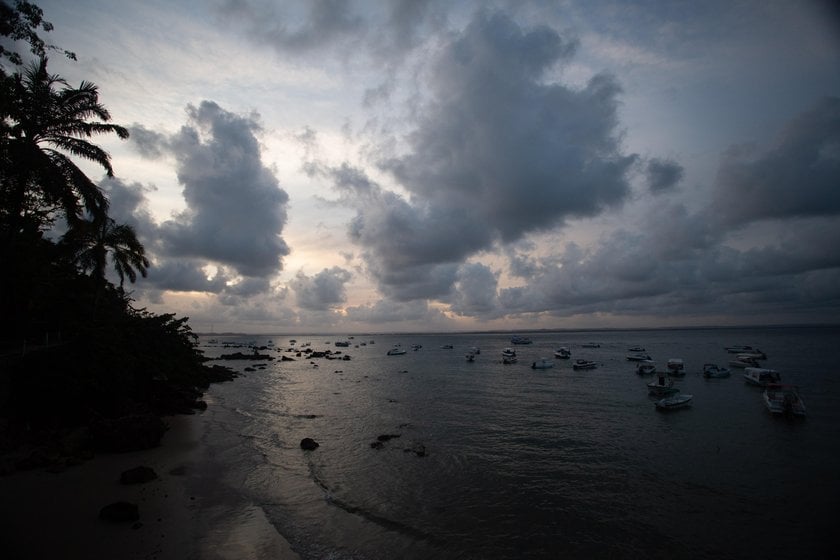 Photo by Nico Sircas
Try Luminar Neo for free and allow it to bring your sunset images to life.
7. Composition rules for amazing sunset backgrounds
Often, a stunning subject and sunset camera settings aren't enough for achieving a great photograph. Sunset photos are no exception. Besides technical skills and a good camera, you need to know how to compose an amazing sunset picture. Here are the most important rules to follow in sunset photography:
8. Rule of thirds
The rule of thirds is essential in photographing sunset landscapes. According to this rule, if you divide the image into nine equal parts using three vertical lines and three horizontal lines, you'll find the perfect positions to place your subject at the intersections of these lines. Right in the center isn't always the best place for a subject when you are taking sunset photos. For example, for beach sunset pictures, you can have the beach in the first third of the image, the water in the second third, and the sunset sky in the last third. Cutting a sunset image and much of the scene into two equal parts (the water and the sky) is a frequent mistake in sunset photography.
9. People and the horizon line
Compositions with people standing in front of a beautiful sky are frequent in beach sunset pictures and in pictures with other types of sunset backgrounds. Always be sure to use the right camera setting for sunset portraits. If you don't want to photograph silhouettes, make sure there's enough light on people's faces. Use a graduated neutral density filter to get the correct exposure both for the sunset background and the subject in the foreground.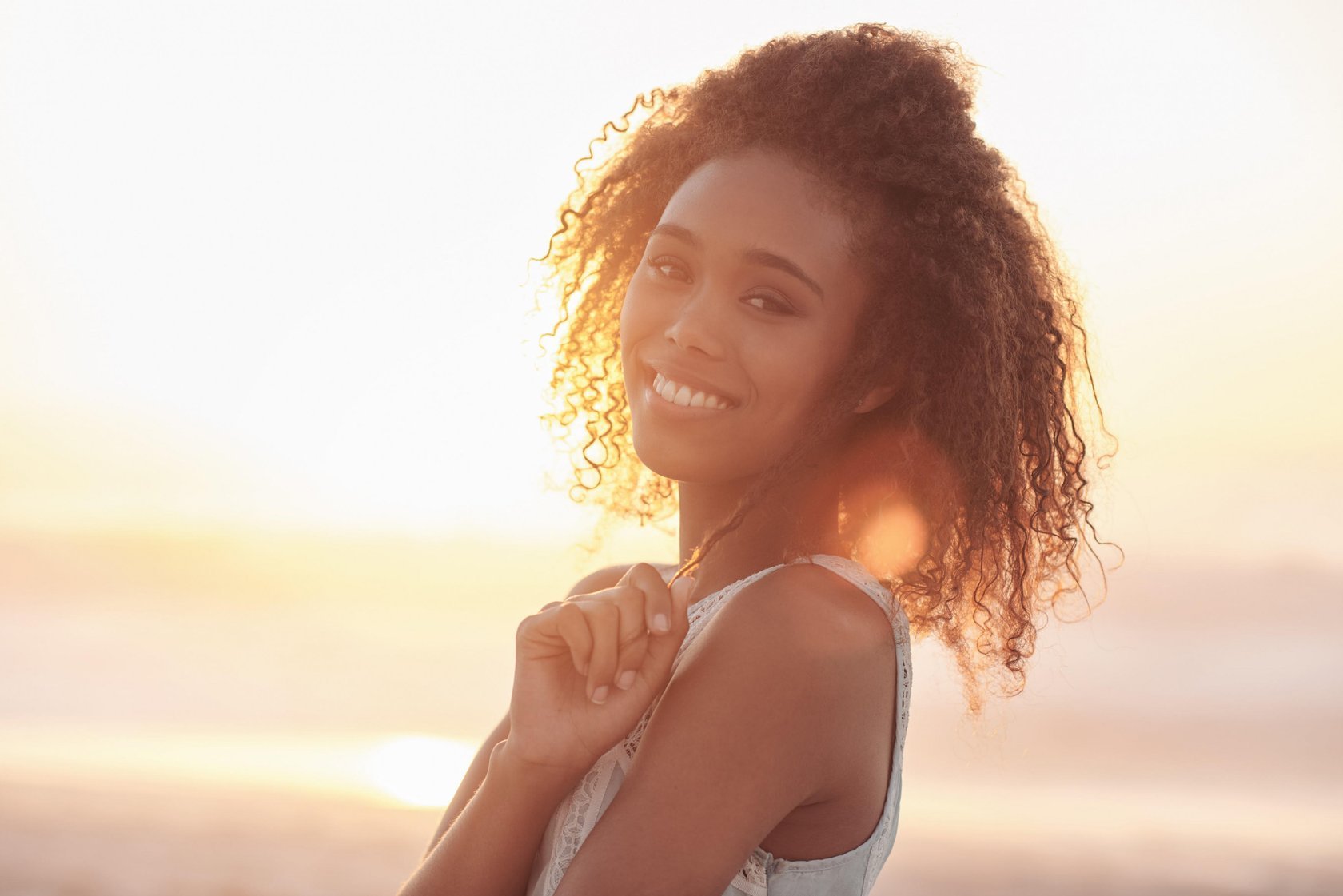 Also, keep in mind the rule about where the horizon line should be in relation to people. To make a good impression, the horizon line shouldn't be over the shoulders (for example, it shouldn't be at neck level). It also shouldn't be below the waist. The horizon line is a strong geometrical element, and it distracts the viewer from other elements in the image. Pay attention to other elements in the frame (boats, kites, swimmers) and consider their influence. You want a balanced composition without awkward cuts and it's easy to get.
10. Focal point
Sunset and sunrise pictures are great by themselves, but these exquisite moments of the day are perfect for other types of compositions. How to photograph the sunset? Make sure your images have a strong focal point. Sunsets add a temporal dimension to your photograph. They also add a specific mood, which can be romantic, nostalgic, or sad. It's all up to you and your compositions. Photographing an abandoned house or industrial plant at sunset will have a different effect than photographing a newborn child sleeping in the sunset light.
Use storytelling and think about the message you want to convey. Organize your compositions around an interesting theme and experiment with different perspectives. Use the focal point to emphasize your main character.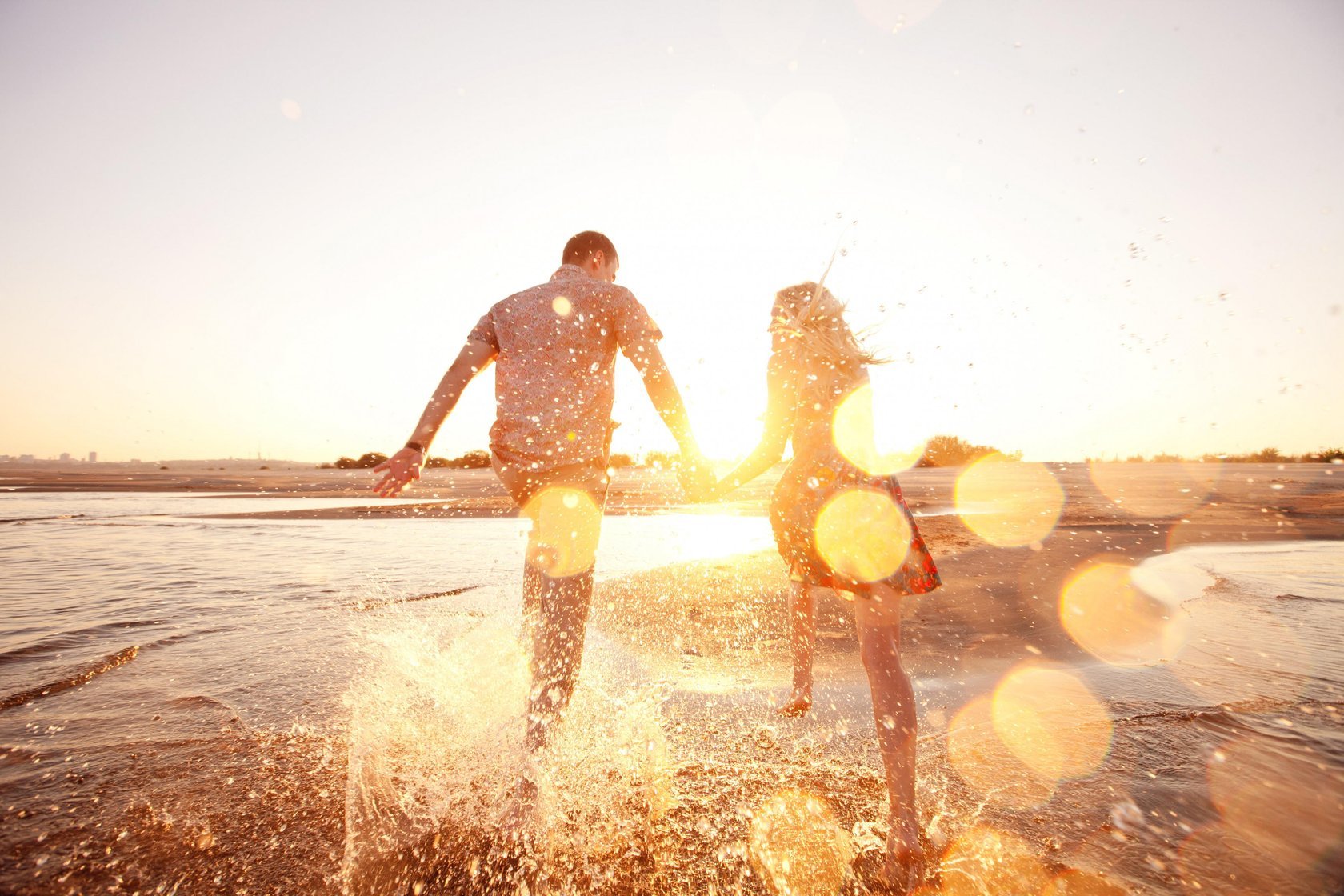 11. Candid photography versus model photography in beach photography
Many advertising campaigns and fashion photo sessions happen on the beach at sunset and golden hour. This is the best time for sunset photos. The psychological impact of sunsets and the flattering light attract commercial and fashion photographers. One of the photography trends of 2023 is a return to snapshots and candid compositions. Even when you have a planned photoshoot, encourage your models or clients to act naturally, engage in an activity, and forget about the camera. Beach photography needs to be believable, expose a certain lifestyle, and convince viewers to join you.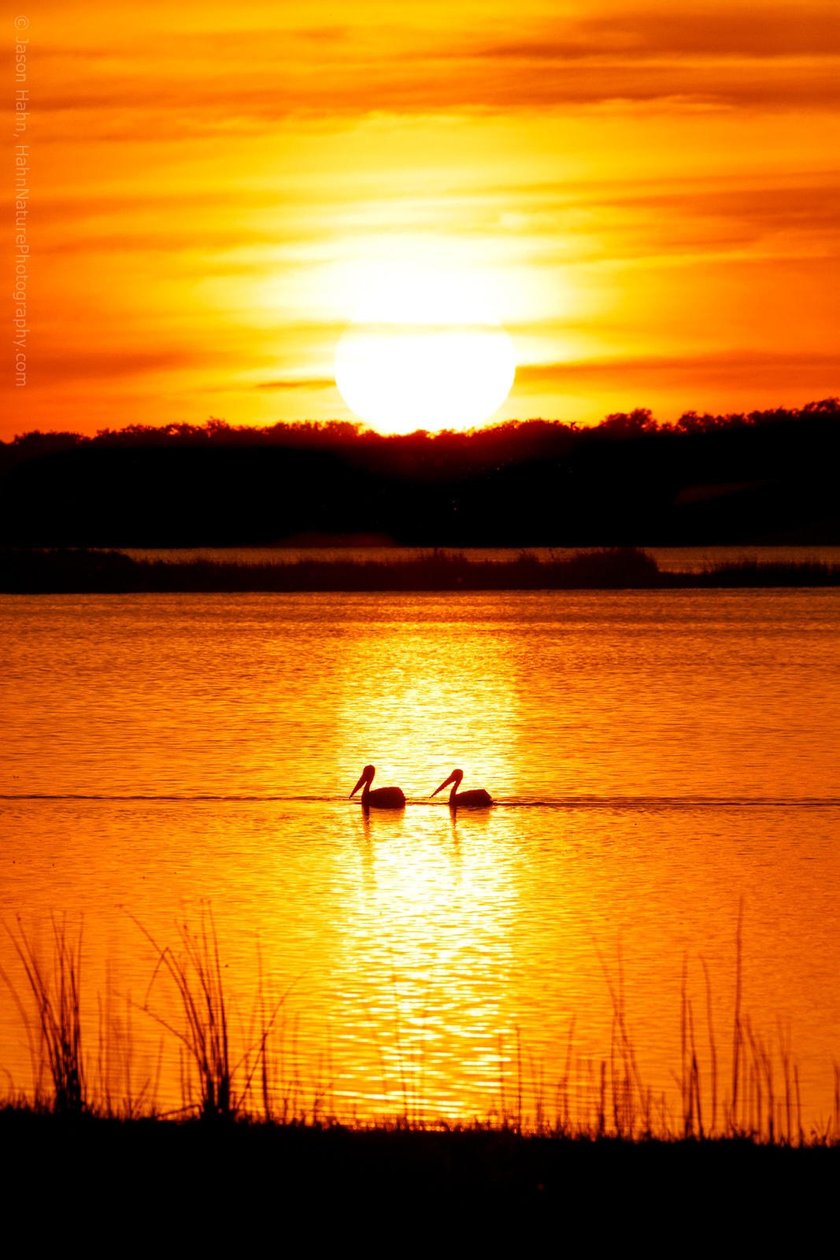 Photo by Jason Hahn
12. Reflections
Sunset reflections in the water are the subject of many compositions. A sunset over the ocean with clouds in the sky is by far the most popular of them. But there are also other amazing compositions that use sun reflections. Sunglasses, windows, and metallic surfaces are a few examples of places where you can catch the reflection of the sunset. Another beautiful effect used often with female poses, is to use the sunset as lateral light over a woman's hair and face. This gives a soft and romantic look, and it also flatters the skin and the figure. This soft sunset reflection is used in fashion photography and portraits. Test out different options.
Getting a sunset image right involves good technique and creative composition. It's not enough to know how to use the camera and to learn a few specific settings. This amazing show that nature gives us demands dedication and respect. How to take sunset photos? A sunset is artful and full of colors, but it's also the story of a day and a place. Aside from its artistic value, a sunset impresses people through the mood it generates. It's the sense of an ending, to paraphrase the writer Julian Barnes.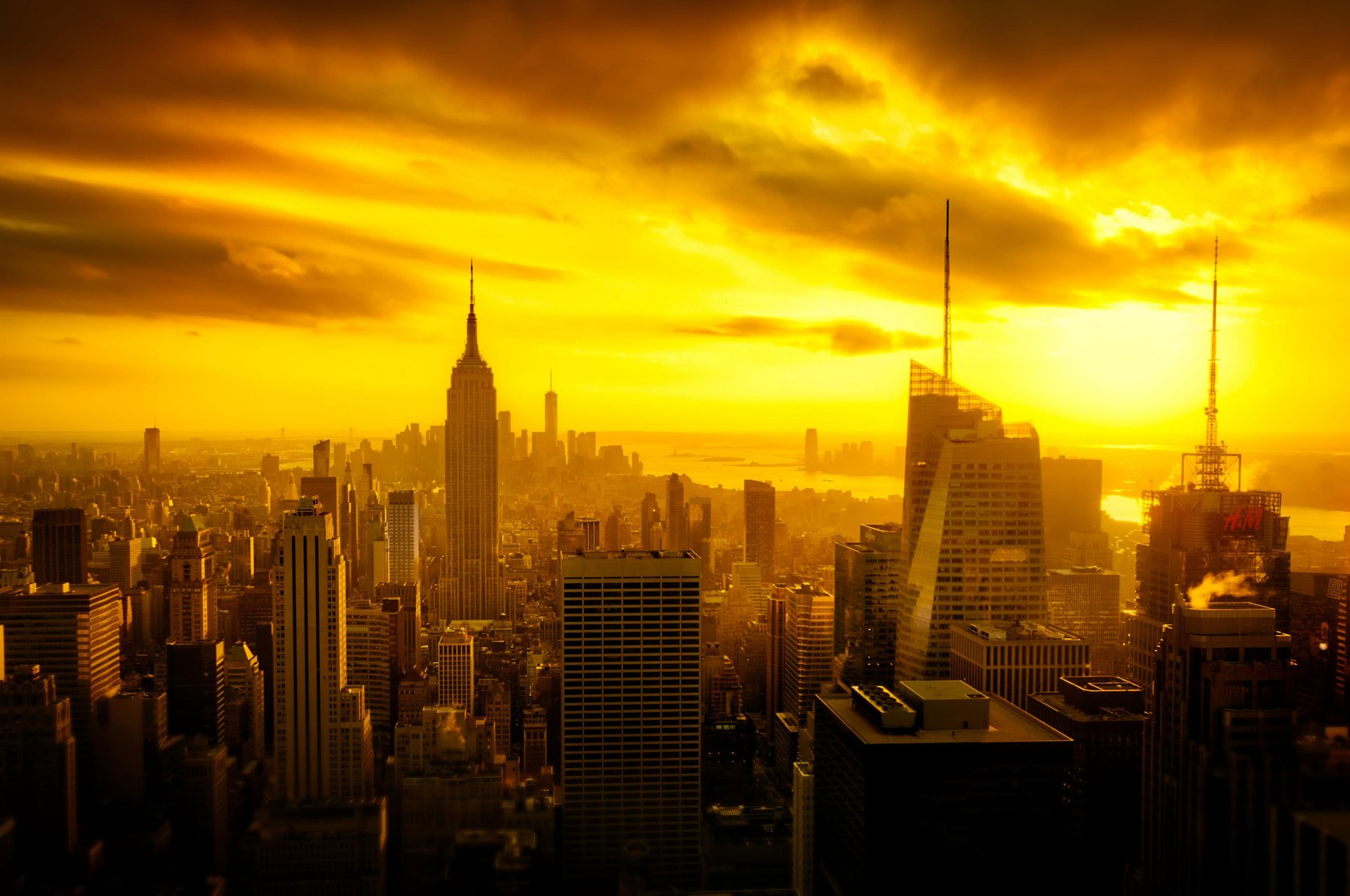 Photo by Phillip Glombik
Remember that after the sun goes below the horizon, you still have a good hour for taking amazing pictures. Even if you don't know how to photograph a sunset, just follow these tips. You'll have less and less light, and you might need to slow the shutter speed or increase the ISO, but you'll still have continuously changing colors and a serene atmosphere. Keep up with the changes and check the exposure as often as possible. With diminishing light, the need for a tripod increases. Consider adding a temporal dimension to your sunset images and keep taking photos until nightfall. Don't worry about small adjustments and post-processing: you can always fix things later in Luminar Neo. If you haven't worked with Luminar Neo yet, you can download it and try it for free.
Conclusion
Get your camera in your hands and try out some of the tips in this article. As with any type of photography, the more you work, the better the skill. Now you know how to take good sunset pictures.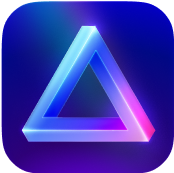 Advanced yet easy-to-use photo editor
view plans