Canon has been a leader in the photographic equipment market for many years.
The company produces top lenses for Canon video shooting and models for sport and wildlife photography, which are notable for their technological parameters, functionality, and practicality. In our review today, we take a look at the best lenses for Canon cameras.
Top 10 Canon Lenses in 2023: Reviews and recommendations
1. Canon RF 50 mm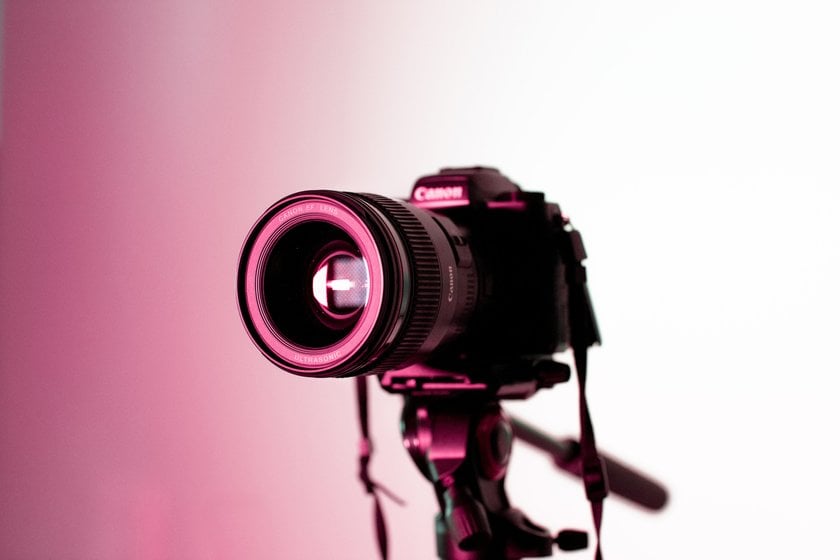 This RF lens is not the cheapest one. The model has a massive weight, but to give you the best characteristics, you can get used to such accessories. Its sharpness is excellent, even with the aperture open. At maximum aperture, the resolution is decent for f/1.2. The center of the frame is 0.83 l/p compared to 0.78 l/p for the best Canon lens EF 50 mm f/1.2L USM. The edge of the frame has a slight lag in resolution. By the f/4 aperture, resolution reaches a maximum of 0.90 lp, significantly higher than the 0.81 lp of the SLR version. After f/8, the diffraction effect takes effect, but even with it, the resolution remains acceptable all the way down to the minimum aperture of f/16, as in other best Canon lenses.
Features: reasons to use
Ultrasonic autofocus works silently and as fast as possible and can be combined with manual control. One of the useful things about the model is the camera settings control ring on this one of the best camera lenses for Canon. The resolving power of this lens leaves a double impression in practice. On the one hand, it visually confirms the good values found in the laboratory test phase:
Objects caught in the DOF look good in the center of the frame at open apertures and excellent at medium apertures.

On the other hand, fluctuations in sharpness and detail quality are much more noticeable on the periphery of the frame.
The areas that are equidistant from the corners are quite good, but the image quality could be better in the corners. The Canon RF 50 mm F1.2L USM has a very nice blur area, very soft. It would not be out of place to mention the atypical 10-blade aperture, which greatly influences the bokeh characteristics and is very rare in photographic lenses. All the blur disks have a uniform fill, but soft edges that don't draw too much attention to themselves. The shape of the discs almost always corresponds to an even circle, the exception being the discs on the edges of the frame at the f/1.2 aperture, which take on a neat almond shape. Thanks to these characteristics, this model is on the list of the best camera lenses for Canon.
Price
2. Canon EF 85 mm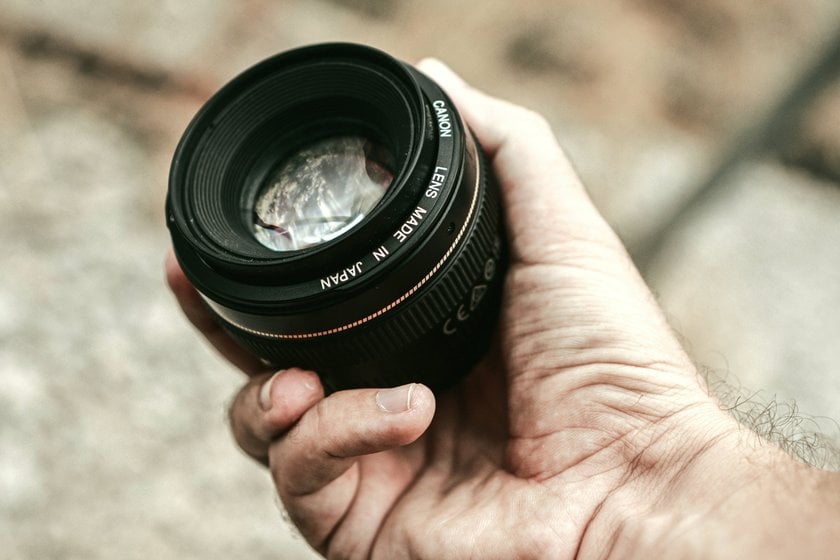 The Canon EF 85 mm f/1.8 USM is a terrific EF lens. It's inexpensive, and it produces a wonderful image. The Canon EF 85 mm f/1.8 USM is a short, classic portrait, a light-fix lens that fits on all Canon EOS DSLR cameras. It is a full-frame camera lens, as evidenced by the EF designation in the lens name. The optical scheme of the lens includes 9 elements in 7 groups and no specific elements. One of the best camera lenses for Canon aperture varies from F/1.8 to F/22.
The aperture of F/1.8 is considered quite sufficient for poor lighting conditions, but because of the long focal length and the lack of a stabilizer in the lens, it is very desirable when you shoot handheld, that the shutter speed should not be faster than 1/80s. The difference in aperture ratio between the F/1.8 and F/1.2 of the more expensive Canon EF 85mm f/1.2L II USM is as much as 2.25 times, which is already quite noticeable for a number of tasks.
Features: reasons to use
The Canon EF 85 mm f/1.8 USM has:
a built-in ultrasonic focusing motor;

the UltraSonic Motor.
The focus is very fast. This model is called one of the best Canon lenses for photography because it focuses very quickly from infinity to MDF and back. Focusing accuracy is very dependent on the camera and shooting conditions.
The lens is fully internally focused — neither the front nor the rear lens moves when you rotate the focus ring. The diameter of the front filter is 58 mm. With Canon APS-C k=1.6x the EF will be 136 mm and with Canon APS-H k=1.3 the EF will be 110.5 mm.
The Canon EF 85 mm f/1.8 USM remains a wonderful portrait lens both on cropped and full frame, and you can buy it without worrying about going from cropped to full frame. A lot of professional photographers think that this model is one of the must-have lenses for Canon because it has an AF/MF focus mode switch. In manual focus mode, the focus ring only rotates 90 degrees when active. When the limit position is reached, the focus ring simply begins to slide. The minimum focus distance is 85 cm, which is fine.
The lens has a focus distance scale in meters and feet, as well as a DOF scale, but only for F/22. There is also a red dot for making focus corrections when shooting in the infrared spectrum. The focus ring rotates smoothly, and the focus ring itself is rubberized and conveniently located on the lens.
Price
3. Canon EF 135 mm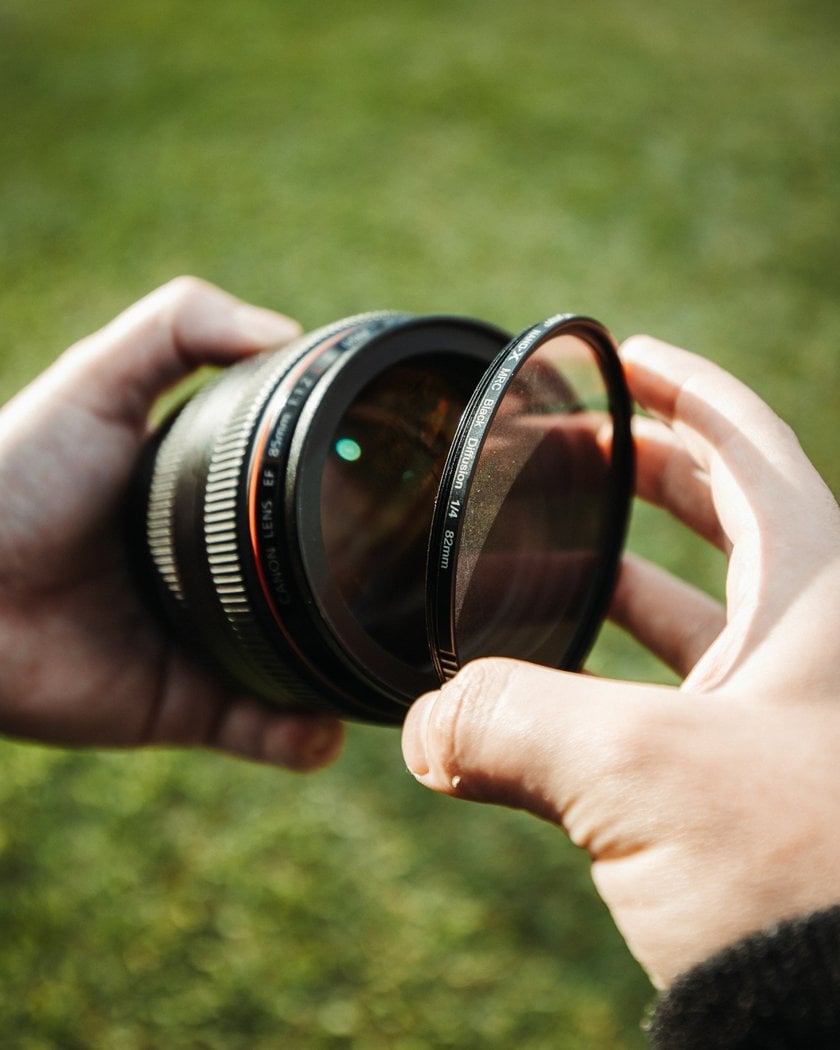 It saw the light 22 years ago. Reports about its tests can be found in the majority of sources dealing with the tests of photographic equipment, but, due to a strange whim of circumstances, the specialists of our resource could not deal with this interesting optical instrument in any way. Today we will try to fill this unfortunate gap.
Features: reasons to use
This model is called one of the best Canon photography lenses because of the characteristics that are most attractive, of course, the high aperture ratio. The second interesting quality is the eight-blade aperture. This solution — unfortunately, already outdated — still seems to some photographers more interesting than modern mechanisms with 7 and even 9 rounded blades: some are more pleasant to see frankly octagonal "pucks" of light spots on the pictures instead of circles of varying degrees of perfection when aperturing. The third point is lens weight, which is noticeably less than that of alternatives:
Sigma 135 mm f/1.8 DG HSM Art AF has 1130g;

Zeiss 135 mm f/2 Apo Sonnar T* ZE;

Samyang 135 mm f/2.0 ED UMC.
Despite all the alternatives, for fans of the Canon EOS system the choice of the Canon EF 135 mm f/2L USM is quite logical and quite justified. Finally, like any other lens of the L-series, it is protected against dust and moisture. However, even the best Canon lens for photography has small disadvantages.
A relative disadvantage of the lens can be considered a considerable minimum focusing distance (0.9 m), because despite the "long focal length" it may make it difficult to take close-up pictures of small objects. However, Canon EF 135 mm f/2L USM is not really "geared" for macro — there are specialized optics in the arsenal for this purpose, and the main purpose of our subject is still shooting portrait or street photography and reportage. One of the best lenses for the Canon camera is solidly made, and there is no doubt about its durability and reliability. However, this is typical for all members of the professional line of Canon L lenses, which are characterized by the presence of a red ring on the front lens barrel. It is well-balanced with professional Canon EOS cameras, not only with modern digital ones but also with old film cameras.
Price
4. Canon EF 24-70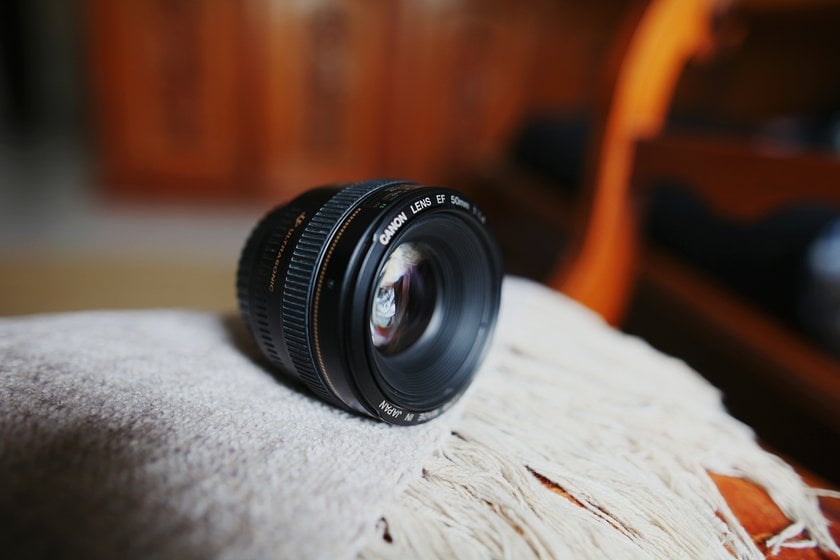 Our "guest" today doesn't need any special introduction: it's the 24-70 mm, known to almost every professional and amateur photographer in the brightest version, the L-series lens, the second version. It's sure that every owner of a Canon full-frame camera has tried to buy it. A light, moderately versatile standard zoom for reportage, travel, and just about any occasion. Let's see if it, one of the best lenses for Canon DSLR, lives up to the expectations of photographers.
Features: reasons to use
The lens optical design consists of 18 elements in 13 groups and includes as many as 3 aspherical lenses and 3 UD lenses, which should bring the image quality to a high level without chromatic aberrations and re-reflected light.

At the same time, the top Canon lens is more compact and lighter than its predecessors, designed from scratch.

At wide-angle, the center of the frame is excellent: starting at open aperture, it doesn't drop below 0.8 lines per pixel until f/11, peaking at mid-range.

The edge of the frame has a noticeable gap in performance, but it's also at a good level for a zoom lens. It's only after f/10 that the resolution drops off rapidly.

At 50 mm, the center of the image retains high resolution — the graph is almost exactly the same as what we saw at 24 mm, and this can't help but be happy. But the periphery has increased its lag from the central area and cannot boast of high figures. Only in the f/8-f/10 range, do the figures reach 0.7 lines per pixel.
Chromaticism at this focal length continues to be a joy. It is present only slightly, and only in the corners of the image at a wide aperture. In bench tests, the lens showed stable image quality regardless of the selected focal length. No chromatic aberrations appear, and the image center is comparable in resolution to the image from a good prime lens. If the edge were the same, it would already be magic. Unfortunately, in the harsh reality, the periphery has a more modest resolution. The combination of these characteristics answers the question of many photographers: which Canon lenses to buy?
Price
5. Canon EF 70-200
Canon EF 70-200 mm F / 4 L USM belongs to the professional L series and has a proprietary white metal body. It comes with a Canon ET-74 hood, which really saves it from glare in sunny weather and from snow in winter. Although you should not abuse the snow, because this model is not dust- and waterproof. Despite its sturdy metal body, it's quite light at 705 grams. The Canon 24-70 2.8L feels much heavier at 950 grams. That's an important factor for a lens used to take pictures of dynamic events. I'm not even talking about the older brother Canon EF 70-200 mm f/2.8 L IS II USM with its 1.5 kg. You can carry the 70-200 4L around with you for an extended period of time.
As for the dimensions, it is much more compact compared to the more aperture models, which also adds to the convenience.
Features: reasons to use
As far as image quality is concerned, the sharpness of the picture is immediately apparent. The same 24-70 is much inferior to it. The picture is sharp at any aperture value. A lot of professional photographers are very pleased with the precise geometry — no distorted lines. It has a nice bokeh and provides high contrast in your photos.
Focusing is quick, quiet, and accurate. The USM motor makes itself felt. When zooming, the front part does not move out, lens dimensions remain the same. The Canon EF 70-200 mm f/4 L (without the stack) offers excellent quality, low weight, and relatively little cost. If you need a quality, lightweight reportage zoom, Many professional photographers definitely recommend it.
Price
6. Canon EF 100
The Canon EF 100 mm 1:2.8 L IS USM is a beautiful macro lens that belongs to Canon's L series of lenses, so you should expect both good image quality and good build quality from it. This is Canon's first macro lens with an image stabilization system, and for the first time among all Canon lenses, it uses a new stabilization system to compensate for various types of shakes. The stabilizer works really well, especially from infinity to 0.5 m. As befits a lens of this class, its body has dust and moisture protection, is made mostly of plastic, weighs 625 grams (without lens hood and bayonet cap), and uses filters with a diameter of 67 mm.
The Canon Macro which is one of the best Canon camera lenses has a focus limiter that can be in three positions: Full, 0.5 m-∞ and 0.3 m-0.5 m. If the lens does miss in full mode and starts focusing from MDF to infinity, it takes enough time to feel the discomfort of the 'speed' of this process, especially when shooting people. If you use the limiter, however, focusing becomes very fast.
Features: reasons to use
During focusing, the front and rear photography lenses for Canon remain stationary, which is very good. The focus ring is rubberized and rotates 120 degrees (no hard stop at infinity). During autofocus, the ring stays stationary. When reaching the extreme positions, the ring continues to rotate freely without affecting the focus. The lens has a scale with markings of focusing distance and magnification. The MFD is 30 cm, and you can get pictures at a magnification of 1 to 1. In addition, Canon FTM (Full Time Manual Focusing) is maintained at all times. The lens is quite pleasant to work with. The aperture consists of 9 blades and closes to F/32.
Price
7. Canon EF 35 mm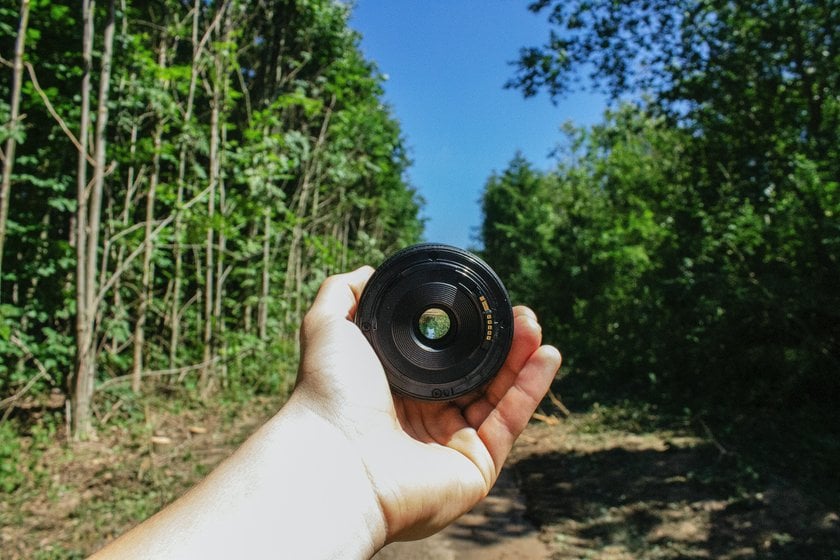 Ultra-fast "big brother" Canon EF 35 mm f/1.4L II USM was announced later and costs three times more, while the inferior "junior" Canon EF 35 mm f/2 IS USM is equipped with an optical stabilizer, which in standard shooting situations more than compensates for the lack of aperture. Let's take a closer look at the specifications.
Features: reasons to use
An essential "add-on" is that only at a very high aperture ratio a lens with a focal length of 35 mm can provide a rather shallow depth of field and, accordingly, the background blur adequate to the artistic idea. Of course, when using such lenses for their traditional purpose — landscapes and interiors — the depth of field should be, on the contrary, the greatest, so the aperture is shut down to F8-F11. But what if we are talking about reportage, multi-figured staged photos, or group portraits? Then you have to have a wider coverage of the scene, so you use a 35 mm lens instead of the typical 75-90 mm portrait lens. On the other hand, you want to blur the background more, so it doesn't argue with the story center, and secondly, so faces and figures move forward from the center, towards the viewer, emphasizing the volume of the frame.
To do this with a 35 mm optical instrument, if it has the maximum exposure of F2.8 or even F2, it is very difficult; an extra high aperture ratio, in this case, can not replace either additional light or optical stabilizer — this is all for something else (for shorter exposure), and we want to turn the side effect of a super-high aperture ratio in the main effect and use it. But that's not all — here's an addendum.

Digital SLR cameras (DLCs) have long been used to produce professional video products — think of the TV series "House M.D.", many seasons of which were filmed with a Canon EOS 5D mark II. The filmmakers will not let you lie: the low light is destructive for them.

That is why filming is usually hot, not only because of nervous tension: dozens of kilowatts of electrical power are turned into light and heat by huge searchlights. After all, adequate exposure can be provided either by the source of light, or by the lens aperture, or by raising the ISO, because lengthening the equivalent shutter speed in cinema and video is a decrease in frame rate, which quickly reaches degrees when motion in video loses smoothness, turns into a jerky, reproduced by jerking. This lens is one of the most popular Canon lenses on the market.
Price
8. Canon EF-S 8-15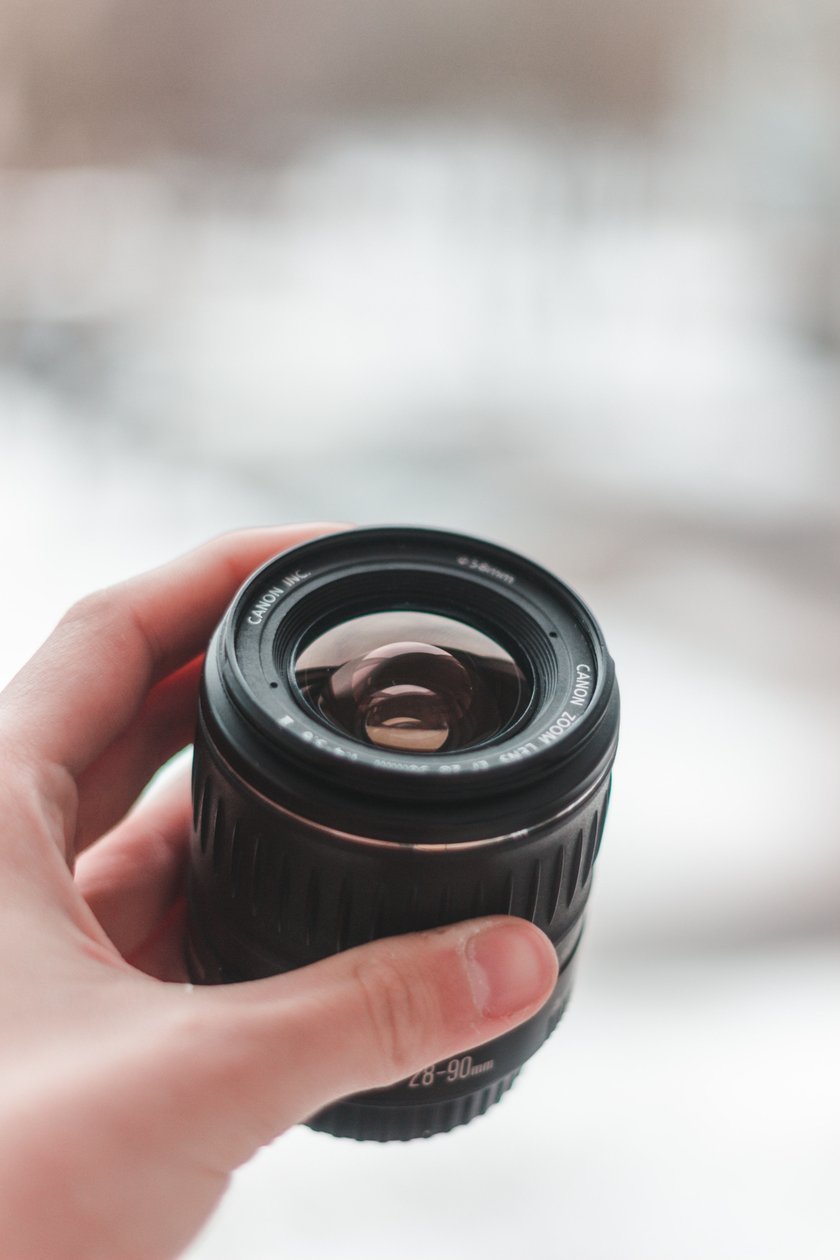 Those readers who have encountered fisheye lenses know that such lenses are divided into circular and diagonal lenses, and are also available for full-frame cameras bodies and for cameras with an APS-C sensor. This makes the Canon EF 8-15 mm f/4 L USM unique is that this model, thanks to its zoom mechanism, can simultaneously be assigned to all of the above groups of fiche lenses.
Features: reasons to use
If you use the Canon EF 8-15 mm f/4 L USM with a full-frame camera, the 8 mm zoom position turns it into a circular fiche. The angle of view is 180 degrees in either direction. The image in the photos looks not quite usual. The hemisphere of the surroundings is projected onto the camera matrix as a circle in the center of the frame. The edges are black. This effect can be used both for artistic purposes (e.g., pictures look great framed as a square) and purely technical. Circular fiche lenses are used to capture spherical panoramas. But if you turn the zoom, the vignetting at the edges of the frame goes away. Our fisheye becomes diagonal, that is, it provides a 180-degree angle of view only along the diagonal of the frame. Such an image, despite the geometric distortions characteristic of a phish lens, looks much more familiar. A bit above, said that the lens is a fisheye on both full-frame and APS-C sensor cameras. In fact, cameras with an APS-H sensor (cropped factor x1.3), such as the Canon EOS-1D Mark IV, are also worth mentioning here.
The Canon EF 8-15 mm f/4 L USM zoom works as a diagonal fiche on any of these types of cameras. APS-C sensors require a focal length of 10 mm, while APS-H sensors require a focal length of 12 mm. The lens is designed with a zoom ring limiter. If you shoot with a camera with an APS-C image sensor, the zoom limiter, when on, will prevent you from using a focal length shorter than 10 mm and thus help avoid unwanted vignetting.
It is also important to remember about the lens hood. It is only relevant if you are shooting at a focal length of 15 mm. In all other cases, it will be in the frame. You will not be able to refuse it completely. It is the lens hood that holds the lens cap. If you take pictures at a focal length of 15 mm you can remove just the lens cap. If you take pictures at shorter focal lengths, it's more convenient to take the lens hood and lens cap off (just press the button on the hood and turn it counterclockwise). It is strongly recommending not to wear the lens without the cap. The convex front lens is extremely vulnerable. It is easy to scratch or just gets dirty.
Price
9. Canon EOS 18-55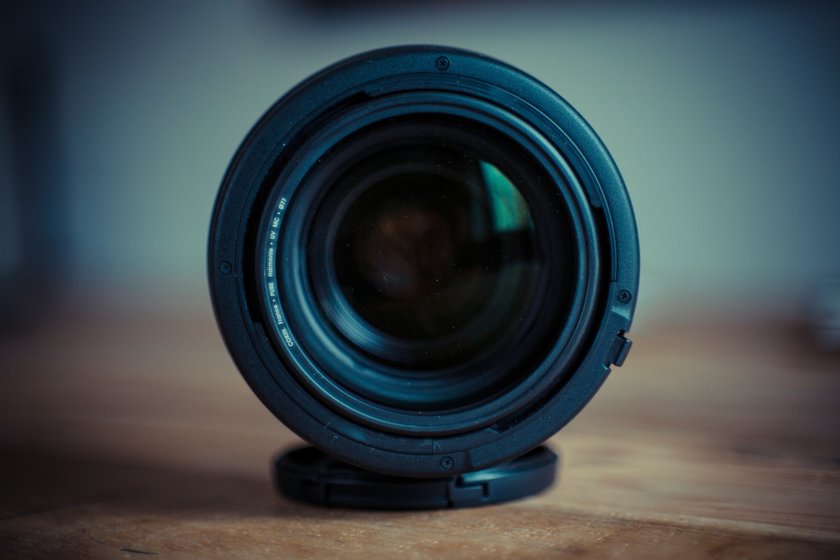 The Canon 18-55/4-5.6 IS STM is a stock lens that is most often included with some Canon digital SLR cameras. Such lenses are called 'kit' lenses. The Canon 18-55/4-5.6 IS STM, like many of its kind, is a versatile lens suitable for many purposes. Canon 18-55/4-5.6 IS STM version is primarily interesting for its small size and weight, image stabilizer, and fast focusing motor. The Canon 18-55/4-5.6 IS STM is one of the best kit lenses of its kind.
Features: Reasons to use
Canon 18-55/4-5.6 IS STM is not badly assembled. From the pluses of the assembly, we would like to mention a very comfortable zoom ring with a rubber insert and the absence of any backlash.
Like most similar kit lenses, the body of Canon 18-55/4-5.6 IS STM is almost all plastic, which helped make it as light as possible. The lens mount is also plastic. A lot of users of the Canon 18-55/4-5.6 IS STM, are amazed by the super tiny back lens. But we must admit right away that its size has no direct influence on the optical performance of the lens or its aperture ratio.
The front lens does not rotate during focal length changes. The sliding body frame (trunk) consists of one plastic section. The focus ring is not rubberized, but pleasant enough to handle.
The body has a bayonet mount tag and a tag for quick hood installation. The lens uses the EW-63C plastic hood, which is fixed in special slots near the front lens of the lens. The hood can be installed backward for transport. This position makes it a little difficult to access the zoom ring and completely loses access to the focus ring. When changing the focal length, the hood moves with the lens trunk.
During focal length changes, the back lens remains stationary, which is rare in kit lenses. No need to worry about the air pump effect.
The aperture consists of 7 rounded blades and forms a fairly even aperture at all values.
Price:
10. Canon EF M 32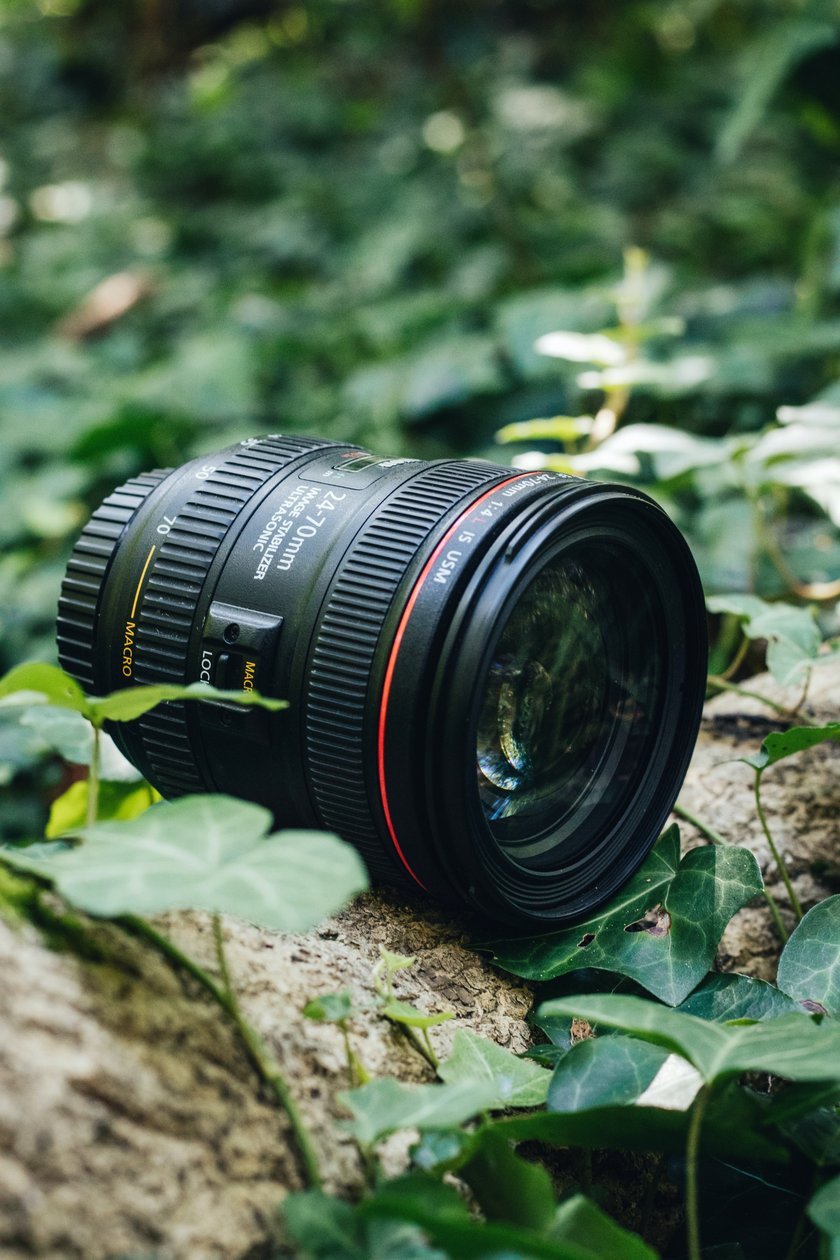 The EF-S 18-200 mm F3.5-5.6 IS, is Canon's latest APS-C digital SLR zoom lens, introduced as a "companion" to the EOS 50D. Its announcement last August was highly anticipated, as superzooms with a wide focal length range are very popular with photographers needing a versatile solution for both travel and everyday shooting.
Features: reasons to use
With an 11x zoom range, the 18-200 mm is the most successful amateur variable focal length model to date. Canon had previously refused to produce relatively inexpensive superzooms, releasing only one lens in this segment — 28-200 mm F3.5-5.6 (USM)— back in late 2000. And although the 18-200 mm looks similar to its predecessor, Canon engineers applied many new solutions to its design. The increased focal length range of 29-320 mm (35 mm equivalent) and the latest image stabilization system, the same as in the EF-S 18-55 mm F3.5-5.6 IS and EF-S 55-250 mm F4.5-5.6 IS (4-stop, Automatic panning detection). All this was accomplished through the use of a sophisticated optical design consisting of 16 elements in 12 groups, including two UD glasses as well as two aspherical elements, which are designed to minimize chromatic aberrations and provide clear image detail throughout the entire zoom range. Based on the specifications, the minimum focusing distance is 45 cm at all focal lengths.
Price:
From 399,99 $
How to choose between the best Canon camera lens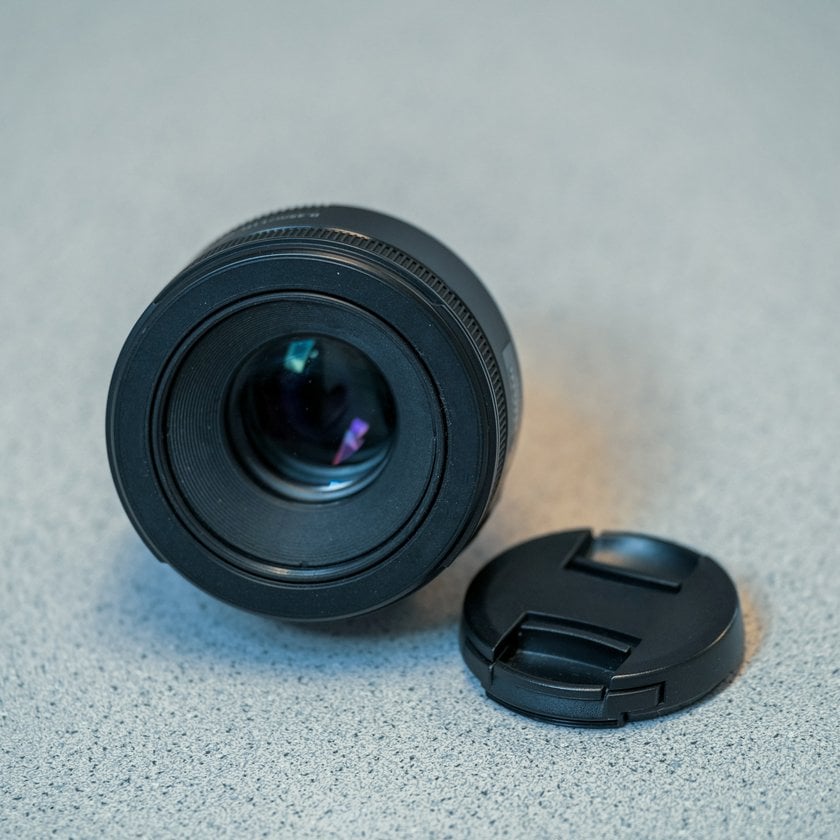 What are the differences between a prime lens and a zoom lens?
Prime lenses have a fixed focal length, which means you can't zoom at all. But they do have their own advantages, which we'll talk about later.

Zoom lenses

are available to change the degree of proximity to your subject while maintaining a physical distance. But you have to pay for this possibility: quality and aperture.
So which is better — prime or zoom? This article should clear up any misconceptions you have about one or the other and help you find the right option. So what is a prime lens? Are there any prime lenses with a zoom? As mentioned above, prime lenses have a constant focal length. In other words, they don't zoom. And like any other equipment, they have their advantages and disadvantages. One of the problems with using primers is that you may not get a framed photo as you would like. But at the same time, they force you to experiment more. They make you think about a different way of taking pictures that you might have missed otherwise.
There are two different reasons people buy prime lenses: quality and aperture.
The quality of simple lenses is often much higher than that of zooms because they don't have as many moving parts. In addition, lenses have fewer optical elements inside. This means there is less chance of anomalies. And, as a consequence, it conveys sharper images better. There used to be a significant difference between prime and zoom lenses because the technology wasn't as good.
But now you can buy zoom lenses that are just as good as some prime lenses. But you have to pay for them. The quality of this versatile zoom lens is excellent, but still not as good as the f/1.4 prime. Even if you invest a lot of money in a zoom lens, you are still compromising.
Closing thoughts
Choosing a lens is not an easy task that every DSLR owner faces sooner or later. In some cases, the lens has a greater impact on the quality of your photos than the camera itself. Many DSLRs come with stock lenses (sometimes also called "kit lenses", from the English word "kit"). These lenses give a photographer a chance to try his hand at shooting with a DSLR, but as a rule, they don't bring out all the functions of the camera because of their imperfection. Nevertheless, we strongly recommend everyone who has got an SLR camera for the first time to shoot with a kit lens at least for a few months in order to define his/her shooting style and then to make the right decision when purchasing a more expensive lens.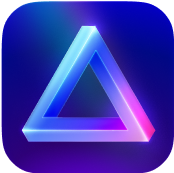 Advanced yet easy-to-use photo editor
view plans