NEW YORK, NY - December 23, 2019 — Today, Skylum announced its first update to Luminar 4, complete with several feature additions and improvements to make workflow easier, and to allow for more control in its machine-learning tools. Released a month after its initial launch, the Luminar 4.1 update includes updates to AI Sky Replacement, the Erase tool, Portrait Enhancer and more.
"Since we released Luminar 4 last month, we could not be more thrilled with what we're seeing photographers create. With our first feature update to Luminar, we hope that these improvements will expand the possibilities for our users, and create new, exciting opportunities for their image creation workflows," said Alex Tsepko, CEO of Skylum.
While the new Luminar 4.1 update already packs some new and improved features, photographers can expect to see more updates to Luminar over the coming months, especially for its machine-learning tools.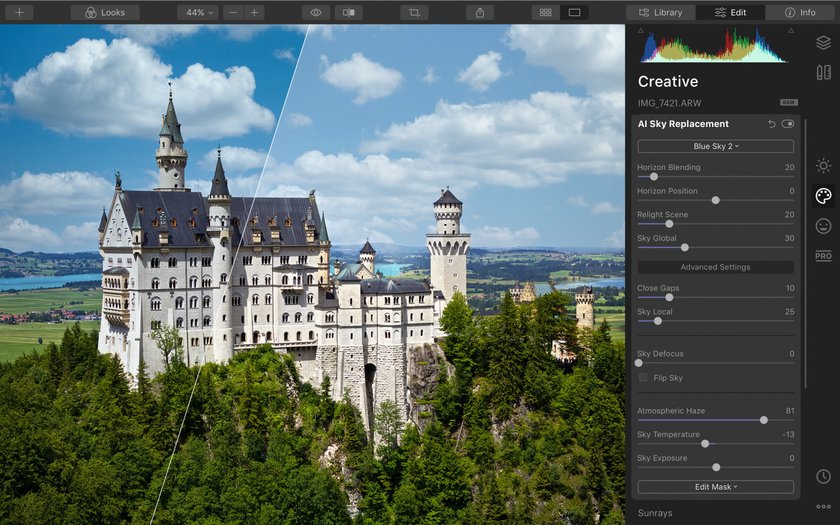 NEW Atmospheric Haze for AI Sky Replacement
With Luminar 4, Skylum added the world's first automatic sky replacement technology to its software. AI Sky Replacement gets a feature update in Luminar 4.1, letting photographers naturally add atmospheric haze that is usually seen during the day, to their images.
Coupled with the Sky Temperature and Sky Exposure sliders, it's now possible to achieve a perfectly balanced, harmonious image in a single tool. It keeps the light balance between the replaced sky and image foreground more realistic, leading to a more "finished" result.

Atmospheric Haze is the perfect addition when dealing with harsh daylight photos with clear blue skies. If you have an oversaturated sky or if the brightness of your sky doesn't match the foreground, it will add haze to make for a more accurate image.
NEW Erase tool technology
The Erase tool has been upgraded, using an all-new technology for precise object removal. Removing unwanted pixels is easier than ever, even with complicated backgrounds or complex gradients. Edges on the Erase tool are much softer, and the new algorithm means smarter selections for area replacement.
Portrait Enhancer improvements
Introduced with Luminar 4, Portrait Enhancer has also received improvements. The tool can now be used on even more images, including those with smaller faces like groups or environmental portraits.
Adjustments Amount slider
If you ever need to tone down an adjustment slightly, the new Adjustments Amount slider has you covered. It's the perfect option to help you blend your tools with the original image. Just use the Layers tool to dial back the Adjustments Amount slider.
You'll find this new control for all image and adjustment layers. Traditional opacity controls remain available. The Adjustments Amount slider works with all tools except for transform options like Lens Correction, Slim Face and Enlarge Eyes.

Additional performance and capability improvements
Luminar 4.1 brings full support for Adobe Photoshop 2020, allowing you to use Luminar 4.1 as a plugin or as a Smart Filter with Smart Objects.
Thanks to Luminar users, several performance improvements have been made, including memory management, user experience and stability, helping to make Luminar better than ever.

How to update
Luminar 4.1 is a free update to current Luminar 4 users. On a Mac, click in the Top Menu Bar and choose Luminar 4 > Check for updates. On Windows, in the Top Menu Bar choose Help > Check for updates.
If you are running Luminar as a plugin with Photoshop, Lightroom Classic or Photoshop Elements, it's also recommended you rerun the plugin installer.

An expanded user manual has also been added, making it easier than ever for users to search and find answers to questions they might have about the software.

Celebrate the holidays with savings on Luminar
For a limited time only, Skylum is offering holiday savings on Luminar 4. Save $10 when purchasing Luminar 4, bringing the cost to $79 for new users and $69 for existing users at skylum.com.
And for more photography inspiration, check out the Luminar Holiday Bag — a $395 value for just $129. Included is Luminar 4 plus a 6-months SmugMug Pro Plan (new users only), PDF Expert, a 1-year Viewbug Pro membership, one free Rocky Nook eBook and 20 free prints from Parabo Press.
To get your copy or learn more about Luminar 4, visit skylum.com.
About Skylum Software
Skylum is a global imaging technology company with offices in New York, USA; Kyiv, Ukraine; and Tokyo, Japan. Skylum allows millions of photographers to make incredible images faster. We automate photo editing with the power of Artificial Intelligence yet leave all the creative control in the hands of the artist. The Skylum Team has won the Red Dot Award, Apple's Best of the Year, "Best imaging software" by TIPA and EISA, and other top industry awards. To learn more about Skylum, visit http://skylum.com.
Get in touch

Anastasia Sliusarenko
Head of PR&Communications