If you are a beginner photographer or someone who just wants to post a fantastic photo on your social networking page, you will definitely need post-processing software.
You look great, but something in the photo can be tweaked using the correction tools. With one screen touch of your phone, you can make those adjustments. Let's discuss the great apps that can help you apply filters to make your eyes bigger, or remove a tattoo using retouch in the best body editor apps. Let's get into the discussion!

Top 10 free body editing apps for iPhone and Android


1. FixThePhoto Editor & Retouch - professional help

Although we are talking today about free applications, I could not leave without attention to this one of the best body morphing apps, and I am sure that there will be people who will be interested in such services. It's not about automatically changing your image, it's about specially trained hands and talented eyes. It's an application where you can get trained people to take your picture for you (by retouching and processing it) and have them do it professionally. Such a service is very popular, and there is no need to doubt their competence, referring to the serious experience of such work. All that is required of you is to choose a photo and clearly state your requirements, in the context of what changes are needed. Services, by the way, cost a pretty penny, but in order to understand whether you need it or not - provides a free trial. Try it and you might lose the desire to process your photos yourself in the future.

2. Everlook - remove wrinkles, draw abs of your dreams

This is a program that will help you in the editing process to draw your dream abs or change any other body part. You have the possibility to make a unique selfie using this app because you can see the result of a particular effect simply by selecting it in preview mode and pointing the camera to the desired body part or face. Everlook is one of the apps to edit your body that makes transformations with your figure in the most advantageous way possible. If you use this app you can even change the appearance from head to toe!
In addition to the functional richness of the photo editor, the big advantage of this app is the private updates! The developers do not stop there, and you can often see new masks or features that you may like.
Download this app to edit the body in the App store and look unique in your photos!
3. Photoshop Express - instead of Photoshop
There is no mistake in the line above! There's no need to spend hours flipping photos from one device to another and then a lot of work in front of your computer monitor, the developer invented an app for your mobile gadget! It is the best body photoshop app, thanks to which you can edit your body faster because this version is slightly simplified for the user, which also eliminates some of its features. I've been looking for a long time for the disadvantages of this program and I found one for me. When you download any application like this, you can usually start editing your photo right away. But in this app to photoshop body you will be prompted right away to log in to your account, and if you don't have one, to create one. This makes it hard to get started and you might not like it. A lot of users might not like it because there are alternative applications without such difficulties. Nevertheless, I recommend going through the registration process.
In the latest version of this free body editor app, you can easily change your body, and it still counts a lot of filters, manual color correction function with a variety of possibilities, developed a vignette with different effects, and a point shading element that even a child can handle.
4. Use Fotogenic and be fotogenic

The name of the app speaks for itself! It's one of the best apps that edit your body. It's as easy to use as possible and packed with features. You can easily make your waistline slim, and other changes that make you look great. This app even has a feature to lengthen your body parts, that is, with one simple movement, you can change your height. A very interesting feature! Also, let's not forget that this is a photo editor, which is filled with cool features! For example:
masks;

gradient functions, and so on.
The interface is very simple, but if you have difficulty using this application - you can refer to the tutorials that the developer has prudently released for you.
5. Peachy - All-in-One!

This app was originally developed specifically for iOS. Peachy is the best free body editing app for your social media profile. This app will allow you to get rid of skin imperfections, change your smile, refresh your look, or even the look of your eyebrows. You will easily get rid of complexes about your body by using features that allow you to edit your body relief. To break it down, this body change app has all the features in one app. We can confidently call it All-in-One! Besides the fact that Peachy can change your appearance, it also has many interesting stickers that can cheer you and your friends up.
6. Body Editor - A trim body without the need to work out

This body morphing app will not give you the ability to fully edit a photo. It is created so that you could change specifically your shortcomings or, emphasize the advantages of your body and figure. For example, in a photo you can:
be taller,

become thinner,

enlarge your breasts,

narrow your hips, and so on.
In addition, this body morph app allows you not only to experiment with your figure or face but also with your hair. Now it is not necessary to change the haircut or hair color in real life in order to know whether it will be to your face. The app will help you do it!
It's important to reiterate that you can't edit the whole photo. You won't find masks, vignettes, stickers, or anything else like that in the settings.
Use it and get yourself to the ideal you imagine!
7. RetouchMe - tanning without going on vacation

Millions of people use this body shape app every day! This application will cope with any task. The global difference of this software from the others is the presence of an automatic mode, and then you already by simple movements of hands bring your body to perfection. Including, you can change the color of your skin, and make your viewers think that they just came back from vacation.
In addition, in order to remove unwanted tattoos from your body you no longer need to go to a tattoo salon for help, just use RetouchMe. Of course, this will only solve your problem in a photo.
RetouchMe also stands out by having a huge number of retouching options.
Make your friends think you just got back from the ocean in the cold season, and not a little bit of exercise there!
8. BodyTune - if you need quality retouching

Probably this body shaping app can be called the best of those listed because we are talking about the top app in the context of body editing. What makes it different is its ability to automatically identify all the parts of your body in a photograph, and then you choose the one you want and edit. Including the application perfectly copes with the task - to get rid of all the imperfections of your skin. If you have long wanted to increase your breasts, now you do not have to go to a plastic surgeon. This task will be done in a few movements of the hand on the phone screen. But do not overdo it, otherwise, people may be a little surprised when they meet you.
The main function of this app is retouching. You can say that this app stands out as the best in the context of its original task!
9. BodyApp - attractive curves of your body

Now let's talk about one of the best easy-to-use apps to photoshop body that also gives you the opportunity to create the body of your dreams. Its main advantages are as follows:
Body changes are one of the main features. Your height can be different and you can change the curves of your waist or hips. Also, there is a function to change the length of your legs.

Tattoos. The base of this particular application stores a huge number of nudes, which you can place on any part of the body. It is very easy to do. If you have long wanted to decorate your body with some image - you have the opportunity, as it will look after the implementation of conceived.
Decorate your body and do not be afraid to act!
10. Perfect Me - don't overdo it

Why do I advise you not to overdo it when using this program to change your appearance? Its capabilities and your over-enthusiasm can make you look like you've recently been in the hands of a plastic surgeon. Don't forget about naturalness. Indeed, this app has a huge number of features that will help you make your shape more attractive, your face more elongated and your lips more plump.
It's also possible to change the background. You just need to select the desired part of the photo and choose a more attractive or relevant background.
There is an option to resize the frame, for correct use in your social media. If you can't choose one good photo out of several - no problem! Make a collage, there are a lot of options, and some of them will not leave you indifferent.
Luminar Neo body editing
If you want to do body editing on a PC, I recommend using Luminar Neo. With the Body AI tool you can reshape person's belly and torso to look proportional. The app is very easy to use, so be sure to experiment with it!
The final word about photo reshaping apps
We have discussed a long list of very similar applications, and their purpose is about the same. The main difference is that the functions of each individual artificial intelligence are worse or better. The ideal one for you depends on your needs and requirements. Experiment with each and you are sure to find your app!
I would like to add a couple of important words. Of course, sometimes a person would like to remove cellulite in a swimsuit photo or to make their figure more athletic, but do not forget that you are individual and beautiful in your own right! Your wrinkles, or freckles, or mussed by nature curls - it's you! Do not go overboard in the pursuit of fashion, because in this pursuit you can lose yourself.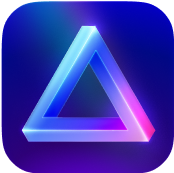 Advanced yet easy-to-use photo editor
view plans