You don't need to buy brushes, pens, and sketchbooks to create illustrations, just try your hand with a drawing and painting app.
Drawing is a great way to pass the time! People have been doing it since ancient times, both for pleasure and to make money. Today, when creativity is maximized, it makes even more sense to draw in a new way. Now, instead of cave walls, we have phones, tablets, and computers, on which you can draw whatever you want. You don't need any unique skills - it's just enough to start. We have prepared a list of the 10 best drawing apps for Android. So let's just relax and unleash your creativity.
The 10 Best Drawing and Painting Apps for Android
New times give birth to new means of self-expression, and today no one is surprised by artists who have replaced traditional easels with smartphones and tablets. Especially since special software allows you to create artwork of almost any level of difficulty. But even if you are not a professional artist, but an amateur, you can still make and express yourself through your drawings. Today we will talk about such tools created for Android devices.
IbisPaint X
This is one of the best Android art apps that has everything you need to draw professional-level art on your phone, without a tablet or computer. Realistic brushes, a stroke to outline, a ruler to remove sharp and smooth lines - in general, everything you might need.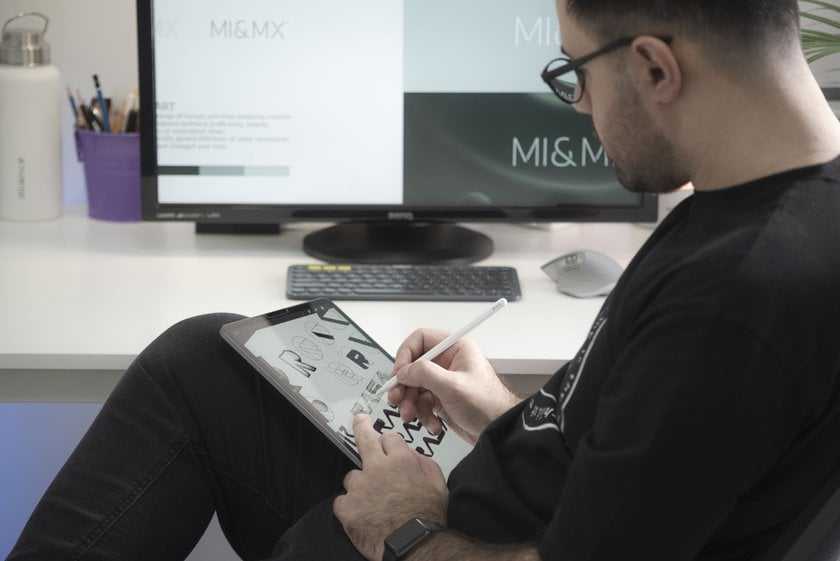 But most importantly - well-organized work with layers. That is why IbisPaint, even considering the limitations of the free-to-use version, is a tool that can become an assistant not only in amateur but also in commercial drawing. The application has many blend modes, some of which may be familiar to artists from PC programs, and the ability to mix them according to your preferences. A high-quality stabilizer will help smooth out shaky lines, and the filters, of which there are more than 50, will give the drawing an atmospheric feel.
On startup, the app will offer a short tutorial on the functions.
IbisPaint is also a paint app for Android with a lively, active community, where artists from different countries, with different styles and skills, share their digital art and communicate.
MediBang Paint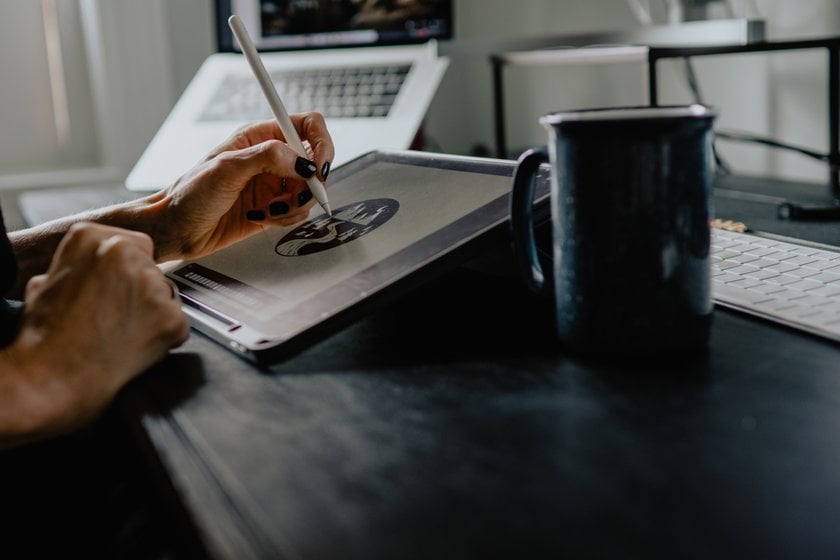 A Japanese app steeped in anime and manga aesthetics. The program is best suited to these genres and is one of the best art apps for Android. Here are some interesting options:
You'll find special fonts, shapes, and frames that are used in comics.

MediBang Paint has all the usual tools like brushes and rulers, as well as a system of working on layers.

You can apply styles to the latter, just like in

Photoshop

.

MediBang Paint works on Android, Mac OS X, Windows, and iOS. It is possible to start and continue digital drawing anywhere on different devices. The results of the work are saved in a cloud service and can be shared with other people.
The application has both free and premium versions.
Sketchbook
Meet one of the best sketching apps for Android. The application's easy-to-use and highly intuitive interface make it easy to understand the purpose of all the available functions, even for those who are trying their hand at drawing for the first time. The impressive array of brushes allows you to experiment not only with size and shape but also with textures. You can also choose brushes to match different types of drawing, such as landscape projects and sketch or color illustrations. They are all editable and have separate sub-parameters that you can use to create unique, custom brushes.
For detailed work on a drawing, the application offers blur, different types of shading, a symmetrical display of the selected object, and color swapping. The paint palette is organized through a color wheel, and there is an eyedropper function for pinpointing the desired hue. The HSL and RGB palettes are also available in Sketchbook.
ArtFlow
ArtFlow is one of the best free drawing apps for Android that allow you to create clear three-dimensional drawings. Here are some of the main features of the program:
You can choose from 70 brushes or other instruments to create your artistic masterpiece.

The program supports layers with different blending modes.

The result of your work can be saved in

JPEG

, PNG, or PSD formats (for further processing in Photoshop).

If you use the Google Play Pass feature on your Android device, ArtFlow will give you free access to all premium content.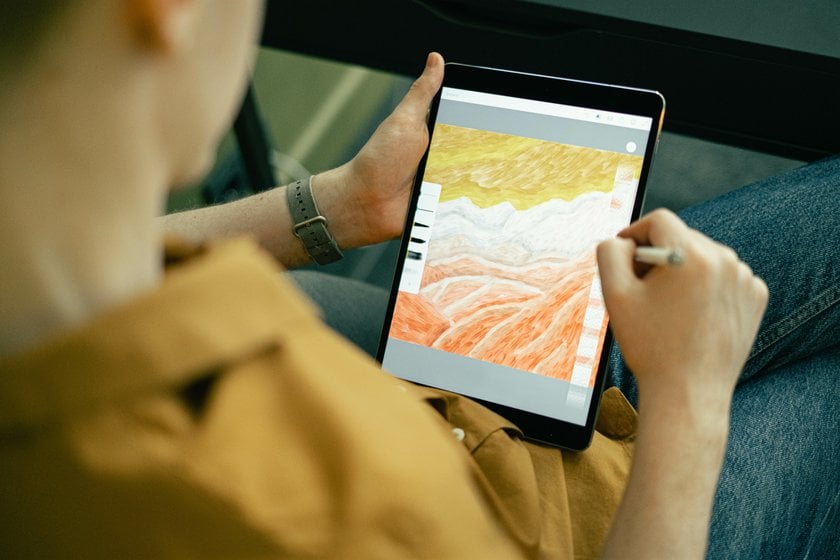 ArtFlow can be called a great choice for children and adults. The free version of the app has some limitations, but it is enough to work comfortably in the program.
PaperColor
How can you draw on your phone? Finger, stylus, pen tip - try different options and watch how your painting changes. With this Android drawing app, you can try out the role of a real artist. The set of available brushes includes imitations of the marker, fountain pen, pencil, roller, pastel crayons, and other "traditional" tools.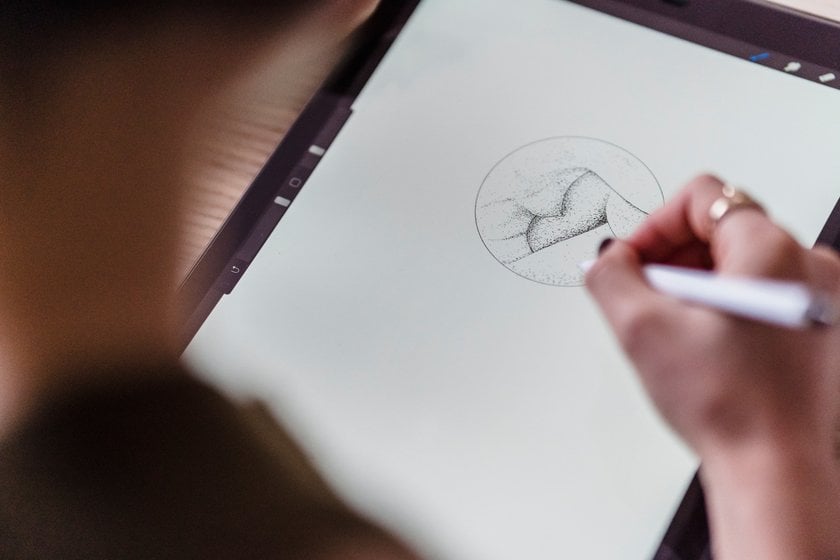 The functionality of the free version is limited in terms of color selection: a basic palette is available by default, which may be a disadvantage for a professional artist, but will not stop one who wants to create amateur art. You can choose to draw on a blank canvas or a downloaded image or photo. The brightness and richness of the colors and the way they are mixed resemble working with real materials such as watercolor or oil.
PaperColor is the perfect sketch app for Android that allows you to create on older phones: it's light, stable, and doesn't require a lot of memory.
FlipaClip
It's an entire animation studio on your device, a very popular drawing app for Android tablets. You'll be able to create your cartoons, anime, and sketch videos with a few basic features. The first time you launch the app, you'll learn about it with an interactive tutorial. You'll study the basics of animation by live example and can try them out afterward, turning your drawings into vivid cartoons.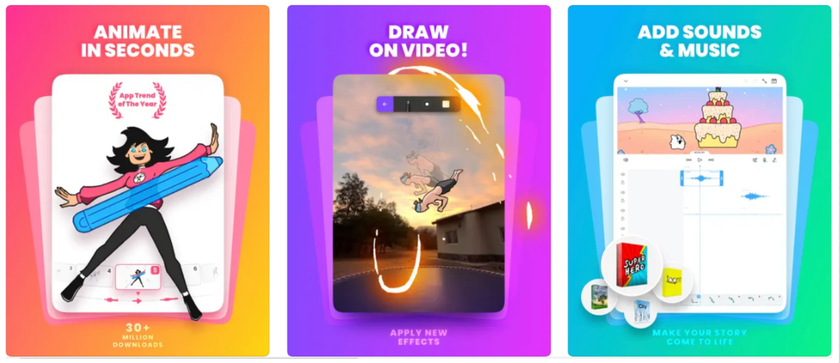 The interface of the application provides the tools you need most: a brush with size adjustment, a color wheel for choosing a shade, an eraser, and a fill. Especially convenient is the availability of the basic package lasso function: select individual objects or their parts, transform and change them to create realistic consecutive frames. At the editing stage, FlipaClip allows you to change the playback speed, and in the premium version - even add a voiceover to the clips.
Sketchar
If you decide to get serious about learning how to draw, try Sketchar. Many users consider it one of the best free Android drawing apps. When you launch, you'll be prompted to answer a few questions: choose your level, your leading hand, and the sketch topics you'd like to start with. You'll be given access to daily step-by-step tutorials with which you can use augmented reality mode to set your phone on a tripod and trace the suggested outlines on a sheet of paper or on the phone screen itself.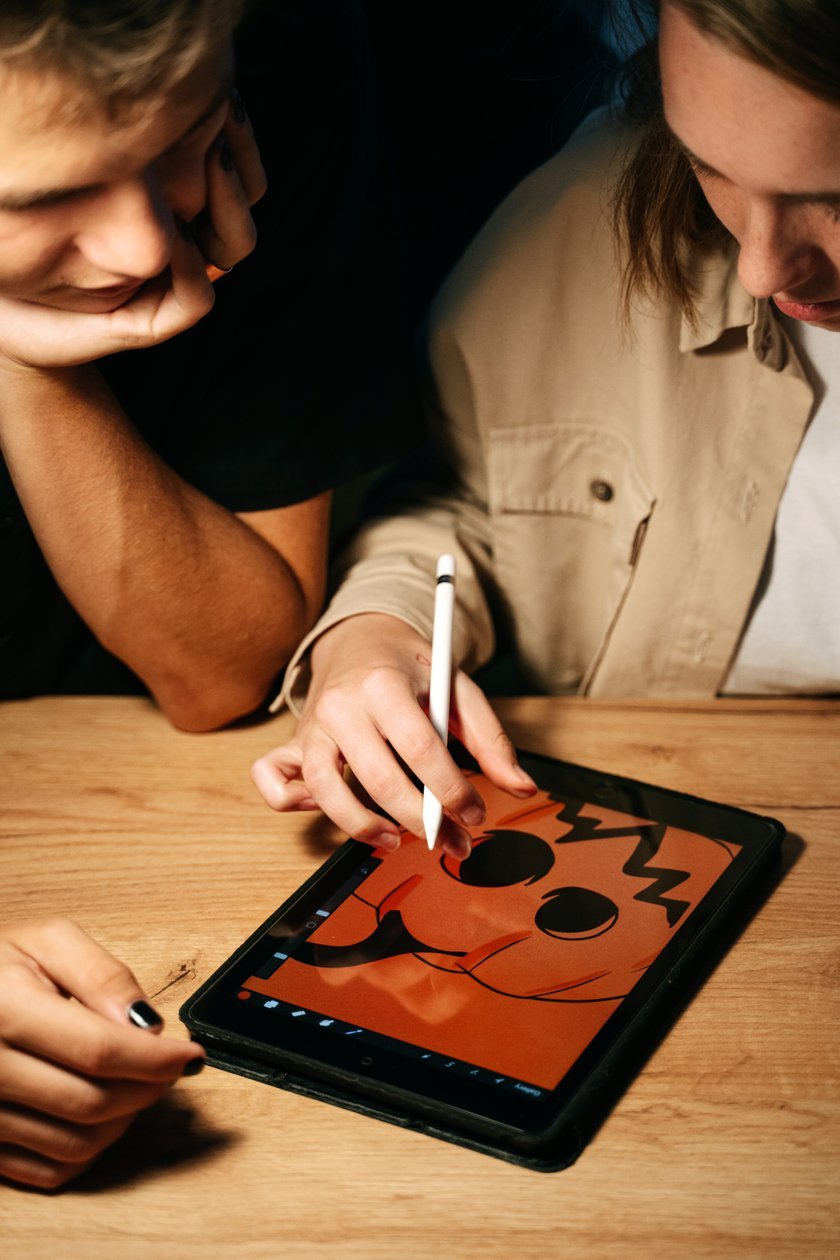 So, step by step you can draw those sketches that you like: cats, flowers, portraits, and anime characters. The learning process is built as simply as possible and will suit users of all ages.
By the way, in addition to learning about drawing and numerous tutorials, the application provides an opportunity to promote your work and earn on them.
Dotpict
A great Android painting app for fans of pixel graphics. In the package, you get not only a "drawing tool", but also access to a huge community of artists with the ability to share their work and comment on others.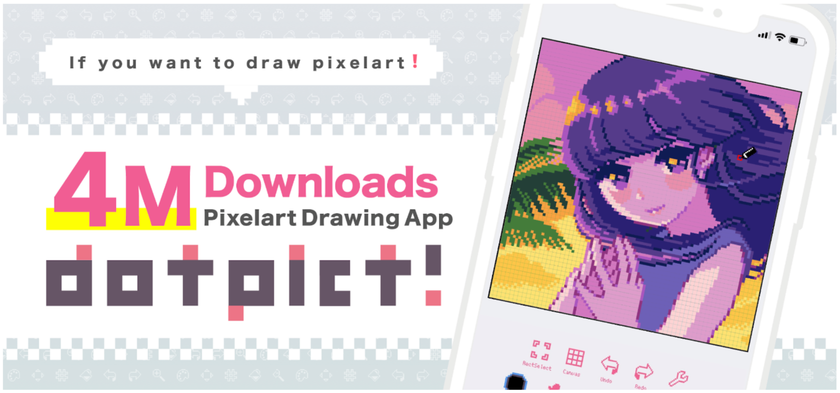 The working field of the application is built on the principle of a grid, each square means a pixel. You choose one of the standard sizes and a color palette that suits you, and voila, you're done! The interface is simple: you can select a part of the pixel grid, erase the drawn element, fill or paint part of the canvas with a certain color, select a color with the dropper, and undo or redo the last action. For animation lovers, the function of combining several consecutive frames into a common file is also available. The application is rightfully considered one of the best free drawing apps for Android for both beginners and professional pixel art artists.
Simple Draw
If you're looking for a simple and easy-to-use free draw app for Android, then this variant is definitely for you. This popular sketchbook for digital painting contains a lot of useful features:
Create drawings using a variety of paints and choose the right size brushes.

Change the background

color to your liking.

This simple sketchbook supports many different formats, such as PNG

, JPG, or vectors.

Share your pictures, drawings, and sketches with your friends on social networks.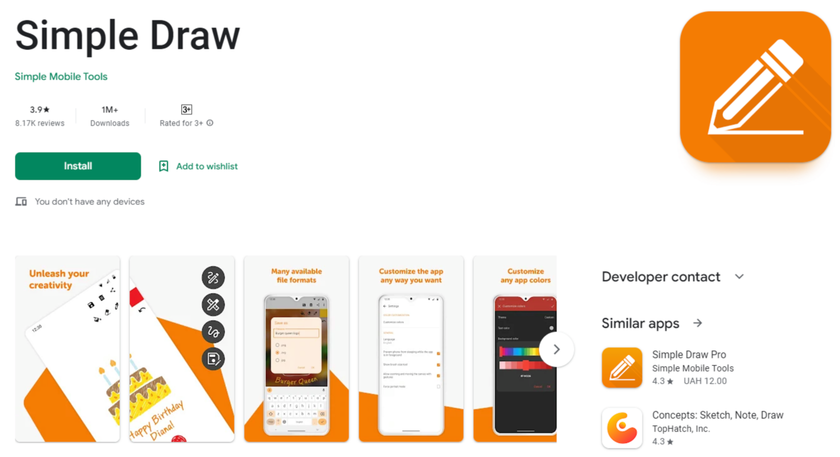 No matter what your age or ability, one of the best drawing apps for Android will give you the opportunity to have a great time and unleash your creativity. The interface of the program is simple enough even for children, so it is perfect for learning how to draw. If the functionality of the free program seems a bit limited, try the pro version.
Happy Color
If you don't like drawing doodles, but still want to amuse your inner artist, Happy Color is just for you. Choose from hundreds of pictures and start creating in one of the best Android tablet drawing apps.
New coloring templates appear every day, all divided into thematic sections. Paintings are broken down into tiny blocks of color with varying degrees of detail. Illumination, which acts as a clue, helps you choose the right area for coloring, and then - it's a matter of technique. You choose a color from the palette and work with it, filling in the corresponding number of empty areas. This activity is very painstaking and relaxing.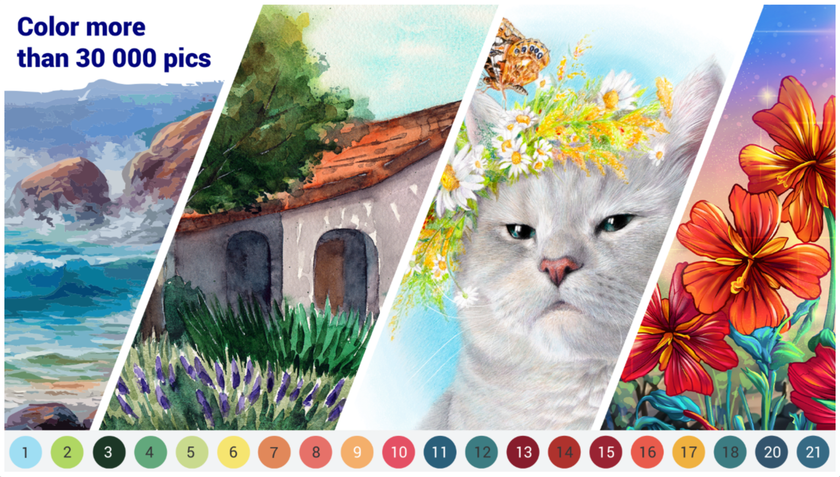 By the way, all colored templates will be stored in a special tab: you can continue working on them later, and afterward, you can see how exactly from boring contours you created a color masterpiece, in speed-paint mode. Due to the fact that even beginners can unlock their potential here, Happy Color can be surely called one of the best Android drawing apps.
Final Thoughts
After reading the list of the best drawing apps for tablets and smartphones the following conclusion can be made: the choice depends entirely on your skills, goals, and preferences. Even if you are a beginner and just starting your way into the fascinating world of the visual arts, don't be afraid to try, experiment, and develop your skills! Take your mind off the daily routine and bring your inspiration and creative ideas to life with the best drawing and painting apps for Android devices!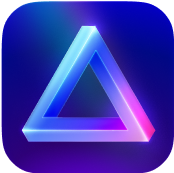 Advanced yet easy-to-use photo editor
view plans