Hair coloring is an exciting process. "I imagine how I select color, dye, and style my new hair" – that's what most women think about, but still don't dare to go to the salon.
Because changing something in appearance is like roulette. You never know what result you'll get. But software developers found off way in this situation. They created the best hair color changer apps. These tools allow refreshing images in just seconds. With their help, you can both see another shade of familiar color or get out of your comfort zone by trying on different bold colors. Thus, you can experiment with your appearance as much as possible without harming your strands. Let's consider the 7 best apps for changing the hair color, which will help you to decide what option you want before visiting a salon or becoming famous in a blog on Instagram or YouTube thanks to the WOW effect.

Select One Of The Best Apps to Change Hair Color for Your Android or iOS
You have probably already had the opportunity to try different appearances in famous applications. Do you remember how in a meteor of seconds, you turned into a young lady or granny with gray hair and wrinkles on FaceApp? The developers didn't take long to create programs allowing experimenting with your hair. Before looking at them, let's find out what they are.
The Hair Color App: What Is This?
The hair color change app is a smart program that resembles filters on Snapchat. It has tools that put virtual hair on your photo, allowing it to easily select a shade from those available ones and edit the image. Thanks to this application, you can quickly turn from a brunette to a blonde or vice versa. Do you want to experiment with hair color cardinally? Why not virtually paint it in pink, blue, green, or another bright color?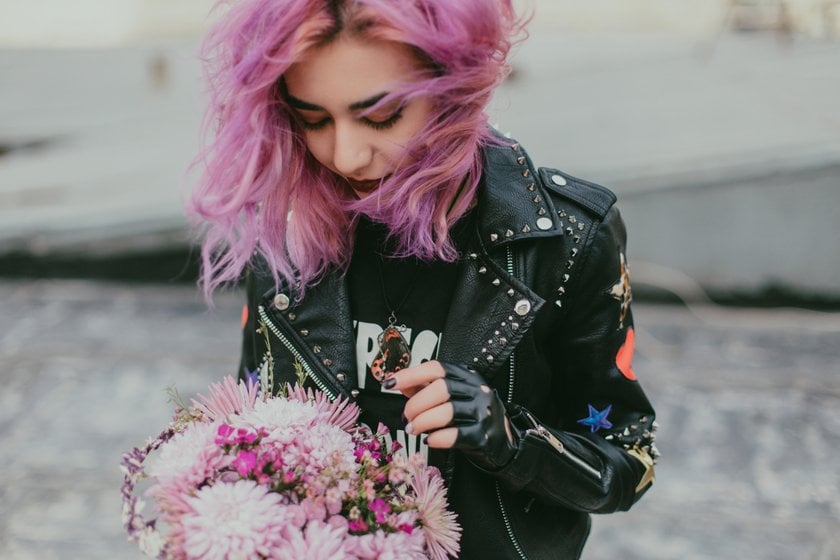 Thanks to the most modern artificial intelligence technologies, you get a natural effect, which is the main advantage of all apps to try different hair colors. Your strands remain the same soft and shiny as after visiting a beauty salon. You can upload this program from Google Play or the App Store if you want to change the style. But what app to select? We will help you with this by telling you in detail about the most popular among them.
1. YouCam Makeup – The Best Hair Color Changing App for Instagram
This is the world's most popular app that is more than just a program allowing a change in hair color. It's a powerful application with augmented reality that helps you to create full images starting with makeup and ending with changing color shades like in a real beauty salon.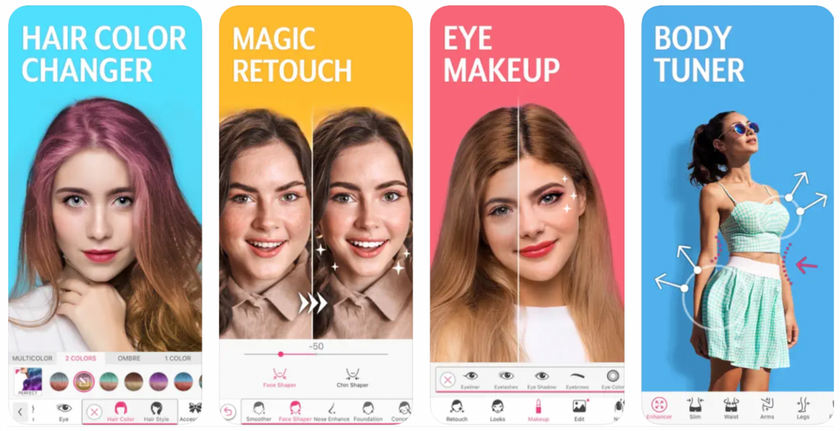 This hair color-changing app is most suitable for Instagram. It has all instruments needed for taking selfies and retouching photos before you share them with your friends.
The built-in hair makeup feature helps you find the perfect color from over 150 options and apply it to your photo from the gallery or during shooting with your camera. A virtual hair color filter is so realistically superimposed on your strands that it seems like you have dyed in the salon. You can try different shades:
black;

red;

bubble pink;

platinum blonde;

rainbow, and others.
Do you want something interesting? Two-color look or an ombre effect is the perfect option for you. Also, you can make the desired haircut, for example, a bob or care. If you wish to refresh your appearance, try on curly, long straight hair, or another hairstyle. Thus, you see what you want and even can show a photo of your changed image to your hairdresser.
Besides tools for working with the hair color editor app also propose beauty editors tools and filters with a thousand virtual makeups from leading brands. You can take selfies, edit exciting photos from your album, or try to change your appearance in real-time with new eye makeup. If you want to improve your face, retouching tools will help you. Making your skin smoother, whitening teeth, tightening your face oval, enlarging your eyes, and changing their color with the help of contact lenses, and many other transformations will make you feel like an Instagram celebrity.
This app to change hair color in the photo is free. But if you use advanced features, you must select the paid version. It's available for both Android and iPhone.
2. Fabby Look: Experiment With Boldest And Brightest Hair Colors
Are you tired of standard hair colors and want to experiment with bold and extraordinary shades? Try the hair color test app Fabby Look. This program allows you to dye strands in all the rainbow colors, as it includes the 10+brightness options:
Pink

Violet

Orange

Green

Red

Magenta

others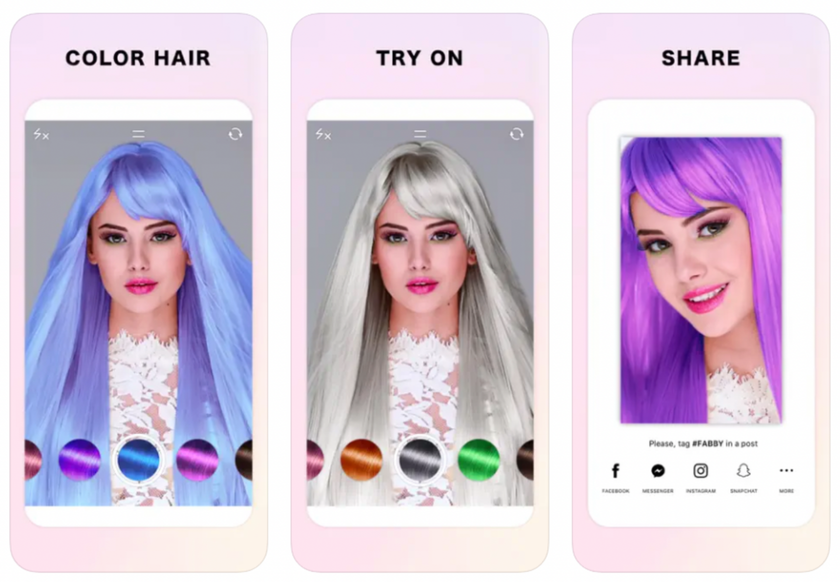 Essentially, it's a color filter with which you can unleash the artist's talent in you by applying a fantastic tone to your natural hair in real-time. Moreover, you can quickly and easily change your image not only in photos but also in videos. Share the best results with your friends on Instagram, Facebook, Snapchat, and other social networks, by clicking the Share button. This application is free and doesn't take up much space. You can easily download it on the Google Play Store or App Store.
3. Style my Hair: Get 3D Effect from L'Oréal
You have long dreamed of having a personal stylist, but there is no such opportunity? The app to try different hair colours Style my Hair will make your wish come true. Developed by cosmetic giant L'Oréal it's like your stylist in a small gadget.
Before you upload your photo for editing, you will be prompted to create a hair profile. In it, you will need to provide information about the condition of your strands, how long they are, when you last dyed them, etc. After that, you will receive personalized tips and tricks, also information about the latest styles and colors in real-time.
After creating a profile, try different colors. The program proposes a wide palette, beginning with natural blonds and ending with avant-garde purple tones. Also, you can create an ombre effect here.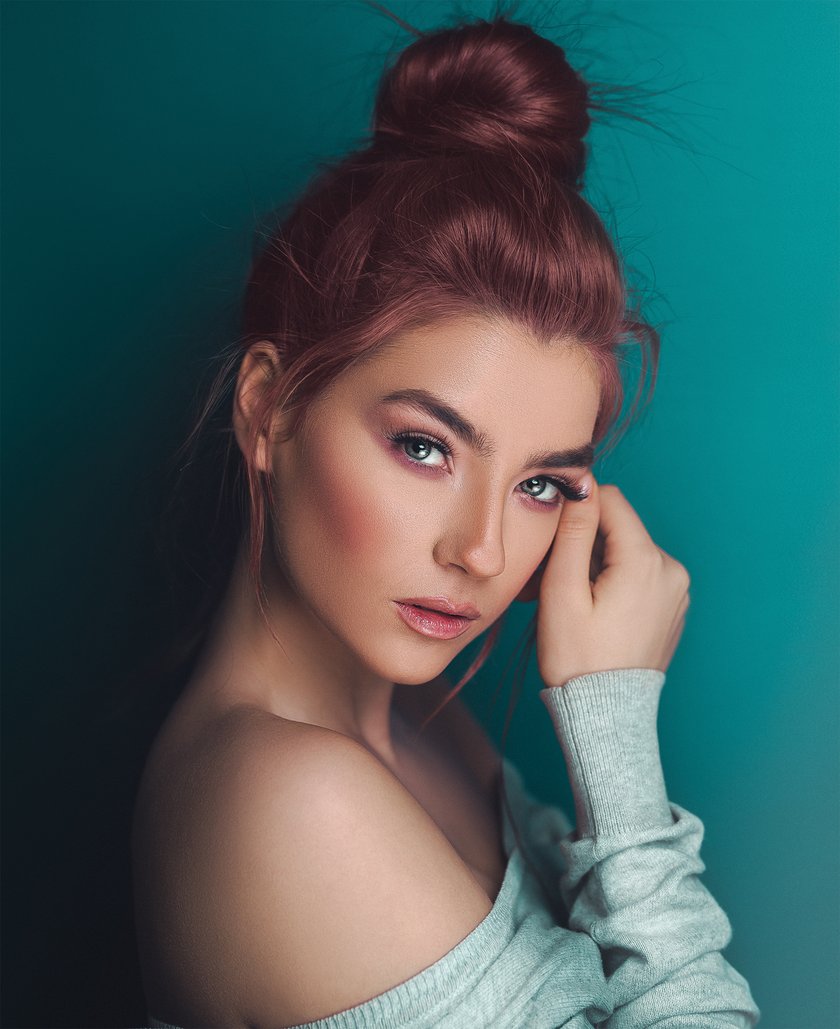 3d technology is a specific feature of the app for trying different hair colors. It inspires one to change appearance, allowing enjoying new hair color when you move your head and run your hands through your strands. When you find your option, you can share the photo with a new look with your friends on Instagram. To take advantage of the fantastic features of this application, download it from the app store for iOS or Android.
4. Hair Color Booth: Stunning Color Combinations for Blond Hair
Are you blond and want to experiment with your appearance? Pay attention to this virtual hair color try-on app. It's perfect for bringing your stylish fantasies to life. The color palette is quite wide in this program. Try on yourself as a brunette or red-haired girl. Or maybe you want to dye your strands in the color of rose, strawberry, or lilac?
The program also allows combining different colors and styles to get the effect of the rainbow, sun-bleached strands, or multicolored highlights. And with the help of the color intensity controller, you can make the image translucent and smoothed.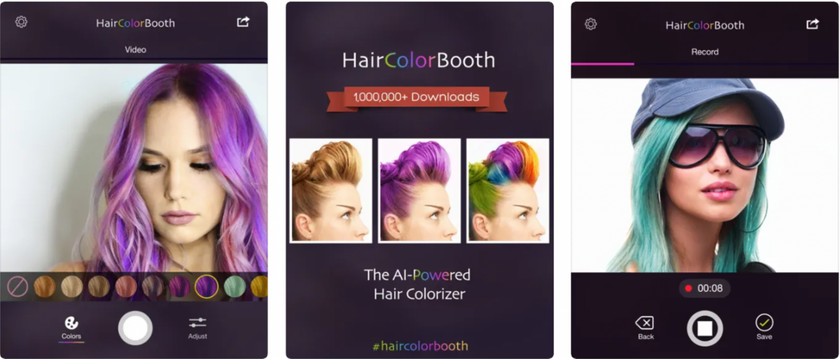 You can easily share your photos with friends on Instagram, Facebook, WhatsApp, and other social networks. The only thing is that this app to see different hair colors is only available in the iOS App Store. And you can experiment with a limited number of colors in the free version. But it would be best if you upgraded to a paid option to get more options.
5. Hair Color Changer App: Universal Program Focusing Only on Coloring Your Hair
If you're looking for something simple, purely for hair without makeup tools, the Hair Color Changer is perfect for you because it focuses on changing the color of hair. What this app has:
large library of hair colors;

ability to create more colorful stripes;

basic editing tools;

pan and zoom options.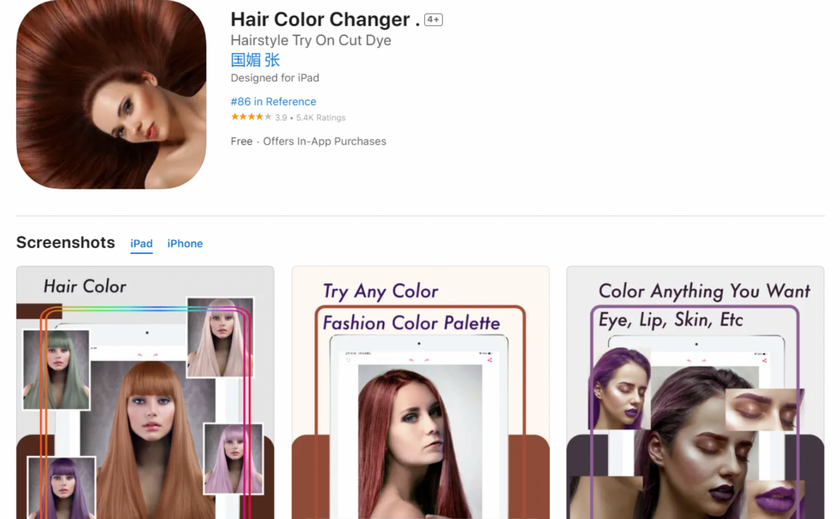 Using this app to test hair color is easy. Just take a photo, draw the outline of your hair, choose the desired color, and experiment with different shades. Also, with the help of editing tools, you can blur your image, change the brush size during working with specific points in hair, make your strands smoother and comb them, and undo or redo actions. Share your new style with your friends on social networks to get their opinion.
Download this application free for your iOS on the App Store to enjoy thoroughly experimenting with your hair color.
6. Hairstyle Try On: Change Your Hair Color and Hairdo
Do you want a dramatic change in your head? Pay attention to this instrument, which focuses on coloring and hairstyling. You can try on the app one of the 50 virtual hair colors. It can be a neutral shade, close to a natural one, or something bright. After you have chosen your hair color, play with different styles. There are 36 options of hairstyles available. Thus, you will find the perfect combination you want to implement in real life.
Also, this app was developed to help you choose to find your style and look 100% outside the iPhone, as it shares with you information on different hairstyles and provides hair care tips.
7. Hairstyle Makeover: A Complete Image Transformation From Hair to Lips
Do you wish to refresh not only your hair but also your face? Hairstyle Makeover will help you with this. It has many options of shades, from the usual to bright. You can also select a hairstyle.
This app to see how you look with different hair colors is also created for men, which makes it unique. So if you are a representative of the stronger sex, you can try on stylish options for beards and mustaches in different colors.
Besides tools for working with hair, the application has a virtual makeover. It allows you to finish your image with attractive makeup with new shades. Share it with your friends on social networks such as Facebook, Twitter, and others.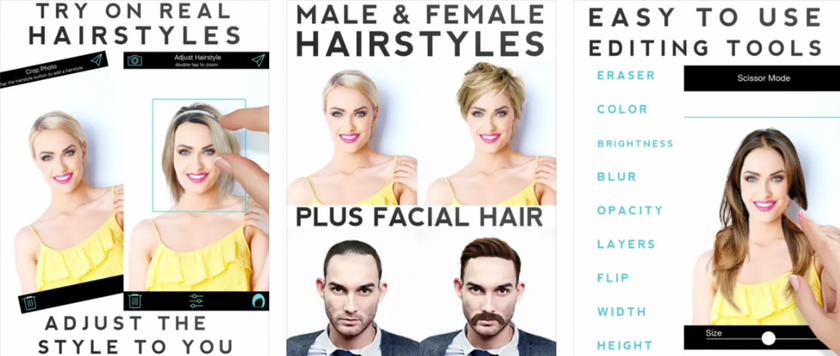 All you need is to get the app free through the App Store, upload the picture you want to change, and start experimenting with your appearance.
The Best App to Change Hair Color in 2023
Each of the above apps deserves the title of the best, all thanks to the ease of use, reliability, and security. But which one is the top? We have selected YouCam Makeup because it's very smart. It provides ample opportunities for hair coloring and makeup.
Conclusion
Apps that change your hair color are mini stylists in your pocket. They help you decide on the shade you want to paint in real life, try on different hairstyles, and apply exciting makeup thanks to artificial intelligence technologies. Change and experiment with your style right before your eyes!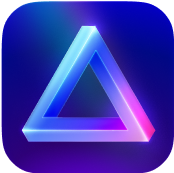 Advanced yet easy-to-use photo editor
view plans