Bellevue, WA – October 4, 2018 — Skylum Software is now shipping Aurora HDR 2019, its fourth generation, high dynamic range editor, whose predecessor is the current Mac App of the Year. Skylum's goal is to give photographers a powerful tool to create vivid, captivating, and true-to-life high dynamic range images. Skylum's AI Lab analyzed thousands of images from professional photographers to create a custom algorithm that would deliver optimal results automatically, drastically reducing editing time. In addition to landscape photographers, real estate, architecture, environmental portrait, food and street photographers will all benefit from Aurora HDR 2019.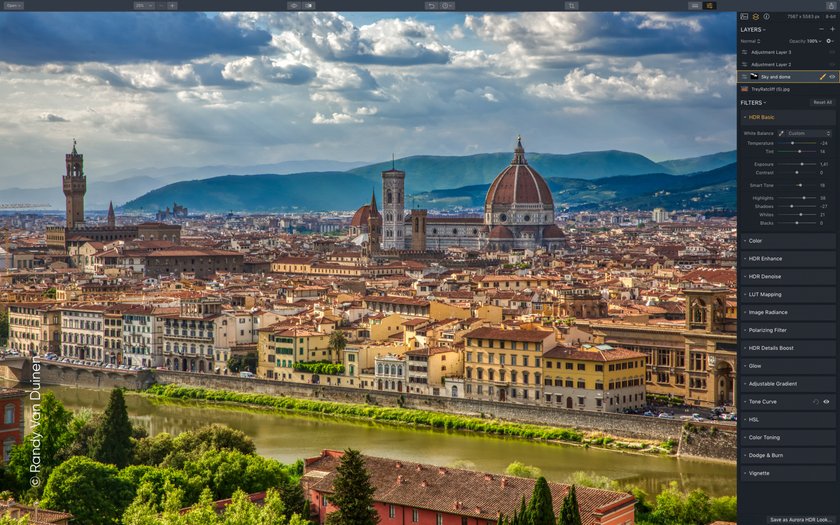 "Aurora uses its Quantum HDR EngineTM with AI technology to analyze and extrapolate the best details from each bracketed image to create a single file that renders more details in the shadows, highlights and midrange than ever possible before," explains Alex Tsepko, CEO of Skylum Software. "Leveraging advances in RAW file technology, photographers who create single exposures can also recover hidden details from their photos using Aurora HDR."
HDR Smart Structure is a new feature that lets users add contrast, depth, and definition to areas in an image using a single intelligent slider. And, it does this without creating unwanted halos, noise, color spotting or artifacts most noticeable in areas of sky, clouds, and smooth surfaces.
Aurora HDR 2019 also incorporates LUT mapping, an industry standard in photography, cinema, and television to help photographers jumpstart their creative color process by allowing them to apply color grading and film stock simulations.
Aurora HDR Looks is another new feature that allows photographers to use their own combination of filters and LUTs to quickly fix or adjust their images. It also enables quick edits and batch processing of images shot under similar lighting conditions. Skylum partnered with top pros to create signature Aurora HDR Looks to inspire professionals and help new users easily achieve finished images.
Many world-renowned photographers have contributed custom Aurora HDR Looks, including: Trey Ratcliff, internationally-acclaimed photographer and co-developer of Aurora HDR software, Randy Van Duinen, award-winning real estate and architectural photographer, and Serge Ramelli, international travel photographer.
"There are so many wonderful new features and functions built into Aurora HDR 2019 - my favorite is the software's ability to accurately and automatically eliminate noise, halos, and other little issues I often needed to fix myself," said Trey Ratcliff. "Skylum spent the last 3 years completely redesigning their HDR algorithm using artificial intelligence and it blows away the competition with the speed and quality of the resulting true-to-life HDR images."
Aurora HDR 2019 can run as a standalone application or a plug-in for Adobe Photoshop or Lightroom, and Apple Photos or Aperture, making it usable to photographers at any level of expertise and workflow preference. It also supports RAW and DNG files from virtually every camera manufacturer and makes it easy to export and deliver other professional formats including TIFF, PSD, and JPEG.
Key features of Aurora HDR 2019
Aurora HDR 2019 provides users with dozens of features and options to help them quickly produce the most natural-looking HDR images and allow a level of creative flexibility not found in previous HDR software titles. Among the many features are:
Tone-mapping technology for single and bracketed images with the patent-pending Quantum HDR EngineTM
HDR Smart Structure for realistic and artifact-free depth and details
Solo HDR Enhance allows for processing a single image where bracketing is not possible
LUT Mapping filter for creative color and tone adjustments
Powerful one-click Aurora HDR Looks, including Signature Pro Looks by Trey Ratcliff, Serge Ramelli, Randy Van Duinen, and others, that yield fantastic results instantly
Aurora HDR 2019 filters:
Aurora HDR 2019 offers photographers a vast array of creative filters to help customize an HDR look that is uniquely their own, including:
HDR Basic — General settings related to the Tone Mapping and compression of the image for the original image layer
HDR Enhance — Adjusts the clarity, structure and micro-contrast of the image, leading to "crisper" results
Polarizing Filter — Provides more color depth and cuts atmospheric haze, resulting in richer, bluer skies
Dodge & Burn — Selectively lighten or darken areas of your image with brush strokes
Image Radiance — Provides for an overall "dreamy" look to your image by softening image luminescence, and increasing contrast & saturation
Tone Curve — Represents the tonal range of the image along a diagonal line which can be adjusted by clicking and dragging May be adjusted globally or by RGB channels
Color Toning — Shadows and highlights color tinting for stylized visual effects
Aurora HDR 2019 is available for a one-time purchase price of $99. Current users of Aurora HDR can upgrade for a one-time price of $59.
Get in touch

Anastasia Sliusarenko
Head of PR&Communications