Already awesome Luminar just got an update making it even better, whether you're using it on your Windows or Apple device.
Whether you use it as a stand-alone or as a plug-in, Luminar makes editing your images to perfection easy. Loved by photographers who don't want to pay a monthly fee but appreciate having sophisticated editing control over their images, Luminar gets new features and improvements that ratchet up its performance.
Summer 2018 brings plenty of updates, not only for the Mac users but for Windows PC users too; because although our award-winning software is already an incredible photo editing software, we want to keep making it better for you. As always, the upgrades are not only great for beginners and amateurs, but also for the pro photographers out there. Let's take a look.
New Features and Improved Functionality
With this latest update, sharpening, the photog's favorite savior tool, is improved for both Mac and Windows versions of Luminar. Users of both platforms will also find improvements to the way Batch Processing and Image History work. Additionally, those who work in RAW now have faster and more intuitive handling.
Windows users get several new tools like White Balance, Layer Renaming, Canvas Color and DNG Camera Profiles, plus improvements to blending modes, LUT mapping and filter performance.
For Macs, there are new plugin supports, improved filter and JPEG controls, plus improved language supports. Check out the lists below for the specifics to your operating system.
Easy to Update
Updating to the new Luminar is easy. The system should give you a prompt next time you open it. But if you want to check manually, just follow these simple steps:
Mac: Select "Luminar 2018" then "Check for updates".

Windows: Select "Help" then "Check for updates".
Luminar Updates for Windows PC User
Several improvements as well as a ton of new features await PC users. New features include:
Image Transformation Controls. You can quickly access new controls directly with buttons when using the Free Transform tool. You can now flip a layer on its horizontal or vertical axis. Layers can also be rotated 90˚ as needed for compensating for camera rotation. Changes made are also stored in the file's History.

Layer Renaming. All those new layers you add can now be assigned a custom name (everything except for the original image), making it easier to organize adjustments to your project. Double-clicking on the layer's name gives you the ability to edit it.

White Balance Tool. In the Develop, Raw Develop and Color Temperature filters, there's now an eyedropper tool to adjust white balance with precision.

Canvas Color. You can now set your Canvas background color to white, black or any shade of gray. Just click on View, then Background, and pick your shade.

DNG Camera Profiles (DCP). Luminar ups your ability to work in RAW at the pro level via DNG Camera Profiles; they'll work with the DCP files you may already have, whether purchased from third parties or in your existing photo management system.

Image History. To better keep track of your changes, now History will be saved automatically when you save a document. It's also easy to see the White Balance presets as they're now displayed in the image history with the preset name when using Develop and RAW Develop filters.
Luminar for Windows users also benefit from many improvements to make your image editing faster and easier. These include:
Sharpening. Sharpen up that image even more accurately with the more responsive Sharpening filter, plus see all your changes in real time and high resolution.

Faster opening of RAW-files. Improvements in the RAW engine mean opening raw files and getting to work is faster than ever.

Filter Performance. Adding or removing filters to an image is now faster too, and even easier thanks to the larger area in the Side Panel to control filters.

Blending Modes. Now you can update blending modes for Adjustments and Image Layers in real-time just by hovering your mouse over the desired mode. Find the perfect blending mode by mousing-over the list.

Batch Processing. Save time with improvements to Batch Processing functions including Replace or Skip File when you're saving the file with the same name. You can also batch the creation of JPEG and TIFF files, and renaming and re-numbering files on export is now more reliable.

Language Support. Luminar now offers seven improved localizations: Chinese, Chinese Simplified, French, German, Japanese, Portuguese (Brazil), and Spanish.
Luminar Updates for Mac Users
Luminar users who use Macs can enjoy a number of improvements too.
Brand new for the Apple crowd is Plugin Support. You're now be able to use these third-party plugins through the Plugins menu: Imagenomic Noiseware 5, Imagenomic Portraiture 3, Imagenomic Realgrain 2, and DxO FilmPack 5.
You also now have access to these Luminar improvements:
Raw Develop filter.The Lens and Transform effects are now improved, for example when using the Compare option, effects aren't shown on the left (Before) side, nor are the effects blended with the original when using the Filters Amount slider.

Sharpening. It's now easier to use the Sharpening filter with more responsive and accurate results. You can also get real-time feedback as you adjust the Sharpening controls and see all your changes in high res.

Batch Processing. Exporting to several file formats is now possible, including new options for both PDF and JPEG-2000.

Filter Controls. Save time by clicking on the checkbox or control name to enable or disable all filter checkboxes. You can also use scrubbable number sliders by mousing over the filter values, then moving the slider by clicking and dragging left or right.

JPEG Controls. You can now precisely control your JPEG and JPEG-2000 compression. The Quality slider shows you the precise numeric value, and you can change it by clicking on a number or entering the exact value you want.

Image History. When using the RAW Develop and Develop filters, check your image history to see White Balance presets, which are displayed with the preset name. You can also now use the "Save History" option when you save files using the "Windows Compatible" option.

LUT Mapping. You can now easily scroll through your LUTs in the LUT Mapping filter. Just hover your mouse over a LUT and it updates in real-time.

Language Support. These eight languages now have improved localizations: Spanish, French, German, Portuguese, Brazilian Portuguese, Japanese, Chinese, and Simplified Chinese.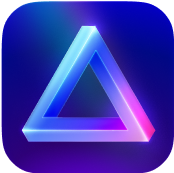 Advanced yet easy-to-use photo editor
view plans