Find out how to become an expert in family photography with these easy-to-follow steps. If you are looking for funny creative family photoshoot ideas and want to prepare for your upcoming snapshots, then this article is for you. Here are tips for both outdoor family photo sessions and indoor shoots.
Family photography is common these days. People choose to do professional photo sessions because they want great family pictures. They usually want photo books or albums and many high-quality images to share with their friends and relatives. If you pick up funny family pictures ideas, you can not only make great shots but also have a good time. Family images require a combination of skills, including knowledge of candid photography, children photography, portraits, lifestyle photography, and commercial photography. They also require storytelling and management abilities.
Although it looks popular and easy to market, family photography is a challenging job. Happy families and good recommendations are your goals. Moreover, you need to stand out and find a unique style. Otherwise, you're just one of the countless photographers who have chosen to turn their lenses to family photography. It is especially difficult with a family of 5 photo ideas when you need to involve many people at once in the shooting.
We've come up with five key features that are extremely important for professional photography. Here you will find a family of 4 photoshoot ideas and other options that photographers and models alike can use. You may be surprised to see that they don't necessarily refer to camera settings and technical matters. There's more to photography than technique. For family photography, you need to be a people person, a manager, a director, and a very intuitive photographer.
How to set up a family photography session
You have a client who wants some family images. You need to organize a photo session for two adults and some kids. Most options for a family of 5 picture ideas involve the need to organize and involve all people in the shooting. Let's say right off the bat that this is easiest to do on an outing or a picnic. As with lifestyle photography, fifty percent of your success depends on how you organize the photo session.
Have a long and detailed talk with your client. Try to find out as much as possible about the family's preferences and personality. Don't forget to ask about everybody's age, the children's gender, expectations, and budget for family photo themes. As any good manager does, you need to come up with a plan. Carefully plan these five aspects and you won't regret it:
Location
After you know the family's preferences and possibilities, choose the location. Never use the same pattern. Choosing the right location also depends on whether you want to implement fun family photoshoot ideas or aim for more relaxed photo sessions. People are different, and their family images should also be different. For some people, an exotic trip might be the perfect photo session. Others might prefer to have the photo session in their own home. There isn't a single recipe for success. Being flexible and open to suggestions will widen your portfolio. Avoid clichés. Not all family portraits must be taken in the local park or in the studio.
But what if you want an indoor type of photo shoot, but not at home? Then choose a studio with interiors that are in harmony with the general concept of the photo shoot. Here, too, you can bring creative family photo ideas to life if you use the right clothes and props. Reserve the space for a longer period of time than you usually need for the photo session. Shooting with children is often unpredictable, and it usually takes some time to clean up after the shoot.
If you're planning a fall family photo shoot, be sure to take full advantage of this time of year and choose beautiful locations surrounded by nature. As we mentioned above, it doesn't have to be a local park. Summer family shoots can be held on the beach. Ideally, if you catch the golden hour. So, this place is perfect for bringing funny family photo ideas to life.
We usually associate the winter family picture with taking photos indoors, against the backdrop of Christmas lights. This is a great type of photo, but you can also try other options.
What are some fun family photo shoot ideas for the snowy season? Actually, it's very simple. For winter photos you can go for a walk and take awesome shots. You'll have cool family silly photos if you play with snowballs or sculpt a snowman. These are some of the best and most fun family photo ideas. If you act as a model, just play and have fun, and the photographer will have the perfect opportunity to capture the best moments. You can also take photos in front of Christmas trees. To make fun photoshoots and gorgeous outdoor Christmas pictures, just have a good time and enjoy the moment.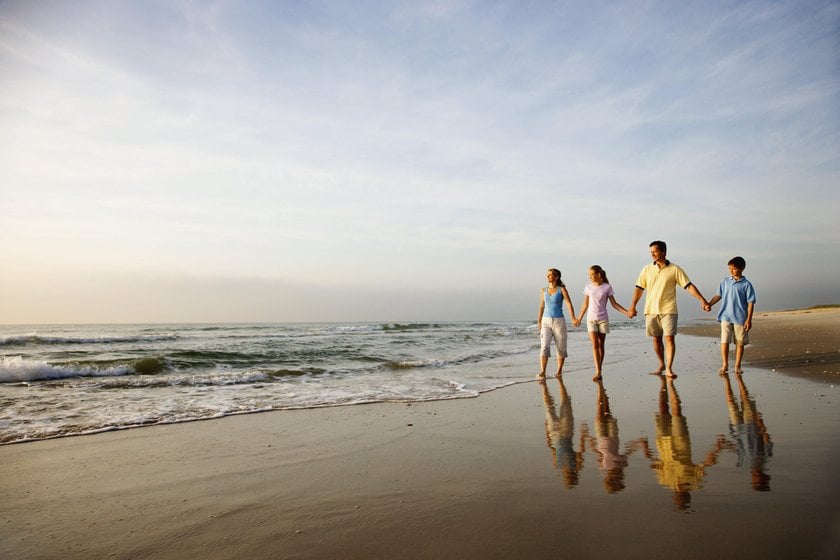 Time of day
If you organize an outdoor photo session, the time of day is extremely important. Consider shooting during the golden hours (sunrise and sunset) to take advantage of beautiful and warm light. It's flattering for the skin and will add a soft glow to your family portrait. Or you can choose a more dramatic light and use the blue hour. That's what unique family photo ideas are. The blue hour refers to twilight (dawn or dusk). The light at these times is mysterious and deep, with blue shades. While not traditional for a family portrait, shooting during the blue hour can be an amazing experience. French photographer Julien Mauve may be an inspiration.
You can also use the golden hour as the basis when you choose ideas for family photos. During this time, the sun hangs low over the horizon, giving off a soft, diffused light - much more suitable for photography than the harsh midday light, which many of us nevertheless prefer to use for best family photos.
Narrative
Many photographers think family photography is just about shooting family portraits in RAW. While there's nothing wrong with that, to really stand out and amaze your clients you need to consider a narrative. Build a story for them. Use all their personal details and develop a fun environment where they can be the stars. Diversity is good, but a thematic photo session will impress viewers and will give them a nice memory to share. Consider this visual journey when you print their photo book or album.
If you are a photographer and discussing photo ideas for families of 4, be sure to ask customers about their hobbies together. Ideally, when everyone has a common interest, it can be used as the main topic of the shoot and everyone will be involved in the process. That way you can get memorable family shots.
Lights and gear
Usually you have a couple of hours for a photo session. Maybe more, if you do commercial photography. You have to work fast. Prepare your gear and lights in advance. Even if you shoot outdoors, bring a reflector. A family portrait should have bright faces. Avoid using flash if you photograph small children. Because family images capture people in motion, you'll need a low ISO and fast shutter speed. For group portraits, use a deep depth of field to have everyone in focus. For individual portraits, you can blur the background using a shallow depth of field. Change the depth of field by adjusting the aperture.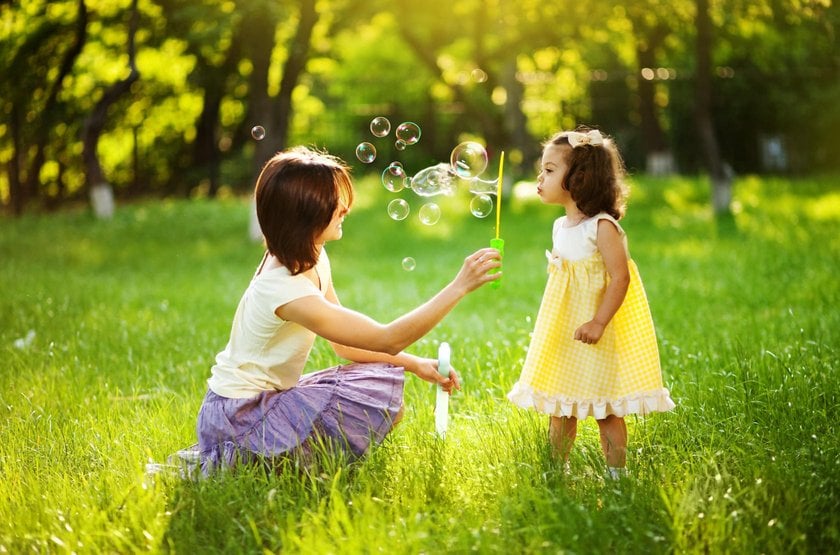 Scenario
To avoid chaos, write a short scenario. Include poses, activities, stories, jokes, and all that you consider useful. You need to be in control all the time. Create a comfortable environment that's playful and fun. Let your subjects be themselves. Still, give them simple directions and help them relax. You'll be taking pictures when they're aware of it and when they aren't. This is the beauty of family photography. Catch the chemistry between family members and their natural way of interaction. A good photographer is always an observer.
Choose your clothes according to the scenario you have prepared. What are the outfit ideas? Try to choose neutral colors of clothing. For example, for pictures taken indoors, casual clothes such as jeans, skirts, shirts, T-shirts, and sweaters will do. Try to choose outfits for the family so that clothes do not constrain movements and all participants feel as comfortable as possible, even if this is evening attire. When choosing outfits, use the following tips:
It is desirable to take several sets for family pics ideas - if the duration of the shooting allows you to change clothes.
Ideally, the clothes of everyone in the family photo shoot should have something in common. For example, by shades, and some individual accessories.
If your child is not yet two years old, it is better to dress him in bright colors, so he stands out against the background of his parents. But try to avoid too many bright colors and patterns in family photo outfits.
If you are a photographer, remember that the process of coordinating outfits is very important. The image depends primarily on the wishes of the client and ideas for family pictures. We also take into account the location of the shoot.
Props
Have fun! Bring props, sweets, and toys, and be creative. Use different angles and focal lengths. Create fun compositions by transforming people into actors. Close-ups and wide angles are equally good. The secret is to cover more perspectives and to avoid compositions that look the same. Create your own style, but allow yourself new inspiration and approaches. Focus on people's faces. After all, you're doing family portraits.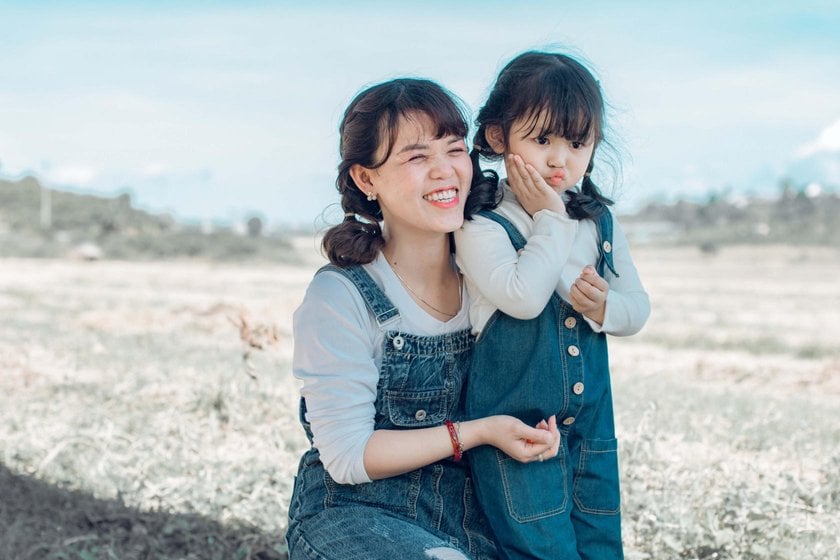 For cute family picture ideas try to use minimal props that don't distract people. If you want to capture a candid moment, props should be related either to the comfort of the people in the picture (plaid or umbrella) or to the desire to enthuse little fidgeters (toys, soap bubbles, photogenic fruit). If you want to make your photoshoot more harmonious, use props to maintain a certain color scheme. For example, it's easy to create accents for photos outdoors at a picnic with bright scarves, red apples, or flowers. This way you can easily make creative family photos.
The best family photo shoot ideas
Everyone wants beautiful family moments to stay in the pictures. It's so nice to look at the bright and cheerful images years later. If you are a photographer, it is especially important to provide your clients with great family pictures. So you will show your professionalism and earn a great reputation. Our family picture ideas will help you make your photos even more interesting and lively.
Using lights in family portrait photography
Lighting conditions are important for family photography. A family photo session means a lot of movement. Be sure you have a fast camera, tripods, and enough light to work with ISO 100 or ISO 200. You don't want blurry characters or noise in your images on a family photo shoot. For portraits, you need a good light source directed at people's faces. It may be the sun if you have an outdoor photo session. Or it may be a reflector if you have an indoor photo session or if you prefer to have natural backlighting. Keep in mind that light can flatter your subjects or can be ruthless and harsh. For example, women are generally flattered by backlighting while men are flattered by side lighting.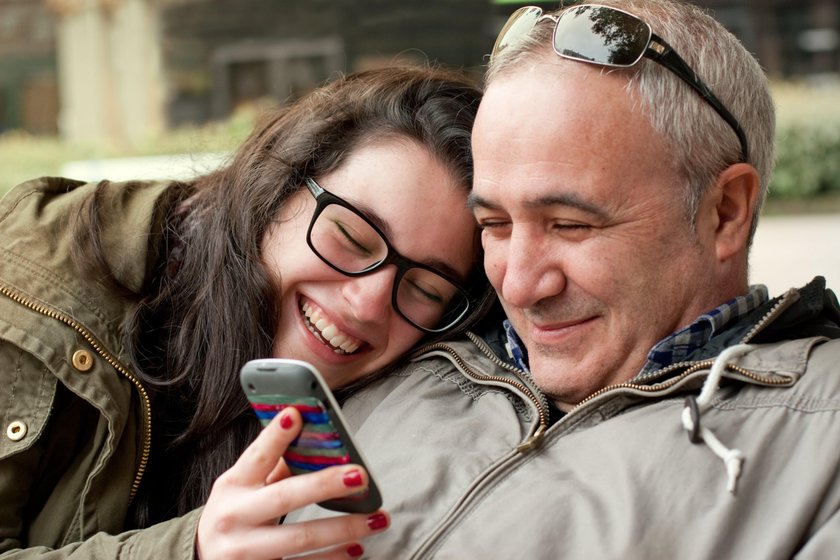 No flashes are used in examples of family photos with babies. Let's talk about this in more detail. If you can, avoid using the flash. Or at least use it in manual mode and set its intensity according to your needs. Flash scares newborns and small children. It also gives a cold light, which will make everybody look tired and upset. It makes weird shades and it's difficult to edit.
You can still work on lighting after the photo session. Luminar Neo has an amazing filter called Sunrays that adds sunlight to your pictures. It also has filters that mimic light during the golden hour. Filters are a valuable help when the family you photograph doesn't have time for an elaborate photo session.

Find inspiration in love photography
Love photography is not quite a separate type of photography, but many photographers dedicate their careers to photographing love. It's one of the most used newborn photo ideas. What can be more beautiful than a mother's love for her baby? It's also frequent in street photography, couples portraits, and documentary photography. Family photography is also a good place to photograph love. There is endless space for cute photoshoot ideas. You have different generations and different kinds of love. Nevertheless, love photography focuses on the feeling itself and not on the people.
Photograph facial expressions and gestures, unintended touches, and natural poses. People express love in many ways. Between your directed poses and actions give them time to be themselves. Encourage them to kiss, cuddle, and act naturally.
Take pictures all the time; sometimes the greatest family portrait is taken when nobody's looking.
Encourage love between all members of the family. This is the best thing to offer for cute family photos ideas. The love between parents is different from than love between parents and children. You can also focus on the love between siblings. Love photography is great for family albums in all aspects.
People can be shy when it comes to their feelings. Include love in your scenario in one way or another. In that case, what are the family of 4 picture ideas? Surprise them with tasks in which they have to show affection. For example, collude with the children to surprise mom with a gift or an action. Or ask the parents to hide for a moment and photograph the reunion. Be creative and playful, and follow your inner photographer's voice. That way you get a great family of 4 photos.
Use black and white photography for a family portrait
Black and white photography is dramatic and artful. Without colors, a composition relies only on shapes, lines, and contrasts. Light and shadow become very important. Monochrome photographs enhance people's features, but they also flatter human skin. A family picture can benefit a lot from this technique.
Try to focus on more than just fun family pics. Use black and white photography for portraits. Focus on people's faces and fill the frame with them. Show all their perfect imperfections: freckles, expressions, wrinkles, large smiles, a child's missing teeth. Do group portraits as well as individual portraits. Be sure to try the black-and-white version when experimenting with a family of 3 photo ideas. This way you create visual milestones for the family. Your images will make them cry and smile years from now. Black and white photography replaces colors with emotions. It's up to you to use humor, sadness, nostalgia, candor, or any other feeling. Get inspired by the masters of black and white portraits like Annie Leibovitz.
For monochrome portraits, use an orange filter. This is just a great solution for a family of 3 photoshoots. Colored filters are common in black-and-white photography. They enhance or reduce contrasts by favoring one color or another. An orange filter is perfect for flattering human skin. For a more subtle effect, use a yellow filter, and for a more dramatic effect use a red filter.
While photographers recommend shooting directly in monochrome mode, you can always transform your family images to monochrome using Luminar. Its creative filters will do all the hard work. You just have to adjust the contrast.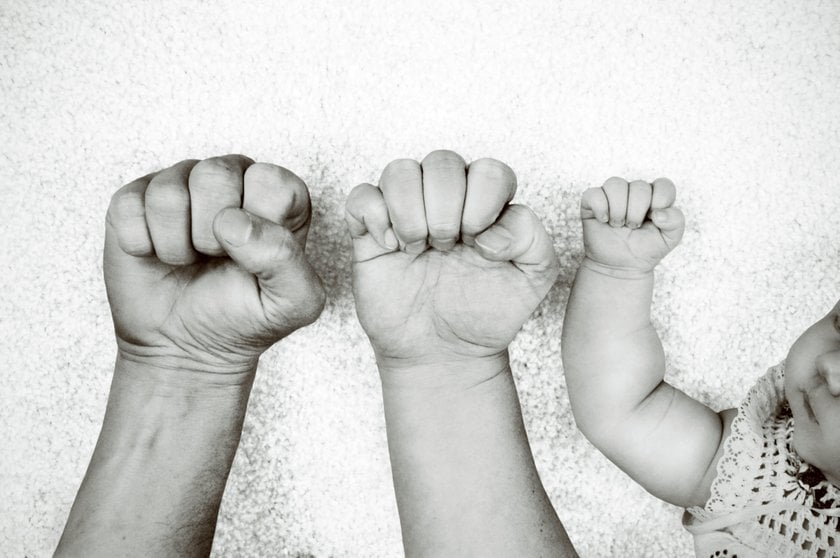 The best family photoshoot poses
Capturing the happy moments of family life is everyone's cherished dream. Unique family photos are an opportunity to preserve the memory of your youth for many years, as well as to leave a colorful memory for our children and grandchildren. That's why such shooting is both reverent and responsible, and it's very easy to spoil a photo session not only with a bad mood or bad location.
Along with the choice of location, clothing, and accessories, it is important to use a variety of family pose ideas so the photos do not turn out the same way. The following tips can be used by photographers and models alike. Our great ideas will help make different family photos and forever remember the happy moments spent with relatives. The following suggestions for the participants of the photo shoot, photographers can take note of them and help advise their clients.
What if you decided to try at-home family photoshoot ideas? Native walls, toys, pets - everything we need is there. This is a cozy corner, just put away the extra stuff in the closets. Your best friend is the window, make room in front of it, we need light. Natural light from the street gives the clearest color. So what can be family photo ideas at home? Let's list a few options:
This is a great place to play together. You can sit down with your baby and have a tea party with his toys or collect a construction set.
Or can go to the kitchen and cook something delicious. Very young children can bathe in the bathtub, and if you add soap bubbles, the effect will be amazing.
All this is very difficult, and your small apartment does not allow you to organize such activities even for family photo poses with one child. Then just go to any comfortable room and have a family cuddle.
If you decide to go with children outdoors for a photo shoot, it is better to think in advance about what kind of shots you want to get. You can use such family photoshoot poses:
How long will your child be able to focus on the shoot? Pretty soon he'll want to run and play, those are of course also great moments.
It would look great if the whole family lined up, and if they all jumped together, such a shot would be unique. These are great options for a family of four photo ideas.
Can you do something simpler? Of course, just take your child by the arms and walk among the trees.
And if you can get into an active game with your baby, that's just everything else taking a back seat. If you have pets that are also family members, you can take them with you to the photo shoot. That way it will be easy to make creative family photo poses.
Your little one can feed or cuddle the pet, they can play catch up, and you can make great photos out of it all. Agree, what could be better than your child's happy smile?
When shooting in the studio with two children you can just hug or kiss your babies, such an expression of feelings in the pictures looks very nice and natural. It would also be very interesting if you take the kids in your arms or just put them between you. And what a beautiful shot you'll get if you line up by seniority. If you have a baby in your family, put your little one first, such a shot will have an interesting idea and you won't have to think up fun family poses for pictures for a long time.
Learn to edit family images
The world of professional photography is divided into two categories: one that uses photo editing software and one that doesn't. In the first category, you'll find all types of commissioned and commercial photography. In the second category, you'll find fine art photography and documentary photography. Family photography is in the first category. You need a good photo color editor to show the natural beauty of your subjects.
Luminar Neo will help you create the perfect mood. Using its creative tools, you can easily adjust brightness and warmth. For family portraits, we recommend the Image Radiance, Orion Effect, Soft Focus, and Soft Glow filters. You can also adjust the tone, colors, white balance, and many other aspects.
Because a family portrait isn't always static, you'll have some cropping to do. Don't forget to fix the aspect ratio and use the same one for the entire series of photographs. Luminar Neo has many useful tools for this and lets you work with layers and history.
Skin retouching is very difficult, but Luminar Neo helps you again. In Luminar Neo, you can do tonal adjustments, remove blemishes, and smooth the skin. The result is natural, fresh, and flattering.
You can use Luminar Neo as one of the Photoshop plugins or as standalone software for Mac and PC.
Final thoughts
If you choose to focus on family photography, you might read some psychology books besides photography books. Learn to use the gear before organizing your first photo session. In family photography, there's no room for mistakes and delays. Practice anywhere, starting with your family and continuing with people on the street and in the parks. Even if you do staged poses and organized photo sessions, family portraits will mostly be taken in motion.
What's great about family photography is that it's fun! Your job will be to play with children, provide them with toys, photograph love, and go home with good energy to edit the pictures. Besides, you get to make up stories and narratives, choose beautiful places, and work with Luminar Neo. This is a great life indeed. If you haven't decided to buy Luminar Neo yet, download the free trial version and see what it can do for you.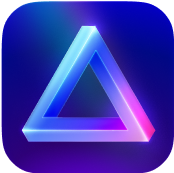 Advanced yet easy-to-use photo editor
view plans