With the third update to Luminar AI, we've added simple but important enhancements to our groundbreaking, AI-guided photo editing software.
Skylum is releasing LuminarAI Update 3, which brings new benefits to the AI powered editing tool. With this update, we continue to deliver on our commitment to make it easier for artists of every skill level to achieve incredible results with their photos.
"Skylum is built around the concept of continuous improvement. Our goal is to improve the quality and speed of Luminar. Even more important though is inspiring creativity and control for amazing photos. We constantly listen to our community to discover ways to add to their photography. Luminar is all about creativity and making photo editing easier. Update 3 reflects this ethos." — Ivan Kutanin, CEO
Picture-perfect horizons with the improved SkyAI tool
With new enhancements to our algorithms, SkyAI now produces even more photorealistic results with greater control and accuracy.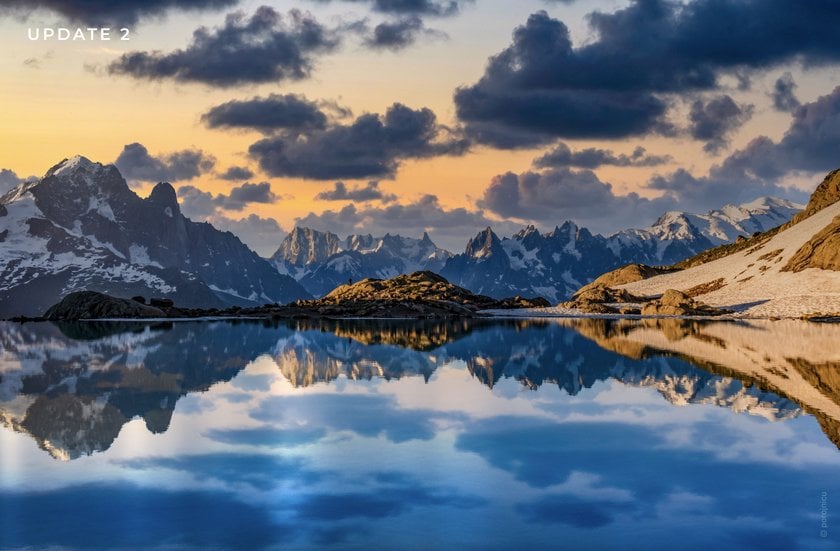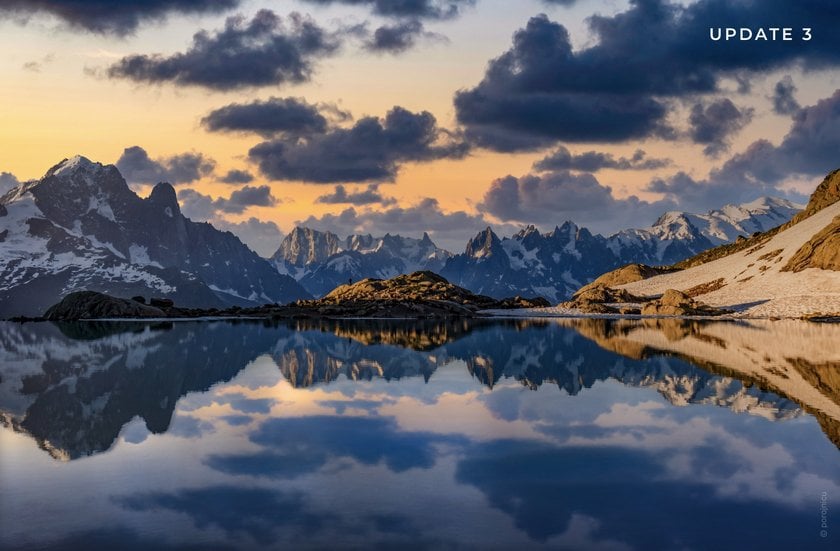 Better Sky Detection — Once a new sky is selected, SkyAI now uses improved horizon detection to more accurately place it in the scene. Refined edge detection and masking are used to better integrate the new sky for a more organic effect.

Better Reflections — The improved sky position is then used to create more realistic reflections in water. Haze, Warmth, Brightness and Water Blur sliders give users more precise control over reflections.
Better Relighting — Improvements in color accuracy create a more natural effect when the new sky is used to automatically relight the entire scene, including reflections. Three relighting controls allow users to dial in the lighting to fit their creative vision.
New support for Apple hardware and image formats
As Apple continues to push the hardware envelope, Skylum matches them.
Apple M1 Support — Luminar AI now runs on Apple's next generation M1 machines. With the native M1 support in Update 3, macOS users can take full advantage of the faster processing of Apple's M1 chips.

HEIC Support — Update 3 also adds support for HEIC image format, so Windows users can now open and edit photos taken on iPhones and other iOS devices.
Great tools made more useful
Little things can make all the difference when building better workflows.
Augmented SkyAI — Now, sky objects you add to the custom folder are instantly available for preview. Speaking of previews, you can now select any sky object in the visual browser to instantly preview it in your scene. To help you explore this new feature, we've provided three Augmented Sky Objects — free of charge — in the marketplace.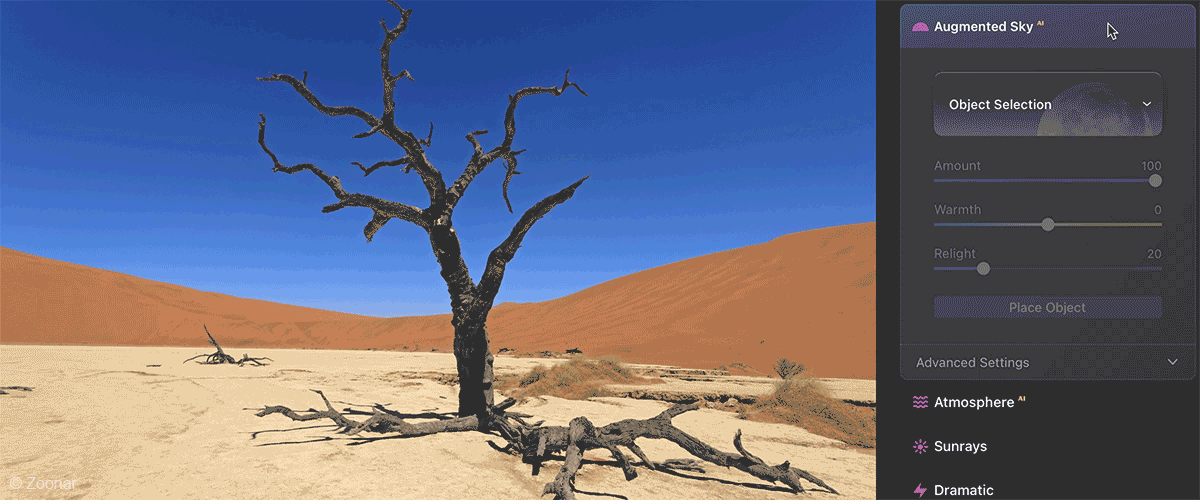 Dodge & Burn Tool — Easily paint highlights and shadows into your photo to enhance the mood. With the new Softness slider, subtly refine the edges of the area for a more natural effect.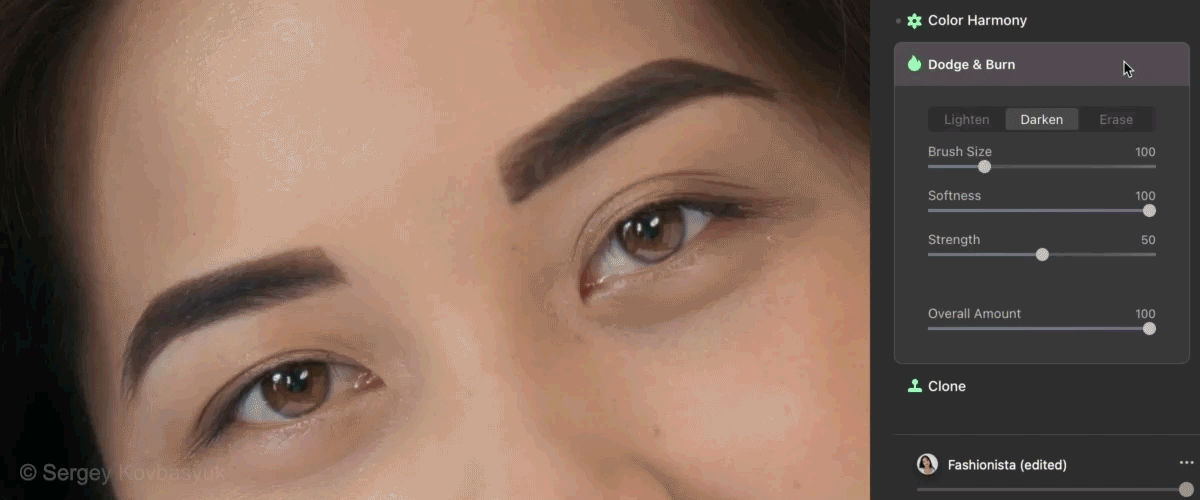 Erase Tool & Clone Tool — Both tools offer non-destructive editing to easily remove unwanted objects or blemishes. Thanks to the Undo and Redo commands there is no need to start over if you make a mistake or change your mind. Just undo the brushstroke and make fine detail adjustments

Convenient Template Browsing — Enjoy your collection of purchased Templates in a new way. Templates in the Purchased tab are now neatly organized in a grid so you can more easily find and use your Purchased Templates. Use the Get More Templates button to find and purchase new Templates directly from LuminarAI.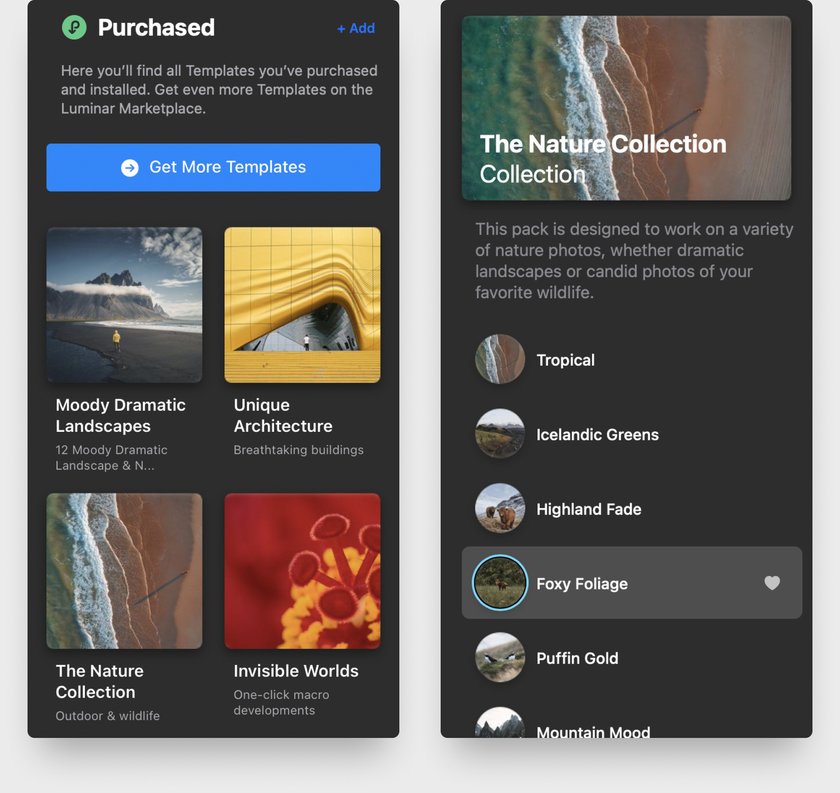 Faster Launch — With improvements to our core engine, LuminarAI now launches faster than ever, so you'll always have it at your fingertips!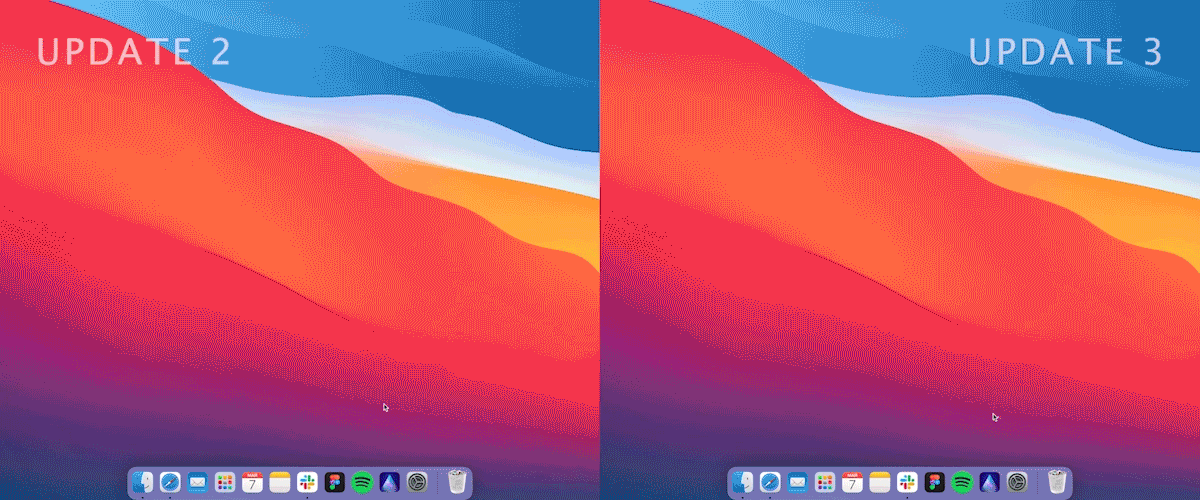 Bug Fixes and Minor Enhancements
All Platforms
Removed unwanted ghost effects when using Sun Rays or adjustments in the Optics and CompositionAI tools.

Retain vertical perspective changes when exiting CompositionAI.

Eliminated issues with opening Asus Zenfone 5 JPG files.
Windows
Now use Templates from both the Favorites and Edit tools when using LuminarAI as a Photoshop or Lightroom plugin.

Retain EXIF metadata when using LuminarAI as a Lightroom plugin.

Rotate your image and use the white balance dropper in the Light tool.

Enjoy greater stability when using AtmosphereAI.
macOS
Avoid excessive memory use when moving a Texture on an image

Eliminated errors when launching Photos app.

Restored all Export fields when running LuminarAI on High Sierra.

Launch LuminarAI up to three times faster on macOS Mojave

Use LuminarAI as a plugin for the native version of Photoshop on Apple M1 Macs
Enjoy creating amazing photos in the new Update 3. Stay tuned for more news!
Availability
LuminarAI Update 3 is a free update for current LuminarAI users. To update:
macOS: Open LuminarAI. In the Top Menu Bar, choose LuminarAI > Check for updates. If you purchased via the Mac App Store, open the App Store and go to the Updates tab.
Windows: Open LuminarAI. In the Top Menu Bar, choose LuminarAI > Help > Check for Updates.
If you are running LuminarAI as a plugin with Photoshop or Lightroom Classic, it's also recommended you rerun the plugin installer.
The LuminarAI user manual has also been expanded to make it easier than ever for users to search and find answers to questions they might have about LuminarAI.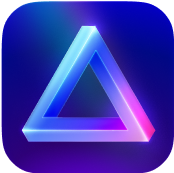 Advanced yet easy-to-use photo editor
view plans