We've created a list of the best drones under $500. It includes a brief summary of each drone's specifications, camera (if any), and features. Good luck!
It's never easy to find a good quadcopter that perfectly suits all your needs, and it gets even more challenging when your budget is limited to $500. You may be surprised, but there are a great deal of awesome and affordable drones on the market that can beat even some higher-end ones. We've created a list of the best drones under $500. It includes a brief summary of each drone's specifications, camera (if any), and features. Good luck!
​1. Wingsland S6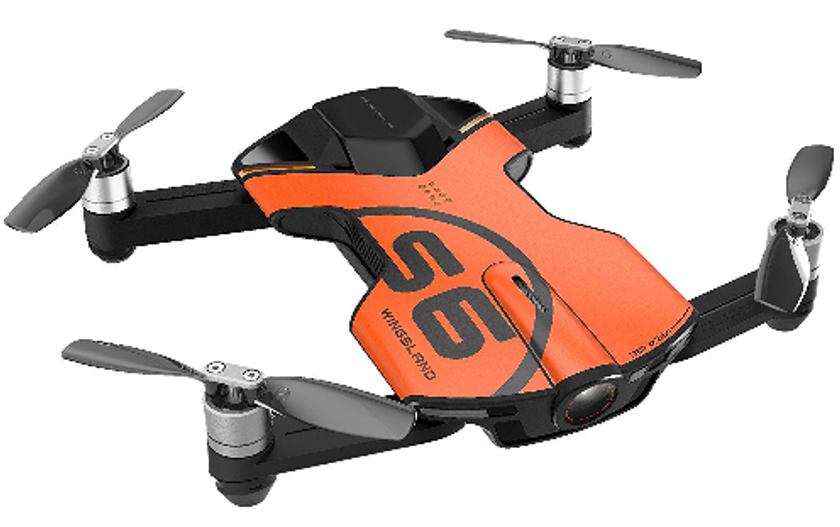 The Wingsland S5 is a nicely designed drone created for rookie pilots who want to try their hand at first-person view (FPV) flight with a serious drone rather than a toy. GPS-Assisted Hover makes flying the Wingsland M5 easy for first-timers, while the Optical Flow Sensor allows for remarkably stable and precise flight and altitude hold.
Specs
There are two ways to control the S6. If you use your tablet or smartphone, the range is far below average at only 328 feet. But luckily, the Wingsland M5 comes with a 2.4 GHz controller that allows for a good 1,640 feet of range. The flight time is pretty average: up to 17 minutes with a 1500mAh battery. While this drone is recommended for beginners, it can hit a maximum speed of 26 mph, which is not recommended for inexperienced pilots. It comes with a built-in camera capable of filming 720p video at 25fps. The camera lens has a narrow 63-degree field of view. Although the M5's image quality isn't among its strong points, it's decent enough to ensure moderate image quality even for live video, which is transmitted to the built-in FPV monitor on the controller.
Features
Apart from the Optical Flow Sensor and Altitude Hold, this quadcopter has GPS, Follow Me Mode, and Return to Home. It's a pretty standard set of features. The Wingsland S6 doesn't even have a single autonomous flight mode, which is pretty upsetting considering its current price.
The S6 is a good drone for beginners to train their flying and filming skills, but you shouldn't expect too much of it. It has a short range, not the best image quality, and a pretty basic set of functions. You can find a more capable drone at this price point.
2. Rabing RC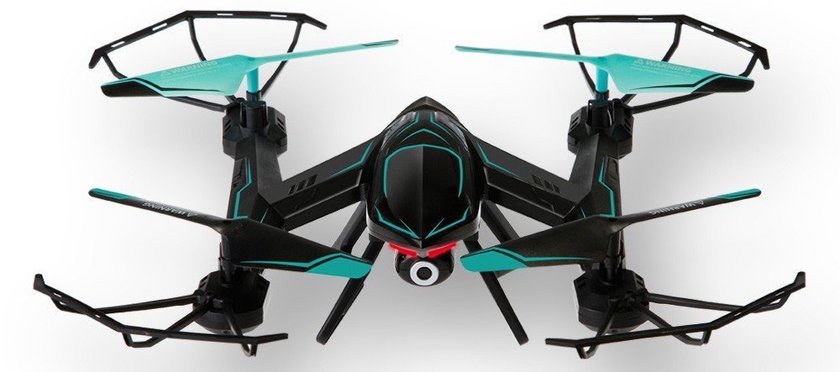 The Rabing RC is one of the best affordable drones for outdoor sports such as skateboarding, cycling, and skiing. This drone isn't suitable for someone who doesn't have any experience flying, but it's considered beginner-friendly. It's responsive and manoeuvrable.
Specs
The maximum speed of the Rabing RC is 26 mph and the maximum flight time is 20 minutes thanks to a 2000mAh LiPo battery. The drone comes with a remote controller with a range of 1,968 feet. If you choose to use your own smart device to control the drone through the app via Wi-Fi, the connection is limited to only 984 feet in good weather conditions. The Rabing RC comes with an amazing 1/2.3″ Sony CMOS fish-eye camera with a 169-degree field of view, so you can record smooth 1080p video at 60fps and shoot beautiful 16MP stills. It can also send live video directly to the operator's smart device. Thanks to a built-in three-axis stabilization system, you get a crystal clear, smooth, and stable image, which is important if you use the drone for shooting active sports.
Features
This quadcopter comes with so many advanced features that enhance your aerial shooting experience. For example, Visual Tracking enables the Rabing RC to track an object, freeing your hands and allowing you more freedom in filming. There's also a Dual-Positioning GPS System that can be used both indoors and outdoors, plus other awesome features such as One-Key Automatic Return, Altitude Hold, and One-Key Takeoff and Landing.
Flying with the Rabing RC is easy and fun! You'll love it.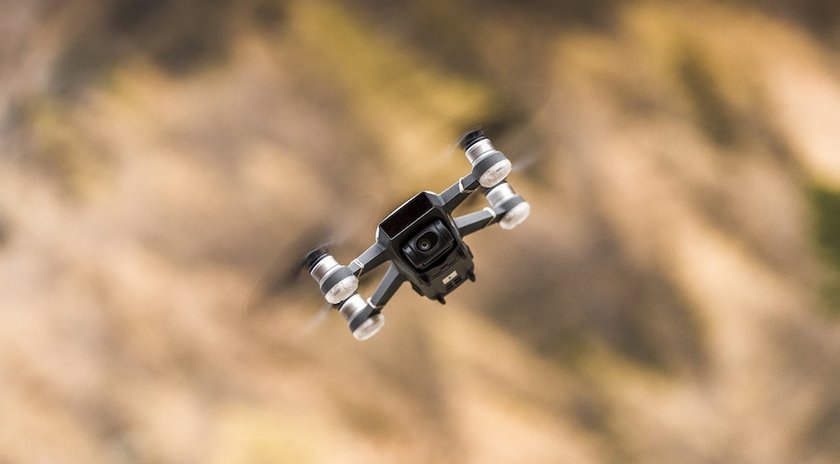 The DJI Mavic Mini is one of the most popular quadcopters currently on the market. Its compact and lightweight design makes it super easy to carry around in a backpack so you can capture beautiful moments whenever you feel inspired. Besides, it's super easy to manoeuver, and its outstanding performance makes the Spark great not only for enthusiasts but for experts as well.
Specs
The Mavic Mini has a maximum range of 1.2 miles and a maximum flight time of 16 minutes, which is quite impressive for such a tiny model. It enables you to capture stunning aerial footage that will take everyone's breath away. The Mavic Mini is equipped with a two-axis stabilized camera that records steady 1080p video at 30fps and captures 12MP photos and can broadcast high-quality live video.
Features
The Mavic Mini has quite a number of shooting modes, including Pano and Shallow Focus. DJI packed the Mavic Mini with Flight Autonomy Obstacle Detection, Gesture and TapFly Control, GPS Tracking, Auto-Return, and a bunch of other incredible features that will take your flying experience to new heights!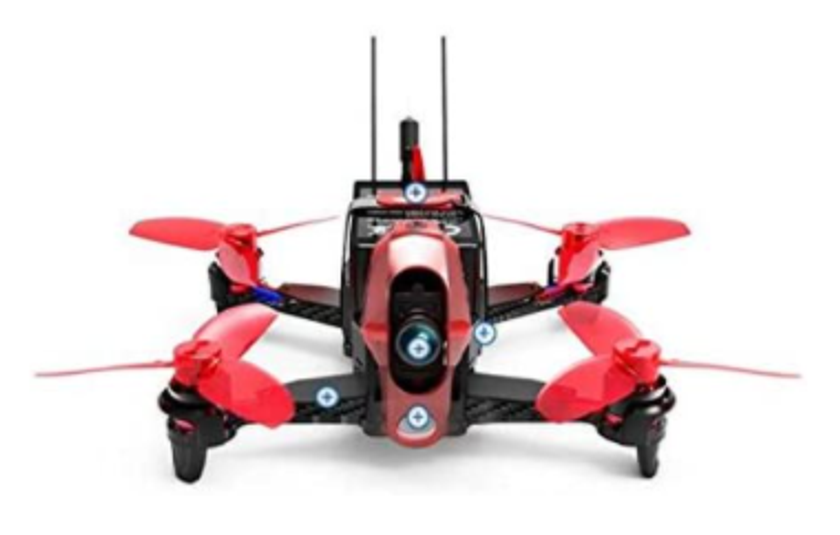 One of the most well-known companies in the drone market, Walkera, designed the Rodeo 110 BNF for beginners in FPV drone racing. This model is meant for anyone looking to get into the fascinating world of this new sport but who doesn't have the skills or knowledge to build a custom-made quadcopter from scratch. If you've never flown a drone, this model might not be suitable for you, as it's aimed at those who have some experience with flying and want to switch to racing.
Specs
The Rodeo 110 BNF has a pretty good range of 1,312 feet but a rather unimpressive flight time of only up to 9 minutes with a 1300mAh battery. This racer is equipped with its own camera, a Sony 700TVL. This is a rather standard camera for racing drones and is a great fit for pilots of all levels. The camera can transmit live video to an FPV screen or FPV goggles that, unfortunately, don't come in the box. Instead it packs the renowned DEVO 7 remote control with an incorporated 3.5" LCD FPV monitor, which is basically all you need as a beginner. When you're pretty sure about your racing skills, you'll want a professional set of FPV goggles to take drone racing to the next level.
Features
The Rodeo 110 BNF includes all the essentials to get into entry-level drone racing: KV2500 brushless motors, brushless ESC F210(CW/CCW), OSD, an F3 Flight Controller, and the DEVO 7 transmitter. With this model, beginners can focus on practicing their racing skills right away rather than wasting their time and money on building their own racer.
The Rodeo 110 BNF has all the characteristics you expect a good racer to have: it's super easy to control, incredibly agile and fast, highly manoeuvrable, and very responsive. Even though the flight time is below average, its amazing performance makes up for it. You can't find a better racing drone for amateurs.
This aerial beast is finally available for less than $500. It's a great choice for both beginners and professionals, as it's extremely easy to control even in strong winds. The Phantom 3 Standard is one of the best choices for capturing breathtaking aerial footage in high quality.
Specs
This quadcopter can fly as far as 3,280 feet and as high as 19,685 feet above sea level. It's equipped with a 4480mAh battery that allows for up to 25 minutes of flight time. If that's not enough for you, you can always carry a few extra batteries around. As for the camera, it's powerful and capable of recording 2.7K video footage and capturing 12MP still photos. In addition, the bundle includes a three-axis stabilized gimbal and a 94-degree field of view lens with f/2.8 aperture, producing smooth and detailed images even in bad conditions.
Features
The Phantom 3 Standard comes with a cool set of automatic features like built-in GPS and GLONASS that remembers the takeoff point, as well as live video and modes including Follow Me, Auto-Return, Waypoints, and Point of Interest. It comes with one charger, one battery, two sets of props, an 8GB microSD card, and of course a remote controller that supports both iOS and Android devices.
DJI's drones have proved to be the best on the market, so don't lose your chance to buy the Phantom 3 at such an attractive price and get professional-looking footage and numerous high-end features that will allow you to implement your flight plans no matter how complex they are.
6. 3DR Solo


This drone remains one of the best affordable drones on the market even though it's been out for a while. The 3DR Solo is ideal for experienced pilots who want to capture semi-professional video and photos from the air using a GoPro camera. Many GoPro lovers still opt for this model due to its flawless performance. It's equipped with an onboard 1 GHz computer with a Pixhawk flight controller, making the 3DR Solo super stable and easy to control.
Specs
The Solo has specifications that can rival even newly released drones. It can reach an impressive top speed of 55 mph and fly as far as 1.2 miles, or even 2.4 miles with an extension kit. When carrying a camera, the drone can fly for up to 20 minutes, and can fly for 25 minutes without one. This package doesn't include a camera or it would be too expensive for this list. All the same, the Solo is a great choice for anyone who already owns or is thinking of investing in a GoPro action camera.
Features
Although the 3DR Solo isn't packed with some of the newest technologies and features, it comes with a number of autonomous flight modes such as Selfie, Cable Cam, Orbit, and Follow, which are useful for shooting. The bundle includes a video game-style remote controller that allows you to fly with ease even if it's your first time flying a drone. With a single touch, you can take off, land, and even pause the drone in the middle of the flight.
If you love capturing stunning views with your action camera and are thinking about taking your passion to the skies, the 3DR Solo can be an amazing choice.
7. DJI Mavic 2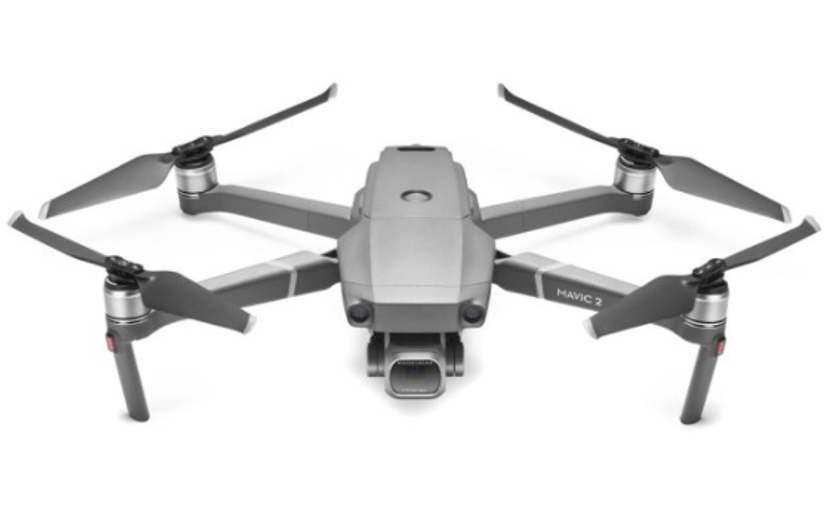 This is the second generation of the most popular drone on the market produced by the most popular brand, DJI. The Mavic 2 was a smash when it was first released. It's not that revolutionary now, but it's still considered a top-of-the-line drone. The Mavic 2 offers outstanding performance. It's designed for beginner and intermediate pilots, so anyone can control it with ease.
Specs
The Mavic 2's specifications are quite impressive given that it was released five years ago. The maximum range is 3,280 feet, and it has 25 minutes of flight time thanks to its 5200mAh battery. Unfortunately, the Mavic 2 doesn't include its own camera, as it was aimed at GoPro users. The good thing is that it comes with a Zenmuse H4-3D gimbal designed for a GoPro Hero 3 or 4. The gimbal stabilizes the image to ensure high-quality footage.
Features
Unlike recently released models, the Mavic 2 isn't a very autonomous quadcopter and doesn't boast a lot of features, but it has Auto Return-to-Home and Landing, IOC (Intelligent Orientation Control), and Advanced Power Management, which is pretty cool.
Even though the Mavic 2 isn't as groundbreaking today as it was in 2014, it's still a great drone and it does a really good job capturing professional photos and videos from a bird's-eye view.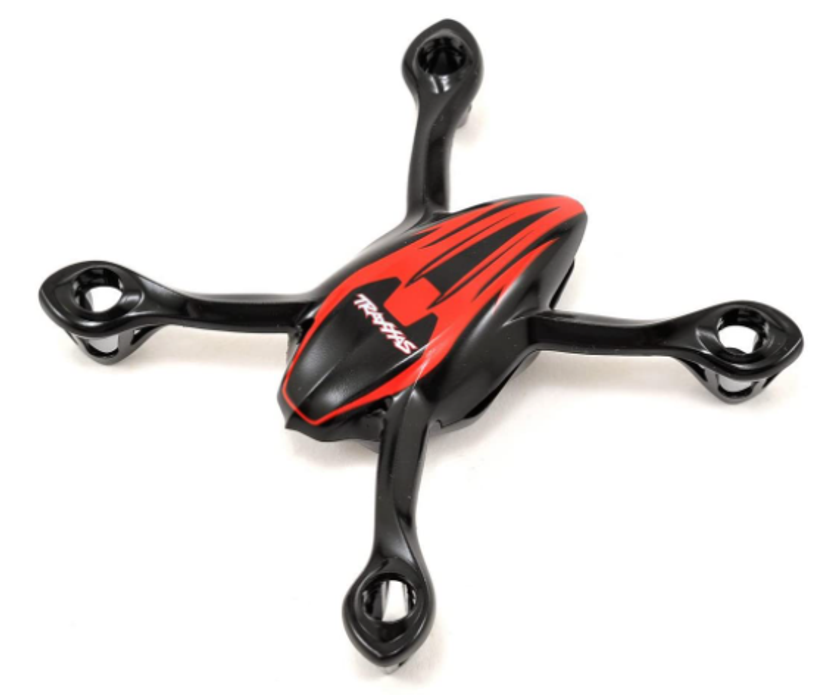 This is a very interesting model. You probably haven't heard about the Traxxas 6212 QR-1, but it's definitely worth considering when you're looking for a powerful drone suitable for intermediate and professional pilots. Even though it's easy to operate, this drone might not be the best choice for someone who hasn't had much experience flying.
Specs
The 6212 QR-1 is ideal for experienced drone users because it's fast, manoeuvrable, and agile; it can reach a maximum speed of 50 mph. It's also easy to control even in Sport Mode thanks to six-axis flight stability. One downside of this drone is its range, which is only 984 feet — quite short compared to other quadcopters on this list. On the other hand, it's powered with a 5000mAh battery, making it possible to enjoy a flight time of up to 20 minutes, which is impressive for such a budget quadcopter. The 6212 QR-1 doesn't come with its own camera, but includes a two-axis gimbal that's suitable for a third or fourth generation GoPro and other action cameras like those by Xiaomi. The gimbal is removable, so you can mount different gimbals depending on what camera you're using.
Features
The 6212 QR-1 has numerous features that make it incredibly versatile. First of all, it has three flight modes: Film Mode, Expert Mode, and Sport Mode. Film Mode is great for beginners and those who want to shoot fantastic aerial videos and photos. Sport Mode unlocks the drone's full potential, allowing you to fly at top speed and do impressive tricks like flips and rolls. And finally, the most skillful pilots will love Expert Mode, which unlocks the drone's full capability for exciting flights. All three modes come with the safety of air brakes: the drone stops and hovers in place until you plan your next move. Or press just one button and the drone will come back automatically. Features also include Dual-Mode GPS, a Status Bar, and Traxxas Flight Link, which allows you to customize flight settings, such as geofence radius, flight ceiling, and control rates.
The 6212 QR-1 is an underrated quadcopter; with such top-end features and specifications, it's bound to make your flying and shooting experience unforgettable.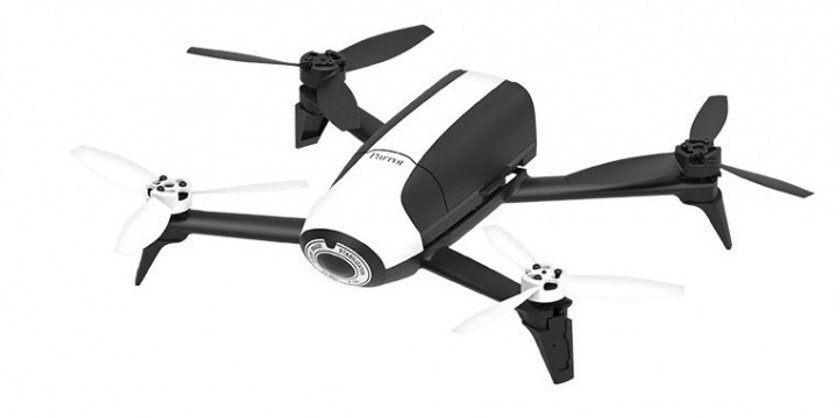 The Parrot Bebop 2 is a good fit for any skill level, from beginner to experienced. Its super lightweight, compact, and aerodynamic design allows you to carry it with you wherever you roam and capture your finest moments on the go. It also has a number of useful features that will make your flying experience hassle-free.
Specs
One of the coolest things about this drone is its range; the Bebop 2 can fly up to 1.2 miles. Powered with a high-capacity 2700mAh battery, this little quadcopter has an impressive flight time of up to 25 minutes. Though it's so teeny, you'll be impressed with how fast and agile it can be! It can reach 37.28 mph horizontally and 13.05 mph vertically without reducing the image quality. And it's not afraid of windy weather, resisting headwinds of up to 37.28 mph. As a flying camera, the Parrot Bebop 2 records videos in 1080p full HD. Even in poor lighting, pictures are incredibly detailed and sharp thanks to its wide-angle 14MP lens. Supported by a three-axis digital stabilization system, the camera produces smooth and stable videos even during complex maneuvers. The drone comes with a Parrot Skycontroller 2 that's compatible with a wide range of Android and iOS smartphones and the Parrot Cockpitglasses 2 that allow you to enjoy total immersion and explore the world together with the Bebop 2.
Features
The Bebop 2 has a great set of features that assist you during the flight. Follow Me will do all the work for you, allowing you to focus on the moment rather than the drone. With GPS turned on, you can leave your smartphone in your pocket and the Bebop 2 will follow and film you while you're enjoying your happy moments. Customize your videos to your liking and share them on social media with the Flight Director feature, and plan your flight in advance with Flight Plan. The drone will automatically execute your directions with absolute precision so you don't have to worry about a thing.
If you like exploring new places, the Parrot Bebop 2 is the perfect choice for you. It's so compact and lightweight you can take it anywhere to film your adventures in top quality and with ease.
10. Holy Stone Foldable GPS Drone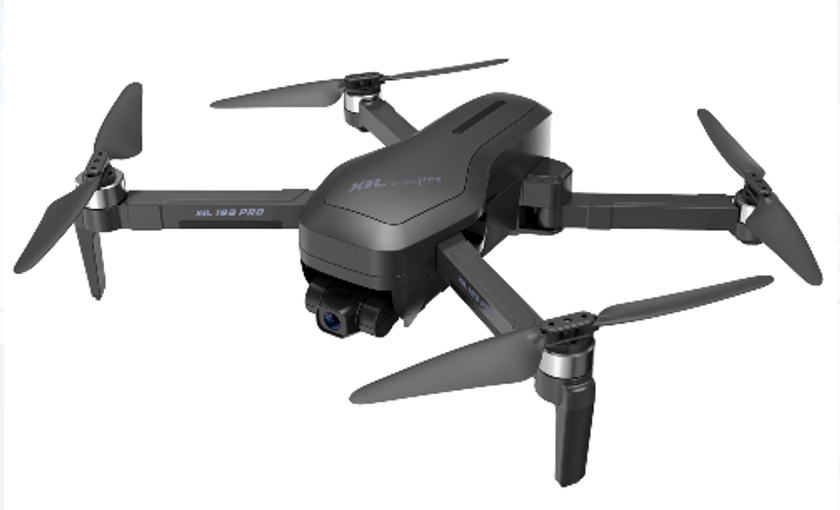 This drone is one of Holy Stone's most amazing products, aimed at drone enthusiasts of all levels on a budget. Its performance is impressive considering its affordability, and its specifications can compete even with more expensive flagships.
Specs
If you like long-distance drones, this one will be a great choice for you. With a maximum flight distance of 3,280 feet, you can easily lose sight of it. But no worries: the HS700 will automatically return home thanks to the auto-return feature. Supported by a 2800mAh battery, the HS700 can fly as long as 20 minutes, which is pretty exciting.
This drone comes with a nice camera of Holy Stone's own design, so you don't have to bother buying a GoPro or other action camera separately. The camera has a 120-degree wide-angle lens capable of shooting 12MP stills, recording 1080p video, and transmitting live video. The downside of this drone is probably its 90-degree gimbal, which lacks stabilization, resulting in slightly shaky video.
The bundle includes a 5G remote controller that you can connect to your Android or iOS device to see exactly what your drone is seeing through Holy Stone's free app to make sure you get a clear and high-quality picture.
Features
The Foldable GPS Drone is packed with a bunch of great features. The GPS system with Follow Me Mode enables the drone to follow the remote controller automatically. Another awesome feature is Custom Flight Path, which allows the drone to follow a path you draw in the app while transmitting live footage. Additionally, it includes some features specially designed for beginners, such as Headless Mode, One-Key Lift/Land, One-Key Locking/Unlocking, and an LED light.
All in all, the HS700 is packed with a really good set of features, making your experience with this drone enjoyable!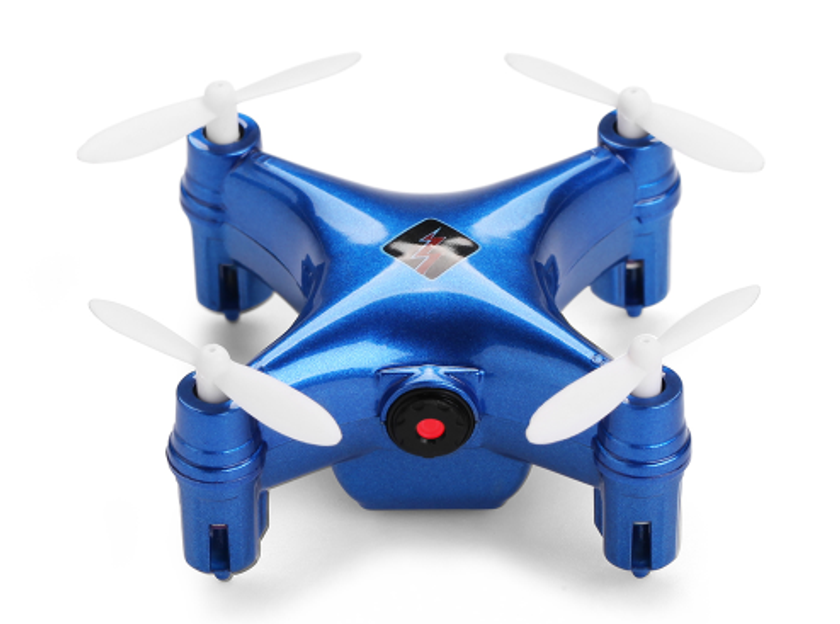 This model is the most interesting by WLToys. It was released quite a while ago but is still on the market because of its outstanding performance. The Q343A is one of the most popular alternatives to higher-end camera drones and is beloved by many pilots for its large size and powerful brushless motors that enable it to carry a variety of action cameras such as a GoPro.
Specs
What really makes the Q343A stand out is its above average flight time. Powered by a 5400mAh LiPo battery, this quadcopter is capable of flying for up to 30 minutes! That's truly impressive for such an affordable and not newly released drone. The range of 3,280 feet is another advantage. So far it seems to be the perfect drone; but unfortunately, the Q343A doesn't include a camera, so you'll have to buy a GoPro or other action camera or use one you already have. Luckily, it comes with a gimbal mount that fits a GoPro.
Features
To assist the pilot and enhance the flight experience, the Q343A offers a decent set of features such as One-Key Takeoff and Landing, an Air Pressure Height Sensor and Failsafe Auto-Return, Headless Mode, and GPS. It's a pretty good set of features, but nothing fancy.
The Q343A is an incredibly capable drone with high performance and outstanding specs. Just look at its flight time! No other drone on this list can fly for 30 minutes on a single charge. The only downside is the lack of a bundled camera, but for someone who prefers using their own action camera, it's not much of a problem.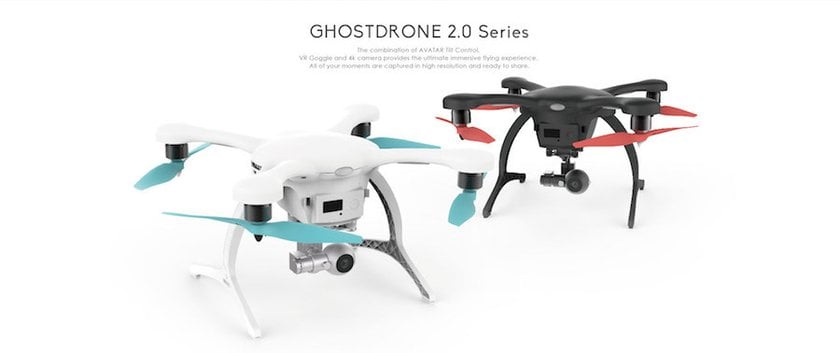 The Ghostdrone 2.0 is one of the best affordable alternatives to the Phantom drones. You probably haven't heard of it because it hasn't hit the main stores; however, it offers an outstanding and immersive flying experience. One particularity about this model is that it doesn't use an RC transmitter. Instead, it uses the operator's Android or iOS smart device by connecting via Wi-Fi through the free EHANG PLAY app. This isn't very common among camera drones, but in this case the choice is completely justified because by removing the transmitter, Ehang was able to keep the drone as affordable as possible without sacrificing a camera.
Specs
The Ghostdrone 2.0 has pretty standard specifications, however its flight time is worth mentioning. It can fly up to 25 minutes on a single charge and has a range of about 1.5 miles. The Ghostdrone 2.0 features a spherical Ehang Sports camera capable of shooting 4K video and capturing 12MP still pictures. The camera is supported by a three-axis gimbal, meaning it can be rotated a number of ways without affecting the image quality. The gimbal also works with GoPro's Hero 3 and Hero 4 models, which makes the Ghostdrone 2.0 a versatile and customizable camera drone. The bundled camera has an aperture of f/2.8 and a 93-degree wide-angle lens and can transmit live video to your device or even FPV goggles.
Features
This quadcopter comes with an extensive set of features, some of which are featured on more professional drones. These include Companion Mode, Flight Planning Mode, Waypoint Mode, and Avatar Mode, all of which can be found in the drone's app. Additionally, it features Low-Battery Auto-return and GPS.
The Ghostdrone 2.0 is ideal for beginner pilots who want to capture cool aerial photography and videography without investing a fortune in a drone with a camera. This quadcopter seems like a good bargain given that it comes with its own camera capable of shooting high-quality footage and even supports other action cameras. Besides, it uses your existing smart device as a controller, which means there's less equipment to carry around and worry about.
13. Bolt Drone FPV Racing Drone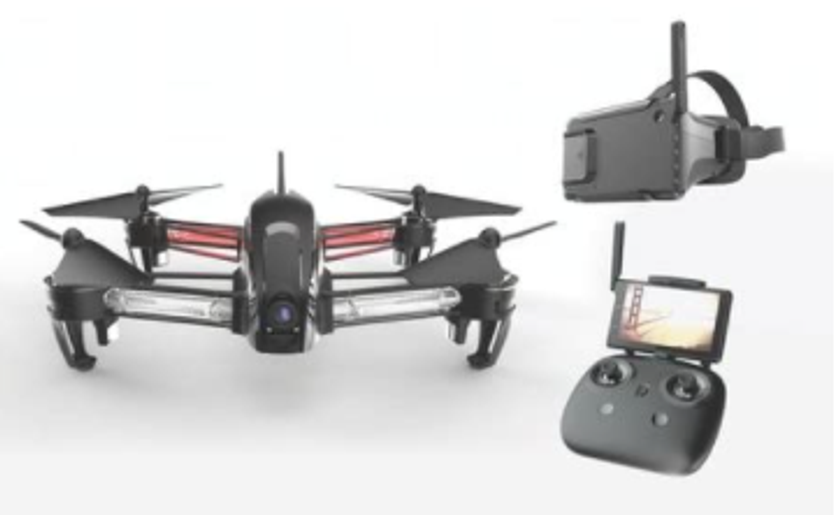 The Bolt Drone is a fully assembled, tuned, and tested racer that's ready to get on the track. If you're a racing beginner and don't have the knowledge to build your own FPV racing drone, this model is for you. It comes with everything you need to dive into drone racing. It flies extremely fast and is responsive to commands, so you should understand that as a racing drone, the Bolt Drone is not suitable for those who have no experience flying.
Specs
This model can be customized according to your racing needs, so its specs are highly dependant on what camera and battery you use and the flight conditions. This package includes a 4S 1500mah LiPo battery, offering up to 15 minutes of flight time. The Bolt Drone has a decent range of around 2,952 to 4,921 feet. It's highly responsive thanks to the Flycolor Raptor S-Tower BHeli-S 2-4S 4-in-1 30A ESC + F3 + PDB + OSD, which is much better than a separate ESC and a flight controller because it makes the drone lighter and easier to maintain. It also comes with S2205 2300KV brushless motors. And finally, the camera. This drone is bundled with an amazing Sony 700TVL 3.6mm camera that can record and transmit live video to an FPV monitor or FPV goggles.
Features
The Bolt Drone comes with a CC3D flight controller, one of the most common for standard racers. It also packs a RadioLink AT9S transmitter with an R9DS receiver and a Foxeer 5.8 Ghz antenna.
Unfortunately, this pack doesn't include a battery charger, which is a bit frustrating, but you can always buy one separately or together with a pair of FPV goggles to complete your racer package. The Bolt Drone is a real racing monster. Be sure to pump up your racing skills with this powerful and swift drone!
14. Walkera F210 Professional Racer Quadcopter Drone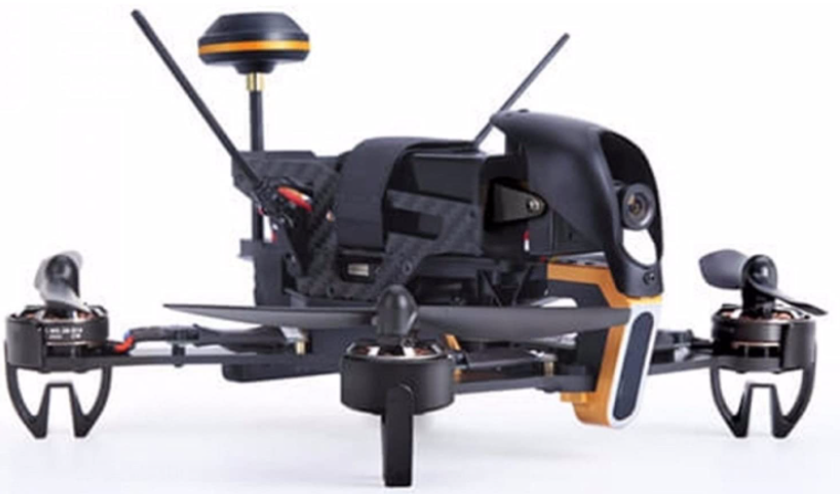 Walkera turned the drone industry upside down by introducing the F210, the world's first augmented reality drone. Now all you need to play an AR game is your F210 drone and open space. Naturally, it's a very capable quadcopter able to perform just as you expect it to during a game or regular filming. It hovers stably and instantly responds to controls. The AiBao is perfect for both amateur and experienced pilots.
Specs
The F210's specifications are impressive. Powered by a 5200mAh battery, it boasts a flight time of around 18 minutes, which even some higher-end drones can be jealous of. The range is a surprising 1.25 miles, something you don't quite expect from a drone under $500, but it's truly impressive. The F210 features a built-in camera capable of recording nice aerial footage in 4K at 25fps and taking 16MP photos with a 100-degree field of view. The camera uses a Sony sensor, so you can be sure you'll get the perfect image. Live video is transmitted to the pilot's smart device, which can be connected to the included remote controller.
Features
The highlight of the F210 is definitely the augmented reality games. All you need to do to immerse yourself into an AR game is to put on Google Glass and have the AiBao GO APP installed on your device. You can choose among three games: Racing (experience a virtual race in the real world), Combat (use virtual weapons to fight enemy aircraft), and Collection (collect virtual coins in the real world and gain points).
The F210 is certainly something that the drone industry hasn't seen before. While it's considered a gaming drone, it's capable of recording stunningly smooth videos and taking amazing photos in high quality just as good as many higher-end drones. So the AR games feature is more like a nice and previously unknown addition to all its other nice features, making the F210 an amazing quadcopter for beginners to practice flying and filming aerial footage as well as for experts who'd like to try out AR games with a drone.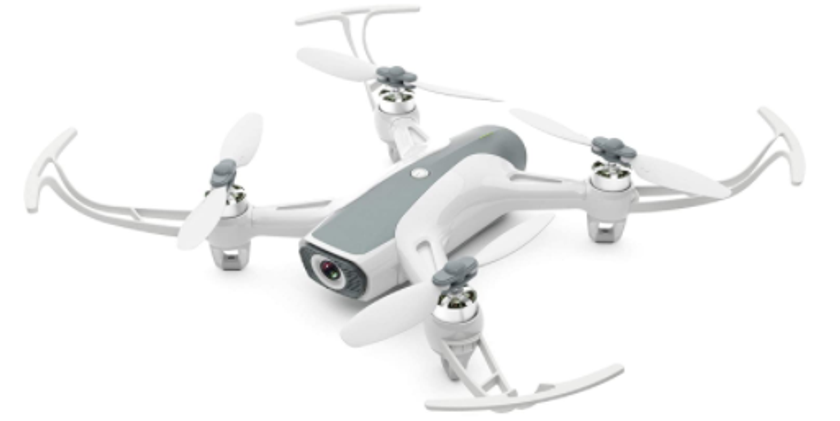 When the Cheerwing W1PRO was released, it brought about a revolution in drone design, winning such top awards as the Red Dot Design Award in 2016 and the Red Dot: Best of the Best award. Its design was innovative and distinctive, combining power and beauty with advanced technology and industrial aesthetics. Even though it's not a recent drone and it lacks some high-end technology, it remains a top drone to this day. Thanks to stable hovering and powerful motors, this quadcopter can fly even in windy conditions. The Cheerwing W1PRO ensures high performance and easy navigation, making it a perfect fit even for inexperienced pilots who want to capture aerial footage without having to buy a professional and expensive drone.
Specs
The Cheerwing W1PRO is a surprisingly fast drone that can reach a maximum speed of 34 mph. In addition, it has a long flight time of 25 minutes per charge, powered by a 5200mAh LiPo battery. Its range is also impressive at 1,640 feet. Although the Cheerwing W1PRO is one of the most affordable and powerful drones for capturing photos and videos from the air, it comes with an amazing 14MP full HD 1080p camera supported by a three-axis stabilized gimbal that allows you to record high-quality images at various angles without any vibration.
Features
As a camera drone, the Cheerwing W1PRO features a bunch of functions for photo and video enhancement. These include Altitude Hold, Flight Planning, Position Hold, Autonomous Flight, Return to Home, Automatic Landing, Follow Me Mode, Smart Follow, and GPS compatibility. All these features make it easy to fly. Beginners will find those features especially useful, as they let them focus on the image rather than dozens of controls.
Apart from the awesome appearance and ergonomic design, the Cheerwing W1PRO has a lot to offer to pilots of all levels. As a decent camera drone, the Xplorer V allows you to capture wonderful aerial views in high quality even if you don't have much experience with drones. This model is a great value for the money and will meet or exceed all your expectations.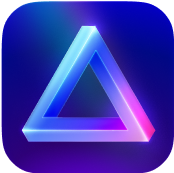 Advanced yet easy-to-use photo editor
view plans