Don't settle for a quick "selfie" when creating a self-portrait. Check out our quick tips for a professional approach.
cta-block
Don't settle for a quick selfie when creating a self shot. Check out our quick tips for a professional approach.

Part of establishing a name for yourself as a photographer is showing people who you are. An audience that connects with an artist is more appreciative of his or her work. Since we human beings are visually oriented, a shot of yourself is one of the most important ways you can make yourself visible to others. This article provides some self portrait ideas and tips for creating an image of yourself that captures the interest of your potential clients.
Luminar can help you bring out the best version of yourself with tools that easily remove skin imperfections, image enhancing sliders, and stunning creative Looks. It's easy to make your photos perfect when you edit them in Luminar Neo, so why not give it a try for free?
What is a Self Portrait?
The simple definition of a self portrait is a picture of oneself. Selfies can also be described as such; however, there's a clear difference between the two. Self portraits are carefully composed, well-thought-out, and meant to create a lasting impression of yourself. Selfies are usually taken quickly with a smartphone camera and deleted if unsatisfactory.
Their main purpose is to be posted on social media to demonstrate that we're indeed there and to attract the attention of those we think are watching. It may be good to shoot a quick selfie when you're out of profile picture ideas, but if you want to build a serious photography portfolio, you might want to consider the tips in this article.
Famous Self Portraits
The first documented self portrait was taken by Robert Cornelius in 1839. Cornelius was an amateur chemist, and he took his photo by removing the lens cap and running back to where he was sitting, posing for a whole minute.
Famous surrealist artist Man Ray has explored many art mediums, including photography. In his famous self portrait with a camera, he's seen adjusting the lens to emphasize his beloved craft.
In the 1920s, French photographer Claude Cahun experimented heavily with creative photography. Her famous self portrait series includes shots of herself disguised as a vampire, angel, and skinhead, among other things
Vivian Maier

became one of the most famous American photographers after her death in 2009 when her collection of street shots was found. More than 150,000 photos document the daily life of Chicago. There are also Maier's self portraits in windows and mirrors (which are always great profile picture ideas!), showing how she wished to be portrayed rather than how she appeared in daily life.
Even though Andy Warhol is primarily known as a graphic artist, photography was part of his creative process. Polaroids were his primary instrument when he took his famous self portraits due to their speed and ease. Warhol shot a large number of self-portraits with wigs and miscellaneous items (including a skull), creating an exciting and intriguing persona.
Self Portrait Tips
If you've been shooting portraits for a while, chances are you don't need advice on shooting your own. On the other hand, there may be some things you haven't considered before the lens turns toward yourself. On that note, bear with us while we go through a few tips for a self portrait session.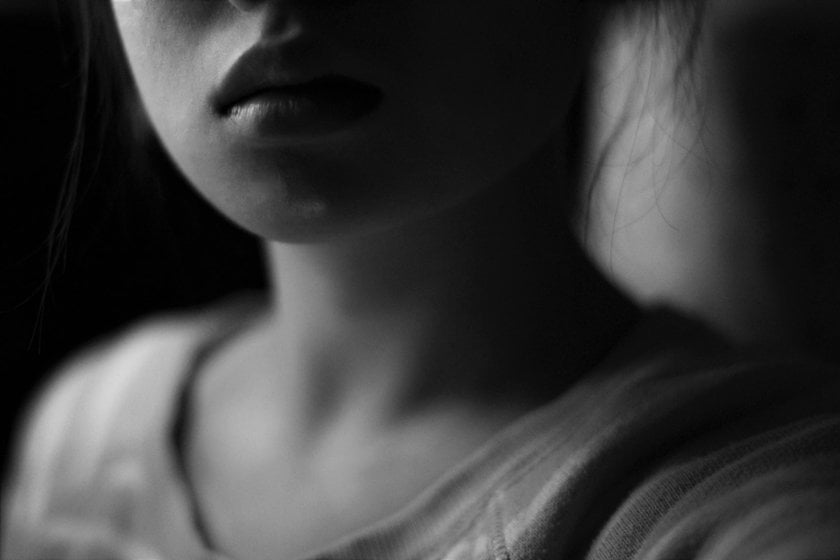 Photo by Septumia Jacobs

Technical Insights
When you're shooting someone else, it's easy enough to judge the pose and framing of the shot. In this situation, it's not quite so simple. Use your camera's video output and a cable to connect to your computer or TV. Projecting a decent-sized view will help you get the shot you're looking for. Another tip is to invest in a wireless remote. They're inexpensive, and the freedom of movement will make a big difference. When you're ready to shoot, set your lens to manual focus and use a target to establish the focal point. An autofocus delay is likely to cause you to miss the moment, and the lens movement will be a distraction.
Lessons on exposure, composition, depth of field and the like won't be part of this post. Nevertheless, you need to keep those and all the other photography fundamentals in mind while shooting a self-portrait. Would you hire a painter whose samples had runs and roller marks? This shot should be some of your best work.
Location and Props
Where you're seen is a big part of how you're seen. If nature is your genre of choice, shoot outdoors. The studio is a good choice if that's where you work most of the time. Get inspiration for your self portrait ideas from the world around you. Like working with exotic wildlife? The head-in-the-lion's-mouth shot is – well, maybe not the best idea. All jokes aside, let the location for your shoot give viewers a glimpse into your world. When choosing your location, think about what items you can use to portray a sense of you and what you do. Your self portrait photography can show so much about you as an artist. Your camera or studio equipment might be a cliché, but it's one idea. Use a little imagination and whatever helps build the image you're trying to project.
Modeling Poses
What pose should you take when shooting yourself? A pose is a great way to convey your mood and character. Here are some self portrait ideas: touch your chin pensively, put your hands behind your head, do a mysterious head-tilt, or cross your arms on your chest. There's a lot you can do! And with each pose, you'll feel like a slightly different version of yourself. Which one do you want to show the world? Check out our list of best female poses to get some inspiration if you feel stuck. When you transform from a model to a photographer for the first time, sometimes you don't know where to put your hands and you feel awkward because of it, so you can also consult some hand poses.
Creative Ideas
Alright, let's not spend more time on the technical stuff. You know how to get the job done. How about a little bit of right brain inspiration for your new profile picture ideas? Let's look at a few self portrait photography ideas that might stimulate your muse and help you come up with that unique shot that just screams, "This is me!"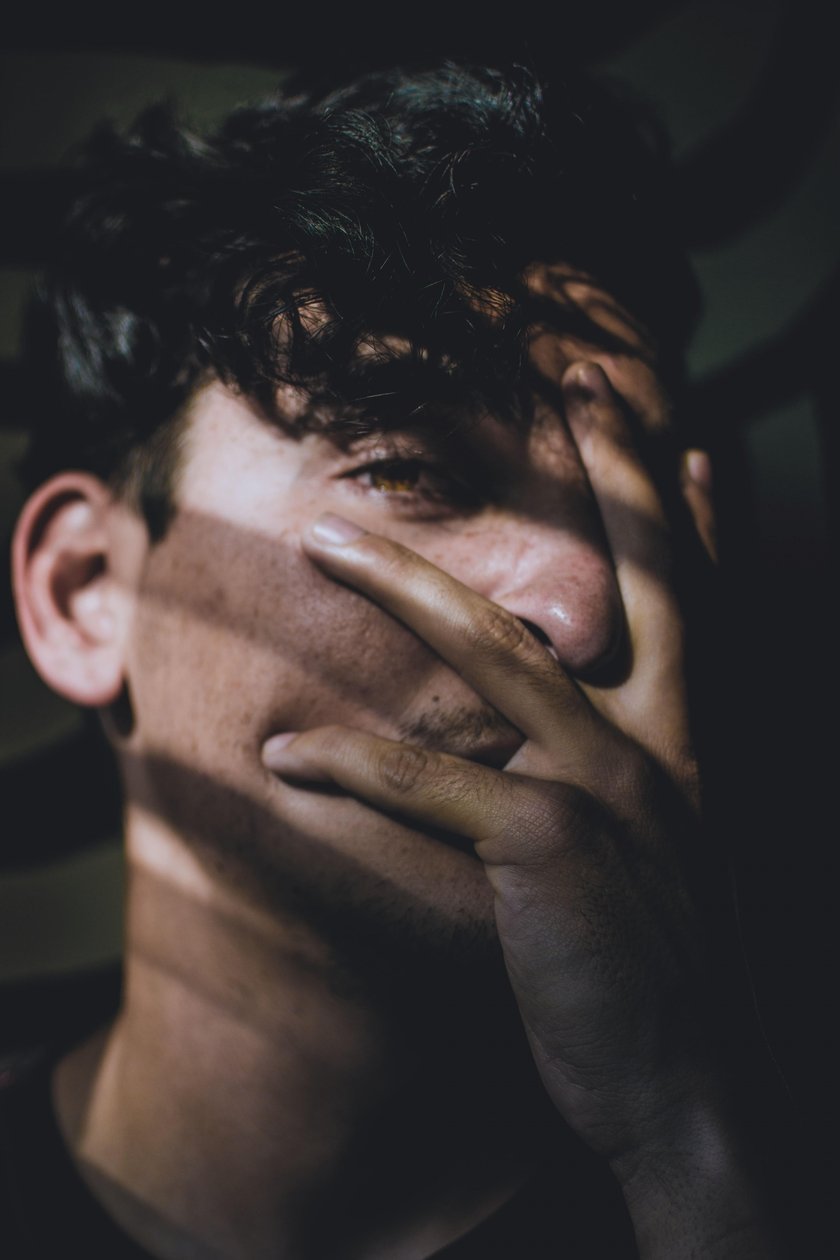 Photo by Richard Jaimes
Keep it raw: In this case, we're not talking about your file type but the overall look and feel of your self portrait photography. Skip the makeup. Forget about your "good side." Get up close and personal and let your character show.
Play with the abstract: This can be a good approach if your photography style is a little avant-garde. If you specialize in pushing artistic boundaries, let it show in your self portrait photography. Think about what profile picture ideas you can gather from your artistic friends.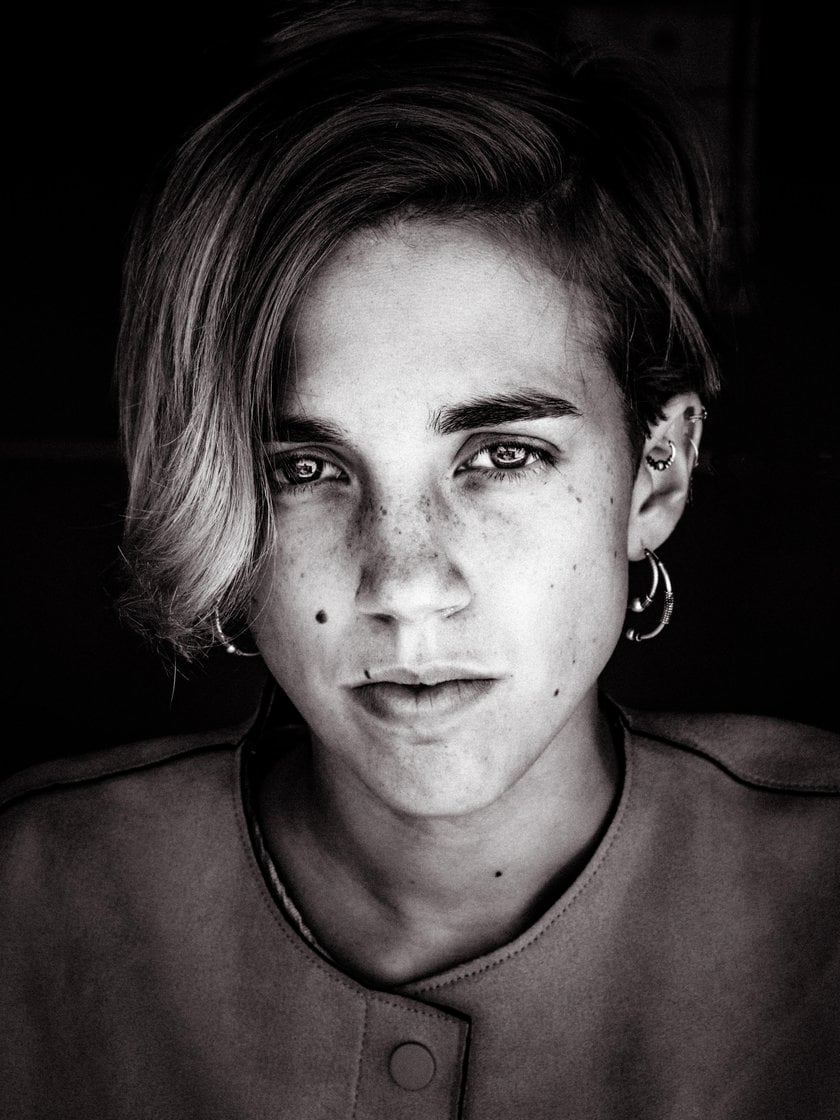 Photo by NOTAVANDAL
Black and white: Instead of using one color, you can stick to black and white self-portrait photography, which is always classy. Portraits are often done in black and white because it can really bring out a person's character. Want to know how to make a picture black and white? One way is to use one-click Looks in Luminar Neo.
Do the unexpected: You look for the unique and unusual in your photography. Show it in your portrait. You can use some props. If you decide to feature another object alongside yourself in your self portrait, make sure that it has some extra meaning that gets attention. Humor is one good way to accomplish that.
Do a bit of role playing: You know you want to. Go ahead. Take a few shots, then load them up in layers for a composite. You can even work in one of your street shots as a background!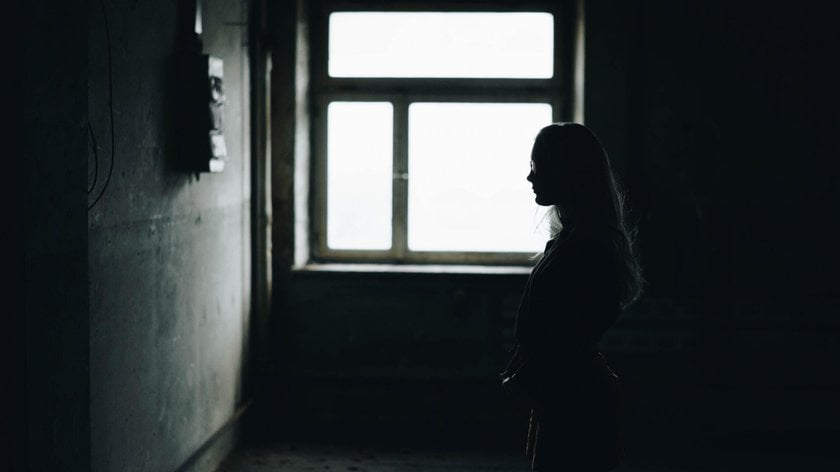 Silhouette: Only shoot your silhouette instead of showing your face. This will look highly sensual and mysterious, and can work to your advantage.

Play the selfie card: Yes, we went there — and you can too. If you're really creative with the idea, this can work well and even become a picture in your self portraits photography gallery. Just be sure it's not the same old arms out weird perspective thing.
Double exposure: A creative technique you can use to truly express your artistic self is double exposure. Self portrait ideas come flowing from this: take two pictures of yourself with different expressions, merge yourself with a spirit animal, create a unique collage. The results will be remarkable.
Rainbow shadow: Mundane objects can create fun outcomes. Use an old CD and direct the shiny part at yourself, keeping the CD itself out of the frame. This will leave a rainbow beam of light on your face, creating an extraordinary effect.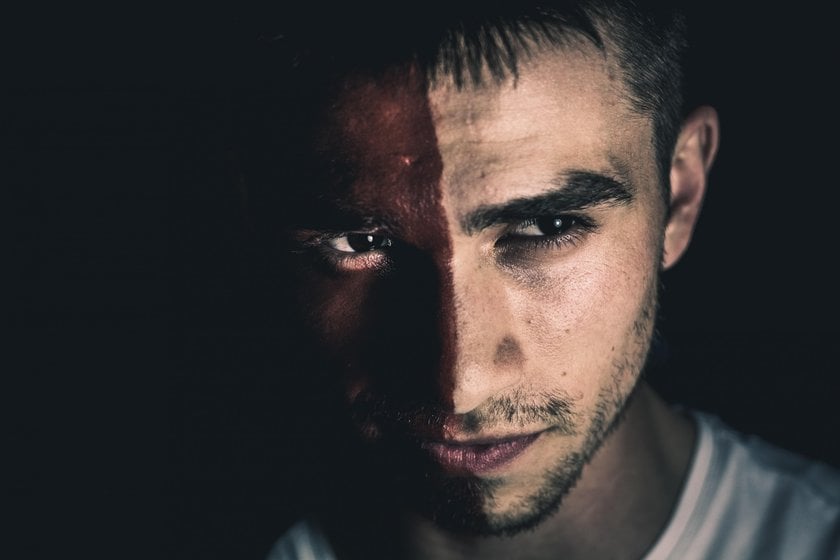 Photo by Julien Mériot
One color scheme: Get your self portrait ideas from a color that inspires you. What's the color that best represents you? Maybe you look good in blue. Then it would be great to find some blue clothes, have a blue flower in your hands, and place blue curtains behind your back. The different hues will create a beautiful effect, and the photo will truly demonstrate your personality.
Don't shoot yourself at all: You may have noticed that the opening paragraph of this article didn't mention "a photo of yourself." That's because you can always opt not to have your own picture out there in front of the public. We've placed this at the end of the list for good reason: It's risky if you really want to create trust and a connection. However, it's one of those self portrait ideas that can make you stand out from the crowd.
Stretch your imagination: The examples above are only food for the creative thought process. By now, we're sure you're working on ideas of your own that reflect who you truly are. Only you can decide what you want to show to the whole world in a self shot.
Mistakes to Avoid
The basic mistakes to avoid when shooting self portrait photography are poor lighting, lens distortion, and a poorly framed shot. These are the technical aspects that will make your viewers raise an eyebrow. However, it can also be part of your artistic vision. Some photographers only frame part of their face or just the forehead or a shoulder in their self shot, and that's okay too. As for creative ideas, there are hardly any mistakes when you're trying to express your personality. Experiment, try to convey your best self, play around — there's no perfect formula to create a photo to showcase your photographic vision.
Edit your Portrait in Luminar Neo
Even if the outcome is satisfying, photo retouching is essential. Luminar Neo can help you bring your self portrait photography to new heights. Let's explore the ways you can use Luminar Neo to do this.
Portrait Workspace
The handy portrait workspace puts all the features you need at the touch of your fingertips. The filters in this workspace include: Saturation/Vibrance, LUT Mapping, Soft Glow, High Key, Image Radiance, Vignette, Grain, Dodge & Burn, and RAW Develop. Just by reading the names, you can probably get a lot of ideas for your self portrait photography. With just one click, you gain access to all these filters and effects that are organized and ready for you.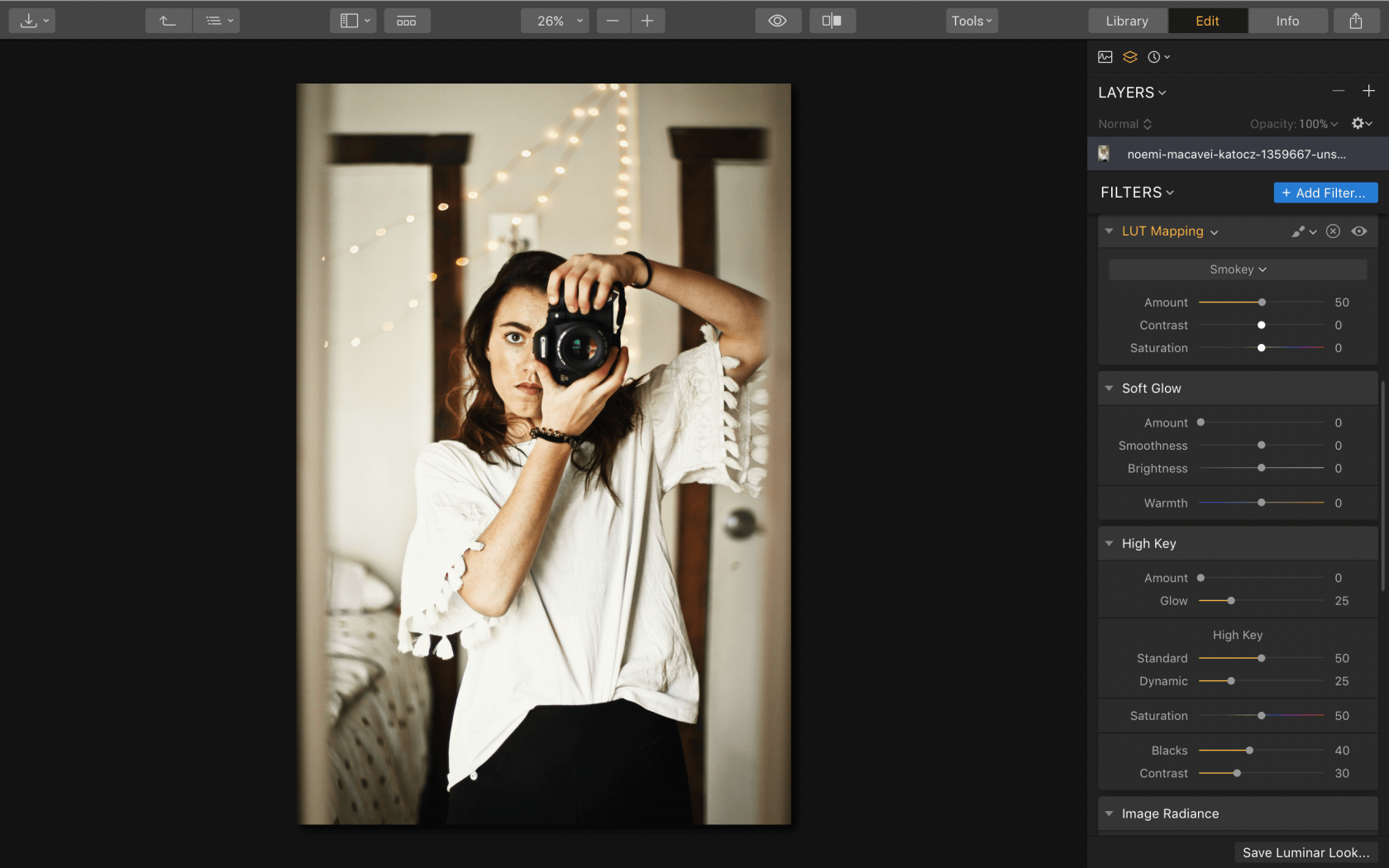 RAW Develop
We recommend shooting in RAW; this way your photo files hold a lot of information you can work with. The RAW Develop filter is a unique filter in Luminar that lets you work with RAW files quickly and easily. It's divided into three tabs: Adjust, Lens, and Transform. The Adjust tab has White Balance, Temperature, Tint, Exposure, Contrast, and other controls that help you bring out the perfect color and brightness in your photo. Use it to make sure your self portrait is bright and beautiful. The Lens tab deals with any distortion caused by your lens. Finally, the Transform tab is great to modify your image by rotating it, changing the aspect ratio, and so on.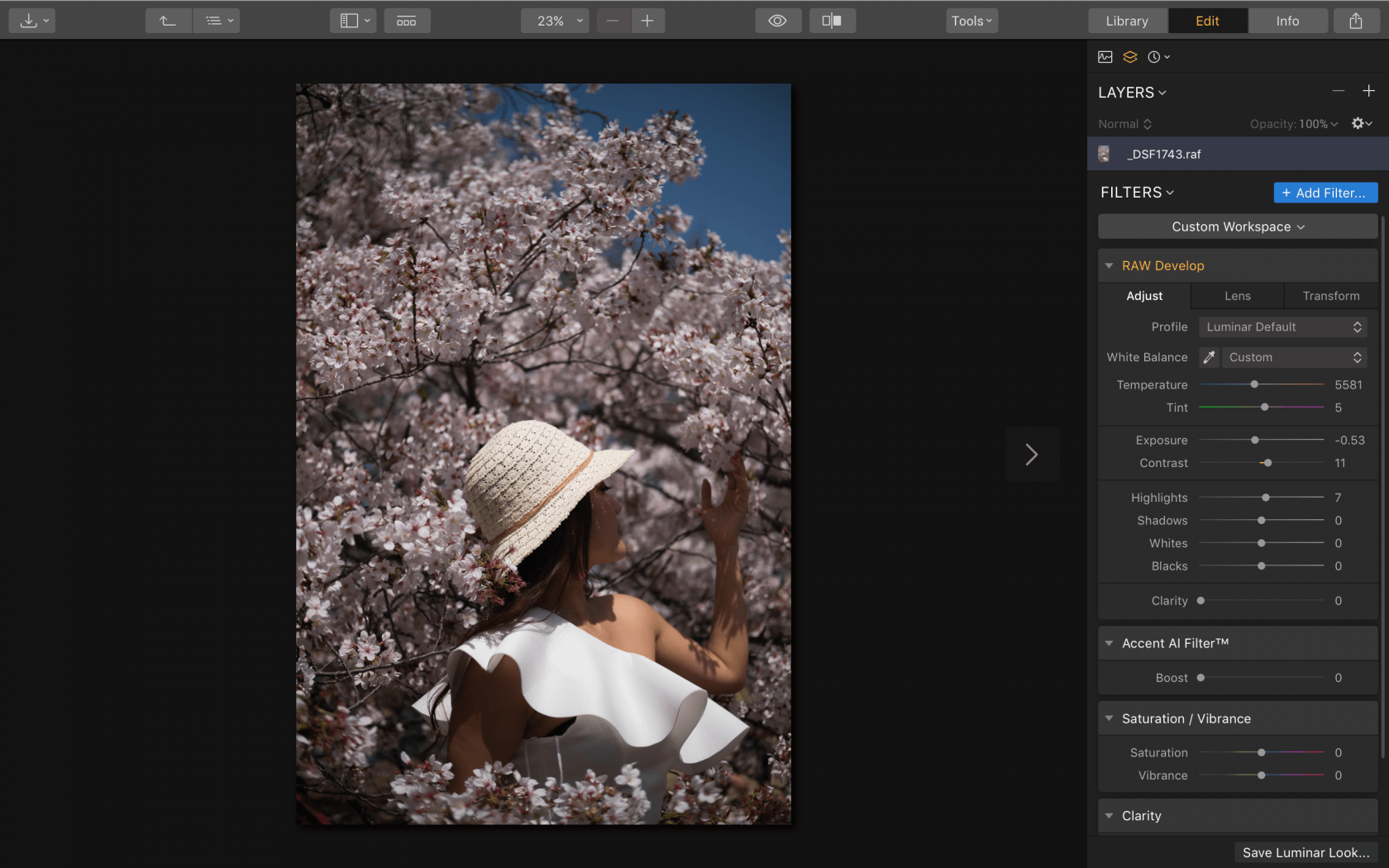 Photo by Evgeny Tchevotarev
Luminar Looks
Luminar Looks are amazing one-click effects that make your photos truly unique and powerful. After you're satisfied with all the technical characteristics of the photograph, simply choose a Look that adds that special effect to your self portrait photography. Whether it's sepia or black & white, a melancholy blue overtone or a faded effect, anyone can find something that truly reflects who they are.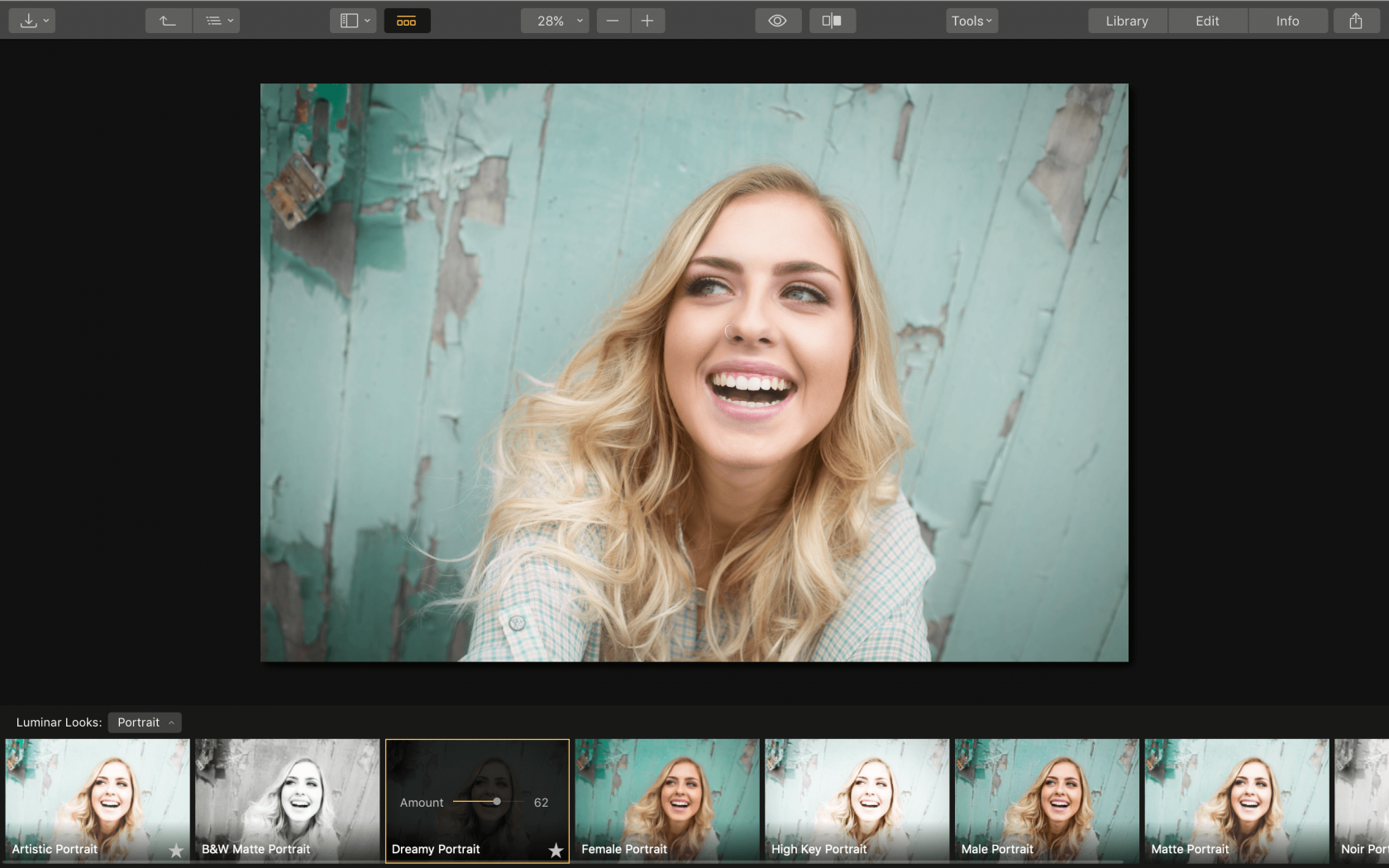 Photo by Caroline Madsen
By now you must be full of self-portrait photography ideas and tips on how to accomplish them. Luminar is a great tool that can enhance your self portrait photography simply and easily. If you're not ready to buy it, just click on the button below to start your trial - absolutely free.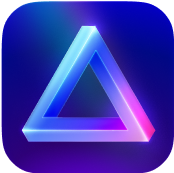 Advanced yet easy-to-use photo editor
view plans