This tutorial will teach you how to adjust color and saturation in your photos. Have fun!
Photoshop offers a fantastic approach to great photo color correction. Featuring very powerful tools like Curves, Levels, Auto Tone, and Color Balance, among several others, Photoshop does excellently well on photos that have contrast or color issues. Traditionally, it has more editing options compared to other apps, for example, Luminar image editor from Skylum; however, the last one is much more easier to work in.
Adobe Photoshop color correction technology, renowned for its high photo-color editing proficiency, shouldn't be news to anyone as the software has consistently proven its indispensability and worth.
Discover the Magic of Photoshop Color Correction!

This Photoshop color correction tutorial is aimed at showing you simple but very powerful hands-on approach to maximizing some of Photoshop's color-correction potentials to help you achieve virtually all kinds of color correcting results obtainable.

Like I said, achieving a perfect color correction in Photoshop isn't as difficult as you may have thought; it's actually a lot easier. You'd however need to have a good understanding of the "complementary color wheel".
Being able to easily spot or detect more pronounced color saturation in images would also help a great deal. For example, grossly applying a blue filter, on an entire image would give a neutral highlight with an extremely cool impression due to the excessively saturated blue color. So, you see, a good degree of color-balance is vital.
Essentially, you'd need to understand your photo's dominant and non-dominant colors as well as their color tone or tonal values.
Achieving a fantastic color correction in Photoshop can be more interesting than you have imagined!

Photo's Color and Tonal Values
Your photo's color and tonal values are parameters that can be easily detected by visual inspection, howbeit the appropriate method is consulting your Photoshop Histogram tool which is located in the Menu tab.
The Histogram tool serves as an easy go-to option for spotting specific regions within your photo that require color corrections.
Furthermore, it's important to mention that the 'Adjustment tab', under which Photoshop's 'single' and 'multiple' layer tools are located, plays a very key role in achieving excellent color corrections on the app.
Make Your Photo Look Fantastic with Luminar Neo
Use a variety of tools that make it easy to transform your photo. You can use color adjustment to add a special atmosphere to your photos or make specific colors more saturated. The functionality of Luminar Neo is very simple, so you can make your image look professional even if you are a beginner.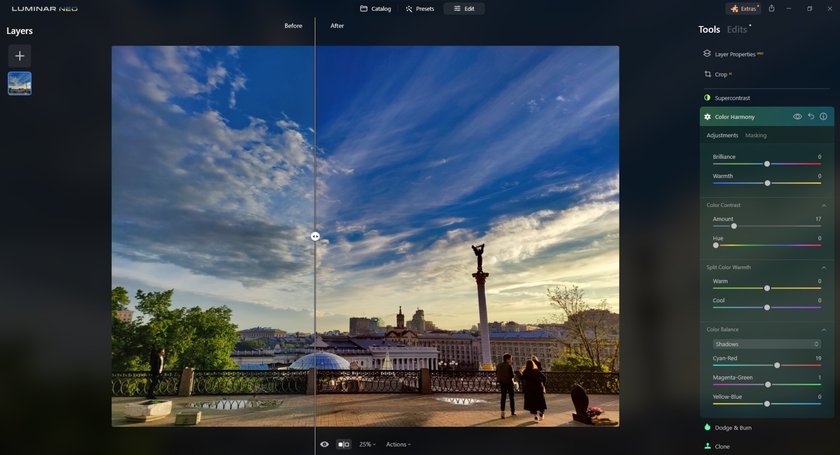 Now that you have learnt the basics of Photoshop color correction, let's proceed by delving into more specific ways on how to fix photos… starting with 'Levels' … we'll also be learning about 'Curves', 'Color Balance', 'Auto Tone' as well as plugins.
Specific Steps on How to Adjust Color in Photoshop
The Levels
Featuring three main sliders, Levels' options are similar to curves', with some differences. The three sliders include shadows on the left and mid-tones in the middle. The third is the highlights sliders which is located on the right.
Moving the sliders left-wards brighten your photo, moving it right-wards will darken it.
"Levels" instantly applies any of these slider-movement effects to your entire image. You may however choose to select a specific color-channel, the 'RGB'. The 'RGB' (Red, Green and Blue) colorspace can be accessed from the dropdown menu in the 'Levels' window. Shortcut key is 'Command + L' (Mac)
The RGB colorspace allows you to make more specific adjustments to your image's color tone; the Red, Green or Blue channels, by applying brightening or darkening effect on their values as desired.
The Curves
Indisputably Photoshop's best color correction tool, the 'Curves' intimidating and somewhat complex appearance often discourages users. The disinterest is further amplified by 'Levels' more appealing look that makes it feel more like a perfect alternative to 'Curves'.
The truth is, Curve is actually more efficient than Levels, so the more time you spend trying to understand and master how to use it for your color corrections, the better for you.
Photoshop's 'Curves' is powerful, flexible and easy-to-use once you get a hang of it. Having a striking semblance with Levels in terms of function, Curves distinguishing feature lies in fact that it offers more specialized control than Levels.
To make a point in Curve, all you need do is click any part of the line and drag in a specific direction; pulling towards your upper left corner brightens the image while pulling in the opposite direction would create a darkening effect. The center of the line equidistant from both extremes represents your mid-tones; extreme left corner, the shadows, and the top, highlights.
A practical example on how you can easily create a curve is as follows:
Locate the midpoint of the line, then make a point.
Make two more points, one on each side of the midpoint, with an average spacing of about a grid away from the midpoint.
Drag the lower point into the shadow region, and the upper one into 'highlights'.
Try peeping into your Photoshop presets if you find this Curve process complex. The 'Presets', located within the Curves window, offer a variety of 'curves settings' similar to the one we just discussed.
Color Balance
Although curves are more suited for most color correction needs, you may try playing around the Color Balance tool to have a feel of what you can achieve with it
Not as flexible as the Curves and Levels, Color Balance enables you to easily make simple or minor adjustments on your photos. Similarly to that, Colorstrokes from Skylum allows to make creative color photo editing for simple tasks.
Photos taken in low light often look reddish and unappealing…
Selecting the 'Highlights' radio button gives you access to the sliders. In the case of the red-looking photo, shifting the sliders towards cyan and blue while observing the corresponding effect could give you more color-balance and neutrality.
The Color Balance can also be used to create stunning color splash effects by emphasizing different colors in highlights, mid-tones and shadows.
Auto Tone
There are times when you let your Photoshop's 'auto-pilot' get the job done for you. While you may not want to rely solely on Photoshop's Auto Tone tool, there are situations where you let Photoshop give you the best tone-and-color suggestion for your photo. You don't want to always depend on Auto Tone. Although it can be a very useful time-saving tool that does a great job, it however misses sometimes, in which case you can easily undo undesirable effects.
Plugins
Color correction can be an easy, exciting and breathtaking experience on Photoshop when you use the right plugins. Skylum Creative Kit 2016 offers an intuitive, highly efficient and fun way to accomplishing great photo editing results. The Kit, comprising of six award-winning Mac-exclusive apps namely Tonality, Snapheal, Focus, Noiseless, FX Photo Studio and Intensify, works as standalone as well as plugins, add-ons or extensions to software like Adobe Photoshop, Lightroom, Photos for Mac, etc.
Accomplishing excellent photo correction can indeed be an awesome experience on Photoshop.
Conclusions
In short, you've already realized the value of tools for adjusting colors in photos. Use any option you like to achieve what you envision with ease. The "Curves" will help you do everything in seconds if you use them more professionally. "Color Balance" has many different settings that will turn your photo into a work of art. Auto Tone is suitable for fast and high-quality processing. Choose what suits you best! Almost all programs have their own level of color adjustments. But you can also use Luminar Neo to get 100% results without reading lengthy instructions.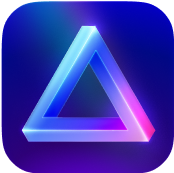 Advanced yet easy-to-use photo editor
view plans