Check out these best websites to edit pictures to help you improve your images without installing special software on your PC.
Nowadays, a photographer needs not only to shine with creative ideas and skillfully use all the possibilities of his camera but also to constantly surprise his subscribers with advanced photo editing: using filters and fancy photo effects like halftone, vintage grain filter, etc. Unfortunately, otherwise, it will not be possible to survive in the competition because the development and availability of technology have oversaturated the commercial photography market. Today, anyone can get a camera and take beautiful online images, but to really stand out from the crowd, you need more than basic editing. That is why we have prepared this article, which lists the best online photo editors. By using this photo editing software, you can quickly break into the top photographers.

Top 10 online photo editors you can use for free
Not every person can afford to buy an expensive specialized photo editing app. Also, this is not always necessary because sometimes we need to do something simple, like add text or just crop or resize a picture. Also, more straightforward image editors with a clear interface that are easy to use are better suited for beginners (if you are starting your journey in photo processing, something like Photoshop can generally discourage you from understanding this abundance of editing features and options). So we'll start simple: here's a list of the 10 best free photo editing sites. These free features may not give you as many options as paid software, but they allow you to edit photos on the go and do not require long months of learning how to use the program. Well, it is also essential that your wallet will not become thinner, of course.
1. Photoshop Express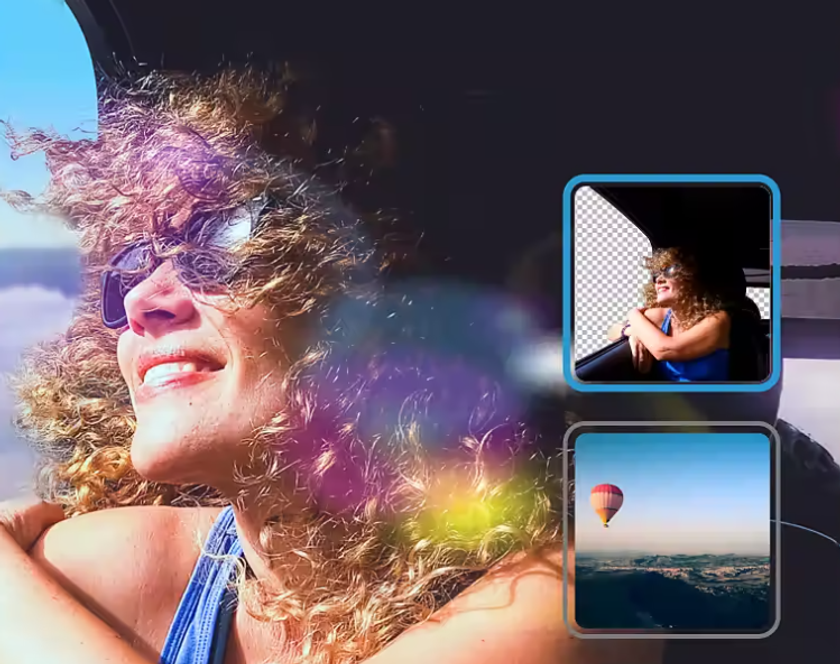 Since we have already mentioned Photoshop, we will continue with it. The fact is that the well-known photo editing tool has a younger brother, which not many people know about. Adobe Photoshop Express is a program for mobile phones that is distributed completely free of charge, but when you buy a paid version, you get more features and also disappear ads. Yes, this is not a web-based picture editor, but given that your smartphone is always in your pocket, we think it deserves to be on this list.
The application contains all the necessary tools for photo editing. For this, simple sliders and clear functions are used. The program has advanced functionality and supports many formats, including JPG, PNG, or RAW images. Thanks to the multilingual interface, the work process is simplified, even for a beginner. Integration with major popular social networks is provided, where you can instantly upload the received photos. All images are quickly processed using automatic filters and corrections. You can take pictures directly from the application.
2. BeFunky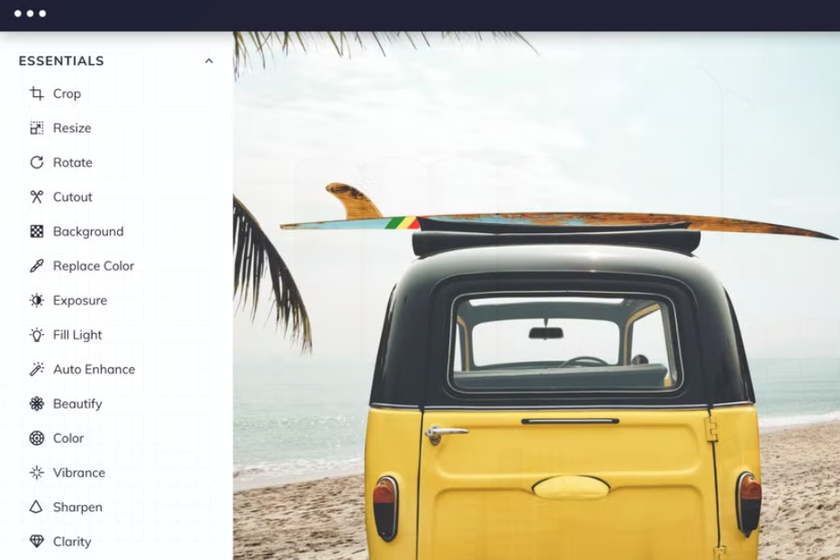 BeFunky is one of the best online picture editors thanks to its user-friendly interface and abundance of features, considering that the entire editing process takes place in the browser. All the necessary features are implemented here, such as cropping, rotation, and inscriptions on the photo. There is also a large library of filters, preset photo effects, collage templates, and more. Of course, there is no work with layers and masks, but this is still a great multi-functional tool for quickly processing photos for social networks.
3. Canva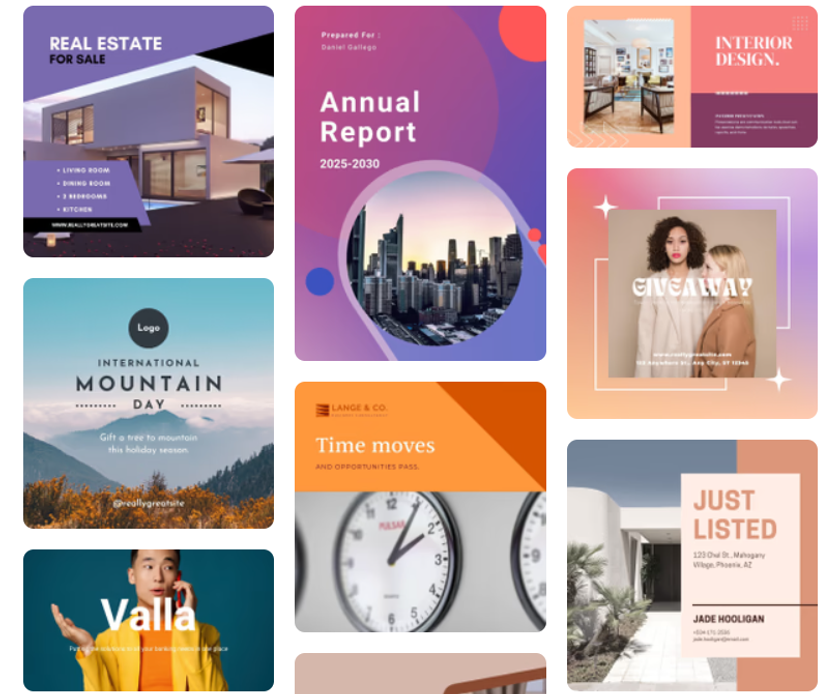 Many people know that Canva is a mobile app, but frankly, its free version is not very convenient due to many ads and constant offers to upgrade to PRO. However, there is a free web version of Canva, which is much nicer to work with but is not as famous for some reason.
A simple photo editor and online design tool with tons of templates for creating social media posts, table of contents, newsletters, photo books, albums, restaurant menus, and more. Yes, it seems more like a design tool than a photo editor, but it also has a bunch of features for photographers: basic exposure adjustment, vignetting, cropping, etc. In short, if you need to edit a photo quickly, Canva is your choice! This is definitely one of the best photo editing websites!
4. Fotor
Fotor is a good free online photo editor based on HTML5 technology. The system works on the web, so you can save the project and continue working on it anytime and from any device connected to the network. There are also installation versions for Windows, MacOS, and smartphone applications.
The platform may interest users of YouTube, Facebook, Instagram, and other social networks, in which it is necessary to adjust visual content to specific parameters. Fotor is helpful for novice designers, photographers, and advertising and event management professionals. The free tariff makes the program available to a wide range of people.
This photo editing tool allows color, light, size adjustments, and HDR effects for advanced adjustments. So you can easily restore the portrait, suppress backlight and shine, and eliminate minor imperfections without compromising the overall tone. Images can be supplemented with photo filters from the effects database and combined into collages. Templates are provided for the design of cards, promotional banners, posters, social media posts, and covers. Pictures can be dragged into the frames of the selected shape, supplemented with fonts of various styles and stickers (shapes, icons, and clipart with the ability to change their color and transparency). The software offers object cloning, color matching, shadow adjustment, and alignment tools. Believe it or not, some say it's the best web-based photo editor. We won't say so, but we're pretty sure it's definitely in the top editing websites. Hard to believe? Well, upload your pictures, and check it out yourself!
5. Pixlr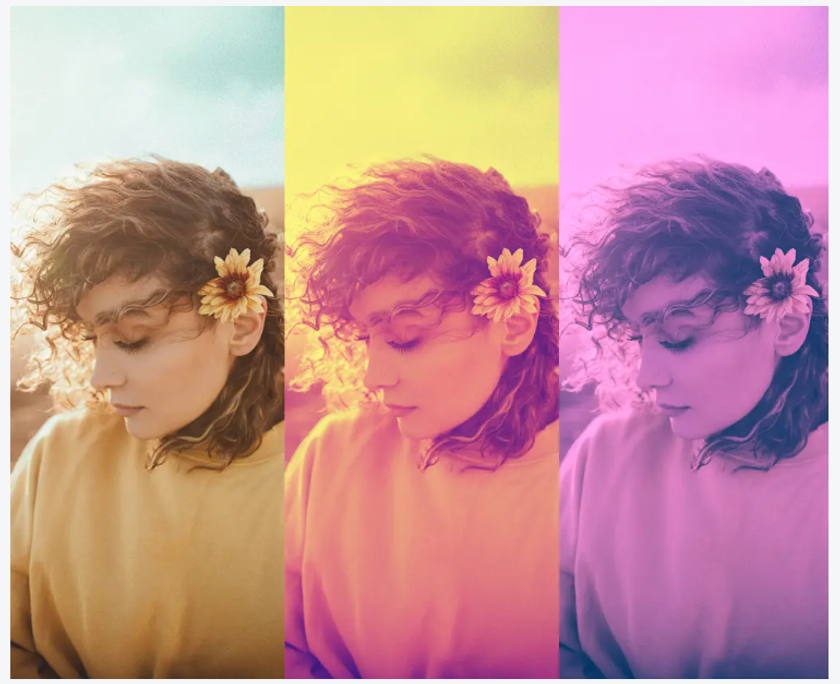 One of the best photo editors online, Pixlr is approved by hundreds of professional photographers as an excellent alternative to Photoshop and Lightroom. It`s pretty easy to use and has full features pack for both designers and photographers.
The peculiarity of this editor is that it allows you to work with both vector and raster images. In addition, artificial intelligence technology is applied to implement many functions, which makes processing much faster. Also, a huge benefit for designers, marketers and other professionals is access to a library of stock photos from the Pixlr interface.
6. Sumopaint
Sumopaint is a graphical Flash editor that supports loading images from a computer and the network. The system works online and also provides a version for Windows.
The platform will be of interest to beginner graphic editors and artists. Designers can use it to create original images, and photographers can edit existing ones. The free service makes it suitable for startups, freelancers, or students. To start working on the web version, you must register on the site's main page.
Pictures uploaded to the catalog can be sorted by date to find them faster in the general ledger. The features of the built-in editor include working with layers, adding effects and filters, automatically adjusting tones, and setting brightness, contrast, and color balance. Photos can be rotated, cropped, and resized. Standard hand-drawing tools are provided for artists: brushes, pencils, and an eraser. The Symmetry Tool option helps to draw symmetrical patterns. This among-the-best online photo editing software allows you to add gradients and connect the Rich Text Editor to download fonts from your computer. The history of changes contains information about all used options. The finished project can be saved on the device and on the Sumopaint website, where an access level is assigned: the photo can be private or open to other system members for commenting and editing.
7. Photopea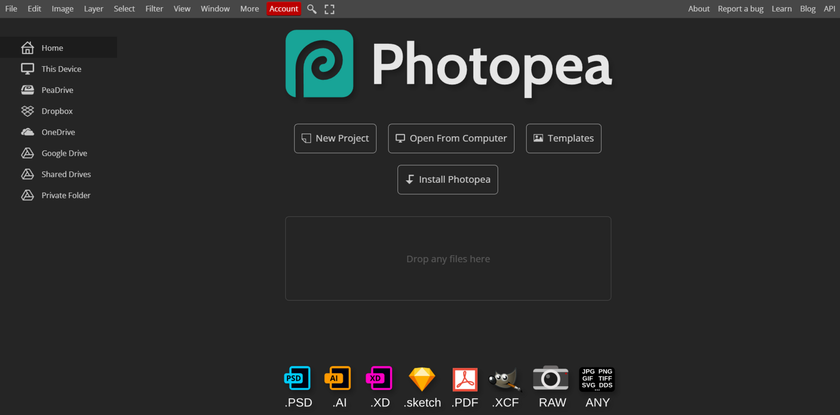 Photopea is a Photoshop alternative that you open in your web browser. The interface and its list of editing features will be familiar to anyone using Photoshop. While it doesn't have all the features of Adobe's flagship photo editor, Photopea isn't a lightweight editor either. It has enough power and parts that many users don't have to purchase photo editing software.
It is free and open source, with some advertisements to help support its development, but the ads are not intrusive. Upgrade to a premium account for $9 for 30 days to remove ads and support the developer.
An exciting feature of this top online photo editor is that even though you are working in a browser, all files are saved directly to your computer. No cloud storage, so you can safely process even the most private photos without worrying about them being leaked.
8. Stencil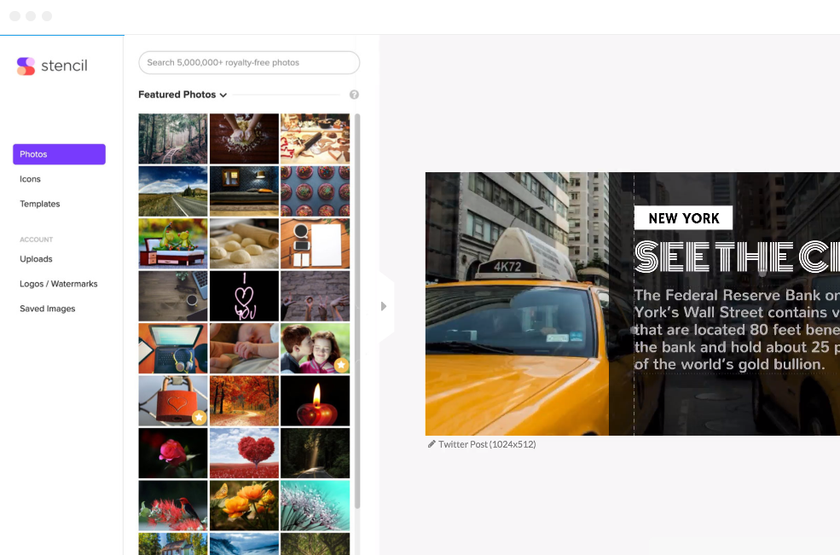 Stencil is the new name for Share as Image. It is one of the best free image editors online and a great alternative to Canva. It is a famous cloud-based online graphic design tool many marketers and bloggers use.
Stencil is a cloud-based graphics tool that lets users quickly create and publish visual content. Small businesses, social media marketers, and bloggers can pre-process images to create stunning social media posts, content marketing visuals, image ads, email photos, and more.
Stencil is easy to learn and use. It is one of the best alternatives to Canva as it offers many features and allows professionals and beginners to create graphics for websites, blogs, and social media.
Among its main features are background images, great templates, the ability to upload and store logos, quotes, regular web and Google fonts, accessible settings, icons, and graphics, and a Chrome extension.
9. FotoFlexer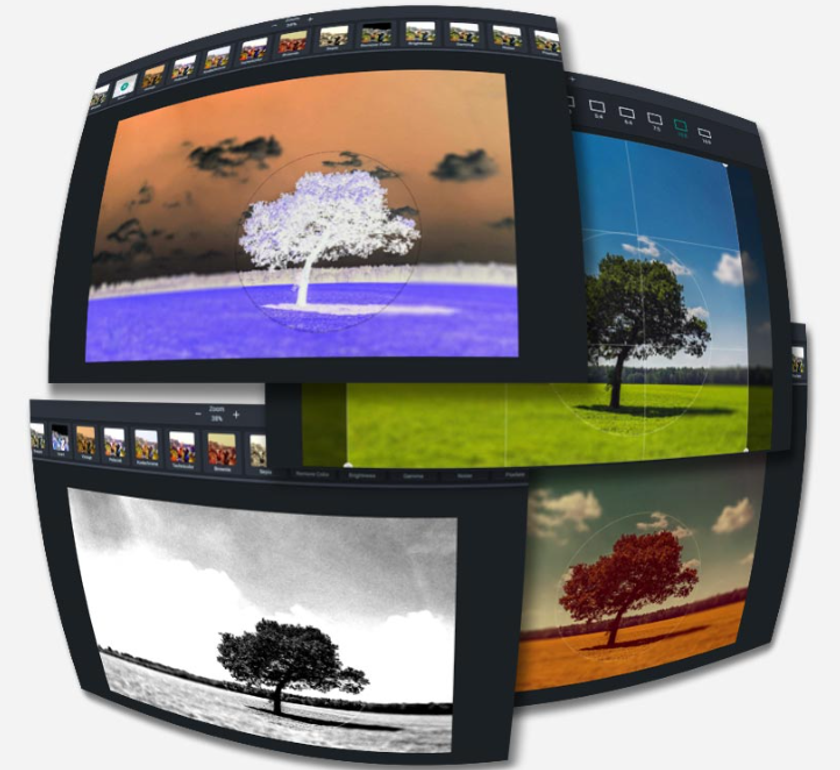 This fast online image-processing service brings only positive emotions. The simple editor is great for basic operations like creating collages, simple image editing, and more. Of course, it cannot be compared with Photoshop, but the developers did not set themselves such a goal. This one is a good online photo editor if you need something simple to do in the browser.
10. Flickr's built-in photo editor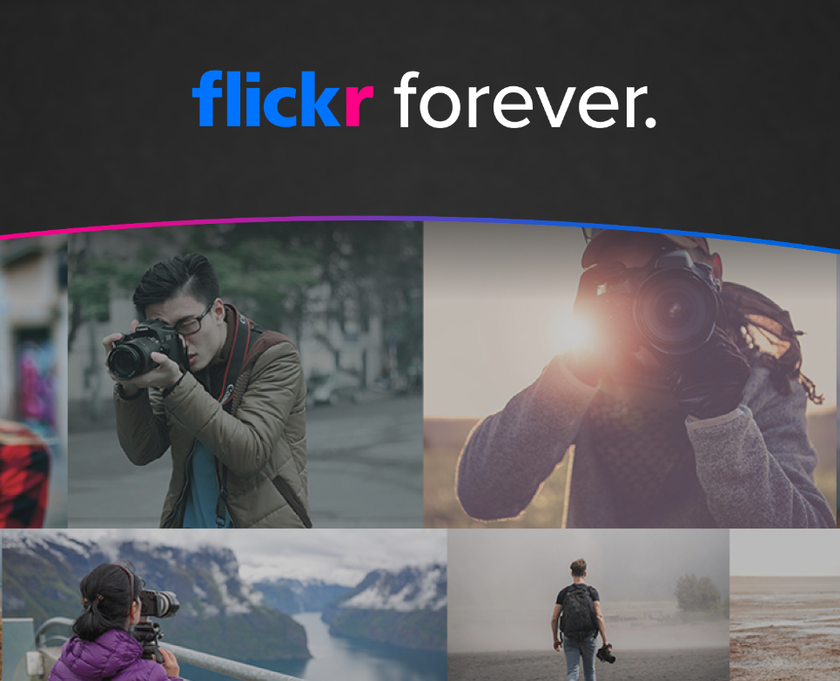 The famous photo service Flickr also has got a built-in photo editor, and now it's really worth being among the best photo editing software online. Photos do not have to be processed on a computer before uploading to the gallery because all processing can be done directly on the site.
This online editor is not the Flickr team's development but the Picnik service that has been operating for quite some time. An Edit Photo button has appeared next to each photo in Flickr. The free version has access to several essential features, including:
brightness and contrast adjustment;

elimination of the

red-eye effect

;

adjusting the color temperature of the image.
Paid account holders have access to more advanced features. Perhaps soon, the need to install an editor on your computer will disappear: the ubiquity of wireless networks and inexpensive Internet will do their job.
Top photo editing websites to pay for
Well, friends, we have reviewed the best free online photo editing software that allows you to quickly and efficiently process your photos. As you can see, many of them are also designed for designers, marketers, or bloggers, which is unsurprising because representatives of these professions generate most of the visual content of our time. However, if you are serious about photography, especially if you make money from it, these programs will hardly satisfy you. Unfortunately, being good photo editing websites, none of these progs above allows batch editing and has not had enough features to satisfy your creative hunger. So we go further to the paid photo editing tools.
1. Picmonkey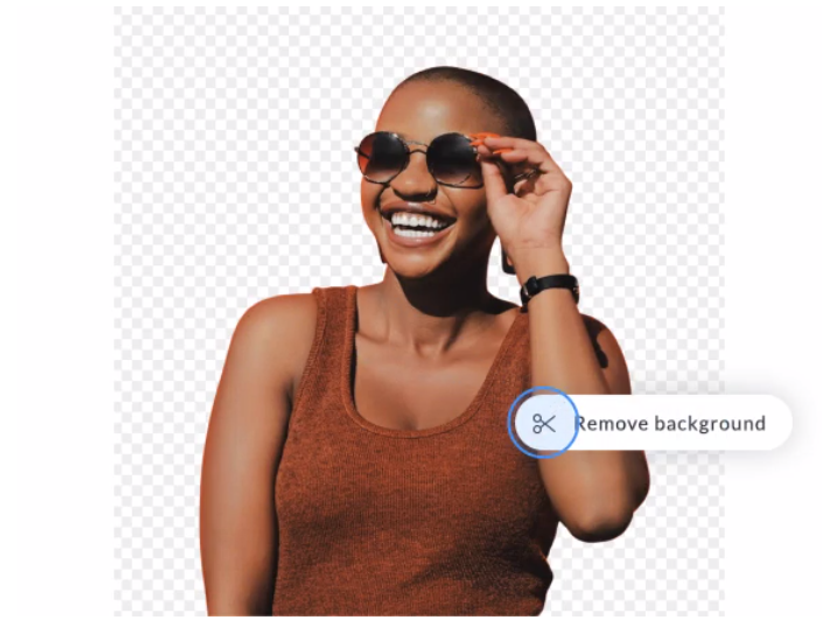 Picmonkey is a graphic design, photo editing, and collage maker solution. The service is offered in the form of smartphone applications based on iOS and Android and in the form of an online version. The developers also offer to print finished works of any format with delivery to the specified address. Integration with OneDrive and Dropbox is provided for storing images in the cloud.
The system can be used by novice designers and professional specialists. It will be of interest to bloggers who need to make high-quality original content, digital agency specialists, photographers, and printing houses. The effect of converting a photo into a pencil sketch is useful in the work of artists and tattoo artists, while freelancers and art lovers can use the software for personal needs.
One of the best online picture editors offers standard filter sets for quick photo editing, layer overlay options, and text tools. Pictures can be combined into collages from ready-made layouts and labels can be added to them. A library of templates and fonts helps you create unique covers, logos, business cards, postcards, and social media posts. The retouching functions allow you to even out skin tone, whiten certain areas of the picture, brighten the eyes, and apply "digital ink". To edit the hair, there are options for changing the color of the strands, creating additional volume, a beard, or a mustache. You can use the sculpting tool for body contours and remove wrinkles and spots without losing image quality and uniformity. The service offers a lot of tutorial articles and videos to create a color palette and different kinds of pictures, collages, holiday invitations, and phone wallpapers.
2. PiZap
This site is one of the best places to edit photos if you don't want (or can't for some reason) to install the program on your computer. However, this is only true if you switch to the paid PRO version since the free PiZap is not only cut down in functionality but also annoying with intrusive ads.
This solution combines a photo editor, collage maker, and designer tools in one. A very convenient and eye-pleasing interface allows you to quickly understand most of the functions, which are almost the same in the paid version as in the legendary Photoshop. Not only can you crop or do basic editing, but you can also change colors, delete and move objects, clone, remove backgrounds, use a professional set of tools, and so on.
There are many ready-made layouts in the service library for creating collages, but you can also create your own design if you want.
In addition, the service is cross-platform if you want a desktop version.
In short, we can safely call PiZap one of the best websites to edit pictures, but, unfortunately, not the best online free photo editor, mainly because of the ads.
3. Ribbet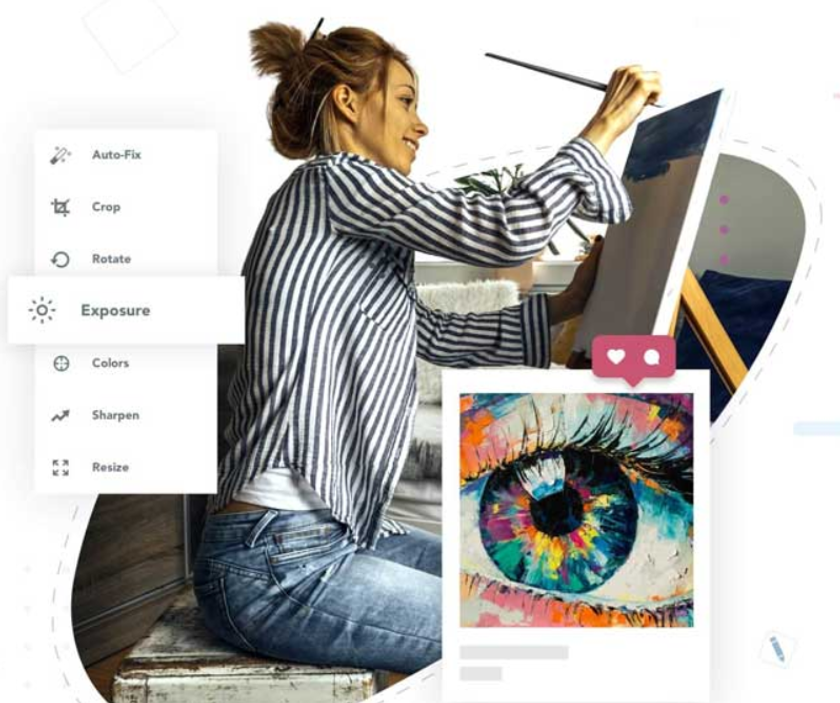 Like other best photo editor websites listed above, Ribbet offers tools for cropping, rotating, color correcting, and other basic photo manipulations. In addition to this, you will find stickers, text tools, and effects in the service. Ribbet stands out against the background of other editors except for many seasonal decorations timed to coincide with holidays and famous events and a friendly interface design.
Some premium tools and elements are available only after registration. But to unlock all the premium content, you need to subscribe.
Ribbet plugins are designed to make collages, paint on blank canvas, and make postcards. You can use them if the functions of the photo editor are not enough for you. In the collage module, you can change the shape of the cells and twist them, set them to a specific size, change the roundness of the frames, set the background, and automatically load all the pictures available in the photo editor into it.
After editing, you can send the photo to your computer or save it to Google+, Facebook, or Flickr.
How to choose the perfect photo editor?
This is a complex question, and it is almost impossible to give an exact answer to it. Understanding what exactly you need from photographic software comes through trial and error, not otherwise. Perhaps one of the best free photo editing websites that we have listed in this article is perfect for you. In this case, there is no need to empty your wallet. On the other hand, appetite comes with eating, right? Over time, you may just get bored with the basic editing suite of free programs and decide to buy something more professional.
One option is to combine several solutions. Moreover, you do not have to focus only on online services. For example, you can use free sites at the same time for editing on the go, and for special shots that require more of your attention, use powerful desktop software. For example, you can use Luminar Neo as your main program. This effective AI program can turn your photos into works of art worthy of the Louvre.
Luminar Neo is a professional software that allows you to process photos in minutes thanks to AI tools and presets, and delve into meticulous manual processing, controlling every aspect of creating a future masterpiece. To do this, the program provides professional tools to control the image's exposure entirely.
It would be best to consider the creative panel, where tools such as Relight AI, Atmosphere AI, Sunrays, Dramatic, Mystical, etc. These features are needed to enhance your photos with fog, change the sky at your discretion, and emphasize the most expressive parts of the frame.
The Portrait toolbar contains Portrait Bokeh AI, Face AI, Skin AI, and Body AI. These tools will help you quickly improve your portraits, which is very useful for commercial photographers.
These are just some of the features available in Luminar Neo. And this is very profitable since access to these editing features can be obtained for a monthly or yearly subscription. In addition, with updates, new features are added and the performance is improved. You can also always find new preset packs on the Marketplace, so you will not get bored with the program.
Luminar Neo can be used standalone or as a plug-in for Lightroom or Photoshop. Working with this app you can create a powerful combination to quickly and professionally process your photos and be at the TOP among photographers. Perhaps this is exactly the answer you were looking for.
How do we test photo editors?
We take into account:
The user-friendliness of the interface;

Number of photo processing tools and filters;

Compatibility with PC and mobile devices;

The speed of photo processing.
Best online picture editors for free FAQ
If the editor is free, does this mean that it is worse than paid ones?
No. Most of the best free online picture editors are open-source, which means that they are constantly being developed and improved by the user community. Initially, such programs are less functional but have a few other advantages, such as ease of use, frequent updates, etc.
Are online photo editors safe to use?
Yes, they are entirely safe. Your photos will be stored on an attack and data loss-protected server in the cloud or on your computer if you upload them immediately. But note that some of the sites we discussed in the article allow you to save changes and return to processing later. So you might be more comfortable storing your projects in the cloud.
What is the best way to edit photos online?
It all depends on your tasks. You can use one of the most straightforward web-based photo editors for basic editing. However, it is best to use Luminar Neo with the online editor for more complex projects.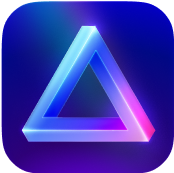 Advanced yet easy-to-use photo editor
view plans